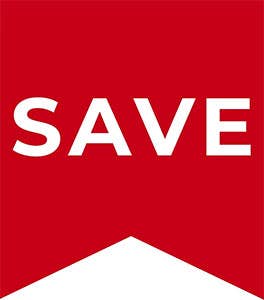 Dometic SabreLink LED Light Strip Starter Kit
Quality Dometic product. Add some stylish, practical lights to the interior of your awning or tent with Dometic's SabreLink Flex starter set. Easily attached to either the inside or outside of your awning using the Velcro strips which are included with the kit, the lights have adjustable brightness which can be changed with the remote control.
At a glance:
• Quick and easy to install and remove using the integrated Velcro strips, you can set them up anywhere,
• Can be run on 12 volt power from your vehicle or leisure battery, as well as 240 volt mains electricity,
• Supplied with a handy remote control, for switching the lights on/off and adjusting the brightness,
• Made up of 45 super efficient LED lights, so it won't exhaust your vehicle battery,
• Up to three light strips can be chained together, if you want to create a longer LED strip.
Dometic have designed their SabreLink LED lighting strips to light up the interior of your vehicle, tent, awning or other indoor spaces. They're not designed for outdoor use, and therefore don't have full waterproofing or weather protection. Within the kit you'll get one strip of 45 LED lights, the remote control, a three metre AC power cable, a six metre DC power cable, and enough Velcro to mount your light strip inside your camper, caravan, motorhome, awning or tent.
Size and weight:
• 150 cm long,
• 1 cm high,
• 2 cm wide,
• Total weight: 0.78 kg.
In order to connect multiple LED light strips together, you'll need to get yourself a SabreLink Connection Lead from Dometic.
Electrical information:
Connection voltage (AC): 220 – 240 volts
Connection voltage (DC): 12 volts
Power consumption: 36 W give or take 10%
The remote control: Working voltage (AC): 12 – 24 volts Output current: Peak 6 A
Mode: RF wireless
Frequency: 433.92 MHz
Maximum operational distance: > 30 m in open area.
Both the LED light strip and the remote control have been approved with a CE and UKCA mark.