About Your VW
Year: 1968
Mileage: 246,000 miles
Fuel Type: Petrol
Vehicle Model: VW T2 Bay Window Camper
Import? (where from):
No
Have you named your VW and where does it come from?
Susie. When we first brought her home on a trailer only the top half of the number plate could be seen, which spells Susie.
When and where did you buy your VW?
I bought her from a good friend of mine who had her tucked up against the side of his garage. She'd been standing there a long time and needed a lot of work. He was very apprehensive about selling her as she had a lot of sentimental value to his family but he wanted me to have her as I have a young family myself and we were outgrowing our Beetle. So he generously sold her to me very cheap.
What have you done to your VW since you have owned it?
Full resto and paint job. Upgraded to a Laurie Petit stroker engine. AH code gearbox. Full air ride and a custom interior and headliner made by a local craftsman.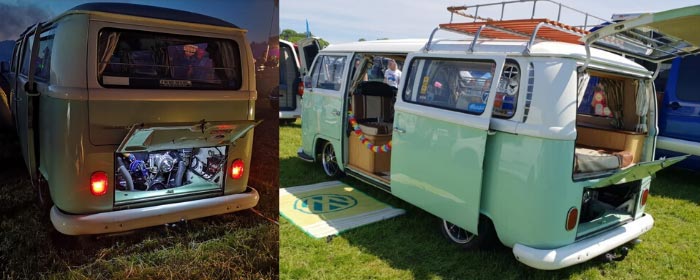 What are your future plans for the VW?
Hoping to re Waxoyl underneath over winter and upgrade to disc brakes.
What have you bought from Just Kampers?
Lots over the years!
What are you looking for next?
Some more camping equipment, service parts and possibly a sun canopy.
About You
Your Name(s) Ben Freeman
Is this your first VW?
No. I've had a Wizard Roadster and 1300 Beetle
Do you own any others?
Not at the mo but working on it.
What got you into VW's?
I've been crazy about VWs since I was a child. I had mural on my bedroom wall of the Wizard Roadster I wanted. I love the VW scene, the people are awesome and it's very family friendly.
Who enjoys your VW?
Myself, my wife and my kids.
Where do you go with your VW?
Anywhere and everywhere. We go to European Bug In Belgium. Busfest and camp as much as possible on the Pembrokeshire coastline.
Do you have any amusing or fantastically memorable stories whilst enjoying your VW?
Only happy family ones.