Tales from Mark's home workshop.
The JK Oval has had a constant 'drip' since the good thrashing it got on the Mille Miglia.
Well, this winter I was determined to get to the bottom of it. Pete and I started by checking where the oil leak could come from and it really did look like a flywheel oil seal and oil leak from the fuel pump gasket.
We started by removing the engine, no sign of a flywheel oil leak! And set about giving it a good clean with a tin of Gunk (J15231) and using a power washer. Putting the cleaned engine, on the engine stand for a good inspection, we discovered the fuel pump had become the shape of a banana.
The only obvious thought was the fuel pump pushrod was too long / needed shimming out. So, we made an improvised tool from some plywood, measured the pushrod and shimmed the pump to the correct throw, using the gaskets.
With this done, we set about replacing the rather tatty engine bay seals (J10501 and J10962).
Feeling rather pleased with a good days work we reinstalled the engine, having given it a good service and oil change.
My Oval STILL leaks oil...
After much head scratching it appears the fuel pump still leaks oil, whatever you do to shim it out.
Another tin of Gunk and more using the power washer, I decided (against Pete's advice) to go to an electric fuel pump.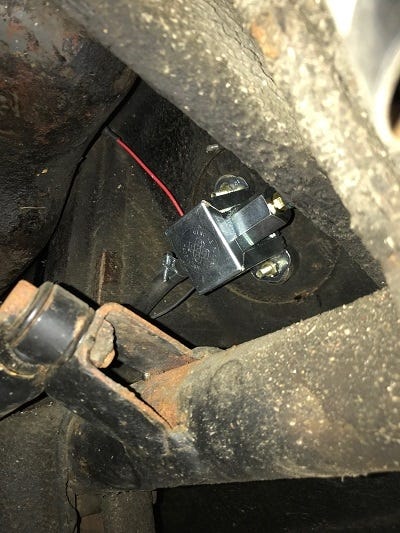 This was the start of a saga not worthy of putting into writing, mainly due to poor quality parts, sourced on the internet! My plan was to find the best parts for the job, practice on our own car and then add them to the JK range. BUT a good thing has come out of it, I'm always on a mission to make sure JK only sells the very best parts we can source, and this saga really reinforced the mission.
So, having binned various parts that came from allegedly reputable suppliers and had more leaks than a watering can, I can report a working solution and a kit of parts will follow shortly.
1) A neatly tucked away electric fuel pump, such that you can put it back to manual pump without anybody knowing. This is mounted in the front with an inline fuel filter.
2) A fuel regulator set to 2.5 PSI tucked above the gearbox.
3) Removed fuel pump push rod, refiled fuel pump flat again and all new gaskets.
I can report the engine is back in, re Gunked and cleaned again and My Oval NO LONGER leaks oil... I took him for a good 20-mile run and not a drop of oil leaked.
Now off to the trimmers for a very smart new interior to be fitted!
JK Products Used: