JK's VW T25 Magnum Edition Engine Swap
We've been having fun in our on-site workshop here at JK HQ swapping out the stock diesel engine on our 1989 VW T25 Magnum Edition camper, and replacing it with a 2000cc petrol engine from a 1997 Golf GTI. Turns out it's a pretty easy job!
We filmed the process for our Just Kampers YouTube Channel, which you can watch below. It was a really cool project, which let us add in a whole new range of engine conversion parts to our store. If you know your way around a tool set, it's definitely something you could tackle yourself.
Here's how we converted our VW T25 to run a Golf GTI engine:
Swapping a stock 1600cc VW T25 engine for a 2000cc unit from a Golf GTI
We're always up to something in our workshop here at Just Kampers, with new products to test, our own vehicles to work on, and cool projects on the go.
One of our most recent projects is this 1989 Magnum edition VW T25, which we gave a proper mechanical once-over before whipping out the original 1600cc diesel and replacing it with a 2000cc petrol engine from a 1997 Golf GTI.
It certainly made a massive difference to how the T25 drives, and was a far simpler job than it might first appear. Essentially, if you're pretty confident with taking on mechanical jobs, then you'll probably be able to do an engine swap on your VW T25 without an issue.
We added a new product to our range, an Engine Hose Kit 2.0 GTI AGG Engine Conversion Kit for the VW T25. This is one of a few different products we've now got on the shelves here at JK HQ in case you want to follow our example and massively upgrade the engine in your T25.
Click here to check out our full range of VW T25 engine conversion parts.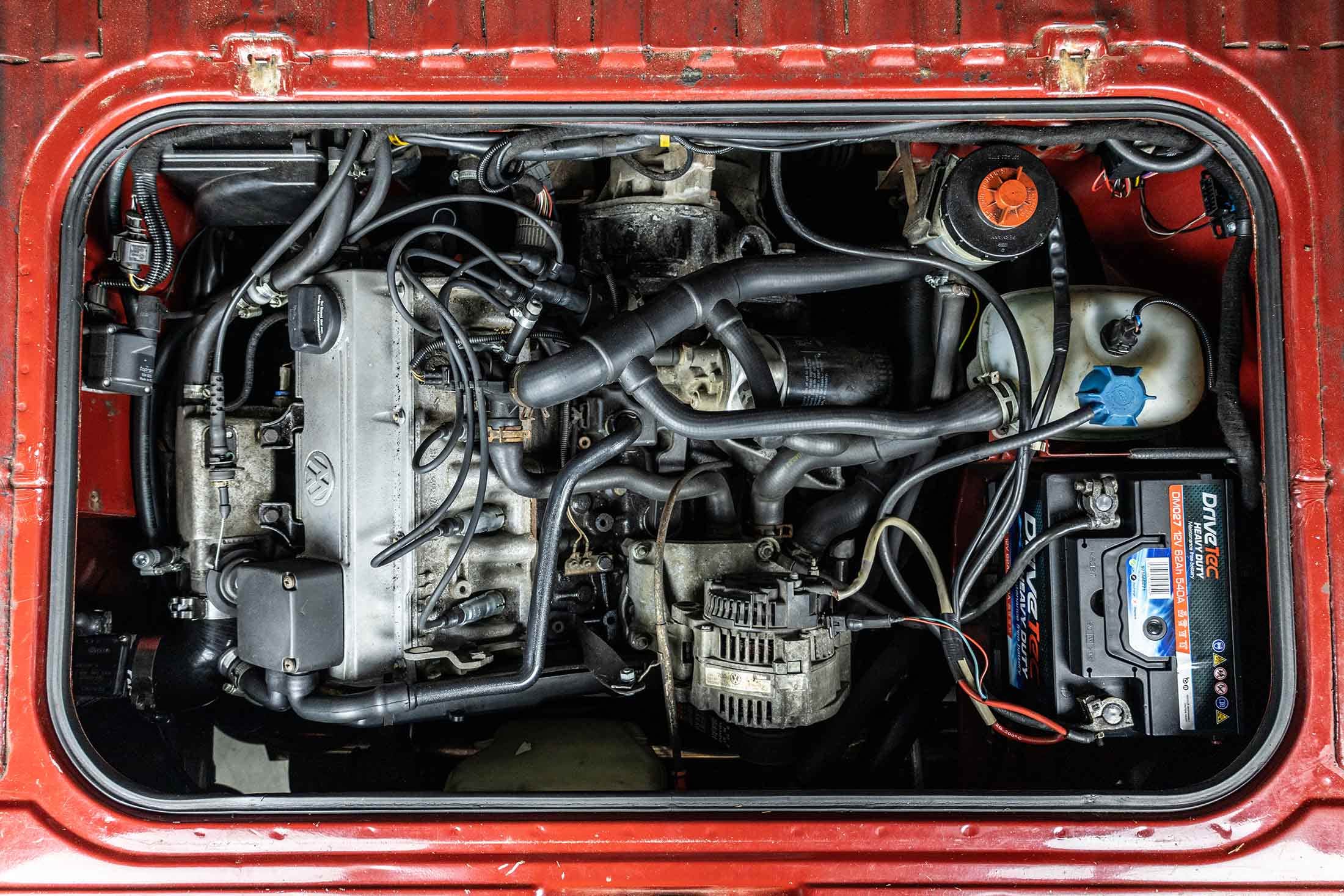 How was the van before the engine got swapped out?

When we first got the T25 it was… fine? Being a Magnum edition already made it pretty cool, but when we hit the roads, it was obvious that it needed a lot more 'go'!
Maybe it was the cool extras that were weighing the van down, but the 69-horsepower engine was probably part of the reason!
Any fans of the Camper's 80s styling were in for a treat, as it wouldn't exactly be racing past them, so they'd have plenty of time to check it out.
What is a Magnum edition VW T25?
This might be disappointing news for some, but our Magnum edition T25 has nothing to do with the iconic Island Hoppers Vanagon featured in 80's cult classic Magnum PI.
Instead, this Magnum was a special edition of the VW T25 which featured a whole host of luxurious extra features. Designed to be as lavish as the name implies, the Magnum came with a camping fridge, rock'n'roll bed, fold-out table, and even cup holders!
Here's the full spec of what makes a VW T25 a Magnum:
• Unique exterior trim and bumpers,
• Pair high-back single seats in the cab, with armrests,
• A third seat behind the driver's seat, with storage underneath it,
• Full-width rock'n'roll bed in the back, which seated three people,
• Folding table in the rear, and a lamp unit,
• Soundproofing over the engine compartment,
• Plastic lining on the floors,
• Luxury cup holders and an ashtray!
Our Magnum edition was kitted out with some additional extras, including:

• A pair of sliding windows in the middle of the T25, on the nearside and offside,
• Built-in cooler located behind the passenger seat,
• A complete set of curtains, installed by VW in the factory,
• Full power steering,
• And a tachometer, which is a bit more useful now the engine's been swapped over!
It's easier than you think!
Swapping the engine over was pretty straightforward, and other than a courier delivering the Engine Control Unit (ECU) to an elderly woman's garden, instead of where it needed to go, the whole swap went really smoothly!
The misplaced ECU did cause a bit of a delay, which is why our resident mechanic, Mark, starts the video in shorts and a t-shirt and ends it in jeans and a hoodie, but we're confident that an engine upgrade like this is something that loads of you could do, if you've got the tools, time, and experience to get it done.
There's a whole new range of VW T25 engine conversion parts on the Just Kampers website, which we've put together in one place to help you see what's available to let you transform your Volkswagen's engine.
We're always in the workshop testing out new products, filming how-to videos, working on our own VWs, and even live streaming to Facebook each week for Workshop Wednesday. You can be sure you'll see more cool projects like this in the coming weeks and months, so make sure you keep an eye out to see what we're up to.
Does the T25 drive better now?
Absolutely it does! Swapping out the original diesel block for a 2000cc petrol engine made a huge difference, giving the T25 more than 60% more horsepower.
Before we swapped out the engine, driving the 69-horsepower Magnum was a bit of a chore, and not that fun.
Now that's its leapt up to 113 horsepower we can just hop in, fire her up and drive, easily keeping up with modern traffic and not having to work to maintain speed.
If you're looking to take on your own engine conversion, we've added a whole range of essential parts and accessories to our store.
How did we do it? Check out our how-to video!
We filmed the whole engine swap journey, from the initial test drive right the way through the process to taking the new engine out for a spin. Hopefully this will show you how straight forward the process is, and give you the confidence to tackle it yourself.
Take a look at the guide from our resident mechanic, Mark B, and get inspired to take on your own engine conversion project!
What about insuring a modified VW camper?
With the engine swapped from a fairly weedy diesel engine to a more powerful petrol unit, we needed to inform DVLA of the change and update our colleagues over at Just Kampers Insurance, to let them know that we'd modified the Magnum Edition T25.
Luckily, providing insurance cover for modified vehicles is something the Just Kampers Insurance team deals with all the time, and they were able to update our policy for us to make sure we were still covered.
If you've got a classic or modern VW, it's well worth having a chat with the team over at Just Kampers Insurance to see how much you could save by insuring with us - it's a win-win.
You'll get a £50 JK Gift Voucher if they can't beat your like-for-like quote, and if they can offer a better price, you'll save on your vehicle insurance and get 10% off orders from Just Kampers on top!
The Just Kampers Insurance team can offer really competitive quotes on a whole range of vehicles, not just campervans, and there's loads of benefits included with your policy like Salvage Retention, Modification Cover, and EU Driving Cover.
Get an online quote in minutes or call us on 01256 444 546
Monday to Friday from 09:00 – 19:00
Saturday from 09:00 – 14:00
Sunday from 10:00 – 14:00
Come see our VW T25 Magnum Edition at the VolksWorld Show!
We'll be bringing the engine-swapped T25 to the VolksWorld Show, putting it on display outside in the water-cooled area, near the stable blocks. If you've been to the VolksWorld Show before, you'll know where to find us!
You'll be able to chat with the JK Team about the T25 project at our stand indoors in the Esher Hall, and ask us questions about your own projects.
Get your projects and vehicles featured on justkampers.com
If you've got a vehicle you're proud of and want to show off to the world, get in touch with us at jkworld@justkampers.co.uk with some information and photos, and we'll add it to the Your Rides area of our site!