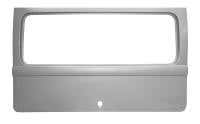 VW T2 Bay BBT Silver Weld Through Rear Panels
Looking for new rear panels for your VW T2 Bay? Make sure you take a look at the BBT Silver Weld Through range at Just Kampers, which are some of the best available on the market.
Created to an exceptionally high standard, these panels are then covered in BBT's special silvery primer which doesn't have to be removed before you weld in your new Bay panels. Order now from Just Kampers to get free delivery over £75.