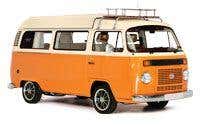 Discover our vast selection of over 500 new VW Brazilian Bay parts and accessories available from Just Kampers.
We stock everything from T2c Bay body panels and wheels to engine and exhaust parts, all at a great price. Buy VW Brazilian Bay parts and accessories for your camper online, with free UK delivery on orders over £50.
The Brazilian production of the Volkswagen T2c Bay Window began in 1995 where the model remains in production to this day. For the first ten years of manufacture, Brazilian Bays were fitted with a 1.6 litre fuel-injected, air-cooled, petrol engine, however this was superseded in late 2005 by the water-cooled 1.4 litre 'Flex Fuel' engine from the VW Fox.
Brazilian T2c Bays are easy to identify by virtue of their raised roofline, while New T2 water-cooled models can be distinguished by the black radiator fitted to the front of the vehicle. Just Kampers supply mechanical parts for all of the Brazilian models. Please scroll down to view our full range or find specific parts using the search box at the very top of this page.