History of the Volkswagen Beetle Cabriolet
Introduction
Mostly from a mechanical point, the coachbuilt convertibles followed the steel roofed models, here is a brief overview of how the soft top versions came about: During 1949, Wolfsburg's Volkswagen sanctioned two designs of coachbuilt convertibles, based on their Beetle. One was the two seater produced by Josef Hebmüller and Son more often called a "Heb". The other is the far more common four seater Type 15 version, designed and produced for over 30 years by Karmann in Osnabrück Germany.
The VW Beetle has become an iconic vehicle worldwide, and has built a huge loyal following. It is known by numerous names, for example, in Germany it's a Kafer, in the USA a Bug or salon, England a Beetle etc. As the floor pan and running gear can be used without the body being attached, they became a firm favourite of the kit car builders. They were turned into Porsche 356 replicas, beach buggies, and Nova kit cars to mention just a few. When production stopped in 2003 in Mexico over 21 million air-cooled Volkswagen Beetles had been produced. During eight decades of manufacturing came a whole variety of models, ranging from 25Hp through to the 1303S or Super Beetle with its Independent Rear Suspension (also known as IRS). Salons, sunroof models, cabrios and even specialist versions as police cars, German post office delivery vehicles and in Mexico City, the green and white Beetle taxi, with its missing passengers seat, was a common sight until recently.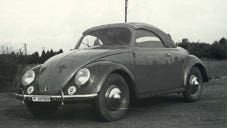 The Hebmüller was officially called a Type 14A and was first built in June, 1948. It's most unique feature is that the bonnet and boot look very similar! They replaced the strength of the car that was lost when they cut the steel roof off, by building a stronger windscreen frame and placing two Z-section girders under the floor. It showed great promise as its was attractive and functional, but the company's future success faded when a fire destroyed the factory. The very last Hebmüller Cabriolet was built in February of 1953 with a total production of 696. It is thought that there are fewer than 100 of these left today. Hebmuller also produced a 4 'canvas' door version for the police, manufacturing around 480 of them.
Karmann was established in 1901 and began production of their VW convertible in 1949. Theirs was a very practical 4 seat 2 door Beetle with a well insulated roof boasting over 2 inches of padding. Again they had to tackle the issue of strength once the steel roof was removed. They added front to rear strengtheners under the heater channels, as well as changes to the door pillars. Karmann Beetles share only about 50% of body panels with the steel roofed brothers. The doors and rear quarter panels are taller than a normal Beetle. The last of 331,847 cabriolets came off the production line on 10 January 1980.
This version of the Heb is a four-seat police car built in the late 1940s. Known as Type 18A, the car came in two versions and was hand-built by the Hebmüller company. One style had four steel doors, while most of the 482 produced in this style had canvas "doors". With the 6-volt system, no doors are provided for easy access, and the extra headlights provide better nighttime visibility.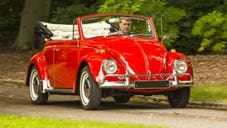 In 1961, it changed from the boxy "Karmann Convertible" to a more curvaceous, almost boat-shaped "Karmann" version with a six-pointed star above the letters. The 34 hp engine was introduced in the same year (1961) and the turn signals replaced the signal lights. The 1300 engine appeared in 1966, followed by the 1500 in 1967 and the 1600 in 1970. Other changes, like those brought about by the Super Beetle, aren't all that different from the sedan changes over the years.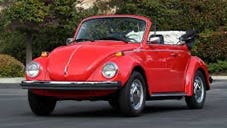 In 1972, Super Beetles introduced an all-steel upper frame (previously wooden hangers were used on steel frames). Production of the sedan ended in 1975 and that of the convertible in 1979. The only thing that remained constant from each convertible throughout production were the running boards.
German Beetle production chassis numbers
Development of the VW Beetle Convertible 1949 - 1980
1949 - Production starts on June including an 1131cc 25 hp motor; as of October delivered without a starting crank, roller type gas pedal.
1950 - As of January, thickening between headlights and fenders, as of April hydraulic brakes replaced mechanical brakes driven by cables. In June an ashtray was placed over the starter button.
1951 - Vent openings put behind the front fenders in April; Wolfsburg arms on the front hood; telescopic instead of strut shock absorbers, stronger generator. In November, armrests for the rear seats were discontinued.
1952 - In October, 2nd, 3rd, 4th gears were synchonized; front vent windows added. Other features included a new dashboard design, a glove compartment with a door and push button; brake lights were now at the top of the taillight housings; bigger windshield wipers; turn signal lever and starter button was moved to the left of the steering wheel.
1953 - In January, an oil bath air filter. March brought an ashtray with a small handle integral with the dashboard: in December an 1192 cc 30 hp motor, automatic and controllable instrument lighting, combined ignition and starter lock.
1954 - A resin instead of nitro finish, two sun visors, a top boot without a fold in the seat, and new seat upholstery came in May.
1955 - August of that year brought a muffle with two tailpipes; new easier to grip steering wheel with deep spokes; bent gearshift lever; wider front seats; seat backs adjustable to three positions, new leatherette interior upholstery with borders; rear lights mounted 6 cm higher; Karmann Ghia coupe production begins in August.
1956 - As of July, tubeless tires, in September, brass instead of iron top fastening pins were used, in October a side view mirror became standard.
1957 - A steering wheel with a horn ring, turn signals now turn off automatically and flash beginning September. In August the roller pedal was changed to a gas pedal, vent louvers are now horizontal instead of vertical, the windshield grew almost 8 percent, and the rear window by 45 percent and longer wiper blades were added. Karmann Ghia convertible production begins August 1.
1958 - Ivory disc wheels in January. February 15 brought front and rear bumper protectors in the US version.
1959 - Steering wheel with two spokes and a deep hub, door handles with locking knobs, removable rear wall with window, 180 instead of 160 watt generator.
1960 - Beginning in March, cords were added to the hollows of the top seams. In August the 34 hp motor was added, as well as screw on top catches, the speedometer went from 74 to 87 mph, and a windshield wiper - washer system was added. In November, the front directional light changed from white to amber.
1961 - Changes in May brought a combined tail-brake-directional lights in a two section design. July brought a gas guage, and November brought a conical gearshift with a small knob.
1962 - Improved hydraulic brakes, and a bigger fuel line in the cylinder head?
1963 - Horn ring changed to a button; VW hubcab emblem is no longer painted, seats now have synthetic instead of wool upholstery. October brought bigger directional lights on the front fenders.
1964 - Windows got bigger.
1965 - Improved front axle, defroster vent in the center of the dashboard, pierced wheels.
1967 - Vertical headlights, new bumpers, fuel filler cap on the right front sidewall, new door locks with inside locks, dashboard padding, dual - circuit braking system, shorter shift lever, safety steering column. (I think this was European version... weren't these 68 changes on US models? In fact I think most of the changes at this point on were different between Euro and US spec cars.)
1968 - Interior hood release, opening rear window of safety glass, top catches at the sides of the top frame.
1969 - Additional fresh air vents on the hood.
1970 - Larger trunk space; additional fresh air vents on the dashboard; spring front suspension; 1.6 liter 50 hp motor.
1971 - Slightly changed engine hood, now with 26 louvers, safety steering wheel with four spokes, new windshield wiper washer lever on the right side of the steering column.
1972 - Completely new dashboard, strongly arched windshield, big round taillights.
1973 - Beetle convertible only available as Type 1303 LS. (Super Beetle)
1974 - Front directional lights set in the bumper, convertible only available as Type 1303, black exhaust pipes.
1975-79 - No major changes except in color changes.
1980 - Beetle convertible production ends January 10.
German Beetle production chassis numbers
The chassis number is very useful when ordering parts for your Beetle as it gives the date of manufacture, model type. These can be found in two places. Firstly, in the front luggage compartment, by the bonnet lock and secondly, under the rear seat on the central tunnel.
Date Chassis No To Chassis No
1949 0 099 906 > 364
1950 0 138 555 > 2679
1951 0 220 134 > 4009
1952 0 313 829 > 4748
1953 0 428 157 > 4299
1954 0 575 415 > 4800
1955 0 781 885 > 3610
1956 0 929 746 > 6550
1957 1 246 619 > 7972
1958 1 600 440 > 9624
1959 2 007 616 > 10995
1960 2 528 668 > 11921
1961 3 192 507 > 12005
1962 4 010 995 > 10129
1963 4 846 836 > 10599
1964 5 677 119 > 10355
1965 155 000 005 > 10754
1966 156 000 005 > 9712
1967 157 000 005 > 7583
1968 158 000 005 > 13368
1969 159 000 005 > 15802
1970 150 2000 005 > 18008
1971 151 2000 005 > 24317
1972 152 2000 005 > 14865
1973 153 2000 005 > 17685
1974 154 2000 005 > 12694
1975 155 2000 005 > 5327
1976 156 2000 001 > 11081
1977 157 2000 001 > 14218
1978 158 2000 001 > 18511
1979 159 2000 001 > 19569
1980 159 2036 063 > 544 - End of German production
German Beetle production engine numbers
The chassis number is very useful when ordering parts for your Beetle as it gives the date of manufacture, model type. These can be found in two places. Firstly, in the front luggage compartment, by the bonnet lock and secondly, under the rear seat on the central tunnel.
Code Engine CC BHP Notes
A 1200 30 Single Port
D 1200 34 Single Port
E 1200 30 Single Port
F 1300 40 Single Port
H 1500 44 Single Port
L 1500 44 Single Port
AB 1300 44 Twin Port
AC 1300 44 Twin Port
AD 1600 50 Twin Port
AF 1600 50 Twin Port
AH 1600 50 Twin Port
AJ 1600 50 Fuel Injection
AK 1600 50 USA
AR 1300 44 Twin Port
AS 1600 50 Twin Port