Start Exploring With Tentbox
As part of our drive to constantly expand and improve the selection of parts and accessories we stock here at Just Kampers, we've recently added the outstanding TentBox range to our catalogue.
A quick and easy way to transform any vehicle into a camper, without touching the interior at all, the TentBox is a game changer!
What actually is a TentBox?
Simply put, it's an elegant, aerodynamic box which is easily mounted to roof bars on any vehicle. Whether you've got a car or a van, you'll be able to attach a TentBox and quickly transform the roof space into a cosy, secure place to sleep in the great outdoors.
Once you're parked up and ready to start your camping adventure, you can quickly attach the collapsible ladder to the side of the TentBox. From the top of the metal ladder, you can release the catches holding the TentBox lid closed, and the gas-assisted struts will push the roof up for you.
Each one has a different configuration of doors and windows, which can be fully or partially zipped shut for ventilation and privacy. They each have their own mosquito netting, too, so you can let the breeze in without the bugs!
What are TentBox products like?
Shaun, our Sales Director, has had a TentBox Cargo 3 fitted to the roof of his VW T6.1 for a while now, and he's really pleased with it.
It's simple to fit, and doesn't affect handling while driving. The TentBox is impressively simple to set up, and really spacious inside, too.
Once it's all set up and you've stuck your bedding up there, it's a really easy and convenient way to add sleeping space to your vehicle without investing in a complete camping interior.
What do TentBoxes fit?
You can fit a TentBox to any vehicle which is large enough to accommodate the length and width of the box, and which has roof bars.
The great thing about TentBox is that it doesn't fit to your vehicle itself, but to the roof bars on your vehicle.
This means it doesn't need to sit on the roof all the time, you can just fasten it on before your camping trip, and take it back off when you get back home.
What's in the TentBox range?
There are three different styles of TentBox available at the moment, with one of them having two different options for canvas colour, so there's certainly options to suit your budget and needs.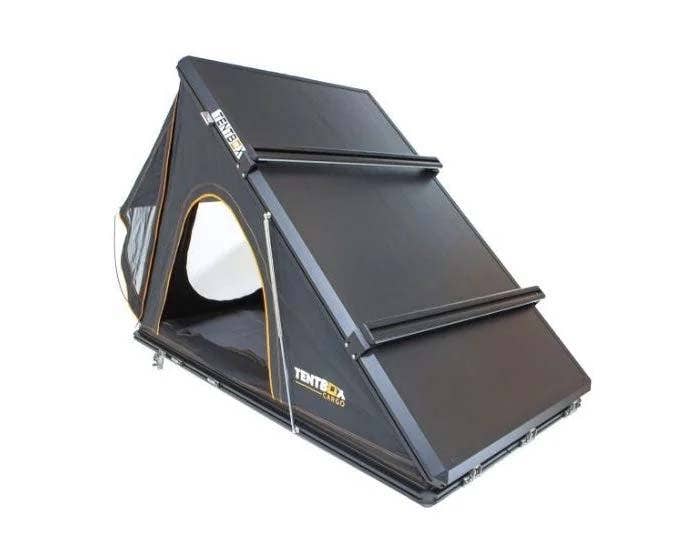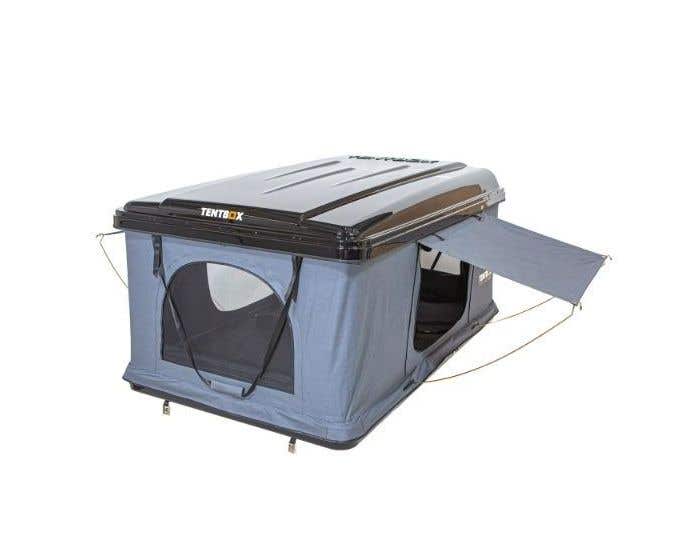 The Tentbox Cargo
Great for hardcore adventure, the Cargo is our most robust model.
With the ability to mount additional equipment on top, a comfy mattress, and a spacious design, it's your ticket to serious exploration. Set up time of just 60 seconds.
Dimensions:
• Weight – 74 kg,
• Open dimensions – 215 cm long, 127 cm wide and 150 cm high,
• Closed dimensions – 215 cm long, 127 cm wide and 20 cm high,
• Dimensions when fitted with an additional roof rack – 215 cm long, 127 cm and 24 cm high.
The Tentbox Classic
Great for all-round adventure, the Classic is the original TentBox.
You can keep all your bedding and the ladder inside whilst closed making it a breeze to setup, and it's got a really comfy mattress. Set-up time of just 60 seconds.
Dimensions:
• Weight: 65 kg,
• Open: 210 cm long, 125 cm wide and 100 cm high,
• Closed: 210 cm long, 125 cm wide and 27 cm high.
The Tentbox Lite
Great for smaller cars or vans, the Lite is our entry-level TentBox.
With a fold-out design, the Lite takes up the smallest amount of roof space when closed, but folds out to create an amazing sleeping pod when open. Set up time of 2-5 minutes.
Dimensions:
• Weight – 50 kg,
• Open dimensions – 240 cm long, 140 cm wide and 112 cm high,
• Closed dimensions – 140 cm long, 120 cm wide and 25 cm high.