Introduce yourself and what do you do at Just Kampers?
Hi I'm Chet and I'm Trade Sales Manager at Just Kampers.
I was on the lookout for a bit of a project, but when an RHD 56 Oval came up for grabs right on your doorstep, it was really hard to refuse! So in Feb 2020 a deal was done and I was the proud owner of an RHD Oval and I could put the wheels in motion to create a cal styled gasser oval.
Before
After
I've always been a petrol-head from a very young age, attending various car shows with my family from the age of three. My first beetle was a 72' Sumatra Green with a hint of Old School about it. My father was always building awesome Hot Rods, from Jago Model T kits, Mustangs and he played a large part in building the original 'Moulin Rouge' an awesome 1935 Hillman Minx Hot Rod which was featured in Custom Car magazine in April 1977. He also built a wheelie popping VW powered custom trike with stacked lights, Slot mags on the rear and a metal flake paint job. So you could say that with this in my childhood it was inevitable that I would end up building something a bit different.
The Oval Build
Style plays a huge part in any build, so I wanted to build this with Ron Fleming's Black DKP oval as inspiration. A high sitting, proud and aggressive look similar to 'Gasser' drag cars of the period. I chose to raise the stock front beam and sit it on period-correct 6" Crestline wheels kitted out with BF Goodrich Silvertown 6.00-15 upfront with Firestone Wide Oval F70-15s on the rear. The build had to incorporate a glass pack muffler which nods to Ron Flemings DKP oval and had to be stripped out with no running boards, bumpers, interior, basically all the unnecessary stuff removed.
When the body was lifted from the pan, both pan halves were replaced and I took care of a few localised repairs and repainted where needed. The pan was treated to some Raptor for protection whilst it's getting some use and abuse.
Body Off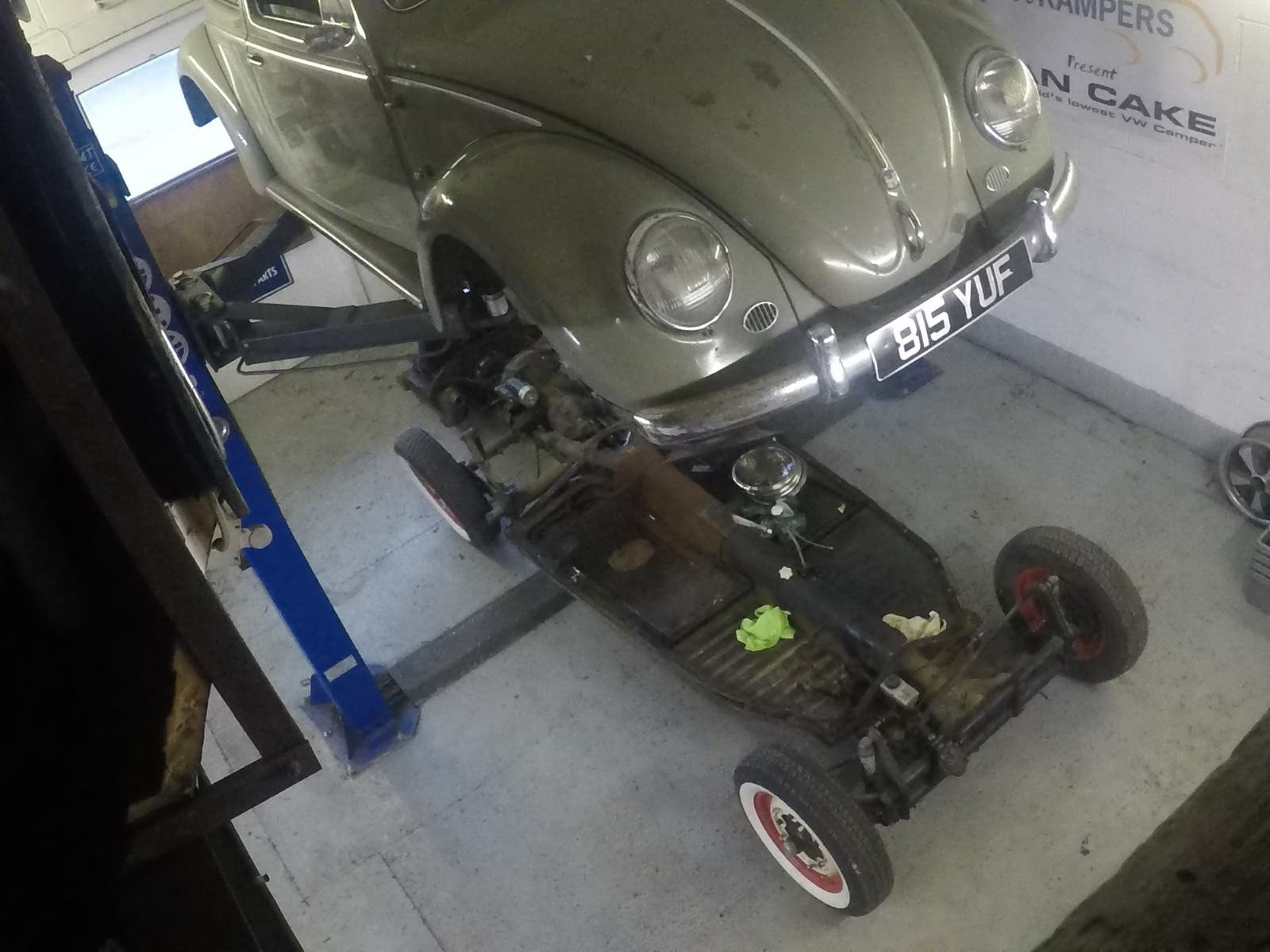 Raptor'd Pan
Special events, family stories, memories, nice trivia – personal history
Heres a picture of me in my 72' bug with my daughter when she was aged about 1 and in the the same location with 'Jack' the JK Oval with driving my daughter to the her prom.
VW Model
Oval Beetle
Age/year of Manufacture
1956
Engine Size
2007cc, orignally built by John Walkett, consisting of a pair of ported 0044 heads, 120 cam, I-beam Rods, balanced bottom end, lightned flywheel, equalizer pully, deep sump and external oil filter, cromo pushrods and twin delorto 40 DRLAs combined with a MSD 6AL ignition, Kennedy stage 1 clutch and AS code GT swing axel gearbox.
Work Completed
Bottom up restoration, new pans, framehead, running gear, Empi front disc brakes, Type 3 rear drums, new wiring loom.
Images courtesy of Hayburner/ Dan Pullen