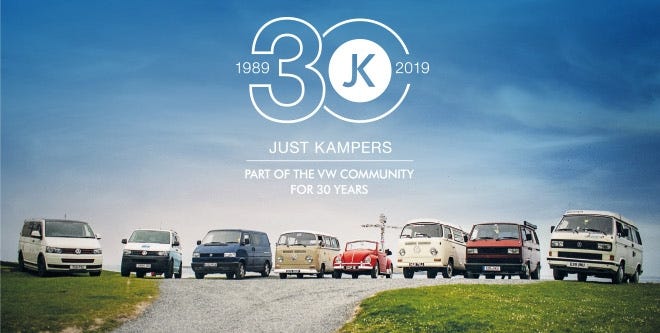 It seems like only yesterday…
A little while ago we were stood on one side of a table at a VW Swap Meet, our passion was VW Camper Vans and Air-cooled cars, we had a few parts and accessories to sell and we were enjoying sharing stories of our own VW adventures with you.
Our hand drawn orange cardboard sign said "Just Kampers" and a single mobile phone number was the only way to get in touch with us.

Thirty years on and in many ways nothing's changed. We still only sell parts that we use ourselves, we're still as passionate about the VW scene as ever and courtesy of the VW family we've come to know and love we've met many friends from all over the world along the way.

There have been highs and lows but throughout it all there's been a fantastic community. You're all amazing people and true friends, the last thirty years have been one big VW inspired adventure and we couldn't have done it without you.

So from the two of us and the whole team at Just Kampers,
Thank you,
Mark and Kerry Reynolds.
The JK Story So Far...