Vango 2017 Awning & Accessories Range For Campervans & Motorhomes
Vango Idris II Driveaway Awning
Surfing, hiking, sailing, cycling, kayaking or simply just relaxing. Let the Idris be part of your adventure. This freestanding driveaway awning offers a combination of convenience and space; providing a sizeable extension for living, sleeping or storage.
Vango Kela III Driveaway Awning
The market leading Kela, which is the driving force behind our freestanding awning collection, now features a new high quality durable 420 double ripstop Sentinel Pro fabric. This, coupled with bracer beams and a set of storm straps makes the Kela III a highly durable and well designed drive-away awning.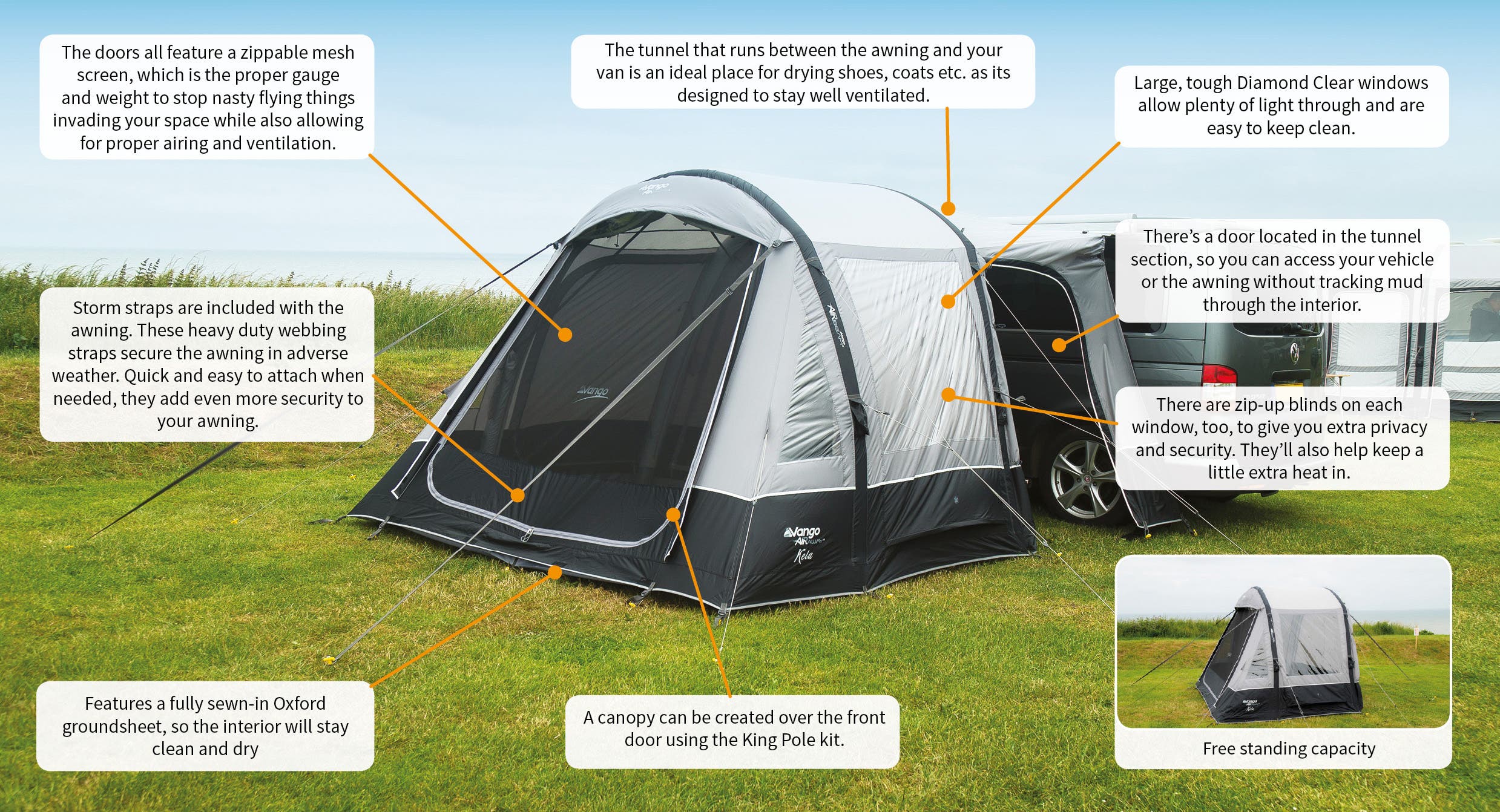 Vango Cruz Driveaway Awning
The new Cruz awning enhances the Vango Airway collection for 2017. The Cruz is an extrememley versatile companion for your motorhome or camper, creating a comfortable relaxing conservatory, whatever the weather.
Vango Galli Driveaway Anwing
Three words that express the very essence of the Galli: innovative, contemporary and versatile. It's impressive structure and design make it ideal for anyone who wants a larger more usable space for their awning.

How To Attach Your Awning To Your Vehicle
There are a number of solutions for attching your Vango awning to your vehicle, depending on what kind of van you own and what you may already have attched to your van (e.g. awning rail or Fiamma extendable awning)
For a quick easy solution on older style vans (i.e. T2 Split, Bay, T25) you can use a Figure-of-8 Awning Channel Strip. You slide in the pre- attached 6mm Kador strip on the awning tunnel and then clip it onto your van's rain gutter.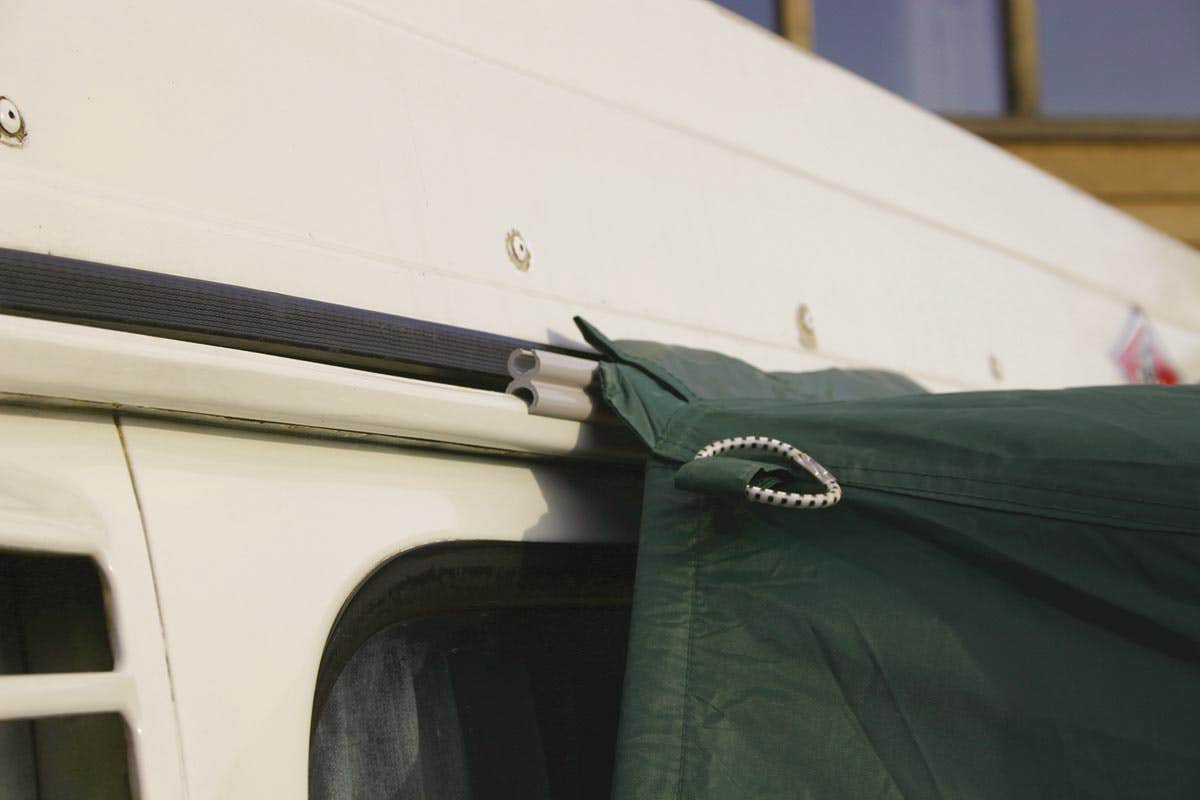 For a more secure solution, use the Vango pole and clamp kit. This consists of a 2.5m sprung joined pole with 3 pole clamps (pictured) which feeds through the awning tunnel's pole sleeve and attaches to the rain gutter.
Many modern camper van 
conversions come with a fitted 
awning rail, like the VW T6 
featured in this photo. If your 
van has the correct rail you can
 attach a Vango Airaway Awning
 directly with the pre-attached 
6mm Kador strip. If your van
 doesn't have a factory fitted 
awning rail, we stock a number 
of different solutions for T4 and T5, from basic steel rails (J29518, J29519) that work with our Figure-of-8 awning channel (J12016), to extruded aluminium rails (J27808) as fitted to the VW T5 California.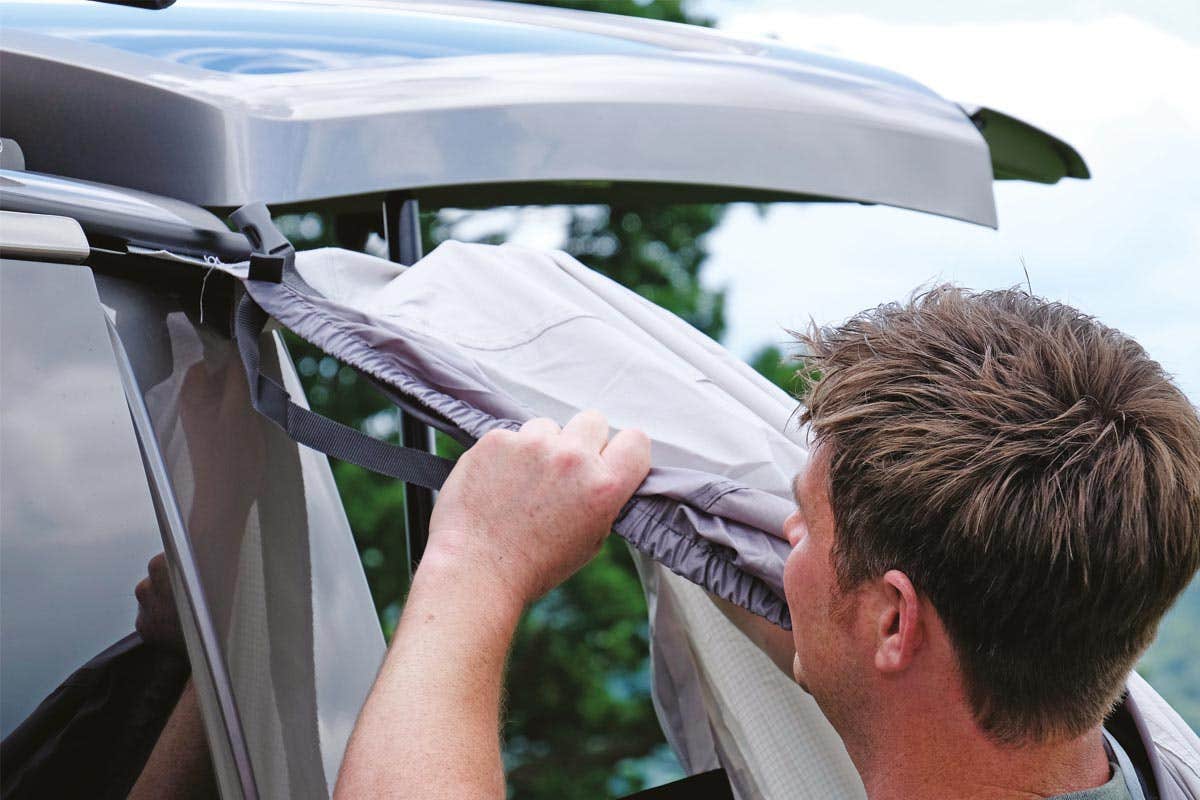 If your van has a windout 'awning' (e.g. Fiamma F45), you should be able to attach a Vango Airaway Awning using a Figure-of-8 Awning Channel AND a separate 4mm-to- 6mm Kador Strip.
The advantage of this setup is that it will enable a quick 'detach' from your awning, should you wish to leave the campsite for a daytrip!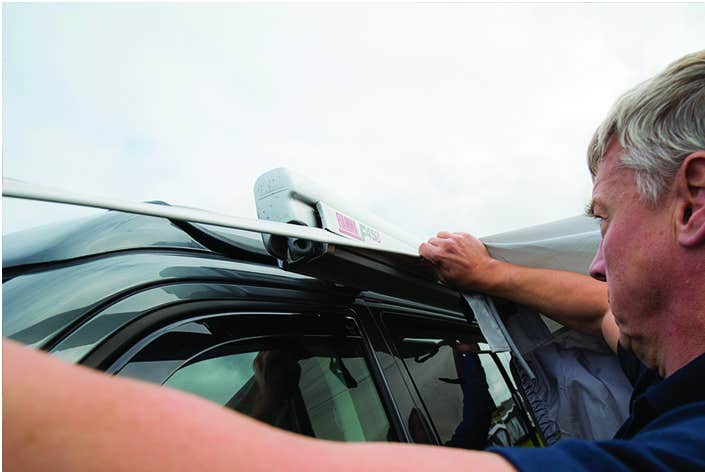 Fitted Carpets For Vango Awnings
Vango Awning Footprints
Driveaway Awning Bedrooms
Vango Sun Canopy
It's a simple concept yet surprisingly useful. A sun canopy that provides shade from the elements! Designed to provide a sheltered outdoor space to your vehicle for the ultimate viewing gallery in your surroundings. Enriched with 150 Denier fabric, it provides a tough and sturdy shield. Made with a pre-attatched kador strip to easily attach to your vehicle with an adjustable alloy pole, it fits neatly to the height of your vehicle.

Vango Storage Solutions
The Vango Bamboo Storage Unit is a lightweight aluminium and bamboo multi-functional storage unit. It's ideal for storing food, cooking utensils or a wardrobe when space is tight. With hard edge shelves for added strength and an incredibly hard wearing bamboo table top, along with it's adjustable feet for stability on uneven ground, the bamboo storage unit offers the most stylish and practical storage solution for the family getaway.
Vango Bamboo Tables
The Vango Bamboo Table is a stylish and strong dining table for a more formal dining experience on the campsite. The hardwearing bamboo tabletop is not only strong but also easy to clean. Combined with the lightweight and adjustable aluminium frame, which ensures the table will stay level even on uneven ground, this table-top makes the Vango Bamboo Table the pinnacle of the Vango furniture range.
Vango Tables & Chairs Sets
Vango's collection of table and chair sets are lightweight and handy for every campervan trip with family or friends. For such large dining sets, these also pack down to a handy portable size and into it's very own carry case for easy transportation and storage. Featuring a spacious tabletop and four comfortable chairs, the Vango furniture sets are excellent for group meals in the great outdoors.
Vango Chairs