Save up to £358 with our Hob & Sink Money-Saving Bundle Kits
If you're converting a van into your dream camper and need a hob, sink, power supply and fridge-freezer, then Just Kampers has exactly what you need, and with huge savings.
We've put together a great range of money-saving bundle kits, featuring our hugely popular JKF50 Compressor Fridge Freezer, together with a selection of hob/sinks and power supply.
Our bundle kits give you all the parts you need to install a fridge-freezer, sink, and double burner hob. By buying all these products together, you can ensure you won't have forgotten to add an essential part to your basket, and can get on with working on your vehicle right away without having to wait for it to show up later.
You'll also save money since all of our bundle kits work out much cheaper than buying all of the bits individually! It really is a win-win.
Build your package
JKF50 12-volt Compressor Fridge-Freezer
Each bundle kit is supplied with an excellent quality JKF50 Compressor Fridge Freezer exclusive to Just Kampers. Our JKF50 fridge-freezer comes in a stylish black or silver finish and is an ideal, highly-efficient fridge for your campervan or motorhome.
At a glance:
• Dual action fridge/freezer – 34 L fridge capacity and 8 L freezer capacity,
• Adaptable shelf height – Move your shelf to where best suits you,
• Changeable door direction – You can alter the direction your fridge door opens to suit your interior,
• Quiet LG compressor – High efficiency, cools quickly and you won't notice it's running,
• Customisable temp display – Control the temperature of your fridge and freezer compartments, Customise your fridge to your needs!
Our JKF50 is ideal for use in campervans, motorhomes, caravans, horse boxes and other vehicles as well as boats and other marine applications. We've specifically designed our 12-volt compressor fridge freezers to be of a high quality at an affordable price.
Size and weight:
Height: 530 mm,
Width: 380 mm,
Depth: 500 mm,
Weight: 16.8 kg.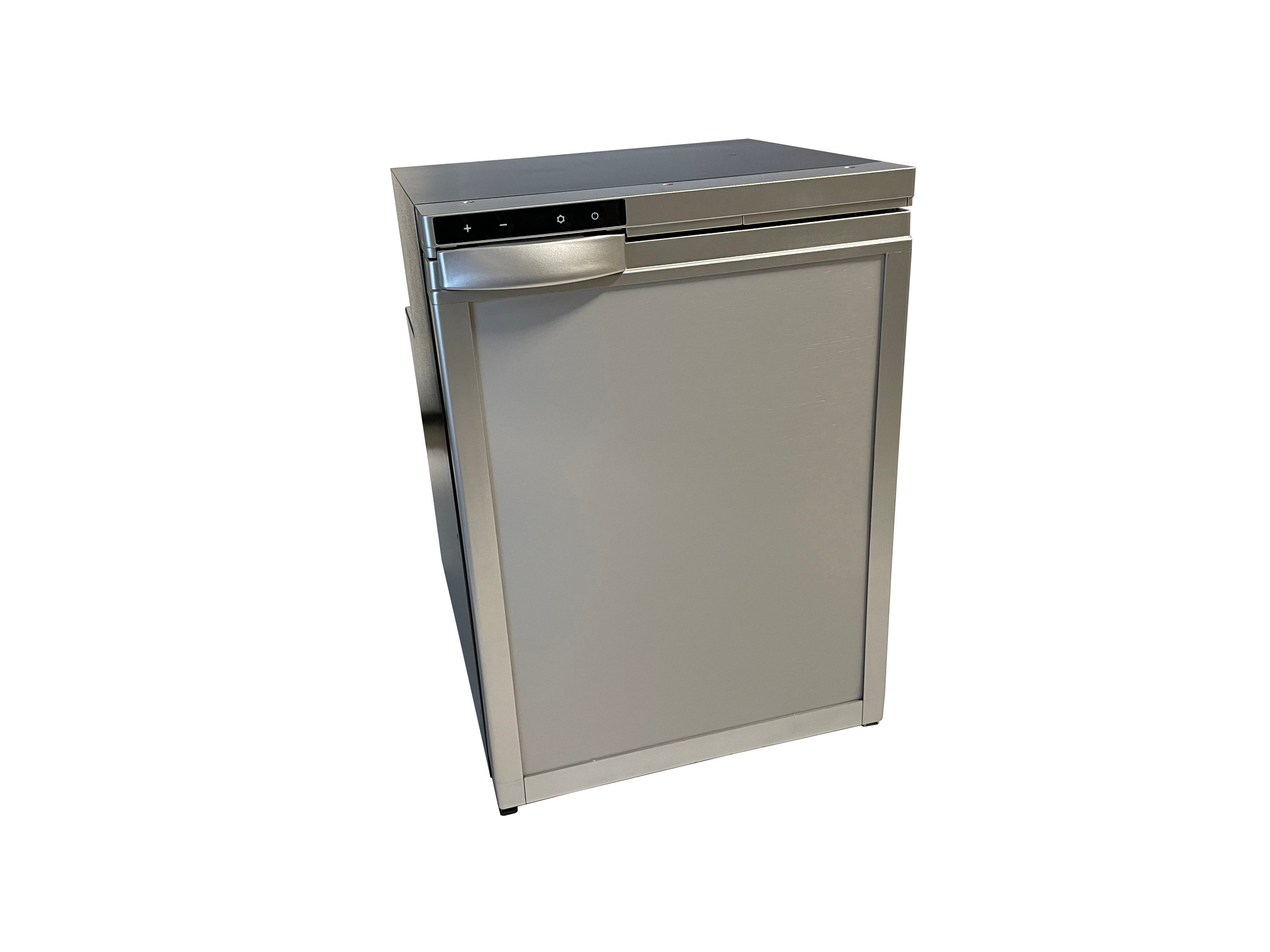 Choose Your Sink / Hob
Select which sink/hob combination suits you.
Dometic 9722 sink and hob
Is a superb compact two-burner gas hob and comes in either a left-sided or right-sided sink combination that brings convenient kitchen facilities to all small spaces. The new stylish, compact Dometic Smev 9722 sink and hob combination is the ideal solution for making the most of minimal space in your campervan, motorhome, caravan or boat.
Shop Black JKF50 Fridge Freezer + Dometic 9722 L Or R
Shop Silver JKF50 Fridge Freezer + Dometic 9722 L Or R
The Dometic 9222 (HSG 2370)
A fantastic combination cooker and sink unit. Featuring two burner hobs, a large sink and a heatproof, safety glass lid. Available in either a left-hand or right-hand sink configuration, this unit will totally change the way you use your camper, allowing you to make the most of the available space.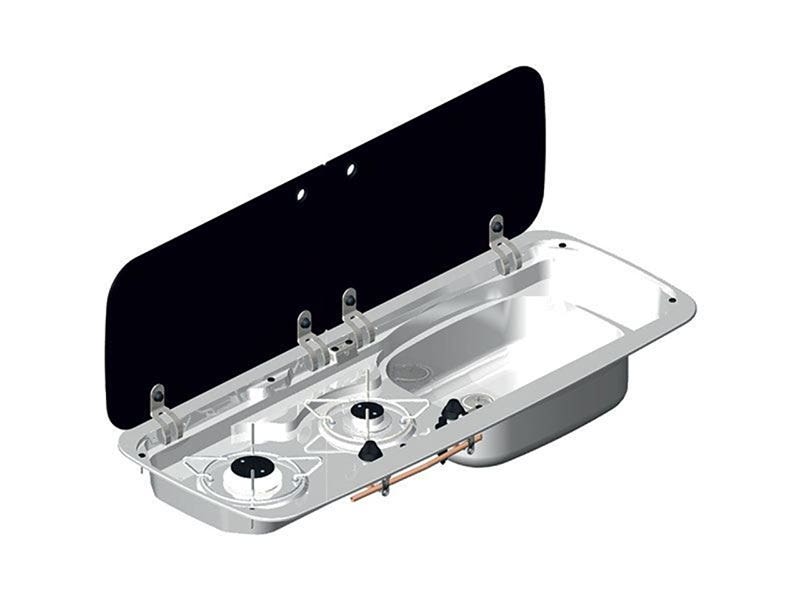 Shop Black JKF50 Fridge Freezer + Dometic 9222 L Or R
Shop Silver JKF50 Fridge Freezer + Dometic 9222 L Or R
Bundle Kit Contents
Each Money Saving Bundle Kit is supplied with everything you need to make sure your installation goes smoothly.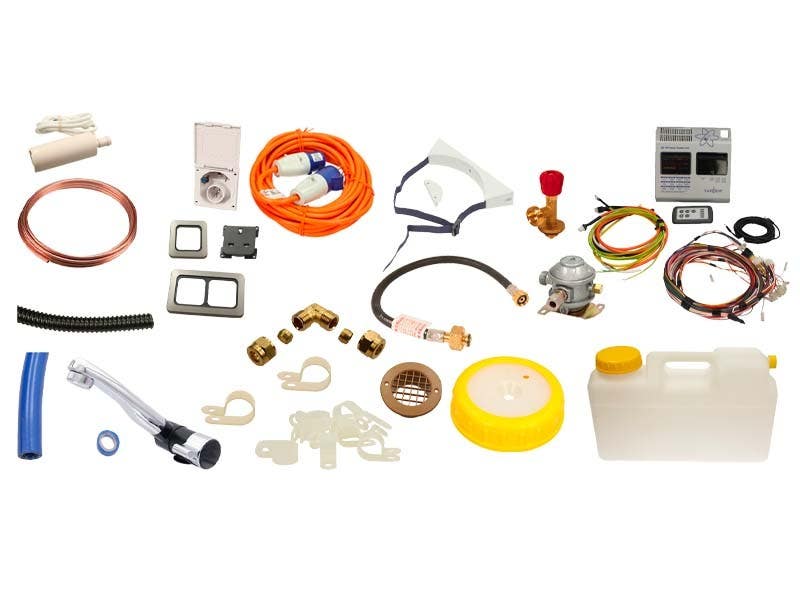 1 x Sargent EC155 Power Supply Unit & Charger (J27912)
1 x Angled Bulkhead Regulator (30mb / W20 x 8mm / 90deg) (J27829)
1 x Butane Pigtail (0.5m) (J27826)
1 x Camping Gas Bottle Converter (J27825)
2 x 75mm Short Tail Mesh Vent (16mm Tail) Beige (J41420)
1 x Gas Bottle Holder Suits 7 Kg Gas Bottles (900mm Strap) (J11935)
1 x Wade Elbow (Imperial both Ends / 5/16") (J27812)
1 x Copper Pipe (8mm / 5.5mm Internal Diameter) 2 Meter Length (J27759)
1 x Whale Submersible Water Pump 10 Litre (12v) (J11693)
2 x Flexible Waste Hose 20mm ID (Sold Per Meter) (J41987)
2 x 12 Litre Space Saving Wide Neck Canister (J41933)
2 x Replacement Plastic Screw Cap With Screw Ring, DIN 96 (J41934)
1 x Mains Hook-Up Inlet Socket (Flush-Fitting) (J12806)
1 x One Way Faceplate (Gun Metal Grey) (J41298)
2 x C Line 13 amp Socket (J41314)
1 x Two Way Faceplate (Gun Metal Grey) (J41299)
1 x Streetwize Mains Hook Up Extension Lead 10m (J11851)
1 x Nylon P Clip (8mm) Pack Of 10 (J42416)
1 x Nylon P Clip (13mm) Pack Of 10 (J41990)
4 x Nylon P Clip (25mm) Sold Each (J41818)
2 x 13mm Blue Reinforced Water Hose (Sold Per Metre) (J11680)
1 x Comet Florenza Single Lever Fold Down Tap for Cold Water (J41827)
---