About Your VW
Year: 2002
Mileage: 210,000 miles
Fuel Type: Diesel
Vehicle Model: Transporter T4 1200 2.5TDI
Import? (where from): No
Have you named your VW and where does it come from?:
The Running Van, because it's mostly used for going away running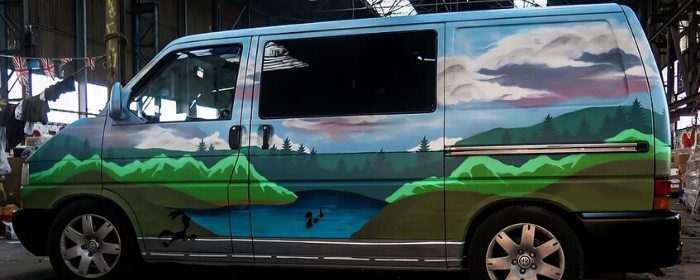 When and where did you buy your VW?
I bought the van in July 2018 just after I retired, from a car dealer in Devon. It was in fantastic condition and had a replacement engine and gearbox that had only done 35k when I got it. In addition the Dealer spent £1500 on a service before I had it, fitting new water pump, power steering pump as well as all the fluids etc. It came with a satellite TV, full awning and was an absolute bargain.
What have you done to your VW since you have owned it?
As you can see I had the murals hand sprayed by a graphic artist, he usually did murals for leisure centres etc. but also did surf vans. I just happened to see some of his work on facebook and he was keen to have a go at the running van, it was done in a cartoon style from some of my running pictures. One side is Loch Ness, where I have done the Marathon several times. The other side is an impression of my run in Cairns, Australia, with a crocodile on the beach.
I have replaced the rock and roll bed (the original wasn't brilliant) the new one has headrests and inertial reel seat belts so I can take passengers. I have fitted the storage above the sink and burners and the drawer and cupboards under the bed that can be seen in the pictures.
I have also fitted new curtains all round and a stereo/sat nav unit.
What are your future plans for the VW?
Nothing major, solar panels and possibly a new front bumper with fog lights. Oh and to use as much as possible.
What have you bought from Just Kampers?
Melamine dining and Cutlery set, Fire Extinguisher, Fire Blanket, full set of curtains including cab partition and European Travel kit.
What are you looking for next?
The only thing I want to fit now is roof mounted solar panels. I have been waiting for the twin 50W panels to come back into stock and will be ordering in the near future.
Oh and I may have to fit a new front bumper as a lorry reversed into the van. Its ok but I may take the opportunity to fit fog lights.
About You
Your Name(s): Alan Robertson
Is this your first VW?
Yes
Do you own any others?
I have an Audi A4 Allroad, I had an Alfa Spider that I part exchanged to fund the Van.
What got you into VW's?
A few of friends have T4's and T5's they use for running trips.
Who enjoys your VW?
Myself mostly but also my friends.
Where do you like to go in your camper?
Well running mostly, I've been back to Scotland several times, West Wales and this year to the Vendee in France, all for Races. In July this year myself and my friend did the 3 Peaks using our Vans for Transport and accommodation, Perfectly (picture attached)
There are many trips planned for next year already including Stornaway, Isle of Harris and Lewis and back to the Vendee again.
Do you have any amusing or fantastically memorable stories whilst enjoying your VW?
Every time I use the van is a special occasion, everyone loves it and want one like it even though it is 17 years old.
Want to know more about the artist who painted 'The Running Van'?
Check out: Soprano Designs