About Your VW
Year: 2012
Mileage: 79,000 miles
Fuel Type: Diesel
Vehicle Model: Transporter T5.1 T28 102 166 bhp (remap)
Import? (where from):
No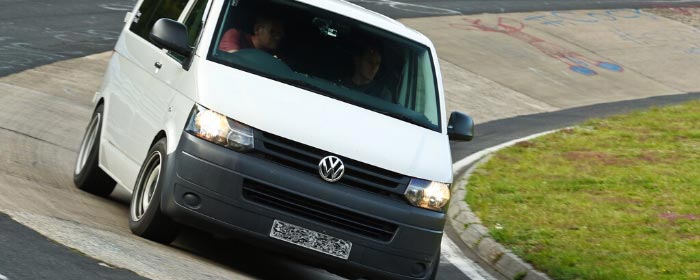 Have you named your VW and where does it come from?
No
When and where did you buy your VW?
II bought it in April 2016, it was originally a rental van (Northgate) with full-service history and only 35,000 on the clock.
What have you done to your VW since you have owned it?
I'd been waiting quite a while for the right van to become available, so I had the majority of the parts and materials ready before I brought it home. I started by stripping EVERYTHING out of the van apart from the dash, seats, flooring, ply lining, headlining, bulkhead - the lot!
It was then soundproofed, insulated, carpeted, rewired for leisure electrics, new flooring, lighting, a seat swivel, a few upgrades to the speakers, stereo and a dashcam hard-wired.I've built the back around my needs a full single bed with storage underneath, a large worktop for cooking/workspace, and storage for food, utensils, cookware and all the other camping related items- Oh, and a 23" smart TV!
It was then lowered on H&R springs, then I had to have windows fitted so I could use German campsites for our road trip to Belgium for the Fl GP. I had planned a proper 'stealth' camper but plans had to change. The last major surgery was a Pendle remap and a new clutch and DMF.
What are your future plans for the VW?
I honestly couldn't tell you. Most self-builds are never finished, as new things come along or upgrades available. Maybe a six-speed gearbox?
What are you looking for next?
I've always fancied a diesel heater but couldn't justify the cost for the use it would get. Maybe when the prices came down a little.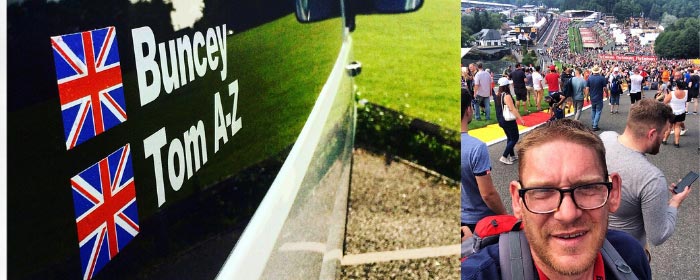 About You
Your Name(s) Mark Bunce
Is this your first VW?
I've had three golfs and this is my first T5.
What got you into VW's?
I've always been a fan of German cars. After owning nine BMWs I saw a mint Golf GTI for sale, had a test drive, fell in love. Bye-bye Beamer
Who enjoys your VW?
Me and my dog Wallace, mainly. I've been known to deploy the Vango drive away awning for friends to stay in from time to time - if they need a roof over their heads.
Where do you go with your VW?
Fortunately, I have friends dotted around the country and are always very generous with their driveways. Drawn to the west coast* Cornwall, Wales, Merseyside. But equally love Shropshire and Yorkshire. Anywhere that there's nice food to be sniffed out.
Do you have any amusing or fantastically memorable stories whilst enjoying your VW?
I've been on a few European road trips. I've driven the Nürburgring, been to Spa-Francorchamps for the F1, to Le Mans for the 24 hours, but the most memorable was a rescue mission to Germany. My friends Mike and Steph (Chefcampers.com) recently sold everything and moved into their Westy Syncro Atlantic full time. Long story short, they blew an engine so I drove over to pick them, Rupert the dog and all of their possessions back to the UK. We had a lovely meander back through Germany, Luxembourg and France, enjoying the food and each other's company. It's the unplanned, unexpected Journeys that are really the best!