About Your VW
Year: 1972
Mileage: 5,000 miles on the new engine. Unsure on the shell.
Fuel Type: Petrol
Vehicle Model: VW T2 Crossover Bay Window
Import? (where from):
No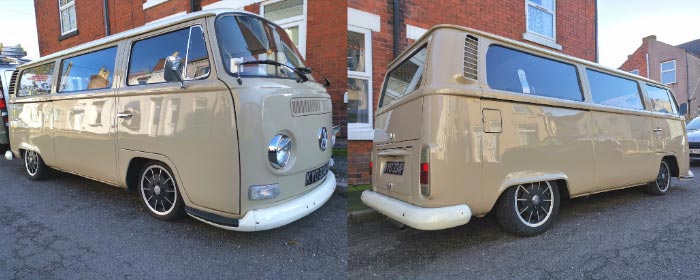 Have you named your VW and where does it come from?
We have called her Ruby and kaiser chiefs always spring to mind…
When and where did you buy your VW?
Me and my wife bought the only bought the bus around 6 weeks ago. We have always wanted one and thought why not lets go for it. We managed to pick the bus up pretty local from Rotherham.
What have you done to your VW since you have owned it?
The first thing was to give Ruby a face as she was missing her front badge.
The second thing we did replace the exhaust as its was scraping on everything and getting us stuck. We replaced the phat boy exhaust with a vintage speed tuck away.
I had to replace the front two door handles as one of the locks were snapped.
My next fix is the indicator stalk as when we went to view the bus, my twin boys decided to lean on the stalk and it snapped off before I had even purchased Ruby! After a few weeks of scanning the Internet for an original replacement part I managed to find one on a Facebook group for a steal.
I also have front seat belts to fit ready for some road trips next year.
What are your future plans for the VW?
Our future plans for the van are to run a wedding chauffeur business (already in progress) our business is called Whittakers VW Camper Hire and we are based in Chesterfield, Derbyshire.
We also plan on some weekends away in the bus as a young family.
What are you looking for next?
Alloys , roof rack and heating equipment
About You
Your Name(s) Jack and Becky Whittaker
Is this your first VW?
I have owned a few VW's
Mk1 golf 1.1c
Polo 6n x2
Lupo x2
New beetle 2.0
New beetle sport 2.3 v5
Do you own any others?
Not VW's, we currently own a 1987 mk2 fiesta which is pretty cool.
What got you into VW's?
I have always been a petrol head. My dad owned many cars during my childhood so as soon as I was old enough to drive I started going to all the shows and the VW ones are the ones that got me hooked.
Who enjoys your VW?
Myself, My Wife and our 2 (nearly 3) year old twin boys.
Where do you go with your VW?
So far we have mainly been to churches and halls due to being a wedding vehicle. Next year we will see some coastlines for sure.
Do you have any amusing or fantastically memorable stories whilst enjoying your VW?
As we haven't owned the bus to long so far she just amuses us getting stuck due to her being so low.
Would you like to hire Ruby?
Check out Whittakers VW Camper Hire on Facebook