About Your VW
Year: 1962
Mileage: 5,400 miles (The Speedo was reset to 0 during restoration)
Fuel Type: Petrol
Vehicle Model: 1962 Splitscreen
Import? (where from):
South America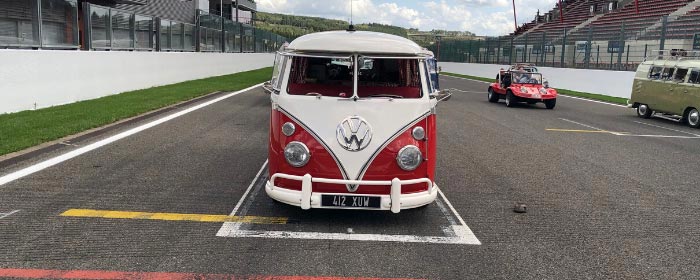 Have you named your VW and where does it come from?
Poppy. The colour is Poppy red, and it sounds like an affectionate and happy name; but its actually named out of respect to my late WW2 Veteran grandad who used to stand outside the local Sainsburys in the freezing cold and pouring rain, proud as punch, wearing his medals, selling Poppy's for the Royal British Legion.
When and where did you buy your VW?
I brought the van 4 years ago from a local company called Southwest Splitz. The previous owner brought it and imported it, and didn't like it; so the story goes he sold it to put the funds towards buying a Morgan sports car!
What have you done to your VW since you have owned it?
I bought the van as a project - the previous owner had the bodywork resprayed - but that was it. I'm a mechanical engineer by trade, so nuts and bolts are a yes from me, and spray guns and bodywork are a no from me! The running gear was very tired and well used, so dad and I have totally rebuilt the brakes, shocks, front beam and spindles, wheel bearings and the steering box, the full works - so it now drives like new. The front brakes are Porsche discs, and the rears are late bay drums.
John Walklett stripped and serviced the AM code beetle gearbox with fresh seals and bearings, with some coarser toothed 3rd and 4th gears. The whole aim of the game is to future proof it - make it all as bullet proof as possible. There were no horrors in the gearbox, but the rebuild and service was more for reassurance to know its all good - and to refresh the rubber seals and gaskets. Dare I say it, I've got a leak free VW!
The monster engine. Graham Rawlings (Rawspeed Engine Tuning) built, what he refers to, as, the Rawspeed special. I'm sworn to secrecy about its internals, but its less than 2.1 litre capacity, and it measured 95hp at the wheels! I can cruise at 70mph all day long, and, of course on private property, (wink wink nudge nudge,) I can get the speedo needle to hit the other side of the needle rest-stop peg; but that's super scary!
The interior is totally custom with a flip front bench seat, split charge leisure battery, diesel heater, 240v hookup and battery charging, solar panel charging capacity, and plenty of LED lighting.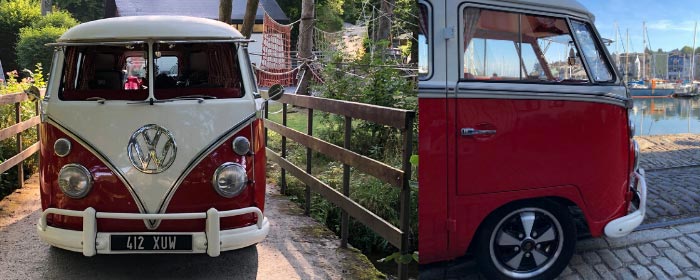 What are your future plans for the VW?
Drive it, Drive it, and Drive it! Its there to be used and enjoyed. My van's no trailer queen, but its still good enough condition to be worthy of a nice clean and polish. It's just the right balance between being totally useable, but equally well received at the car shows. What have you bought from Just Kampers? 90% of the parts! My insurance is with JK, so I'm making full use of the online shop discount!
What are you looking for next?
I think I'm just about there with parts now - I cant think of anything I need now that are hard to get hold of.
About You
Your Name(s) Ben Legg
Is this your first VW?
I used to have a 1976 beetle, UHO 371R. I've always loved air-cooled VWs, so when it came up for sale, I just had to have it! Naturally, I grew older and wiser, and wanted a split, so saved darn' hard for one and brought it!
Do you own any others?
No other VWs, but my daily is a 2012 2.5 litre twin turbo diesel Mercedes C Class.
What got you into VW's?
As a kid, my family used to have a touring caravan, and most weekends we used to drive the short 40 mile or so drive across the Tamar Bridge, and down into Newquay. A different weekend, meant for a different campsite - and we always used to see what we'd spot whilst we were on the road. I don't think I could ever be without an air-cooled VW now! I'm well and truly hooked!
Who enjoys your VW?
Who doesnt! Its a long standing joke, whenever I'm out and about in the splitty, someone always sees it. I may get a text from a mate, a message from someone, or a work colleague say, "Ben we drove past you the other day, we waved but you didn't see me!" Or they spot the van parked in a carpark and message me the photo they'e just taken of it in a carpark! The best one, one of my workmates asked, "Why was your mum driving the van?" . . . he didn't realise its Left hand drive!
Where do you go with your VW?
I sleep in it, put surf boards in it - in fact, I've recently moved house with it - but I do take the upost care over it! Just this year alone, I've driven it from Plymouth to Silverstone and back - approximately 250 miles each way, for the British Grand Prix, and we did a monster 1500 mile road trip around Europe across 11 days. All that happened was the 12v wire fell off the starter motor! So I plugged it back on, squeezed the crimp a little tighter with some pliers, and that was it! All the mileage, I averaged 27.6mph. I'm a big motorsport fan, Lewis Hamilton all the way! I've been to the British Grand Prix twice with it, Goodwood Festival of Speed, and I'm hoping to drive down to the Le Mans 24h race next year. I've got a crazy, crazy idea of crossing Plymouth to Roscoff, and driving down to the Monaco F1, before driving across to Santander, and sailing back from Santander to Plymouth. That sure would be a memorable adventure!
Do you have any amusing or fantastically memorable stories whilst enjoying your VW?
The look of absolute pure fear on dads face when I first drove it! He was sat in the passenger seat as white as a sheet! We pulled out of the carpark and the side door flew open, narrowly missing a parked car! Later that year, I brought a beEer condiFon interior passenger grab handle, and dad jokingly said, "my finger prints are permanently etched into that handle from the drive back home!" So needlessly to say, aJer that comment, I could never, ever part company with the grab handle!
Another good one, at Silverstone, I took the rotor arm out just to be on the safe side. We packed up and went to drive away, and the van wouldn't start. It took best part of an hour for me to realise why! I blame a weekend of too much sun, and too many beers!
After the starter motor saga, we were in the Dover ferry port, middle of the night, pitch black and Fred. I leant through the window to try and start it, and didn't take it out of gear. My good friend Lee, who was stood in the front, had the shock of a lifeFme as the van lurched forwards and gently bumping her shins before I realised what had happened! Thanks to everyone who's helped me along the way. I owe you all lots of beers - Poppy wouldn't be what she is now, without a lot of help from a lot of people. You know who you are guys.