About Your VW
Year: 1999
Mileage: 146,000
Fuel Type: Diesel
Vehicle Model: Transporter T4 800 special . 1.9 td Abl engine
Import? (where from): No
Have you named your VW and where does it come from?:
My Daughter has yet to christen her new 'baby' but I thought about 'Blossom ' or 'Juicy' , both related to orange.
When and where did you buy your VW?
My daughter purchased the non-running van from a friend in October 2018. It had spent the last couple of years in a farmers field in South Wales. It came with the original engine that had seized and a replacement non-turbo engine that was fitted to the van, this was also a non-runner. It also came with a spare gearbox, injector pump, alternator and various other bits and bobs.
What have you done to your VW since you have owned it?
The van has been totally stripped down and rebuilt. The seized 1.9 td Abl engine was sent as an exchange unit for a completely rebuilt unit with new head, valves, pistons and oil pump. I completed the engine build with the ancillary components, some being replaced with new items where necessary.
The running gear was completely overhauled with new bearings, track rod ends, bushes etc. The rear suspension was replaced with lower adjustable ride height springs and new dampers. The front riding height was lowered to suit shortened sports shocks. The existing stainless steel exhaust required no attention apart from a new manifold gasket ring. The complete underside, including the running gear was painted with Rustbusters 2 pack black epoxy resin. The interior was completely stripped out.
Work commenced on repairing the floor pan where necessary followed by adding a aluminium backed rubberised foam base with a 16mm marine ply on top. This was then covered by black altro flooring with silver specks. All body panels were covered with heat and sound insulation. The original sliding side windows, rear quarter windows and the tailgate window were replaced with new "black out" bonded windows along with a new windscreen. (The original one cracked during the strip down)
I then started on the electrics by installing a 240v and 12v power management system incorporating a high amperage leisure battery backed up by a 150 watt solar panel. USB power points and led lighting also being fitted.
A Waeco (Dometic) fridge was installed along with a Thuma water jacket. This water jacket can work off 240v when on site. I also installed a diesel heater which feeds hot air through the jacket before exiting into the habitation area. I also created a small airing cupboard which is also heated by the diesel heater. Useful for airing wet clothes. A R&R bed and reupholstered drivers and double passenger seats supplied by Captains Seat of Melton Mowbray were fitted on swivel bases. A double gas hob and sink combination was installed into carbon effect kitchen furniture. Hot and cold water being fed from an underslung water tank through an accumulator to prevent "drumming". A hot and cold shower was installed at the rear of the van which can be used when the tailgate is raised and the tailgate awning added. Great for washing down after a day on the beach.
Externally I added a Retroracs roofrack finished in gloss black powder coat. Positioned just behind this is the solar panel. A drive away side awning was also accommodated. Stainless steel side rails are fitted with the van running on 18 inch MSW five spoke graphite wheels shod with Continental Concept 6 tyres (235/45). New front and rear light clusters with led running lights were also fitted.
I spent hours rubbing down the paintwork, priming etc. but decided to trust the final coat to a professional paint shop. This was completed in bright orange. (Ral 2003). New sports style front and rear bumpers were also colour matched in the same orange.
What are your future plans for the VW?
Having passed the van over to my Daughter my only involvement will be it's maintenance and the occasional holiday in it with my wife and dog. (As a rider to this my Son has decided that he should give me a project to do as well. This time a two-wheeler- a 1990 Honda cb-1). No rest for the wicked!
What have you bought from Just Kampers?
Various repair panels for front wings, wheel arches and door sills. Numerous other items,
What are you looking forward to next?
As many days away in it as allowed including visiting as many VW shows I can.
About You
Your Name(s): Owner:- Emma Mitchell. (Daughter). Restorer:- Melvyn Mitchell (Father)
Is this your first VW?
I once owned an old beetle, that must have been over fifty years ago. WISH I STILL HAD IT!
Do you own any others? No
What got you into VW's?
A couple of friends got me hooked with theirs.
Who enjoys your VW?
My Grandchildren.
Where do you like to go in your camper?
Having only just completed the project we've yet to travel away in it, but if I can prise it away from my Daughter then the first trip will be to Port Eynon on the Gower peninsular.
Do you have any amusing or fantastically memorable stories whilst enjoying your VW?
During the early stages of build I didn't have access to a workshop so a lot of the work was carried out under a taupaulin, which was no fun during the winter or windy weather. That was memorable but not particularly pleasant. However, the most memorable moment was when my Daughter first saw the completed van. I had kept the project away from her throughout the build, the look on her face and her excitement will stay with me forever.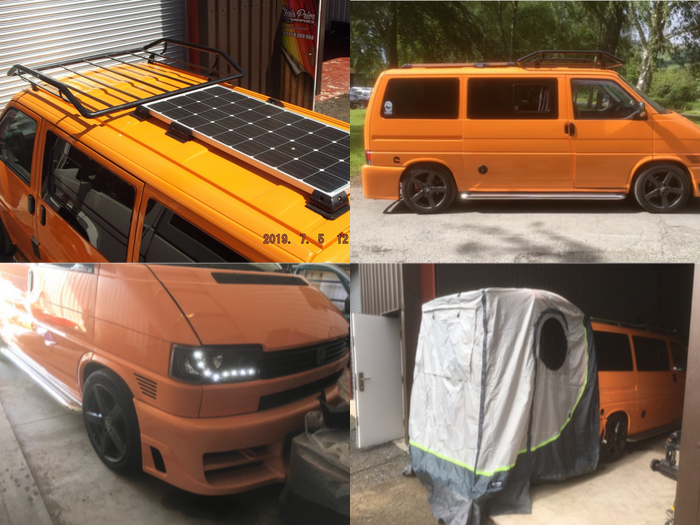 Is there anything else you want to tell us?
Just to say that the whole project has had its ups and downs and "would I do it again?" - ABSOLUTELY
AND I STILL HAVE A WIFE WHO TALKS TO ME ! .