Xavier from France spent a year building a stunning Hebmuller Replica.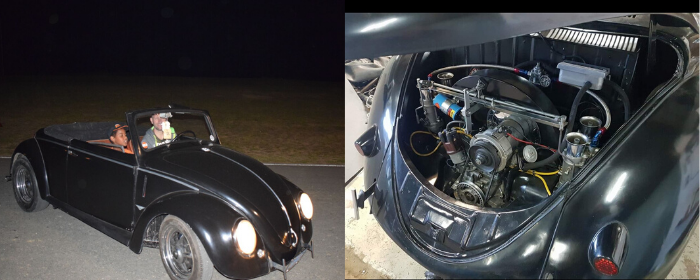 Xavier's Heb is based on a very rusty 1951 Split Beetle body that was heavily modified to create an extremely rare Hebmuller convertible replica. When you say it like that it sounds easy but it's no small accomplishment, a lot of intricate modifications needed to be made to create this faithful reproduction.
Other than the Hebmuller decklid which is made of fibreglass, the rest of the modifications are all steel. The bumpers have been removed and replaced with a Cal Look favourite, T-bars and it's had a small drop in ride height at the front to give it that classic Cal Look nose down attitude.
The floorpan has been fully restored and fitted with late synchromesh gearbox. It's running a High Performance 2 litre Type 1 engine that's been built using original Deano Dino-Sour parts, a classic Cal Look glasspack exhaust, a full flow oil system and a Gene Berg accelerator linkage along with the must have Cal Look carb set up, a pair of 48IDAs.
The wheels are original chrome 5 bolt Empi Sprint Stars, skinny at the front and fat out the back. Front tyres are 145 Firestone F560s and the backs are Firestone drag racing slicks!
The original red seats came from '56 Oval and have just the right amount of wear and patina to they suit the car perfectly. The dash features a Porsche 356 speedo, rev counter and steering wheel and shifting the gears is taken care of by an extremely rare Deano Dino-Sour gear lever.
The black paint had matting agent added so it wasn't too shiny as Xavier wanted his Heb to look like is was Cal Looked in the late '60s / early '70s and parked up in California garage for decades.
We absolutely love it. Hats off to you Xavier, you have built a seriously cool ride!