About Your VW
Year: 1987
Mileage: 153,000 miles (9,000 on recon engine)
Fuel Type: Petrol
Vehicle Model: Basic Caravelle T3 T25 1.9 DG, automatic. Holdsworth Villa 3 conversion with VW high top.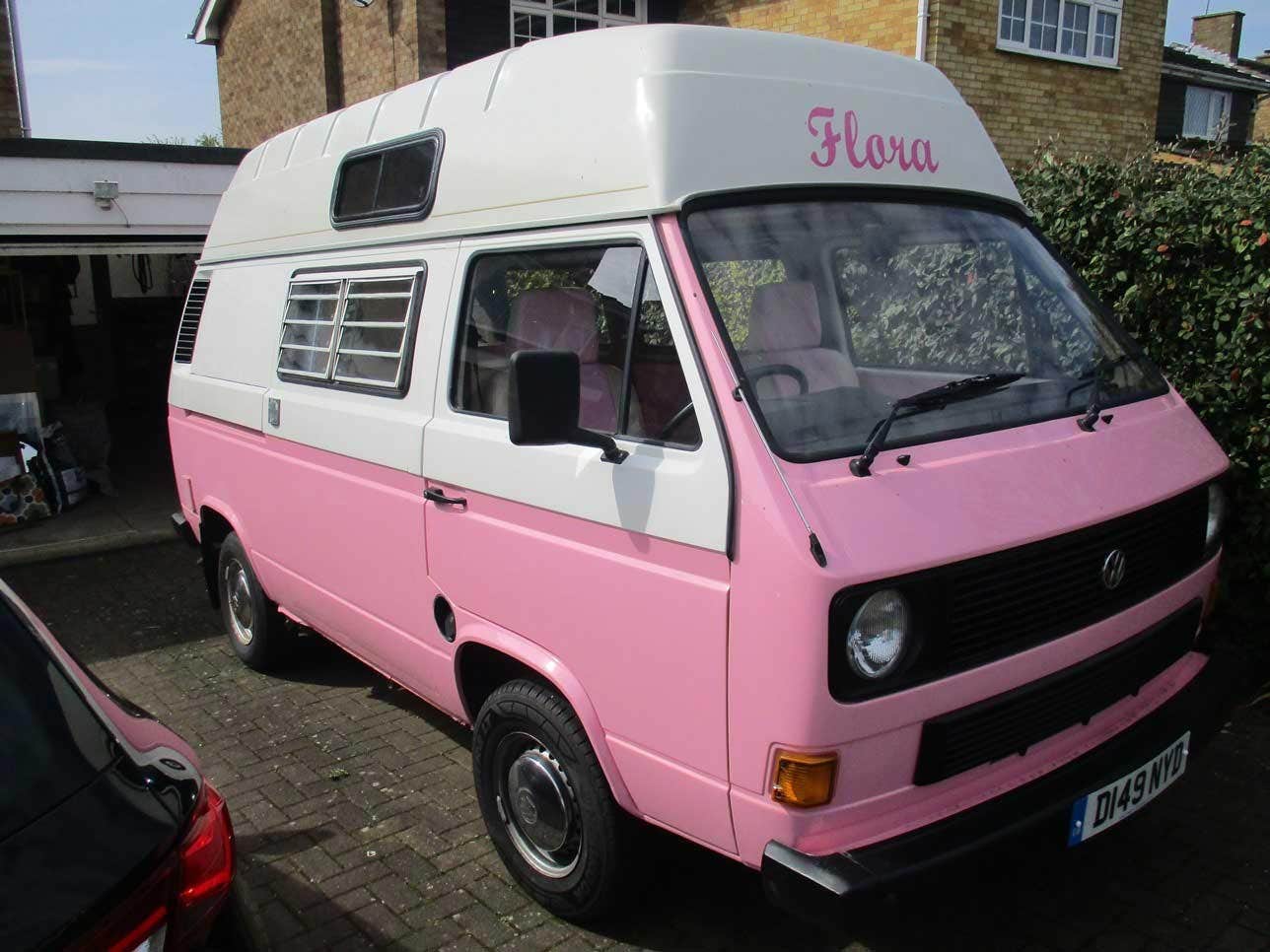 Have you named your VW and where does it come from?:
Flora (I have a liking for flowers and made curtains for the van out of rose printed material)
When and where did you buy your VW?
I bought Flora in 2014 from a local VW campervan garage. I only have an automatic licence, so she fitted the bill.
What have you done to your VW since you have owned it?
Flora had not had an easy life. According to the V5C, I am her fourteenth owner, and from the servicing records that came with her, she had suffered overheating problems for many of them.
When I bought her she was plain white outside, and the inside units had been completely covered in white sticky-back plastic. So husband Brian set to and took the units back to bare wood, manufacturing replacement doors for those beyond repair, and painted them two-tone chalky-pink and cream.
I had the original bed replaced by a rock-and-roll one before I bought the van, and Brian fabricated a neat unit with rear-facing drawers that sat over the engine bay, making a flat bed space.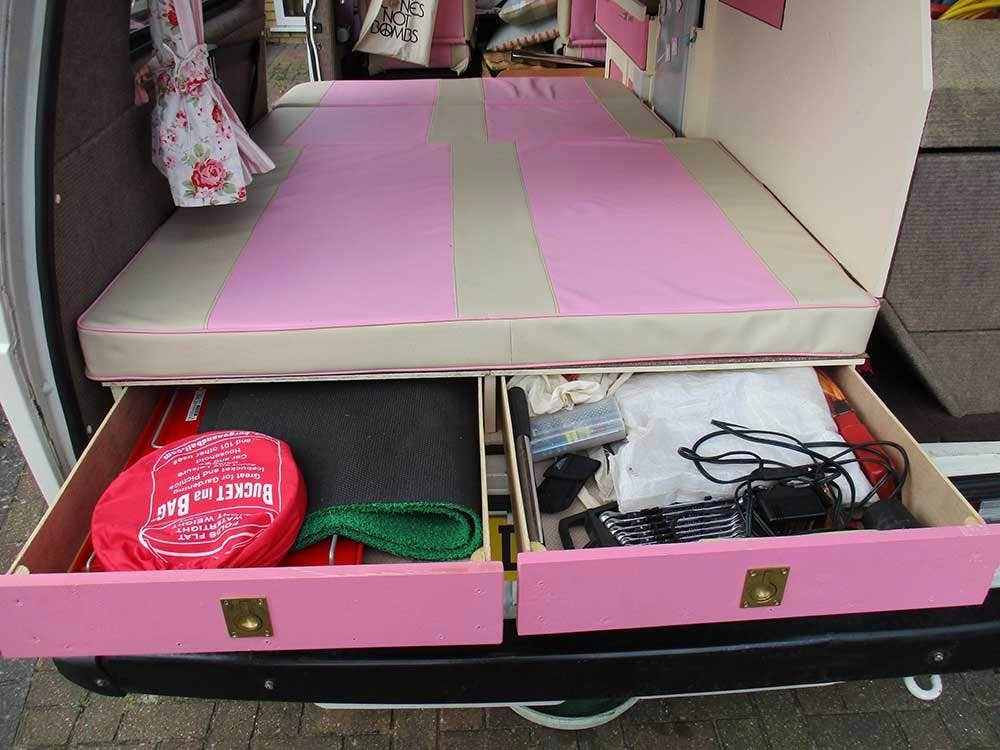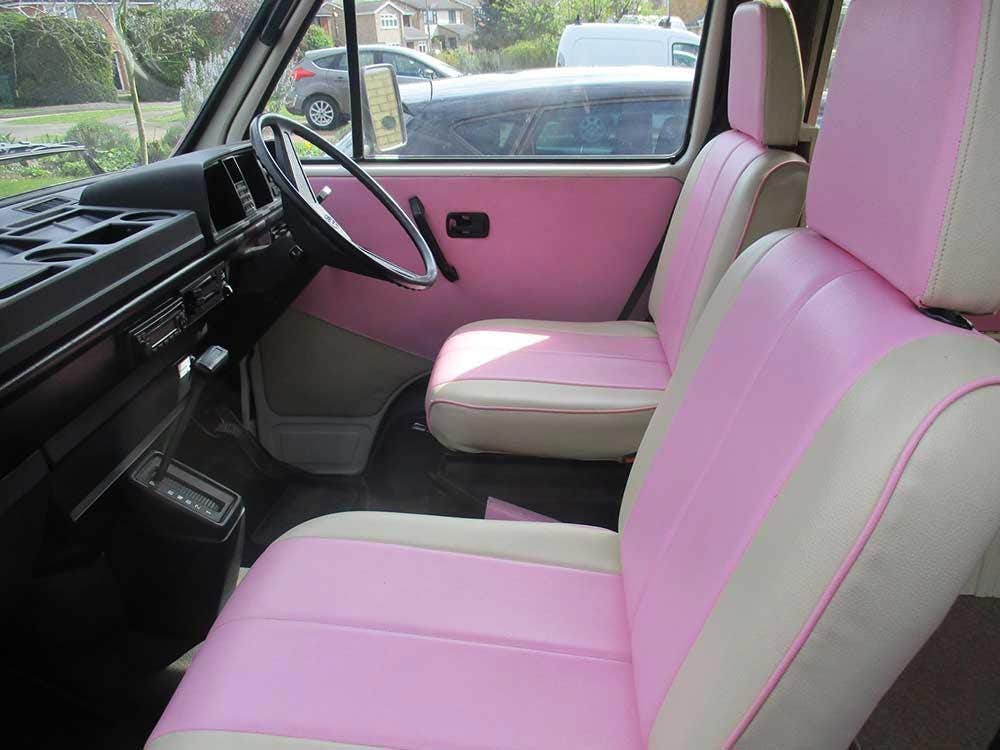 A local car upholsterer recovered the front seats and made foam upholstery for the rear seat and back platform, all covered in vinyl (easy-wipe for grand-children's sticky hands and spilled drinks). He was able to match the pink and cream of the units, and did some pretty neat piping work.
On days out after I bought her, we began to suspect that all was still not well with the engine, and after much investigation and discussion with the garage that sold her, I decided to replace it with a reconditioned unit and stainless steel exhaust. The automatic gearbox was stripped down by a local specialist and all the seals replaced.
After a few years, the lower body was showing signs of corrosion, so I contacted a local body-shop that specialises in VW campers to replace the corroded panels and respray the lower half of the body chalky pink to match the interior. Brian had her vinyl name made and applied by a local sign maker.
Inverter and removable television added recently.
What are your future plans for the VW?
To enjoy camping in her! We quickly found that a small drive-away awning was essential for us, although it took us a while to find a satisfactory way of attaching the awning to the van (we settled on up and over straps in the end).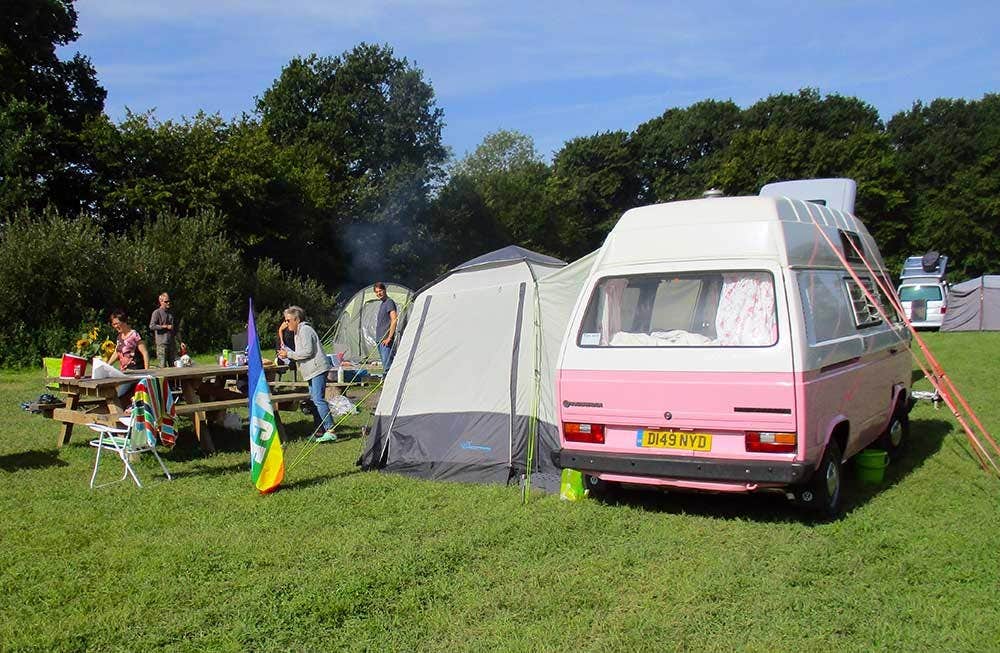 What have you bought from Just Kampers?
Recon engine
Radiator
Stainless exhaust
Spark plugs and leads
Petrol pump
Dash tidy (v good!)
About You
Your Name(s): Jean Wardrop
Is this your first VW? Yes
Do you own any others? No
What got you into VW's?
I have never really liked holidays camping in a tent, and Brian (who does) refused to tow a caravan around, so this seemed like a good compromise. As a hippy-era girl, a VW camper was appealing, I could let my interior-designer side rip, and Brian could look after the mechanics.
Who enjoys your VW?
Several daughters have borrowed her for camping trips.
Where do you go with your VW?
Strictly UK so far. Holidays from our home in Essex to Wales, Cornwall, Norfolk and Yorkshire. Also to JK's weekend when we can get the tickets.