About Your VW
Year: 1986
Mileage: 241,000
Fuel Type: Petrol
Vehicle Model: T25 Transporter
Import? (where from): No
Have you named your VW and where does it come from?:
Elsie it is the name of a favourite Auntie from the previous owner we didn't have the heart to change it.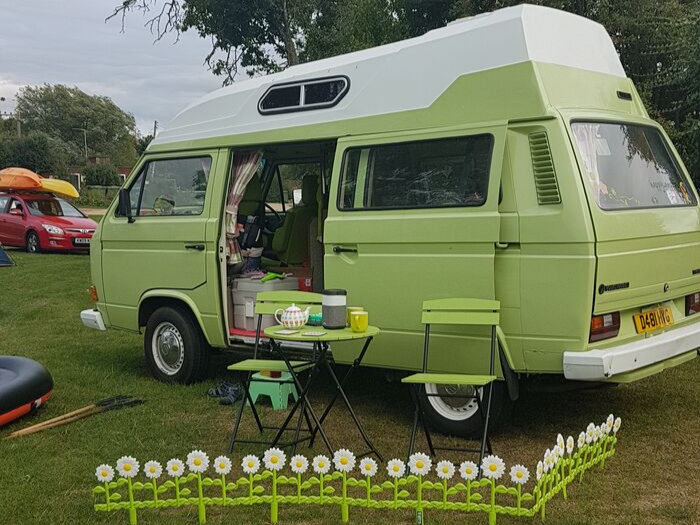 When and where did you buy your VW?
We bought her 3 years ago from a couple who had a business hiring them out and she wasn't getting hired, presumably because people wanted the iconic experience and poor Elsie wasn't that!
What have you done to your VW since you have owned it?
She was in pretty good nick, so just a service initially making the first year camping heaven. Since then she sprang a leak so we had the rear door seal replaced, which didn't solve it. So we had roof investigated to find that the whole section across the back below the hard top was filled and Rotten. Our VW man in Farnborough had to make a bespoke section as there was not much to weld to. The inner and outer drivers side sill has been replaced along with the foot well which was quite rusty and a corner of the front wing. We have fitted Wind and rain deflectors which look really cool. A snazzy gear knob and jail bars.
What are your future plans for the VW?
The windows are starting to bubble and there are other small rust spots on the body Wendover are next on the list. Once all the dust spots have been sorted she is going to get new paint work. The same colour but new and shiny.
What have you bought from Just Kampers?
Wind and rain deflectors, Jailbars, fuses, curtain hooks. Next we need a decent leisure battery as our current one is just a car battery. The space is be small and have not been able to find one small enough, but I have just seen them in the website but they are out of stock and I need to find out the dimensions.
About You
Your Name(s): Kay and Shani Reynward
Is this your first VW? Yes
Do you own any others? No
What got you into VW's?
Have always wanted one and had a very nasty motor bike accident. This was different on the road fun, safer, slower and on four wheels!
Who enjoys your VW?
Us and our two grandchildren. Our eldest one asked recently.... 'Nan when you die... Who gets the campervan? Lol
Where do you go with your VW?
Dorset, Lincolnshire, Kent so far. Plans to go to Ireland and may be France.
Do you have any amusing or fantastically memorable stories whilst enjoying your VW?
On a trip to Dorset with the grandchildren we went to Durdle Dor, parked precariously close to the edge to discover that the hand brake was not holding. Reverse is always a bit tricky to get into, so nudging ever so slowly close to the edge. Shani jumped out and holding onto the front of Elsie said "don't worry I will stop it!!! " the parents have considered getting them insured for future camping trips with their nans.