About Your VW
Year: 1980
Mileage: 104,000 miles
Fuel Type: Petrol
Vehicle Model: Devon Campervan Transporter T25 2L Aircooled
Import? (where from):
No
Have you named your VW and where does it come from?
Des – because of his registration number
When and where did you buy your VW?
I inherited Des 15 years ago, from my brother Joey who sadly passed away, not knowing anything about camper vans or the popularity of them.
What have you done to your VW since you have owned it?
For the first 5 years we got to know Des, and soon realised he needed some TLC, lots of time and lots of money! I have always enjoyed working on cars, totally renovating a Mini Mayfair for my wife and maintaining all the cars I have owned, and so I was quite looking forward to working on Des, but wow there was so much to do. So the first thing we tackled was the interior, wiring and furnishings, trying to keep it as authentic as possible. Then Des had a total respray in 2010, wax oiled inside all the panels I could get to and then fitted plastic wheel arch liners (best thing ever) and tinted the rear windows for privacy. New roof and tailgate struts as we were banging our heads on both, very annoying. Next job was to upgrade the wheels to Mercedes alloys and low profile tyres and soon realized how heavy that made the steering so decided to fit an electric power steering conversion on one bank holiday long weekend – another best addition ever! Then fitted new brake discs, callipers, new springs and shock absorbers to lower and improve the ride, what a difference that made! The next thing I added was an Eberspacher diesel night heater with additional fuel tank for the diesel. This was before the much cheaper Chinese heaters on eBay, just had to replace the 40-year-old throttle cable which snapped on a recent family trip!
This was the first time Des had broken down and had to be rescued by the AA. We take Des out most weekends in all weathers now, and we do get all weathers here in North Wales!
What are your future plans for the VW?
Major job – replace clutch asap and gear linkages (really looking forward to that one). Recover rear seats and bed area, replace leisure battery and try to keep ahead of any potential rust issues. There is always something that needs doing as I am sure all VW camper owners will agree.
What have you bought from Just Kampers?
2 Front-wheel bearing kits, front brake disk dust shields, various switches all sensor kit plugs, leads and only recently a new throttle cable. The list is too long to mention everything. I don't know what I would have done without you.
What are you looking for next?
We haven't anything specific in mind at the moment, as we have had Des for 15 years now we have everything we need, however, we are always open to new ideas we see in VW shows or VW meets we attend, and say "we should get one of those"!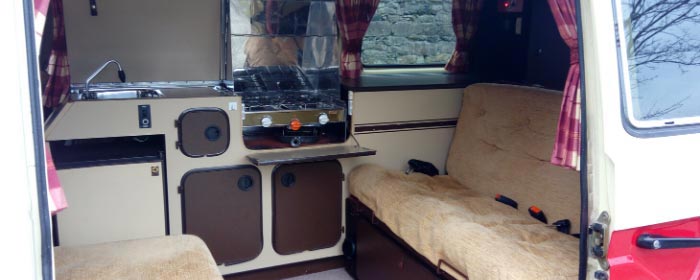 About You
Your Name(s) Andrew Antoniazzi
Is this your first VW?
Yes
Do you own any others?
Not VW's I have a Citroen C4 and my wife Sue has a Citroen C3 as our daily rides.
What got you into VW's?
I inherited my camper van from my brother Joey who sadly passed away, it was a big jump into the unknown, but hope we have looked after and loved Des as much as he did.
Who enjoys your VW?
The whole family and friends we may meet on day outs.
Where do you go with your VW?
Our favourite place is Penmon Point on Anglesey which isn't far from where we live, it's a lovely place and attracts many camper vans and is where we have made many new friends in the VW community.
We have recently joined a VW club North Wales Dubberz in the area and are enjoying the monthly meets arranged in various locations.
Do you have any amusing or fantastically memorable stories whilst enjoying your VW?
When I went to collect 'Des' from Scotland in January! I was given a lift up to Aberdeen, where I picked up the keys and jumped in. I had never even sat in a camper van before and here I was preparing to drive from Scotland to North Wales on my own, I didn't even know how to check the oil. The first thing which became apparent as I started my journey in sub-zero temperature was the total lack of heating. I had to stop as often as I could for a hot drink to try and keep me warm, but that only produced more problems as the windows kept misting up. If I'd have known there was a fitted stove behind me I may have lit it to keep warm. Instead, I had to manage with an old blanket I found in the van, which I wrapped around my legs to keep them from freezing up. Finally, after what seemed like driving for days (a round trip of almost 900 miles), I arrived in Bangor, went straight to bed and had the worst case of flu ever!
Another memory we all have is when the family (10 of us in total) went to a vintage rally. We hadn't had Des long and all the family were very interested in him so we arranged to meet them at a vintage rally and have a picnic lunch. Typical welsh weather and it absolutely poured down with rain and didn't ease off at all for the whole day – our picnic plan went out the window, but we all wanted to be together. No problem for Des I said and so all 10 of us filed into our camper van – 3 children in the roof that kept closing on them (we hadn't changed the struts yet) and the rest split between the front and main seats – very cosy. We had the best cup of tea and bacon baps ever that day. It was funny to see the expressions on faces on other people as everyone left our van one by one!