About Your VW
Year:
1972
Mileage: Unknown, it's on the second clock – 35,000miles at present
Fuel Type: Petrol
Vehicle Model: VW Beetle Sedan
Import? (where from): No – Dublin Ireland
Have you named your VW and where does it come from?:
Daisy – no idea, just thought she was pretty like a daisy!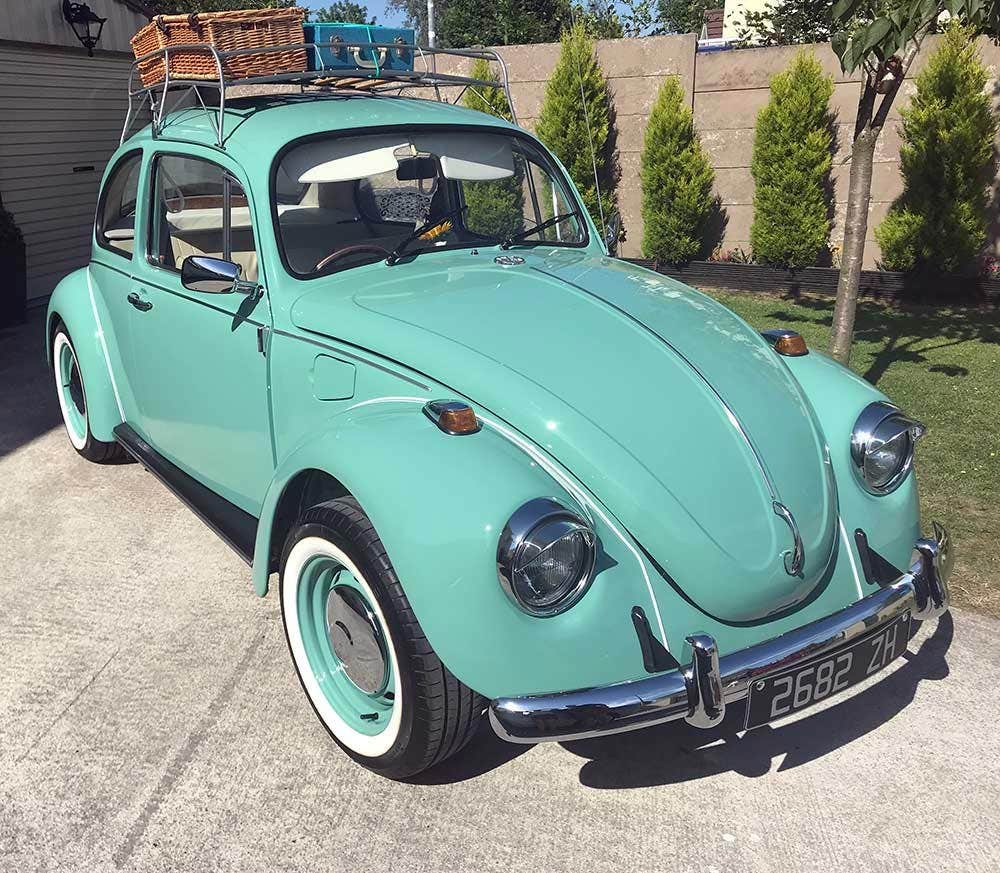 When and where did you buy your VW?
I bought my VW Beetle with help from my parents for my 21st birthday, it was my first car and I drove it every day. I had to sell it as it wasn't suitable for work. It was the sorriest thing I ever did. When I met my husband Padraig I told him all about it and we set about trying to find her. She was thankfully still in the garage I dropped it off in 4 years later and so we brought her home.
What have you done to your VW since you have owned it?
When we bought her back we set about a full restoration as time had not been kind to her. She was stripped (in three days!) soda blasted, fully repaired and painted. Padraig and I did all the work ourselves in a small garage at the side of our house. The only thing we couldn't do was a full rewire. This was done by a really good friend, who also helped with putting her back together. Where there was metal work to be done, Padraig fabricated from scratch new pieces. All running gear was fully refurbished and where necessary new parts were sourced over 4 years. A lot from Just Kampers.
The car was originally dark green from the factory. When I bought it for my 21st it was pink and white. There was no way it was allowed to stay pink so we agreed on a classic green you see today, what we know as L380. We had to stalk a guy with a camper van in the same colour to find out the code.
When she was finished, we decided she needed a pal and so we set about trying to locate a shell that was beyond repair. We found one that had been cut up and bought it to make a trailer. When this was stripped back we were left with just two quarter panels and a rear grill above the where the engine bay had been. This was framed and new panels, floor and lid were fabricated by Padraig again in our little garage. The trailer was then filled where necessary, modified, primed and painted, all within 6 months.
A kitchen was put in the engine bay for all our camping trips to come with a few vintage touches.
To be honest we couldn't afford a nice VW van so we built the trailer and bought a tent!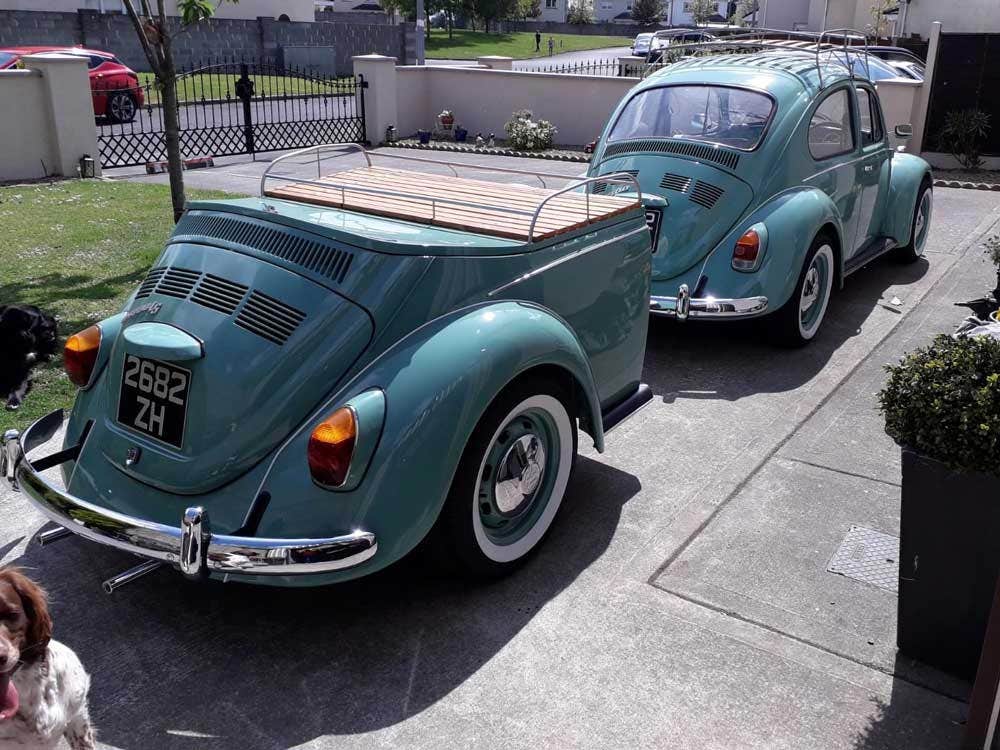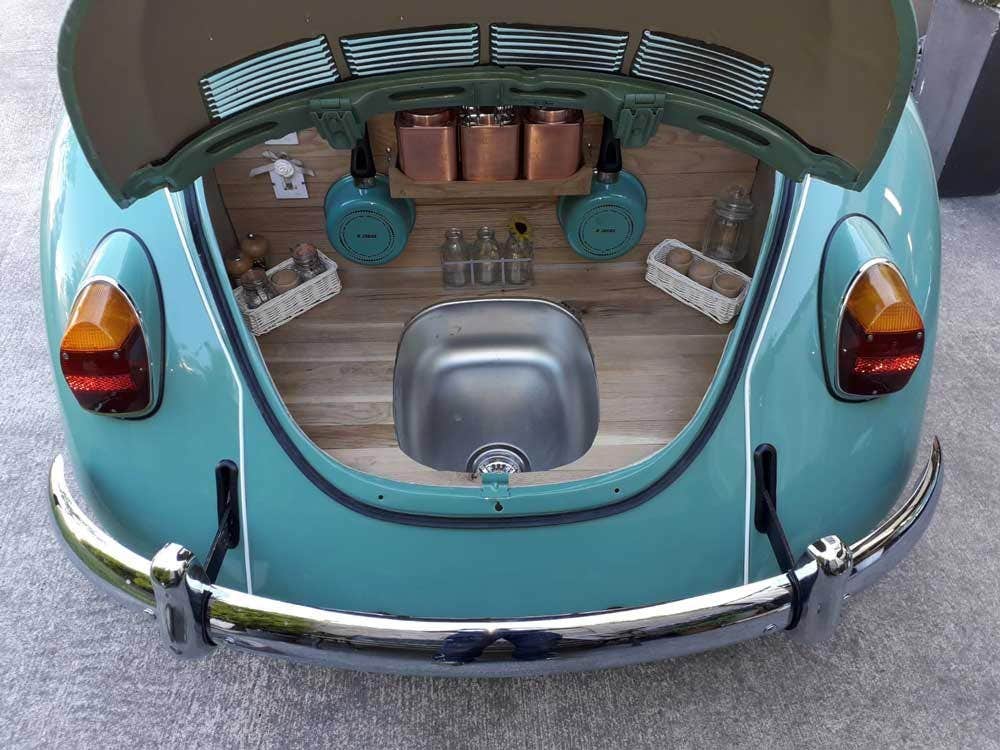 What are your future plans for the VW?
We took a trip to Just Kampers open weekend from Ireland and covered about 900 miles. We weren't quite prepared for the hills of Wales and our little 1300 engine was under pressure, we thought we might have to row home! An engine upgrade is planned for the winter 2019/2020 so we can travel to the UK and Europe camping. Other than that its care and maintenance from now on for Daisy and her new pal that we have called Duke!
What have you bought from Just Kampers?
We bought a good bit of stuff from JK, seatbelts, hazard light switches, engine lid hinge kit, locks, seals, hand brake boot, chrome trim kit and clips, check strap seals and a lovely floral wind breaker at the open day. We got a couple of panels rear valance for the trailer and wings.
What products are you looking to purchase next from Just Kampers?
More camping gear, the catalogue we got at JK Open day has been circled and a wish list made.
Is there anything you are looking for that we don't stock? (This won't be going in the feature, I am just interested in your thoughts)
Not really the catalogue is really comprehensive
About You
Your Name(s): Sarah & Padraig O'Connell
Is this your first VW? Yes, it was my first car.
Do you own any others? I have a VW Tiguan as a daily driver
What got you into VW's?
Just always loved them, now I have Padraig hooked as well. He's on the look out for a nice Oval to rebuild or recondition to his spec. the search continues!
Who enjoys your VW?
Myself and Padraig and of course we've picked up a few groupies that come to shows and events with us! Family and friends
Where do you go with your VW?
As we have only finished the project (car in May 2018 and trailer in May 2019) we have been to a few shows, the furthest being the JK Open day. We hope to travel Ireland and maybe Europe, after the engine upgrade, for many years hitting shows and camping festivals along the way.
Do you have any amusing or fantastically memorable stories whilst enjoying your VW?
When we were towing our shell home from having it soda blasted, about 80 miles from our house our straps snapped on the trailer. We were in the middle of nowhere and there was no phone reception, we were stranded. Two guys appeared from the hedges, literally, with dogs and guns. By chance they happened to have the best climbing rope you could buy slung over their shoulders. We thought at first it looked a bit sinister and were slightly nervous but thankfully they were just out on a morning hunt :-) They gave us their rope and got us on the road again. I'm convinced someone above sent them to us to get us on our way!
We get a lot of people taking pictures of us while driving. Scary really as some are videoing while trying to drive their own car. One guy made us nearly miss our slip road off the M4 on route to JK Open Day as he insisted on driving beside us trying to video..while merging! We waved and gestured and he waved back! Then had to shout at him to get out of the way! Thankfully, he realised we weren't waving back and we got in just in time.
Is there anything else you want to tell us?
When I got the car it was parked outside my family shop in Dublin, a man was walking around it and under it and I thought I should go out and speak with him as he must be an enthusiast. Turned out he spotted the reg plate and realised it was his mother's VW. She had since passed away and he was really emotional about seeing it on the road again he used to travel in it on the back shelf when he was a child. Bearing in mind it was pink at this stage and when she owned it is was Green it was a good spot on his behalf. He returned a few days later and gave us pictures of the VW in her driveway, the day she collected it in 1972. We were so delighted to have a real piece of her history from the day she was collected, brand new. We know exactly where she has been, sold her, bought her back and lovingly restored her. She's never going anywhere again. She is priceless to us and part of the family and now she has a friend!
Everyone we meet on the scene and just driving around are really delighted with the car and we've met lovely people sharing an interest. I think VW's do that. No matter what shape size or finish is on them, everyone is accepted in to the group.
One thing I've also noticed is that no matter where you break down or stop a VW head appears from no where to see if they can help!
We've had great help from friends and family in getting her back on the road and coming to shows with us, its one of the best hobbies anyone could have. We were so welcomed at JK Open Day..we'll definitely be back!