About Your VW
Year: 2017
Mileage: 4,290
Fuel Type: Diesel
Vehicle Model: T6 California Ocean 2.0 TDi Bluemotion 150PS
Have you named your VW and where does it come from?:
He is called Brian because our last van, a T5 was named Stewie by my husband. So keeping the Family Guy theme (And loving our cushions that I could use again) I named Brian after the dog in the USA cartoon.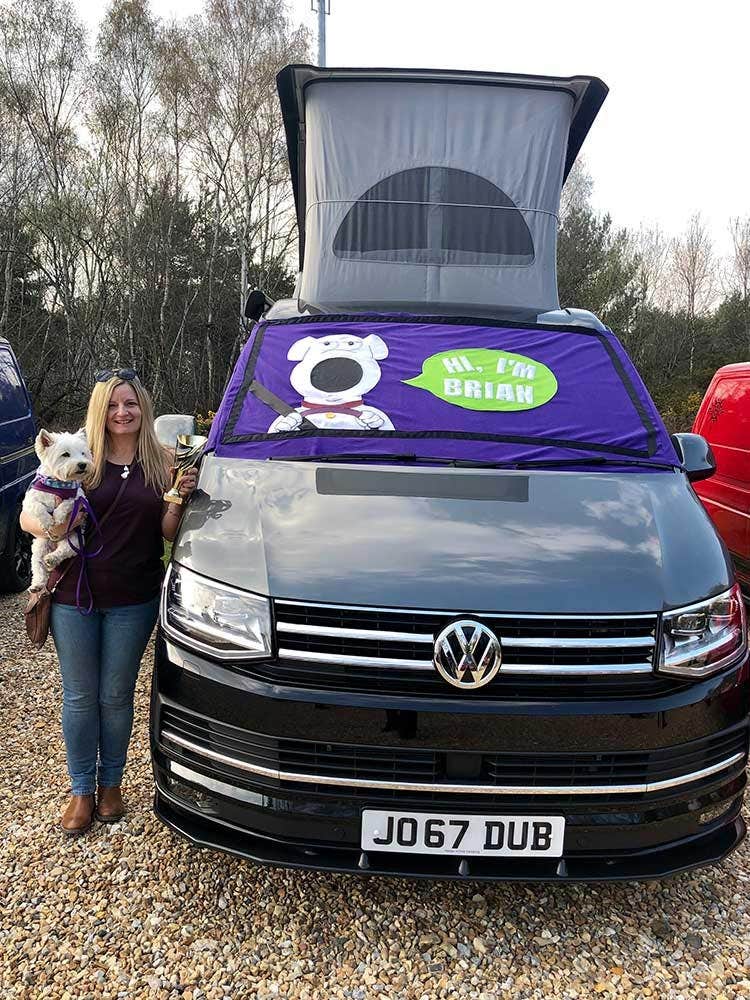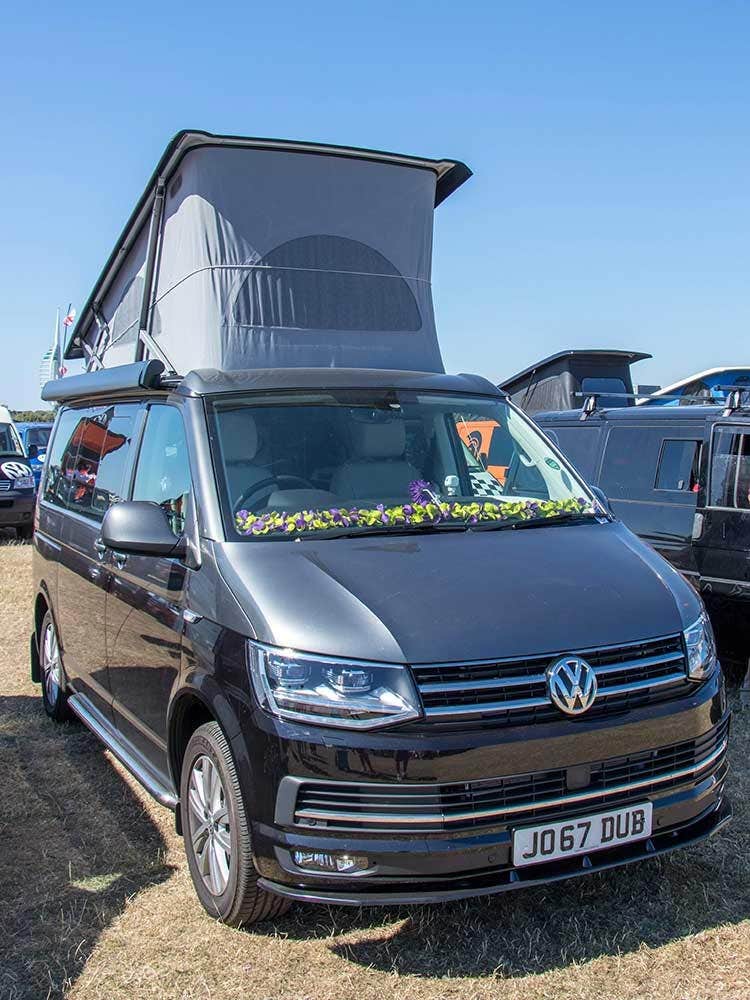 When and where did you buy your VW?
I purchased Brian from a VW garage in Worcester in January 2018. They had chosen him as a two-tone demonstrator. He had just about every extra on him and only 23 miles on the clock (As he was only a demo for a month)
What have you done to your VW since you have owned it?
I haven't needed to buy much for Brian as he is purpose built and has all the gear but I did have had a front splitter and front chrome bar added and also tinted windows (as I think demos are meant to be viewed easily)
I did also buy a California camping room which zips onto the canopy/ awning. I was quite pleased with this purchase as the company got in some purple fabric especially for me.
I have filled him with throws to protect the seats, cushions and colourful, homely crafty bits too, well it's the law isn't it!
What are your future plans for the VW?
To enjoy camping!
What have you bought from Just Kampers?
I have purchased a couple of frying pans with detachable handles from JK that are really useful.
About The Owner
Your Name(s): Jo Bray Harmes
Is this your first VW?
The California Ocean is my 2nd campervan, my first was a T5 but my first ever car was a VW Polo.
Do you own any others?
I Also Own (As Brian's side kick, Stewie) A little VW up! He has a grey roof and bonnet over black to match.
What got you into VW's?
I've always loved the older Splittys and Bays. I'm not sure how I got into buying my T5 and I never thought I'd own anything as nice as the T6 California Ocean.
Where do you go with your VW?
I have been to quite a few camps, meet ups & days out. I belong to the Southcoast VW Transporters group (SCT) and have enjoyed some great camps and day meets.
I've loved going to a few festivals and of course Just Kampers Open Day Camping Weekend a couple of years running which has been great fun. It's mainly just me as my hubby isn't into the camping scene much but he has joined me for some UK breaks and a festival too.
I'm looking forward to the rest of the summer season and meeting some new friends, seeing their vans and socialising with my camping buddies.