About Your VW
Year: 1974
Mileage: 95,000
Fuel Type: Petrol
Vehicle Model: T2 Bay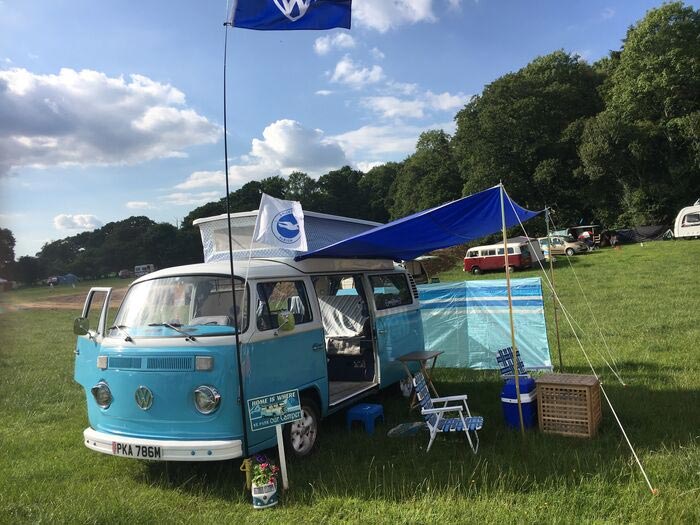 When and where did you buy your VW?
15th September 2016, whilst enjoying a nice bottle of red wine and browsing eBay, I stumbled across a vw camper for £7950.00, now this had been my dream since before I can remember. I said to my other half, "can I put a bid in for £10000. I won't get it because it will go for higher than that." He said ok, so I did. Finished the wine and went to bed. I woke up the following morning to a strange beeping noise on my phone. I opened up my mobile to be greeted by a message saying 'congratulations you bought this item' I was thinking what have I bought, then looked and I said "oh **** I've bought a Campervan! I wasn't flavour of the moment!
What have you done to your VW since you have owned it?
So we drove up to pick it up, she looked beautiful, but when we got inside it was a bit of a wreck! Drove it home, in the rain with 1 headlight on and water pouring in through the roof and windows. Having been told it was water tight! On the way home we faced a long slow hill, Bury Hill. Well, half way up trying to find first gear, the gear stick was like stirring a cauldron, she stopped, after much swearing and shouting 'go on go on Brenda ' her name was set, we had a greyhound called Brenda who raced and that's what we shouted when she was running.
Now it was on the drive, and actually she fitted in the garage, which was a plus. I was thinking what do I do with it now! Call it fate, I did a google search for a vw specialist and found a mechanic who was based just along the road. Doug rebuilt the engine, replacing the gaskets valves etc and new tin wear. She started running well. We devised a restoration plan. I had a vision of what I wanted, part of my dream. Welding here and there, designed a new roof canopy to replace the mouldy bellows, new roof cap form JK, then we were set to start our adventures.
Booked the 2017 JK open day, exciting times. Our first event! On the day we set off, about 3 miles up the road her accelerator pedal fell off! RAC flat bed truck home. Whilst passing Doug our mechanic on his way to JK, he looked on in disbelief. Managed to get back to the workshop, but I was so disappointed, actually more determined to get to JK. So I sourced a new pedal system, fixed it myself and limped to the JK open day on the Saturday just in time for the Goonies!!!
As some people might know, we had the original bed system, heavy framework, big solid planks that all had to come out so we could build the bed, this was a major cause of arguments and stress, after a nice evening, with a little alcohol this was turning into my first part of the restoration alongside the gear stick!
So that was our first outing, the task of making my dream real was started. Sourced a new interior, units, bed, flooring, lights, the whole lot arrived on a pallet at Doug's workshop. Also we sourced a interior soft furnishings guy, Andy at the coastal cushion company. I told him my dream design, 3 days later this was completed and Brenda returned to Doug's for the units etc to go in.
6 weeks passed, Brenda was in, being transformed. I was so excited, but I resisted the temptation to drive by and have a little peek.
Then I received a text 'Brenda's ready'
Since then she's been an absolute dream, I can find all the gears now!
She's been to Volksworld, where we bought a Fiamma 2nd hand skylight, Brighton Breeze, Plum Jam and recently 2019 JK Open Day. She's been to Cornwall, Wales, and a load more trips are planned.
So after a year of enjoying Brenda ! I had decided to enhance her more. The next step was a Propex gas heating system, also fitting new cables and a heat exchanger for front cab heating, a solar panel for wild camping, usb sockets, more lighting, new exhaust system to increase performance and sound!
At this point I was a little tired of constantly loading and unloading Brenda when we arrived anywhere. So being inspired by some friends, Clive and Jilly and their van, 'Macy J' I purchased a trailer on eBay! £76 bargain. A lick of paint and we'd be ready. By the time I had towed it back we had lost about 1/4 of the trailer! It was rotten to the core.
So another restoration project began. Over £500 later and about 6 weeks work 'Little B ' was born. The final stage was having the white cover made. Now being airline cabin crew, we went to India and met 'sunny' a tailor who can replicate anything. Our white canopy arrived the next morning ready for us to fly home.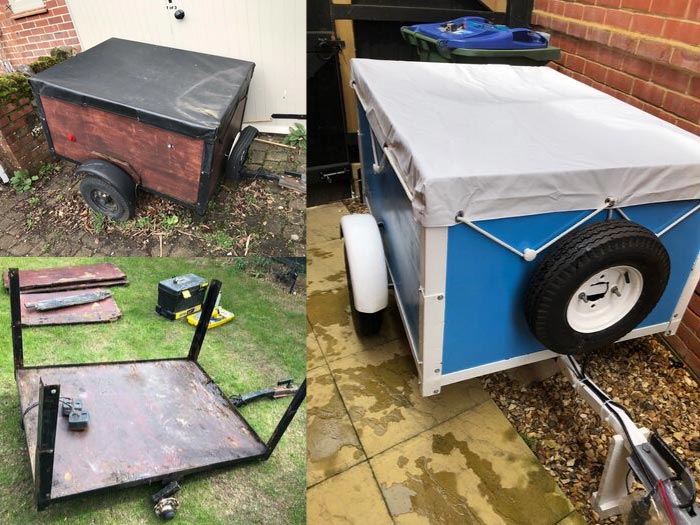 So now Brenda is complete with Little B in tow. And so is my dream. Time to enjoy her. As I sit in her, sleep, drive or cook in her. I have a smug contented look on my face.
Happy Days!
My Brenda is a 1974 T2 Bay, 95000 miles on her clock, she's my lifetime dream.
On holiday in Cornwall recently, at Godrevy national trust Clifftop, I drove Brenda onto the field, 3 years before I had said "I'd love to drive my dream camper onto here"
I've done that now!