About Your VW
Year: 1971 Early Bay
Mileage: 369,700 approx
Fuel Type: Petrol
Vehicle Model: Early T2 Bay RHD Dormobile Conversion
mport? (where from): No, built for this country
Have you named your VW and where does it come from?:
BORIS. The previous owner named him, we liked it so we kept it.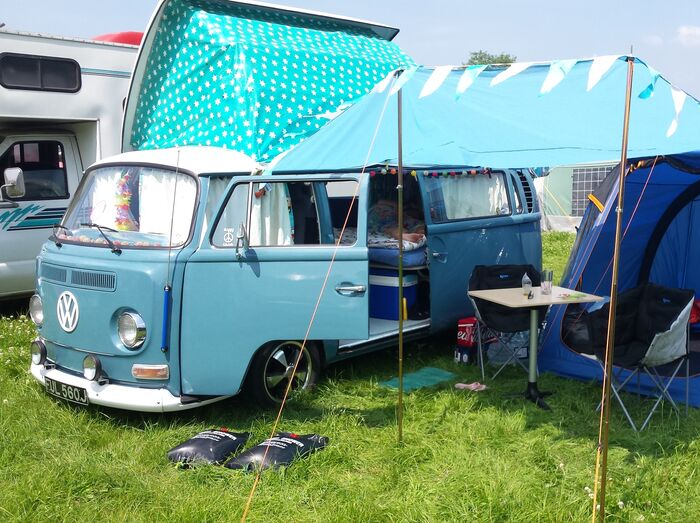 When and where did you buy your VW?
Bought in 2015. After travelling from home to Lincolnshire to Penzance ,Kent to Fishgaurd and back to Kent where we bought one.
What have you done to your VW since you have owned it?
After driving him home to Somerset, I set about removing the interior as this wood was all far to heavy.
We splashed out and had someone build us a basic interior in light weight wood. My wife then sourced curtain material and was put in charge of the interior. After finally get the bus back from the idiot installer(another story) I proceeded to remove the engine and do a small top end refurb. I had to source bit's of engine tin ware original air filter and a load of other parts when doing the refurb as the engine had been played around with a bit. Approximately 6 months later the engine was returned to it's rightful place and we were able to go for a short drive. Loads of things have been added over time, besides the bus heating now reinstated we have an external under slung Propex external heater and when hooked up a small oil heater.
Well we are originally from South Africa so we don't really like the cold. A 240 volt system for on site, an expensive 240 volt to 12 volt system to keep both engine and leisure batteries topped up whilst away and at home. LED lighting in the dashboard and internal lighting. Rewire the headlights after a smoking situation , probably a good thing as they needed doing. two large speakers under the Rock and roll bed in the back are sufficient and are driven by a basic head unit as we prefer to use Bluetooth. Suspension has been looked at and a few bits and pieces have been changed and refurbished. New ball joints etc. We could be here for hours. There is always something that needs doing.
Externally I built another roof rack for the front as they don't make them, this is in addition to the rear one that came with the sale.
We have added solar panel for wild camping a Porta Potti, small hot water shower, shower tent/toilet tent and an inflatable large 2 man tent for storage of all the gear when on site.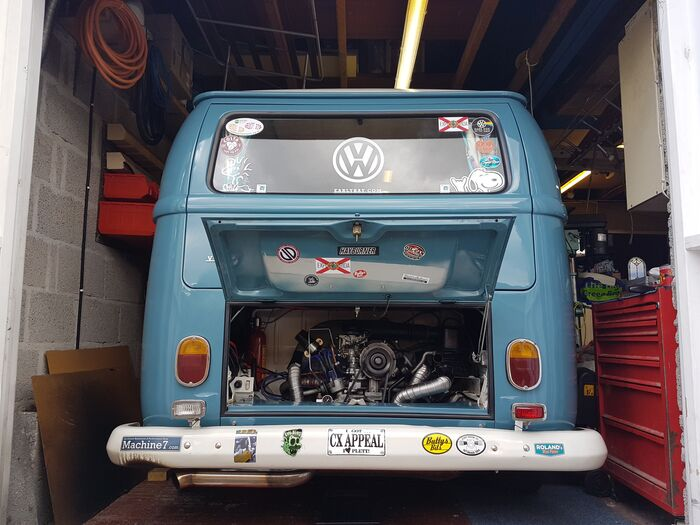 What are your future plans for the VW?
No surprise here, on the definite list is a larger engine, this will give me, the mechanic and driver the confidence to take us to Scotland , Europe and the rest. Hopefully a 1776 so we can traverse the hills without gearing down to second.
About You
Your Name(s): Jonathan Firmin and my special other is Pippa my long suffering wife with the patience of an angel.
Is this your first VW?
This is not my first, they have always been in my life. We both learnt to drive in SA in a beetle and it was said, if you could parallel park a beetle you could drive anything. A beetle was my first car, then came a Mk 1 golf, then my late fathers Passat, after that a small Mazda hiatus then a Bay window pickup, and finally a T25 people carrier/work vehicle before moving to the UK and finally acquiring our retirement vehicle Boris.
Do you own any others?
This question made me laugh out loud, Boris is bad enough as I am told I love him more than her at times.
What got you into VW's?
Grew up with them, what else?
Who enjoys your VW?
Who enjoys the bus: Both my wife and I love to go out any chance we get, its there to be driven. The kids won't go near the drivers seat but are occasionally willing passengers if the need arises. Basically it's DAD's car. hahaha.
Where do you go with your VW?
We are both avid South West Coast Path walkers and go away as often as possible. Camping in Boris who takes us there and back on our journeys.
Do you have any amusing or fantastically memorable stories whilst enjoying your VW?
They are very special and are endless, however the one that sticks out the most has to be GLASTONBURY 2017. 6 nights of awesomeness.