About Your VW
Year: 1967
Mileage: 52,000 miles
Fuel Type: Petrol
Vehicle Model: Volkswagen Split Screen Camper Van
Import? (where from): Yes
1967 LHD Volkswagen Splitscreen Ex-Ambulance, now Campervan. German built and resided as a rarely used working Ambulance in France before finding her way to the UK. Complete with German authenticated VW 'birth certificate' and all original bill of sale.
Have you named your VW and where does it come from?
Bella, aka Bella the Bus - check out her Instagram @bellathebus and Facebook @bellathebus1967 pages:
When and where did you buy your VW?
We bought Bella back in 2012 soon after we married. We had an opportunity to either put a deposit down on a secondary property to rent out, or buy a Splitty. We wouldn't change the decision for the world, as we have had far more adventures on 4 wheels and she has brought joy to so many couples on their special days through our wedding hire program too!
What have you done to your VW since you have owned it?
Well quite a bit, she was originally a French Ambulance but as you can see, she is now a beautiful Campervan.
She has undergone extensive work to the full interior by my highly-skilled colleagues at d:class automotive ltd. This includes pleated Italian blue Nappa leather interior with Mercedes Helios cream piping, electric heated seats, gas heating, twin gas hob, sink, collapsible seating area which folds into a double bed, back-lit with LEDS and iPad in the roof aperture. Original doorcards replaced with hard wearing ABS door cards/kick plates and insulated with period correct insulation. All seals replaced.
The original ambulance cargo area interior had previously been removed before sale, so I carried this on by removing frosted side windows and replacing these for clear Just Kampers units, which I then had the frames chrome-plated. The original brown cab seats were retrimmed in the same luxury Nappa leather, as were the doorcards. All removable metal parts were chrome-plated like the window catches, door handles, curtain rails and the pièce de résistance; the chrome-plated roof rack that reflects like a halo under street lights.

The engine was a stock, low mileage 1500cc single carb unit. She now runs twin carbs, electronic ignition, RedBull solenoid encasing, trickle charge and automatic fire extinguisher systems. Complete with uprated Taylor HT leads, Oil temp sensor, Quick Shifter plate, all new tinware and satin black finished engine plus a split charged twin battery system for camping necessities. A brand new wiring loom was installed with some additional gauges and hazard warning switch – a necessity for aircooled life
What are your future plans for the VW?
Every winter I put the years earnings into a pot and improve areas that have caught my eye in the past summer. So for this winter I'm treating her to more internal LED lighting, improving the flow of the onboard gas heating system and some more luxury Italian leather – you can never have enough!

What have you bought from Just Kampers?
Bella's side windows, frames, window rubbers, door seals, handles, handle seals, locking fuel cap, jacking point caps, uprated air hoses, wiper arms, light seals, trims, and cab accessories such as the internal handles, grab bars etc all came from JK
What are you looking for next?
I really want a subtle, custom stainless exhaust that will sit comfortably under the slightly lower ambulance rear bumper. Most applications tend to rub/resonate on the underside of the rear bumper, so any advice would be most welcome please JK!
About You
Your Name(s): Andy Smith
Is this your first VW?
No, I've had a few nice examples over the years – it is my first aircooled motor though.
Do you own any others?
Not VW's, but in the household we have a Seat, Audi and BMW so very German orientated. I also own a 1970's original Arkley SS, which is in concours, museum worthy condition – I am hoping to find good storage for it in the very near future and there are only a handful of them still in existence.
What got you into VW's?
I've always been a car show guy, with previous jap projects making it to the front cover of Max Power, FastCar, Revs, Banzai and Total Nissan. I also won Best Car in Britain in 2005. We got in to the aircooled scene, as basically a more chilled way of still attending some shows – almost like the perfect retirement surroundings for an old school modifier
Who enjoys your VW?
Myself, my wife - Flix, our sons, Taylor who's 20 and Lennie who's 4 and all the stunning 'Bella Brides' that we have been on wedding duty for in the past few years!
Where do you go with your VW?
Any Kent show or wedding is where you will most likely bump into Bella. However we are hoping to attend some shows further afield next year!
Do you have any fantastically memorable stories whilst enjoying your VW?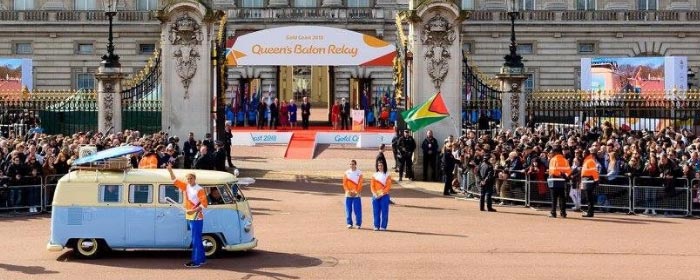 Commonwealth Games 2018 Queens Baton Relay:
In March 2017 Bella was fortunate enough to be invited to Buckingham Palace where she was used as the vehicle to kickstart the worldwide journey of Her Majesty The Queens message, encased in the 2018 Commonwealth Games baton. I had the honour of driving from the gates of the Palace, with the baton on board- carried by Australian singer, Cody Simpson (with armed police in the rear, plus my mate Jon who had bundled in at the last minute!).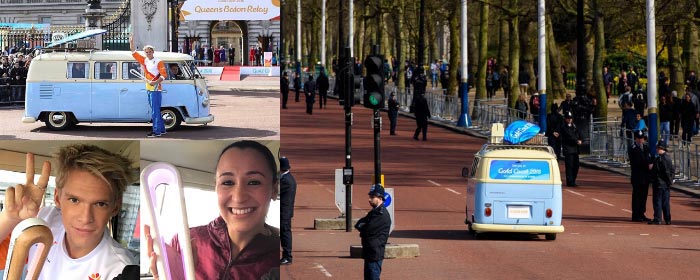 We travelled from Buckingham Palace to Westminster Abbey, where the baton changed hands after Cody Simpson sang live for HRH, the Royal Family and various celebrities. I then drove British Olympic Gold Medallist, Dame Jessica Ennis-Hill with the baton back onboard to the doors of the Abbey which was shown live on the BBC. This was televised live around the world and on BBC News.
The camera's followed the journey of the baton over the next 12 months as it travelled through every one of the Commonwealth states before finally ending up in Australia for the opening of the 2018 Commonwealth Games at the Gold Coast, where they had hired a similar coloured Bay Window for the final leg of the Baton's journey. A huge honour to be a part of and has certainly added provenance to her already decorated history.
Want to rent 'Bella' The Bus?
You can follow Bella on Instagram Here or Facebook Here
Andy works for d:class automotive who crafted the stunning interior. If you would like to know more, check out their website.