About Your VW
Year: 1966
Mileage: 89,000 miles
Fuel Type: Petrol
Vehicle Model: Beetle 1200
Import? (where from): Nope
Have you named your VW and where does it come from?:
Baloo The Beetle (The Jungle Book) – I chose his name when I chose his two-tone colours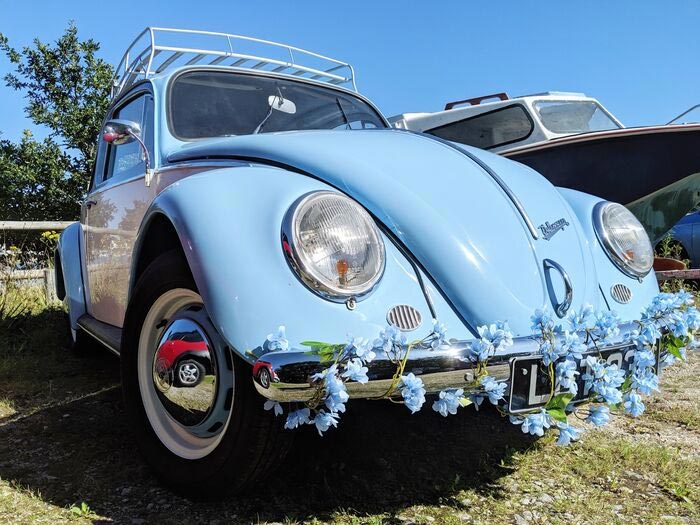 When and where did you buy your VW?
I was lucky enough to have been told about Baloo from a mechanic friend last November – he was for sale locally nearby. The guy selling had been doing it as a project for his daughter who no longer needed him but they both wanted him to find an owner who would love him!
What have you done to your VW since you have owned it?
He was taken straight over to my mechanic friend to be sorted out and painted. There was a bit more welding required but it didn't take long to see the colour being applied, which was very exciting. Since I got him I have added new bumpers, hub caps and a Volkswagen badge to his bonnet. I have also been sorting him mechanically and am in the process of buying a second hand 1300 engine as his engine is really quite poorly.
What are your future plans for the VW?
Lots and lots! His interior is far from done (my next step is getting a headliner in there and trying to sound proof). Engine rebuild. Replace/repurpose more interior bits. Buy and fit a new wiring loom (lots of wiring issues at the moment). In the long-term I want to get heating fitted so he can be used more in the winter and invest in a new engine when I can afford to. Ideally he will become my every day, reliable car!
You can follow the engine rebuild on Instagram Here
What have you bought from Just Kampers?
Ooh lots! A conversion kit for his window wipers (they like to fly off as they're in use), a fuel tank sender seal, the negative wire for my battery, wing beading, the hub caps…the list goes on!
Next I will be looking at interior bits like rear-view mirror, ivory knobs, chrome details. Might need more engine supplies (will see how my donor engine looks!).
About You
Your Name(s): Harriet Fuller
Is this your first VW?
He is actually my second Beetle, I did have Rea, a red and cream 1972 but I took her for a restoration that went the worst way it could possibly have done and she had to be scrapped and sold for parts.
Do you own any others? Nope!
What got you into VW's?
My friend sold me Rea as he wanted someone to buy her who would love her as much as him which of course I did! I would not look back now…
Who enjoys your VW?
Me, my other half (sometimes), my Beetle bestie Zoe with her Beetle Olive, my dog and most people I meet to be fair! He makes everyone smile.