We're excited to have Allan Lloyd and his VW Beetle join us at the 2023 VolksWorld Show this spring, as we show off some of your vehicles on our new display area.
Allan has put an unbelievable amount of work - and mods! - into his Beetle, and it'll be incredible to see it in person at VolksWorld next month.
If you're keen to get free tickets to VolksWorld and have your classic VW parked up alongside Allan's, there's still a few spaces to join us on our new JK display area. You don't need a fancy show car, just one that you love!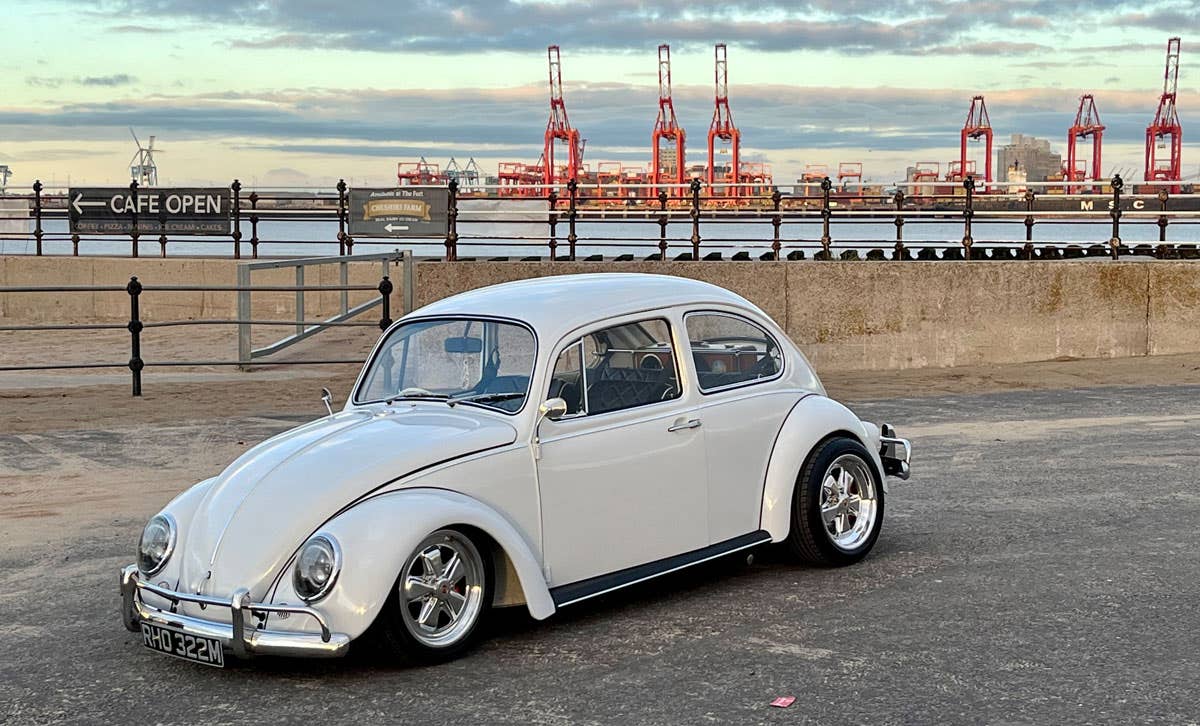 Some information on Allan
A keen VW enthusiast with some diverse hobbies, Allan works in aircraft construction and inspection by day, and still finds time to hit the gym, head off on hikes, train at Boxing and Thai Boxing, as well as creating, repairing, and generally tinkering with all sorts of different items with an engine or moving parts.
Allan has been into VWs since he was a kid, and even had an apprenticeship with Volkswagen after leaving school. He previously owned a Jade Green VW MK1 Golf when he was between 18 and 20, but had to sell up as he couldn't afford the insurance.
The Beetle he'll be bringing to VolksWorld is one of two VWs he currently owns, the other being a T5.1 camper.
Image Credit: Jane Hockey Photography
Allan and The Other Woman
Allan's Beetle is jokingly referred to as The Other Woman. She and Allan have been together since 1998, when Allan was 16. He told us that he fell in love with her curvaceous lines, and could see that she was in drastic need of love and attention – the £200 price tag was also a bonus!
The Other Woman had come into Volkswagen as a part exchange while Allan worked there, and they've been together ever since.
The Beetle's Specs:
Year: 1973
Engine: 2276cc with twin 48 IDAs
Wheels: 16" genuine staggered Porsche Fuchs
Exhaust: Vintage Speed stainless fibreglass wrapped exhaust
Modifications: There's a huge list of modifications on the Beetle, which Allan has added over the last 25 years!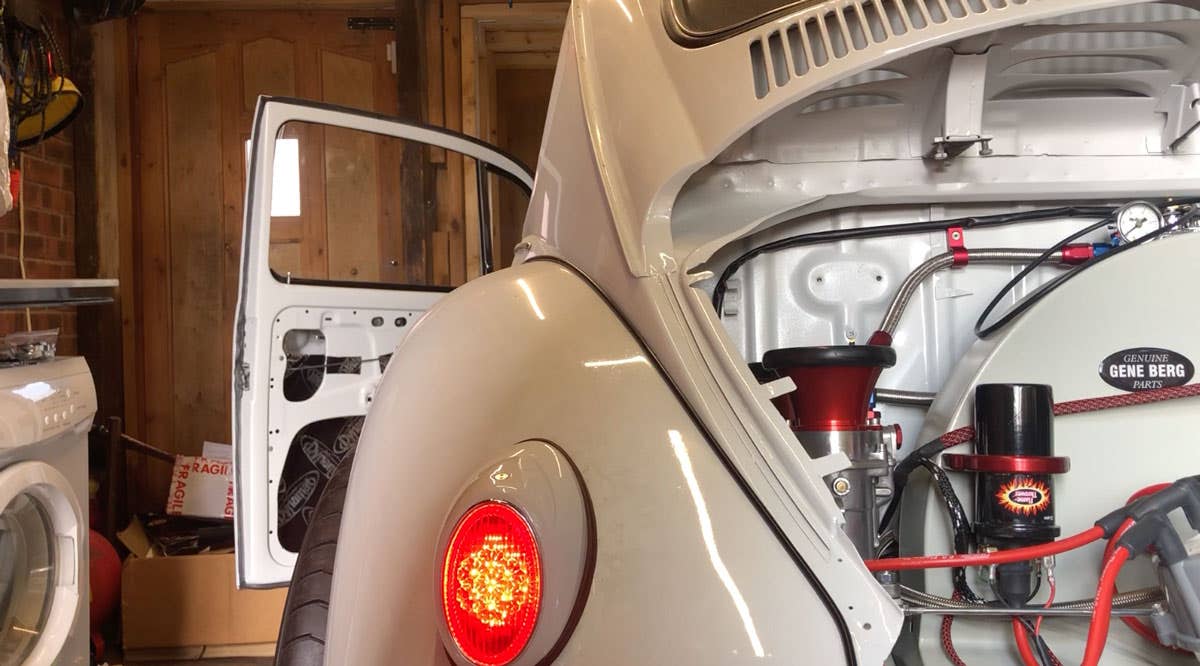 The Other Woman gets a massive restoration
Countless hours of time and a huge amount of care have been put into transforming The Other Woman from a slightly sad looking Beetle into a true stunner.
It started with a body-off restoration, which saw the Bug blasted back to bare metal and then having every part either replaced with new metalwork or being fettled in some way to make sure everything was spot on.
Allan told us he can't weld or paint to an acceptable standard, so about 90% of the body work was carried out by Bob Ross and Dave at Birkenhead Vehicle Repairs.
With this bodywork done, Allan's big brother Kevin stepped up to apply the final paint colour – and it sounds like a lot of consideration went into picking it.
Luckily, Allan had plenty of time to carefully pick the correct paint, since The Other Woman was in the body shop for about seven years!
Looking at the Beetle, it's not hard to see that a massive amount of time and effort has gone into the restoration, with a load of really cool finishing touches and nice details really bringing the whole car together.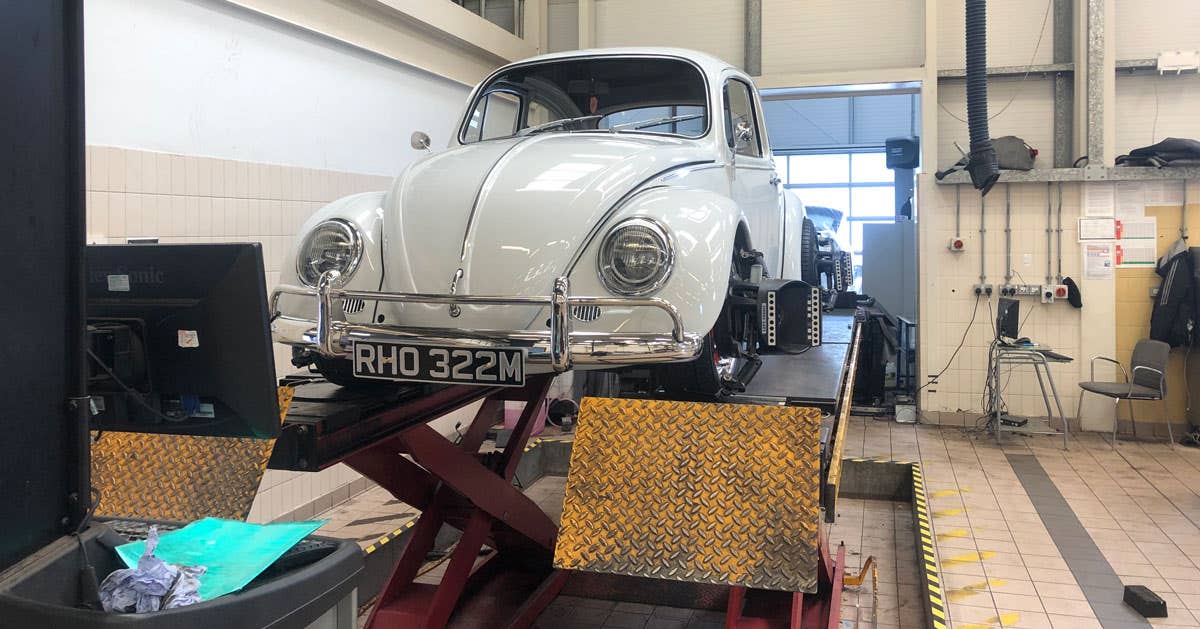 Most of the mechanical work, and sourcing the parts, was carried out by Allan himself, except for the wiring loom which was custom made by Iain Burns of Aircooled Auto Elec, a custom gearbox from Bears Motorsport, and the seat cushions which he got from a bloke in Birmingham whose name Allan can't remember!
He completed the building phase of the project in his garage at home, as well as the front and back garden, driveway, loft, bedroom and kitchen! With around six years hands-on experience as a professional mechanic, Allan has been able to finish off much of this incredible restoration and rebuild himself.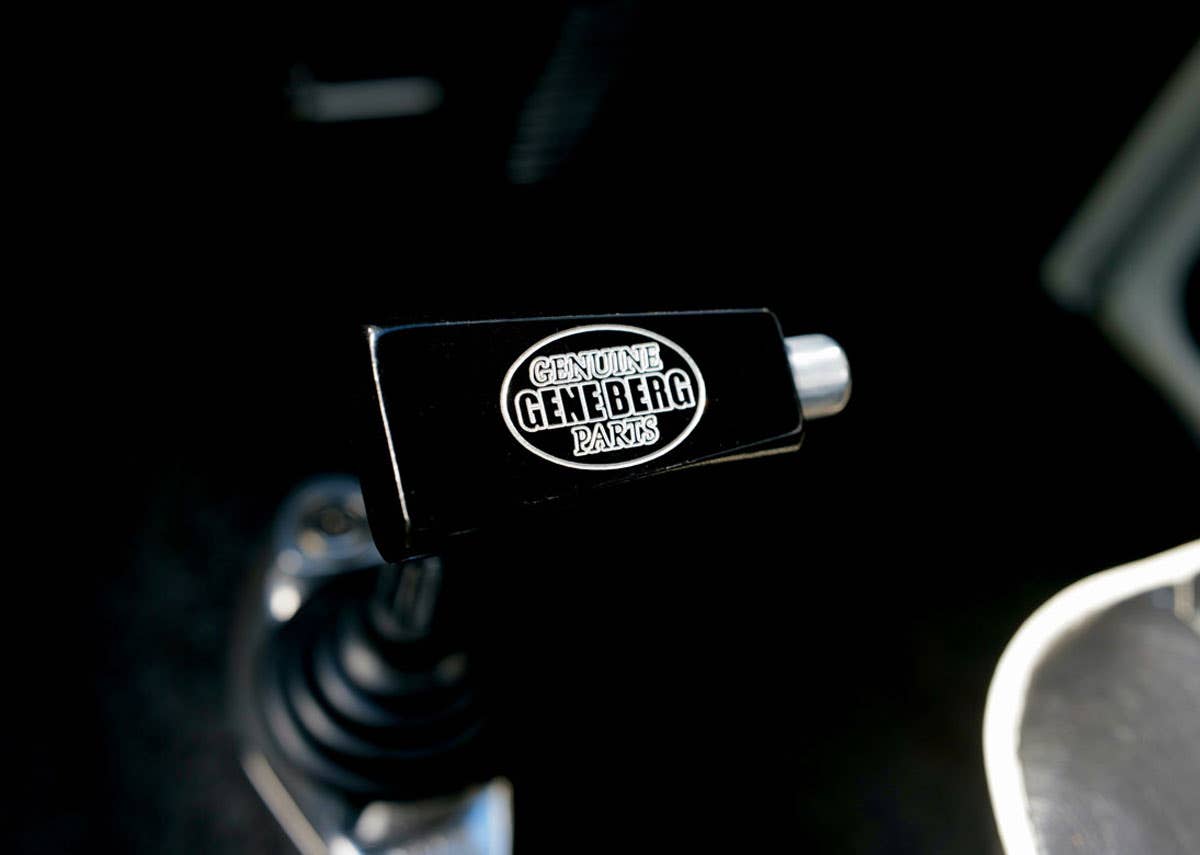 The best bits of the project:
Seeing the Beetle fully painted up for the first time was a real highlight for Allan, as it felt like an enormous step in a project that he'd poured a huge amount of energy, money and love into.
Allan also told us that throwing himself into working on The Other Woman really helped him get through the loss of his mother, and later his father, as it gave him something to focus on, and an outlet which let him put his feelings into the Beetle that his mother had also fallen in love with, which really spurred him on.
The most challenging jobs of the project:
Installing the chrome trim around the front and rear windows proved to be a pretty difficult task for a classic car specialist that Allan had left The Other Woman with – after spending four weeks trying to get the job done, the Beetle was returned without the chrome trim and seals, and Allan had to enlist his brother to help him tackle the job himself.
He also told us that fitting the oil cooler radiator under the rear seats "required arms like Mr Tickle", which is another job he's in no rush to do again!
Allan's future plans with The Other Woman:
When we asked what he wanted to do with the Beetle in the coming months and years, Allan told us: "Enjoy my little beast and hopefully not spend so much time on the back of an AA truck. I've only done around 350 miles in the car as of now, with teething problems and the like.
"Would love to go on a tour of Europe in my van, towing the beetle to some of the top roads. Camp in the van and then rip the roads up in the Beetle by day. Nürburgring has been on my bucket list since I was about 10 so here's to that adventure too."
Sounds like an excellent plan, and we hope he gets to do it!
Photo credit: Jane Hockey Photography
Special thanks from Allan
We also asked Allan if there was anyone he'd like to thank or any products he'd recommend, and he had quite the list of people he wanted to thank for their help:
First off, a special thanks to my lovely wife Stacie Lloyd, "The one and only woman", for her help and understanding as I am a nuisance.
Bob Ross and Dave at Birkenhead Vehicle Repairs – Top-notch old school braising and lead loading wizards.
His big brother Kev Lloyd, top painter and all-round legend.
Iain Burns of Aircooled Auto Elec – What the guy doesn't know isn't worth knowing, and a true honest bloke as well.
His son James Lloyd, AKA mini hands – He's helped Allan since he could walk and a little before he could.
Just Kampers – Always really helpful, not only for my bug but for my T5.1 too.
Aircooled Accessories and Autocraft – Items are really high end and great quality.
Eva Resto – Good help and advice.
Good friend Barry Leason – Whenever there was something expensive to buy or something outlandish and time consuming to build, he'd always give me a shove in the right direction, everyone needs an immature yes man!
VW Neil of Morton – Top man, very helpful, and madder than a box of frogs.
We didn't even ask him to mention us, but we're happy to be included and glad we could help Allan turn The Other Woman from a £200 part-ex car to an amazing, unique Beetle.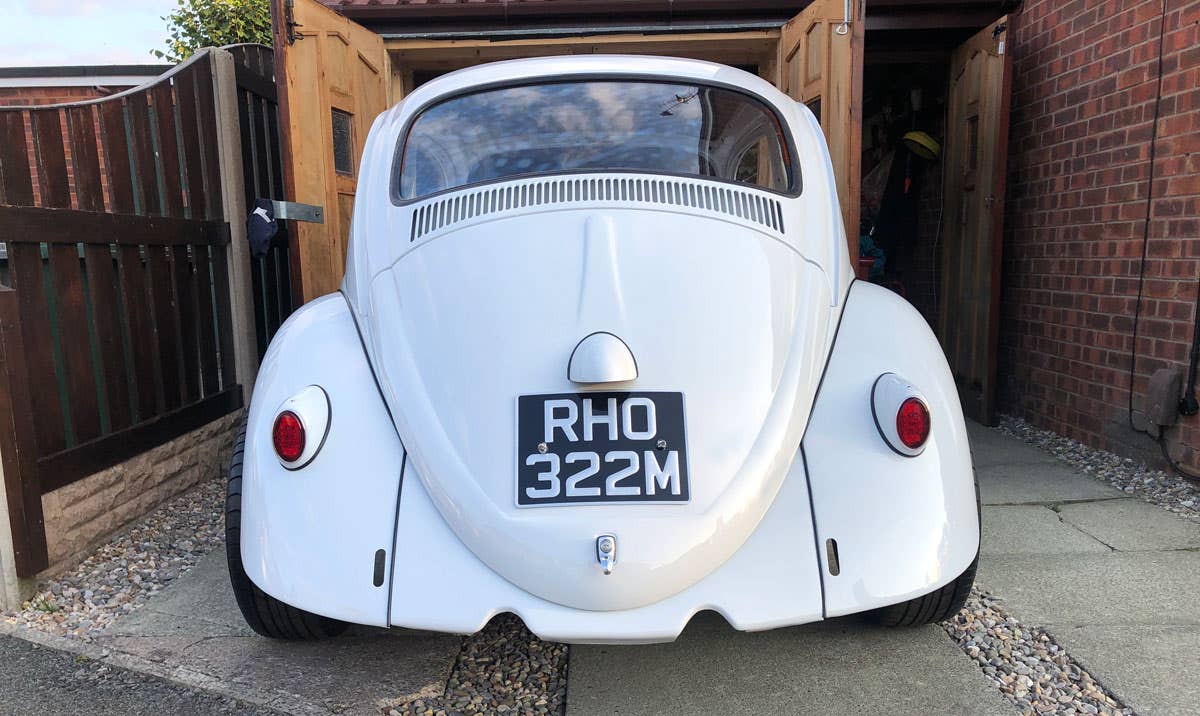 More tweaks than a… well, a lot of tweaks
When Allan got back to us with loads of details about The Other Woman, he mentioned that the Beetle had had loads of tweaks, and sent us a list of all the bits and pieces he'd added, modernised, customised or removed from the Beetle.
The complete list filled two sides of paper, but we've given it a light trim and listed it out below, to give you an idea of the scale of the project that Allan took on.
The body:
• Pre-1967 front apron, wings, and bonnet, a semi-W rear deck lid with pope's nose rear light,
• Snowflake rear LED lights from Bosswerks,
• Carbon wrapped headlight bowls and LED angel eyed indicator headlights,
• Indicators removed from wings,
• Mirror holes in doors welded up and relocated to hinge pins,
• Spare wheel well and brake reservoir removed,
• Holes drilled for chrome trim,
• Pop out rear windows fitted,
• Removable rear valance for engine removal and refit ease,
• Deck lid fitted with quick release pins,
• Carb inspection "hookies" panels fitted,
• Stainless front and back bumpers installed.
The engine:
• Upgraded to a 2276cc unit,
• Twin 48 IDA carbs,
• CSP bell crank throttle,
• CSP short inlet manifold,
• MST serpentine belt kit,
• Scat high-capacity sump,
• FRAM remote oil filter,
• Larger fuel tank outlet,
• Holley fuel regulator,
• CSP breather box,
• Upgraded gearbox mounts,
• Mocal oil thermostat,
• 2 metre fire suppression system.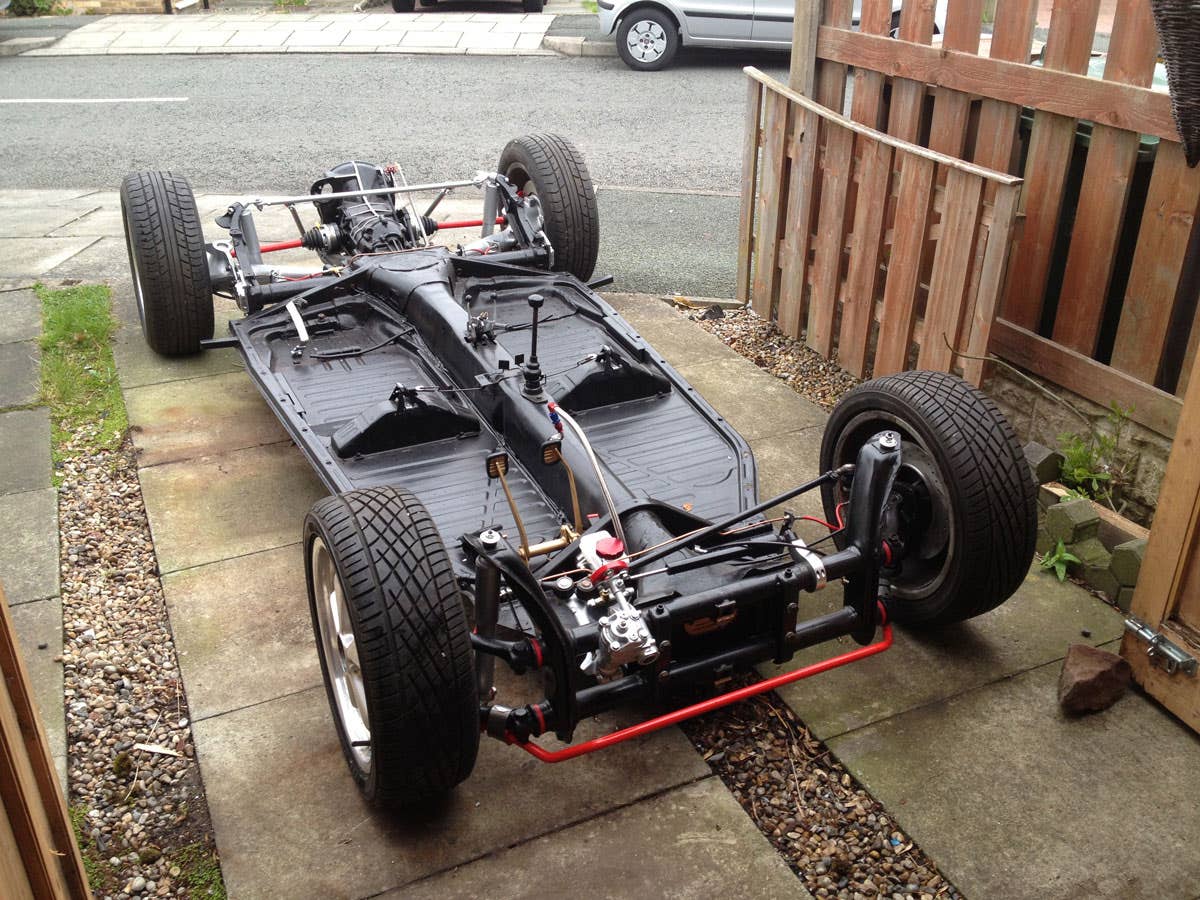 Underneath:
• IRS conversion from swing axle,
• Porsche 944 aluminium trailing arms with polybushes and new bearings,
• 100mm output flanges on gearbox to accommodate Porsche larger size from 90mm,
• Custom spring plates made from large swing axle ones,
• EMPI front disc and calliper conversion kit,
• Drilled and grooved brake discs to enable 5x130 Pitch Circle Diameter,
• Hurst brake line lock,
• Eva Resto fuel tank raiser,
• Aire Valley 4" narrowed front beam with airshock reinforcement towers,
• Lime Bug beam steering stop,
• Castor shims for kingpin inclination on the bottom tubes,
• Castor nuts and Limebug through rods again narrowed 4".
The interior:
• Dynomat and Kilmat sound deadening,
• Flat 4 steering wheel,
• Golden Lady horn push,
• Right-hand drive locking Berg shifter,
• Hurst line lock button, on the shifter,
• Push button starter on the dash,
• New oil gauges and
• Monster tachometer,
• Custom glovebox release button,
• 12v power supply,
• Custom & Commercial carpet and underlay,
• New headlining, sun visors and rear-view mirror.
Under the bonnet:
• Limebug air ride cradle,
• 3P airlift kit (but only for the front),
• Air ride remote tucked away in the ash tray,
• Air ride tank decorated with custom decals from Victory Girl in the US,
• Modern fire extinguisher hidden away inside a retro pyrene fire extinguisher,
• Washer bottle moved to inside the nearside front quarter and activated by a micro switch in the wiper.
Want to know how it all works and goes together? Come speak to Allan at the VolksWorld Show!
If you've had your eye on anything from Allan's enormous modifications list, then why not come speak to him on the Just Kampers display stand at the VolksWorld Show?
Allan and The Other Woman will be at the show all weekend, and we're sure Allan would love to show you around the car himself, explain how all the mods work together, and share his experience and advice with you.
The VolksWorld Show will be held at Sandown Race Cource, Esher on 18 & 19 March 2023, so come find us, check out The Other Woman and chat to Allan about the incredible build.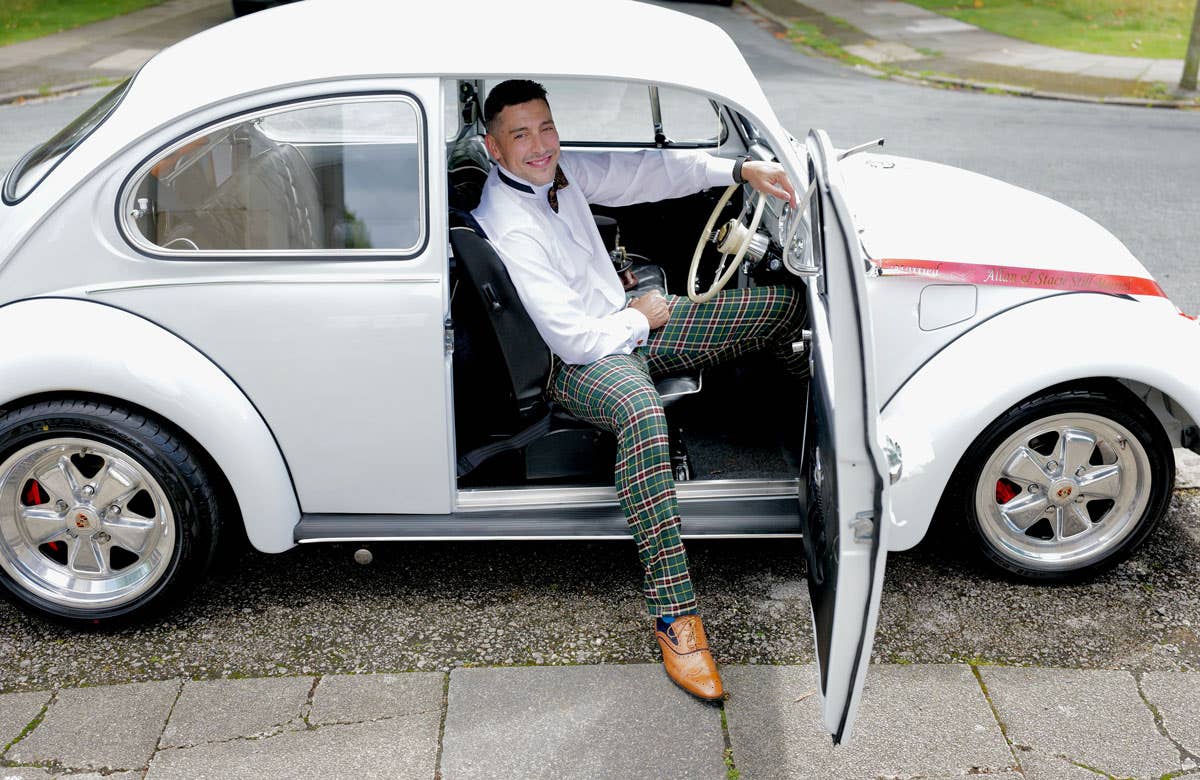 Image Credit: Jane Hockey Photography
Want free tickets to VolksWorld and to have your VW on display with JK?
We're offering free tickets, and a space on our new club display stand, to a customers who've been restoring their classic VWs over the winter.
If you've got a beloved Volkswagen you've poured a load of time and love into, then we'd love to have you join us at VolksWorld!
We've secured a new display area at the show, which has space for five customer vehicles.
This new JK display area will be located outdoors, in the Grandstand area, near our main stand. You could get your newly restored classic VW on display here, and a pair of free tickets to the VolksWorld Show.
That's a pretty strong motivator to get out there and get that project vehicle finished!
Send us an email to jkworld@justkampers.co.uk with some info on your VW if you're interested.