Win This VW Karmann Ghia!
Win This VW Karmann Ghia!
If you haven't heard yet, we've teamed up with Just Kampers Insurance to give away a 1966 Karmann Ghia as our latest giveaway vehicle.
This giveaway competition is complexly, 100% free to enter, and one lucky winner will be drawn at the end of the year. This gives you enough time to either drop by JK HQ to check out the Ghia, or come see it at one of the many shows we'll be attending this year. You can also see it at the JK Open Day in the summer.
For those of you who aren't quite as geeky as we are when it comes to the history of classic VWs, here's some background about the VW Karmann Ghia.
Originally created in the mid-1950's, the 'Type 14' VW Karmann Ghia was seen as a way to capitalise on the rise in salary and standards of living in '50s Germany. There was an increasing number of well paid executives and upper management, who were looking for stylish, elegant vehicles with a sportier feel than anything Volkswagen was offering at the time. VW knew that they could fill this gap in the market, and did so in style.
To get the project underway without affecting the production of VWs other vehicles, they called on famous German coachbuilders Karmann.
Founded in 1901, Karmann had an incredible reputation for quality and attention to detail, both in design and construction of vehicles. The company had already worked with VW to create the Beetle Cabriolet, which was a massive success. It was decided that the Type 14 would be based on the Beetle floorpan, and this, it seems, is where the 'Ghia' from Karmann Ghia comes from.
Italian vehicle stylists Ghia had already done some work using the VW Beetle floorpan for Chrystler and Studebaker, so they were in a great position to help with the new Type 14 project. They used a Beetle floorpan which was widened by 300mm as the base of the VW Karmann Ghia.
Unlike the body of the Beetle itself, which mass produced with machinery, the VW Karmann Ghia was hand welded together from hand shaped panels smoothed with English pewter. All of this made the Karmann Ghia much more expensive than the Beetle, as the production process was far more involved and time consuming.
The cooperation between Volkswagen, Karmann and Ghia resulted in a beautiful, solidly built vehicle with a famed for it's quality and reliability.
The Karmann Ghia runs the same air-cooled, flat four engine in the rear as the Beetle, which ranged from 1200cc to 1600cc, as well as many of the other mechanical components. Its dashboard is much 'sportier' than that of the Beetle, and the seats were wider and nicely padded, which made Beetle seats look bad by comparison!
This sporty aesthetic was added to by the fact that the Karmann Ghia is about 177mm lower than the Beetle, as well as around 75mm longer, with a much more aerodynamic Beetle.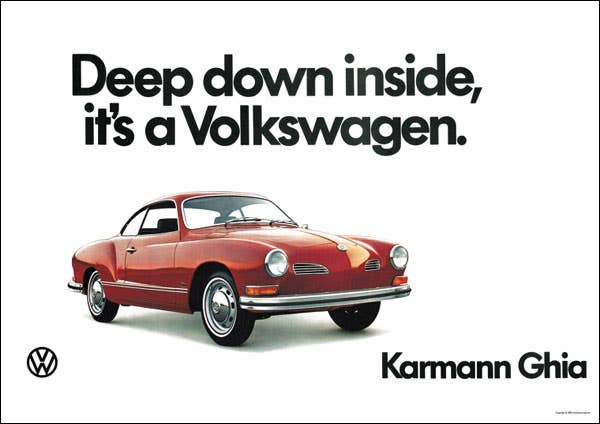 In total, 445,238 VW Karmann Ghias were built, but only 80,837 were built as cabriolets. These were built with glass rear windows, rather than plastic, and are really, really fun to drive! To make our 'Ghia even rarer, it's also right-hand drive.
As a 1966 model, the Karmann Ghia we're giving away has a host of great features.
There are a few little cosmetic tweaks like having the side mirrors mounted on the door, rather than on the wings as they had been before; the battery switching to the drivers' side and a 'one year only' chrome dash trim; but it's also the first year to have ball-joint suspension on the front, rather than king and link pins. This upgraded suspension makes the Karmann Ghia a much smoother ride, and it's a really driveable classic, so whoever wins it will have an amazing time driving it.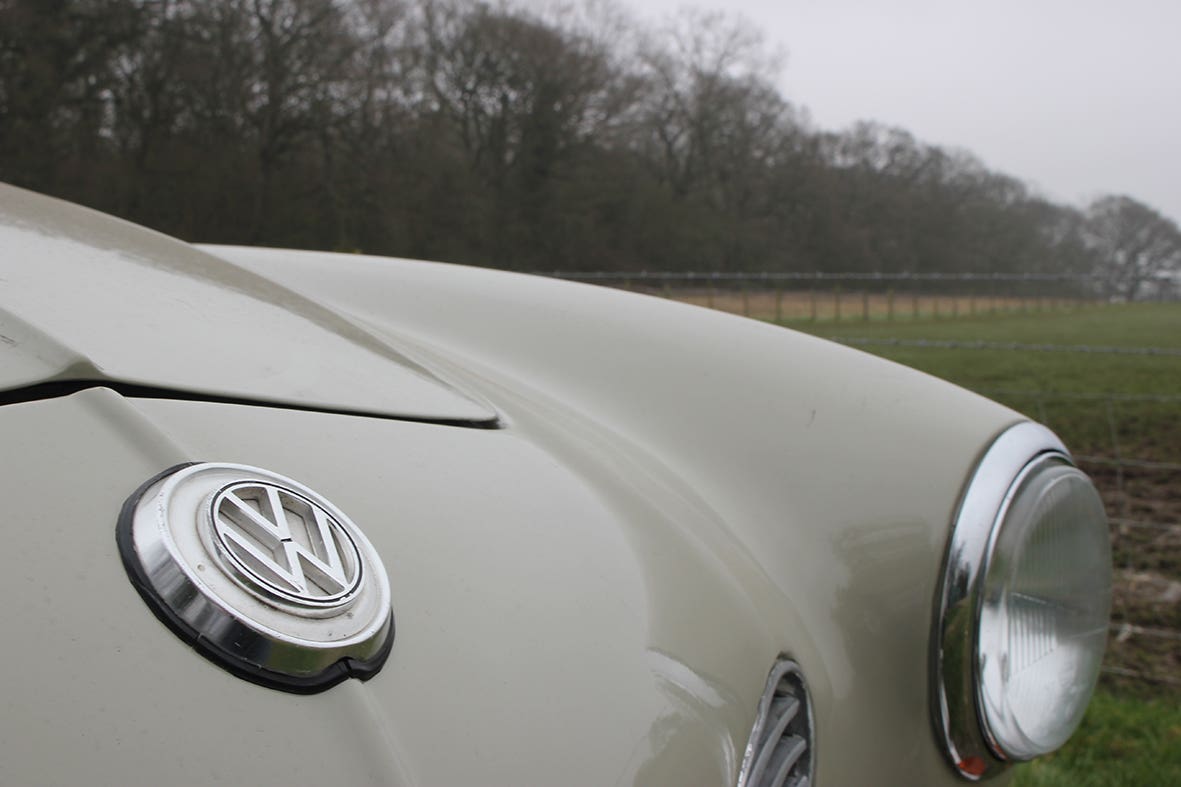 The 'Giveaway Ghia', as it's been dubbed at JK HQ, was built in Germany in 1966 for the US market before being shipped to California. It enjoyed the warm, dry California weather until 1980 before it was sent over to the UK. Once it arrived on our shores it was professionally converted to right-hand drive and has receipts and invoices for all the maintenance and servicing that has been done to it since then.
Mark Reynolds, who set up JK back in 1989, found the Karmann Ghia for sale a while ago, and decided it would be the perfect follow up to the VW Variant that we gave away last year.
All you have to do to enter this competition is fill in a quick form and that's it! You're entered! There's nothing more to it than that.
We'll be drawing this competition later in the year, so if you're chosen as the lucky winner you'll have the Ghia by Christmas!
Good luck, everyone!