Taking your campervan on an adventure in the UK is a thrilling experience, whether you decide to head for the rugged hills and moody lakes of Scotland or stride along Cornwall's sandy beaches with an ice-cream, and maybe a pasty, in hand! To get the best out of the National Parks and areas of natural beauty, you may feel the urge to park up in a remote setting that is off the beaten track and try your hand at wild or free camping. This is the type of camping that any nature lover would dream about, but as your transport is also your tent, so to speak, there are some important things to consider if you want to try wild camping with your campervan.
Photo by Hasse Lossius on Unsplash
Is Wild Camping with my Campervan Allowed in the UK?
In the UK the rules around wild and free camping can cause some confusion, especially if you are wanting to do it from the comfort of your campervan. Although truly free camping, where you park your van or pitch a tent in a remote area outside of a campsite or property, is technically illegal in England, Wales and Northern Ireland, it is tolerated in most places if you follow the rules of the area and ask permission from the landowner.
However, as these areas are often on private land or in a preserved area of the country such as a National Park, campervans are increasingly prohibited due to the increased risk of sound and damage. Also, because these spots of natural beauty are off the beaten track, a lot of them are only accessible by foot. This means that truly wild camping in the UK, except for Scotland, is sadly not the best option with your campervan.
However, there are ways to experience the full freedom that camping can bring in the UK, whilst making the most out of your lovely campervan.
Photo credit @nineteen via Unsplash
Ways to Experience Wild Camping in the UK with Your Campervan
Tip 1 - Head for the Highlands
Unlike the rest of the UK, if you were to journey up to the impressive Scottish countryside you would legally be able to wild camp wherever you like! Most unenclosed land is available for you to explore, bearing in mind you respect the area and take into consideration wild camping etiquette. Taking your campervan won't be a problem for you as you'll be able to park up on the roadside or on hard ground, making for plenty of pit stop opportunities along the way.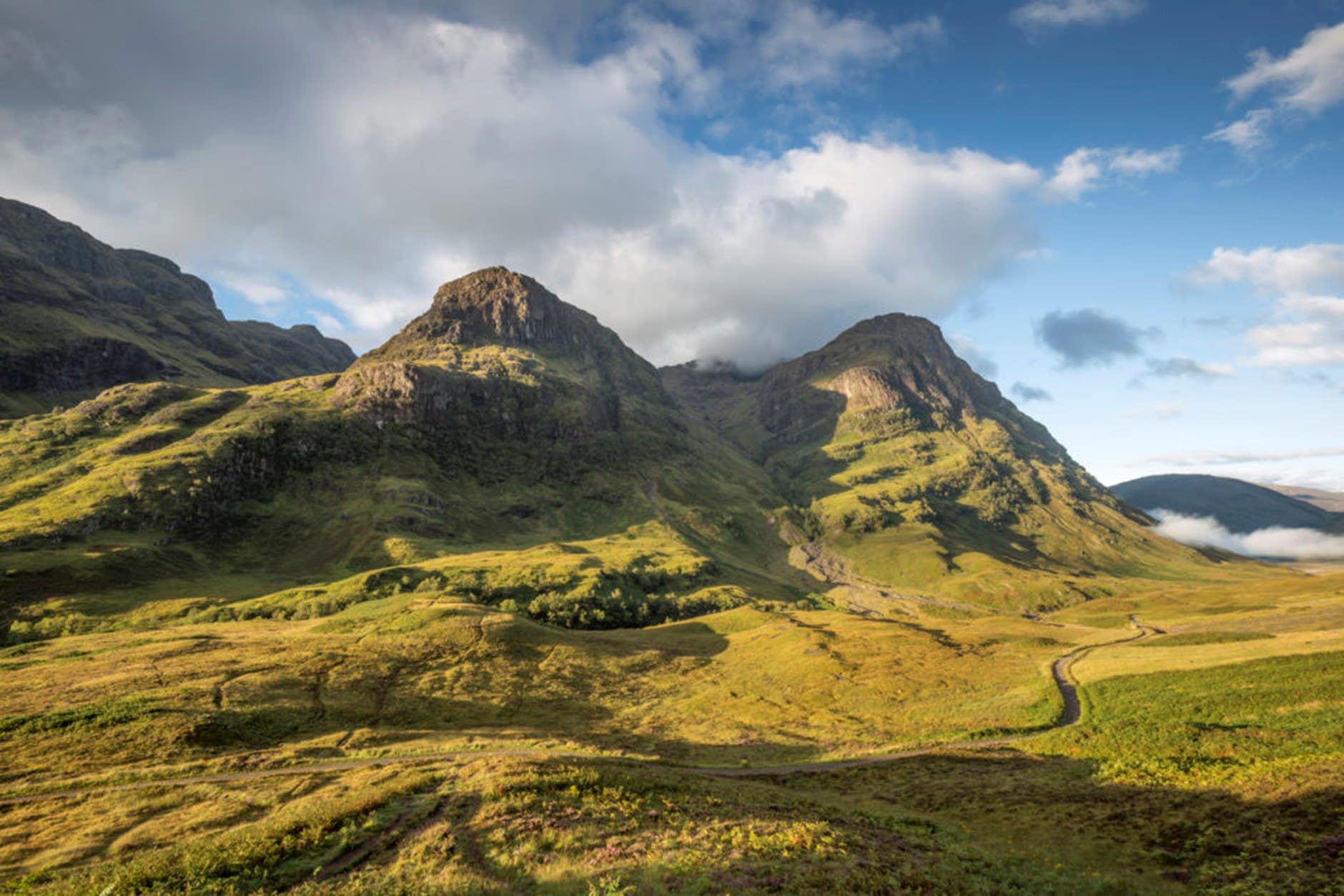 The Three Sisters, Glencoe
Tip 2 - Find yourself an almost-wild campsite
If your main concern is being out in nature and making the most of the countryside, then almost-wild campsites might be a great option for you. Surprisingly, there are a number of free campsites for you and the campervan in the most beautiful areas of the UK, including in the National Parks. Although they won't be completely off the beaten path, these spots will still give you the dreamy lakeside views or true taste of the countryside that you are searching for. They may not have the best, (or any!), facilities for you, but if you have your heart set on wild camping these wouldn't go a miss anyway! We recommend doing an online search for any free campsites before you travel, you'll be surprised at where you could end up.
Tip 3 - Look out for Brit Stops
Inspired by a similar scheme in France, Brit Stop's are stop-overs that are offered by generous and friendly hosts who invite campers just like you to stop over with your campervan on their land free of charge! Once you purchase their Brit Stop guide book the process is simple, and you'll find a diverse number of country pubs, farms and visitor centres to stay overnight across the country, hopefully meeting some interesting people and picking up some hot local spots along the way.
Tip 4 - Park up the campervan and journey on!
If you are still set on experiencing wild camping and are happy to leave your campervan for a night or two then you can always bring along a tent and make the journey into wild and wonderful countryside on foot. If you do decide to try your hand at wild camping, make sure to check the rules of the area before your stay. Some National Parks have stricter guidelines than others, and you'll have to ask permission from the landowners wherever you go, even in less strict areas such as Dartmoor and The Lake District. Another thing to consider is where to leave your campervan. Do your research to find a safe spot to park up before your adventure, some better known spots will be have advise online. Stay respectful and follow the golden principle, leave no trace!