Hello, we are Brad & Court!
We live on the small but yet beautiful island of Jersey! We love to travel and in our spare time we like to either be down by the beach in the van soaking up the sunshine or out taking photos.
During lockdown in 2020 we started to get itchy feet and started dreaming up the idea of converting our own van into a holiday home on wheels ready for 2021. So in July 2020 we brought our refrigerator Crafter van! This was an old Collette Foodservice van (a local food catering company) hence the name 'Colly'. However, this wasn't going to be an easy task because neither of us had ever used any power tools before! Some called us crazy but we knew we wanted to make this dream a reality and with time on our side (and a LOT of YouTube videos for guidance) we got cracking.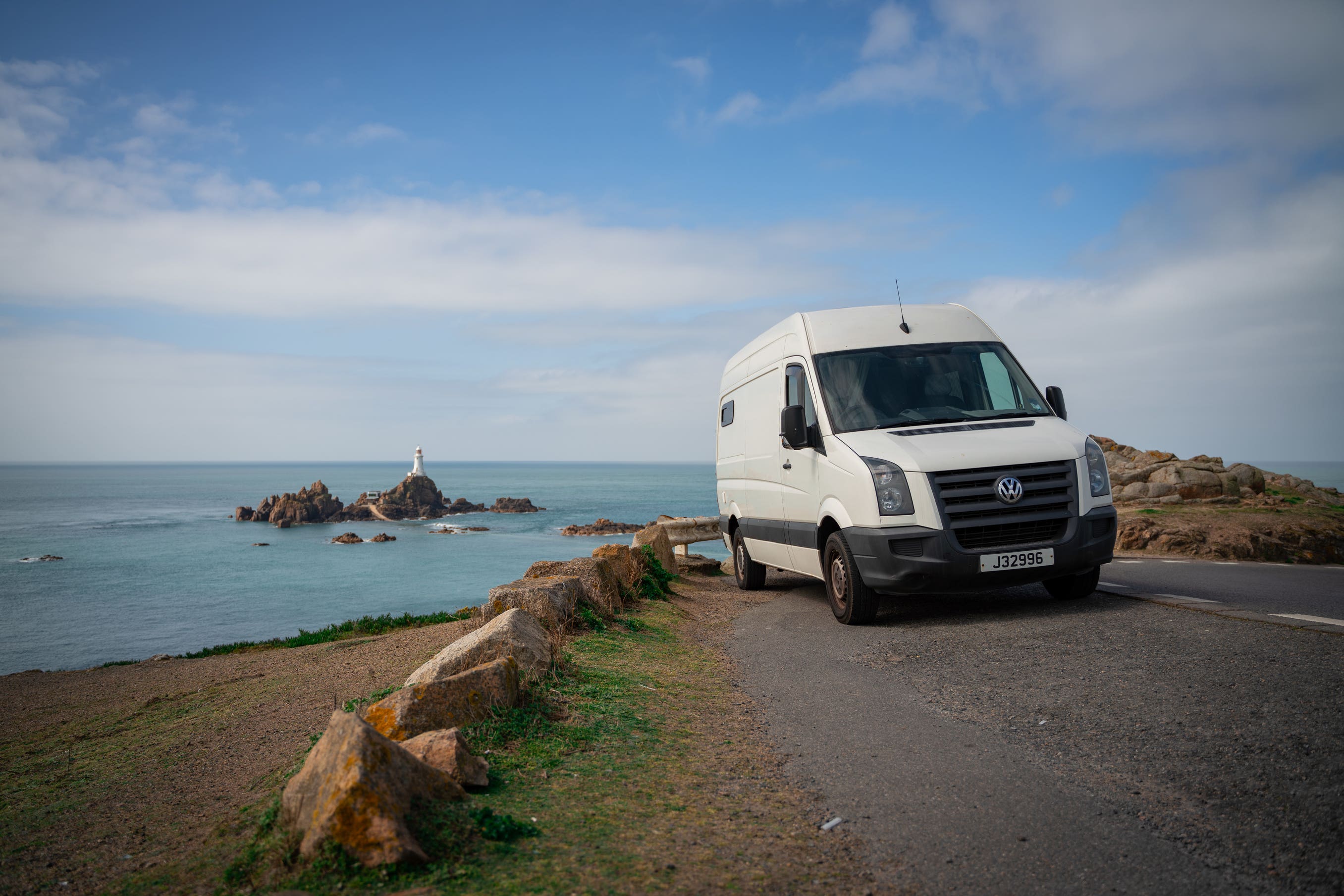 The whole conversion took around 7 and a half months - due to lockdown and the fact that we live on a tiny island our local DIY shop was struggling to stock the materials we needed and we faced a number of issues with ordering certains parts online (it took us 3 attempts to get a sink!). Colly really is everything we hoped for and more. Check out our instagram page @collythecrafter where we documented the conversion process.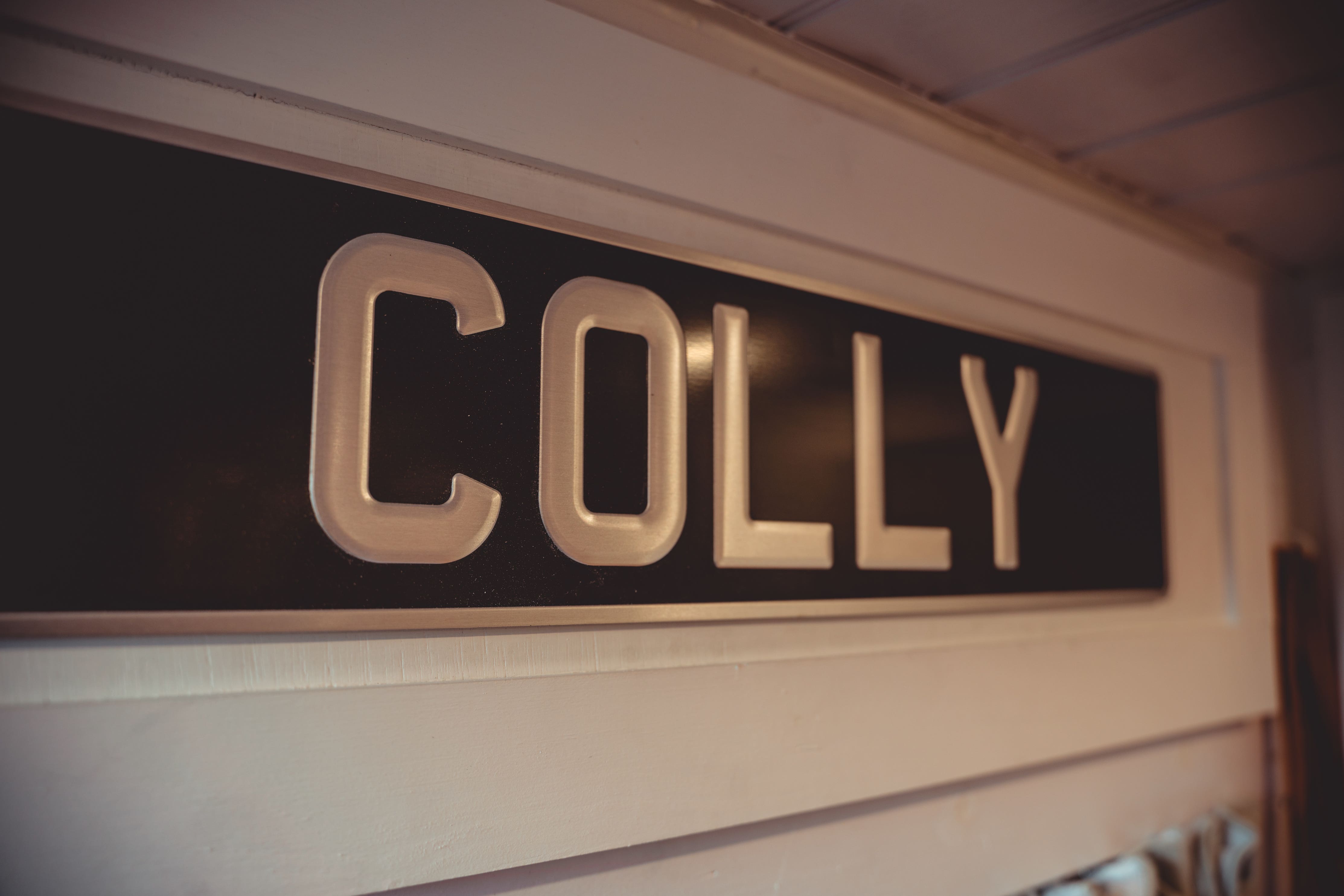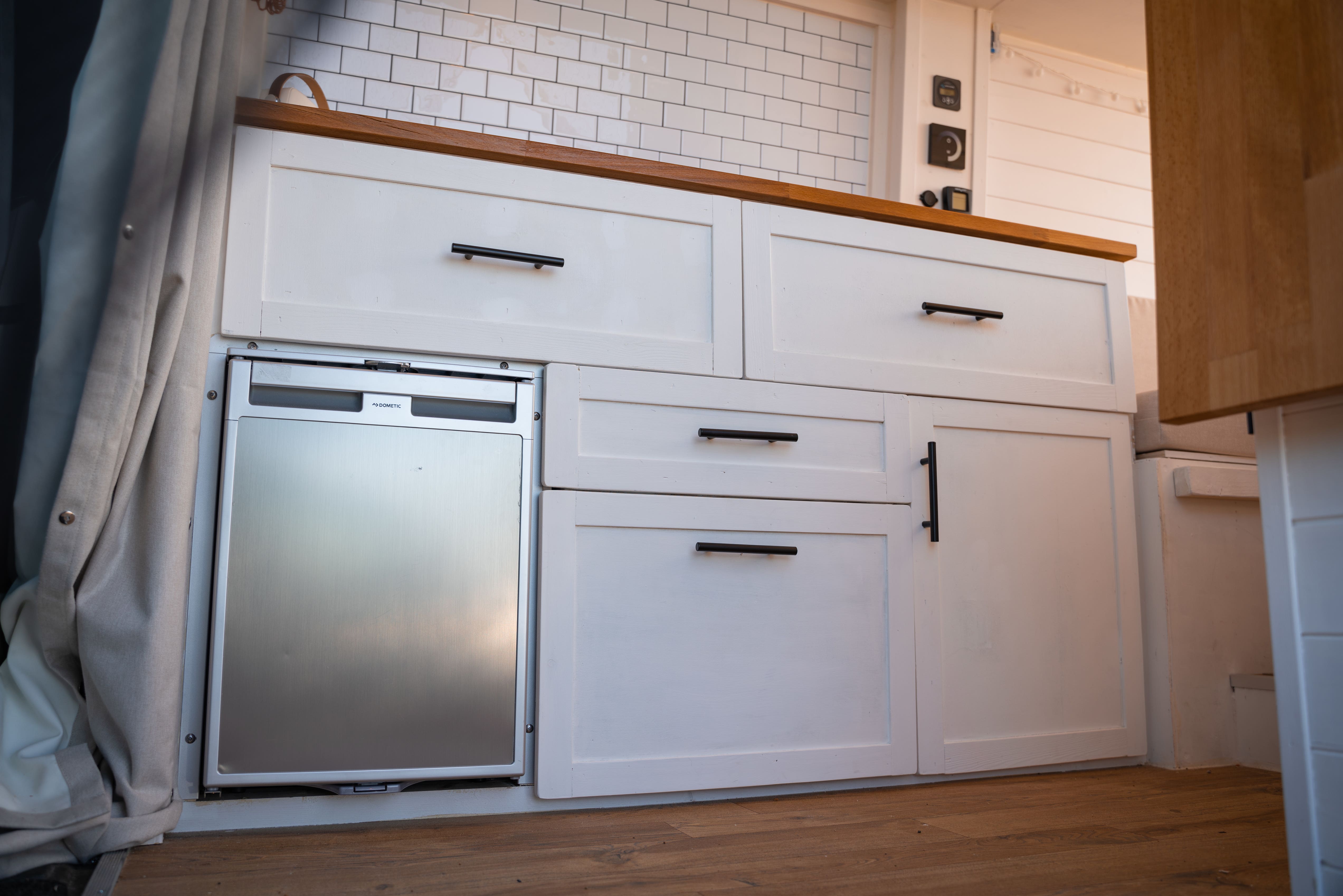 Colly is a 2013 Volkswagen Crafter van that only had 50,000 miles on the clock when we bought her. Upon collection, it was full of fiberglass, thick (rotten) insulation and had a fridge on the roof! We had few layouts in mind - like having a fixed bed or including a shower - but we finally opted for the dinette layout. This gives us plenty of storage space and enough room for hosting family and friends. After converting the van, it now includes:
Large living/dining area that also becomes a king sized bed
Two front seats with the passenger on a swivel base
300W Solar panel
Large window on the sliding door
Small cabin window above the living/bed area
2 burner camping stove
Large kitchen sink with extendable faucet and water filter
Diesel heater
Maxxair roof fan
2x 110ah AGM deep cycle leisure batteries
2000w inverter
Split charge relay
Onboard 50l fresh water tank
Onboard 25l grey water tank
Storage for two inflatable SUP's
In total, the build cost us just over £11,500. Here is a general breakdown of costs:
Van: £5,800
Insulation: £230 - there are many different ways to insulate your van however, the easiest way for us was to use Kingspan insulation boards. We used 25mm on the floor and ceiling and 50mm in the large cavities on the side. Along with this, we used recycled loft insulation in the smaller cavities in the van.
Electrics: £1,950 - This includes everything from our solar panel on the roof to the 2 leisure batteries in the back of the van, our MPPT charge controller, cables, fuses, lights etc. We would definitely recommend watching Greg Virgoe on YouTube for electrics, we would have struggled so much if it wasn't for him!
Windows & Roof Fan: £640 - We opted for only two windows in the van for two reasons: stealth and efficiency. With too many windows, we thought the van might be too hot in the summer and too cold in the winter!
Plumbing: £450 - Our plumbing system is fairly simple - we have a 50l fresh water tank inside the van with 12mm John Guest fittings to our water pump and accumulator all the way up to our kitchen sink. We then have a small 25l grey water tank under the sink that can easily be removed to empty and clean.
Materials: £940 - This covers everything from plywood, cladding, paint, door handles, vinyl flooring, kitchen worktops etc. Basically what we spent in B&Q…
Extras: £1,580 - Our extras sections covers everything else for example our fridge, cushions & covers, camping stove, curtains and everything else!
We finished the build in February 2021 and booked our ferry tickets to France for the summer we spent 3 amazing weeks driving around France & Switzerland. If you are thinking of converting your own van we would 100% recommend it and with the right information we truly believe anyone can build a decent conversion.
Make sure you follow us on our adventures with Colly on Instagram! (@collythecrafter).
You can also find Bradley on Linked-in.