We're working on a cool new project here at JK HQ which we're pretty excited about, but we can't talk about it just yet. What we can talk about is the treasure trove of old toys, books, games and JK merch that we've uncovered during our archaeological delving into the dark and dusty corners of JK HQ!
Just Kampers has been going since 1989, and over the years we've collected up all sorts of weird and unusual things, from model Splitscreens which drive around a vinyl record and play the track through tiny speakers, through to the hardcopy proofs of Just Kampers' first batch of official stationery and catalogues.
All these things are being gathered up and preserved, and we're documenting them all with photos to share with you, too!
We'll be adding to this blog post over time, to keep is as a central repository for everything we uncover while we're working away on our new project, and clearing more space at JK HQ to make room for our ever-growing range of parts and accessories.
If you've got any unique old treasures that you think we'd love to see, then send us some photos, or even a video, and we'll share it out on our social media channels.
You can contact us at jkworld@justkampers.co.uk or on our Facebook and Instagram pages.
This old Musicmobile from 1983 is just one of the treasures we've found recently!
Original Just Kampers stationary proofs
We were really pleased when we uncovered these old proofs while clearing out some more space for parts and accessories here at JK HQ. There's loads of new products flowing into Just Kampers at the moment, and these are one of the coolest things we've found as we've been getting ready.
Each of these was a physical proof for us to check over as part of the printing process, back before we had the luxury of widely-available digital software for creating and editing things like invoices, business cards and headed paper.
These were put together in the mid-1990s, as Just Kampers was in a strange intermediary period between being a workshop and a parts supplier.
The address listed on all this stuff is located in North Camp, and was the last place that JK was at before we loved to our current location in Odiham, Hampshire. It's now a vape shop, last time we checked, but it used to be full to the rafters with different parts and accessories for VW campers and Beetles.
It should go without saying that the fax number, telephone number and address on this paperwork are no longer correct, so if you're looking to fax us something, for some reason, you're out of luck!
In the wildly unlikely event that you've got any of these old business cards, compliment slips or invoices stashed away somewhere, we'd love to see them!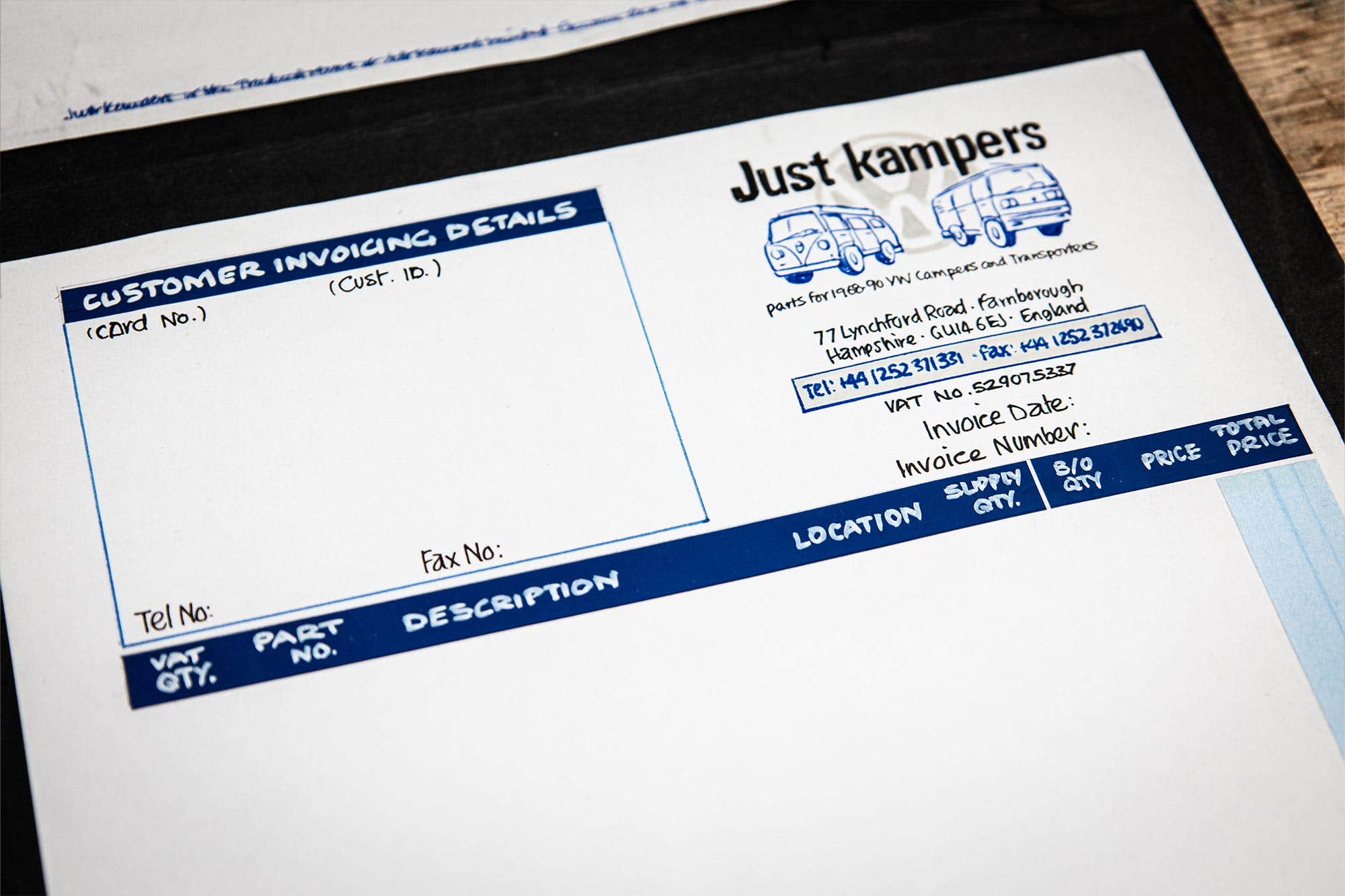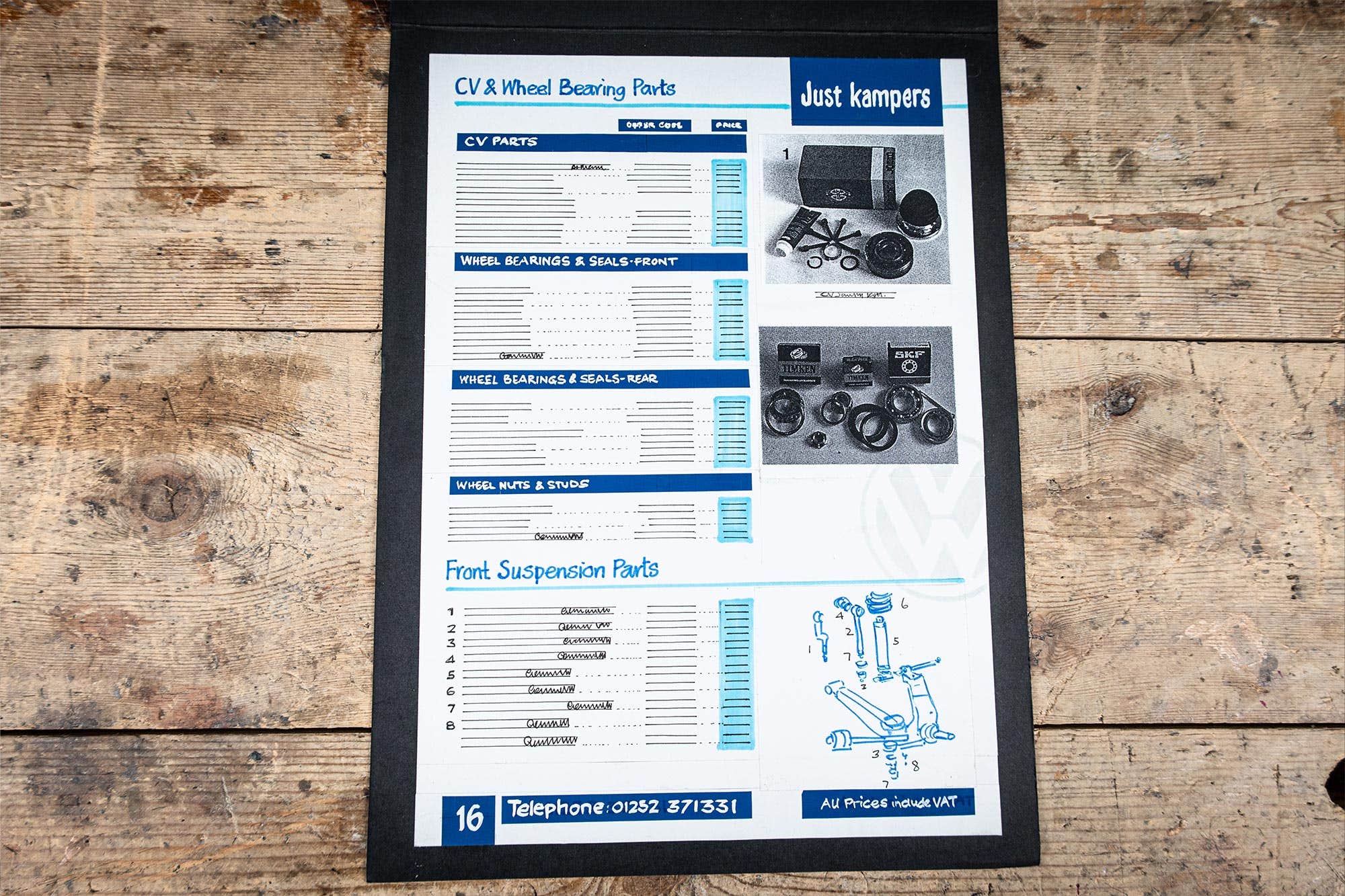 These physical printing proofs have been with us since the mid 1990s!
Home is where you park your camper sticker
One of our classic slogans – and there's been a lot of them since we started Just Kampers 1989!
Home is where you park your camper was one of our earlier stickers, with our old phone number from when we were based at WHERE
The familiar moustachioed JK has swapped over to a T25 (or T3, if you prefer), and unusually for a JK sticker there's no orange and we didn't spell camper with a 'k'!
We've produced loads of stickers over the years, but these are some of our favourites.
The moustache-sporting camper owner was a recurring motif in our early designs
Vanfest Fun Book
We put together this Vanfest Fun Book to give out at Vanfest (now called Busfest) in the early 2000's. We can't remember if we printed all of them on this bright yellow paper, but if we did it must have made the colouring in page a bit of an unexpected challenge!
You can try your hand at the crossword puzzle here, as we've replicated it as part of our list of fun, free activities for kids (and the young at heart!) which you can access here.
Some of the crossword answers are pretty hard, as things have moved on since it was printed (and certain shows have changed their names – hint!). The quiz is also pretty challenging, and the reference to Duncan Dares certainly dates things.
The booklet had areas for you to jot down the answers to questions from the Vanfest show guide, which could be turned in for fabulous prizes!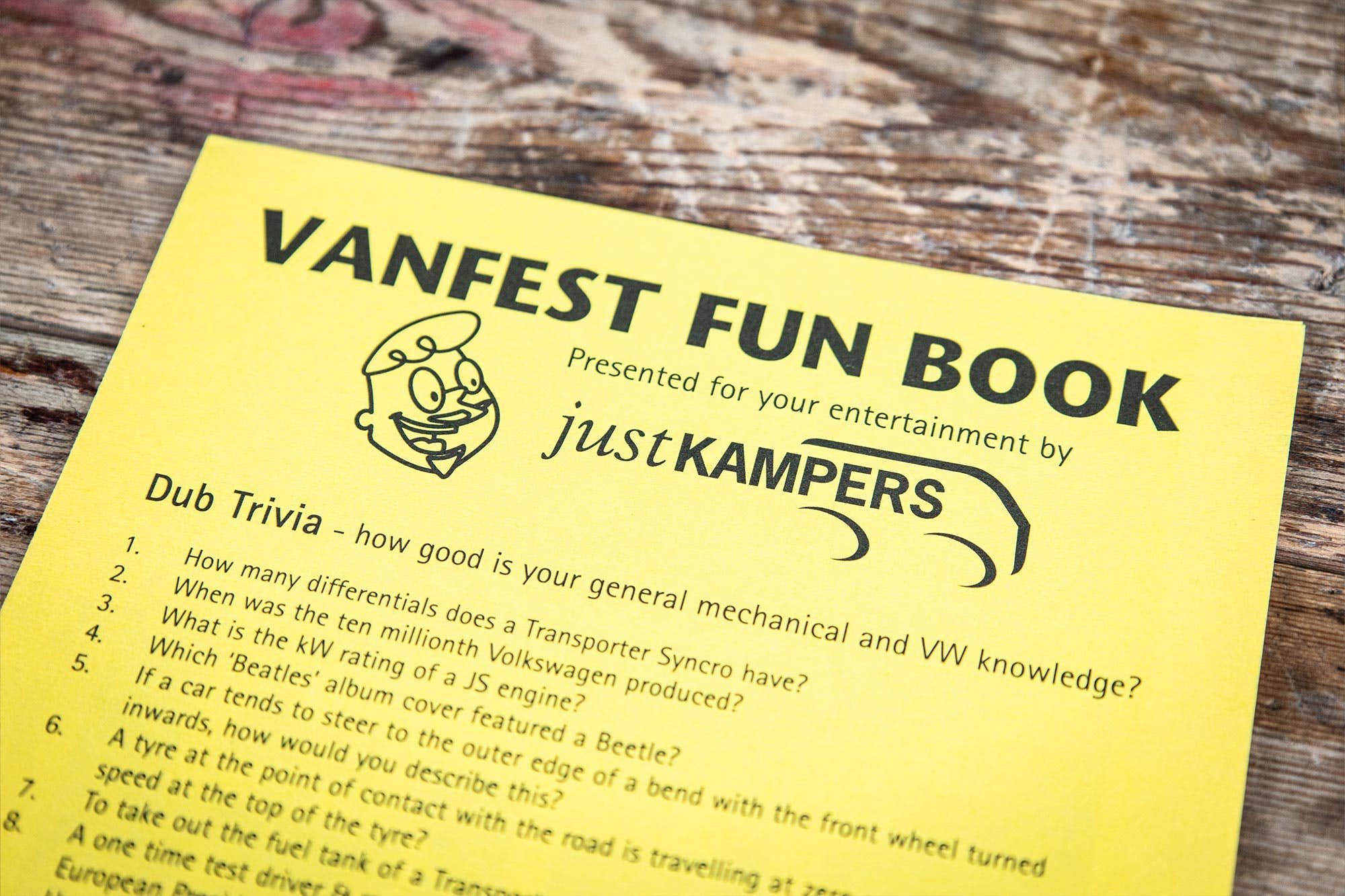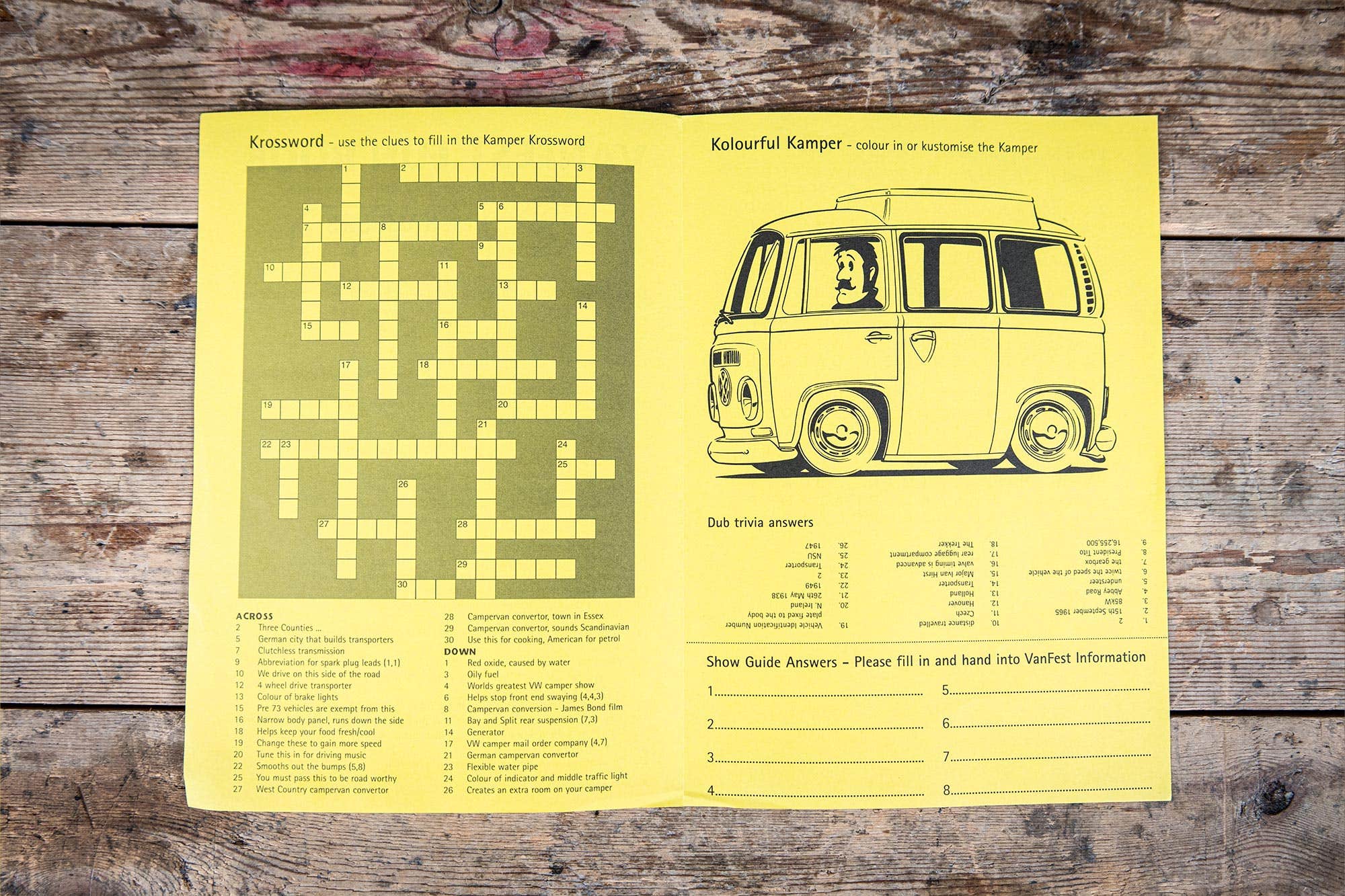 In hindsight, yellow paper might now have been the best call for these Vanfest Fun Books!
Rusty Bay Owners Club sticker
Ah, the Rusty Bay Owners Club, how we miss it! The club was a great community of like-minded VW T2 Bay owners who didn't take themselves, or their vehicles, too seriously. We were really proud to support them before the club drifted apart, and one of Josh from the JK Team's earliest VW-related memories is helping them to judge the Knobblist Knees Competition in the front lawn at the VolksWorld Show.
In fact, Josh still has a Rusty Bay reversable raincoat, which used to absolutely swamp him when he got it as a kid, but fits pretty well now he's all grown up! We'll ask him to bring it in.
We made these Rusty Bay stickers in the classic JK colours and font to help promote the club and spread the good word!
If you were a member of the Rusty Bay Owners Club we'd love to hear from you and how you're getting on! Have you still got your Bay? Is it still rusty? Are you still in touch with any other club members? Let us know!
We're still keen to hear from any past members of the Rusty Bay Owners Club
Just Kampers tax disc holder
Remember tax discs? What a throwback! We've had a fair few made over the years, as they used to make excellent giveaways which were genuinely useful, back when displaying tax discs was a requirement.
Like a lot of the things we've uncovered recently, this bright yellow tax disc holder dates back to the late 1990s, and has an old phone number on.
Again, the little guy driving the camper makes an appearance, and it's cool to see how much our range has expanded over the years - we're not longer stocking parts and accessories for just the VW T2 Bay and VW T25, but everything from super early VW Beetles and other aircooled cars, through to the latest VW T6.1 and even conversion parts for other makes of van to allow you to transform them into campers.
I'm not sure any of us thought we'd grow so much back when this disc was created!
The familiar camper driver with his distinctive facial hair is back again
Summer 2000 Kampernews
Ah, Kampernews! We used to put together this little JK magazine-shash-flyer to mail out to our customers to keep them up to date with our latest products and goings on at Just Kampers, before email became a faster and more affordable way to get in touch with you all!
This copy, from Summer 2000, was tucked away in a box down in our warehouse which we found when we were rearranging our shelves to make room for even more parts to be delivered (we've added more than 1,500 different parts since the start of 2022).
You can see all sorts of old products, emblazoned with an old JK logo, like our director's chairs, as well as the super cool old iMacs that Just Kampers used to run on! When did we decide translucent, colourful cases on computers were less cool than plain metal or black plastic?
Kampernews took on all sorts of different guises over the years, from small flyers to full-on magazines, but as the cost of print crept up and emails got cheaper to send, it was no longer an effective way to get the word out about what we were up to and which new products had just arrived.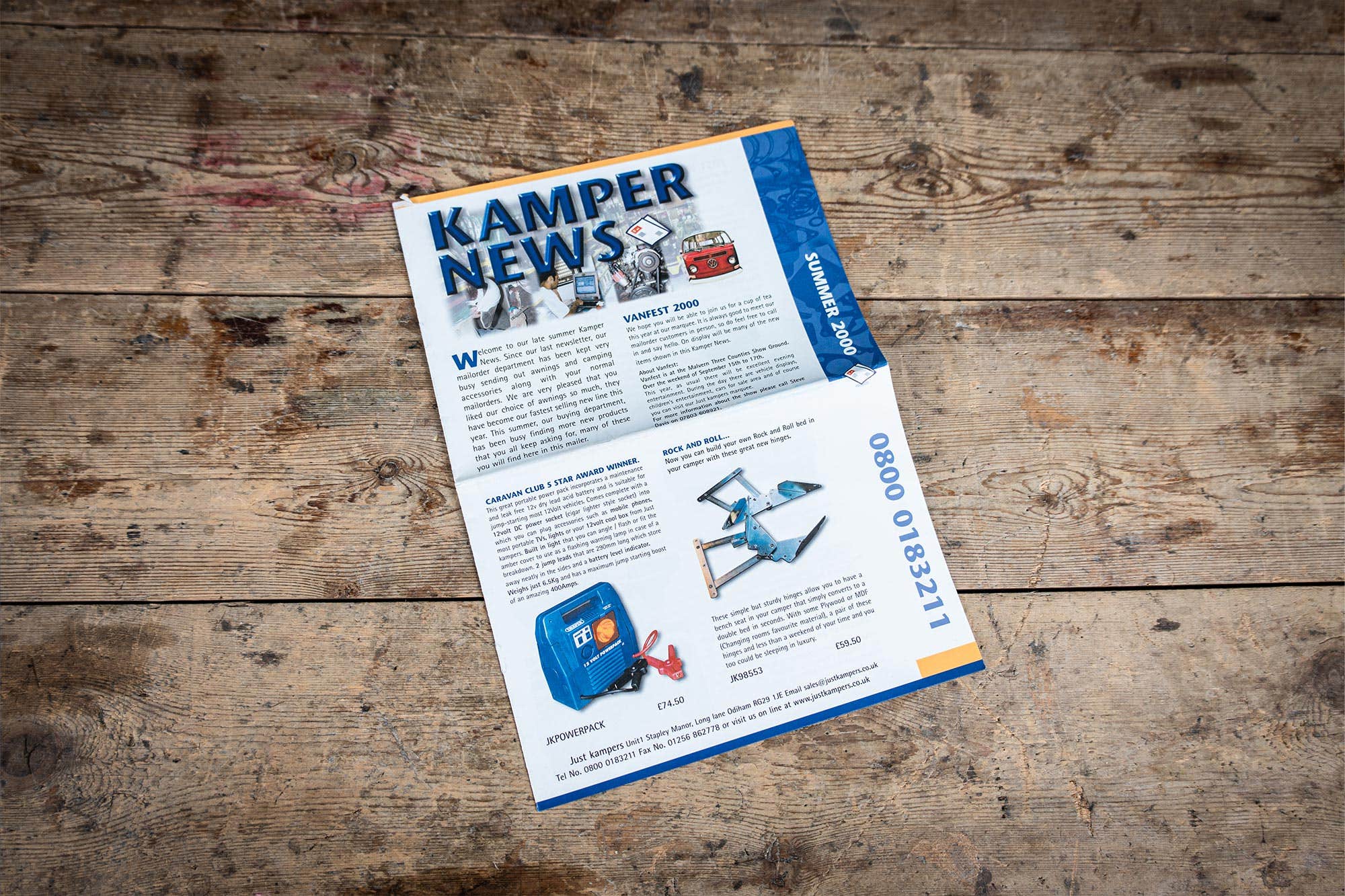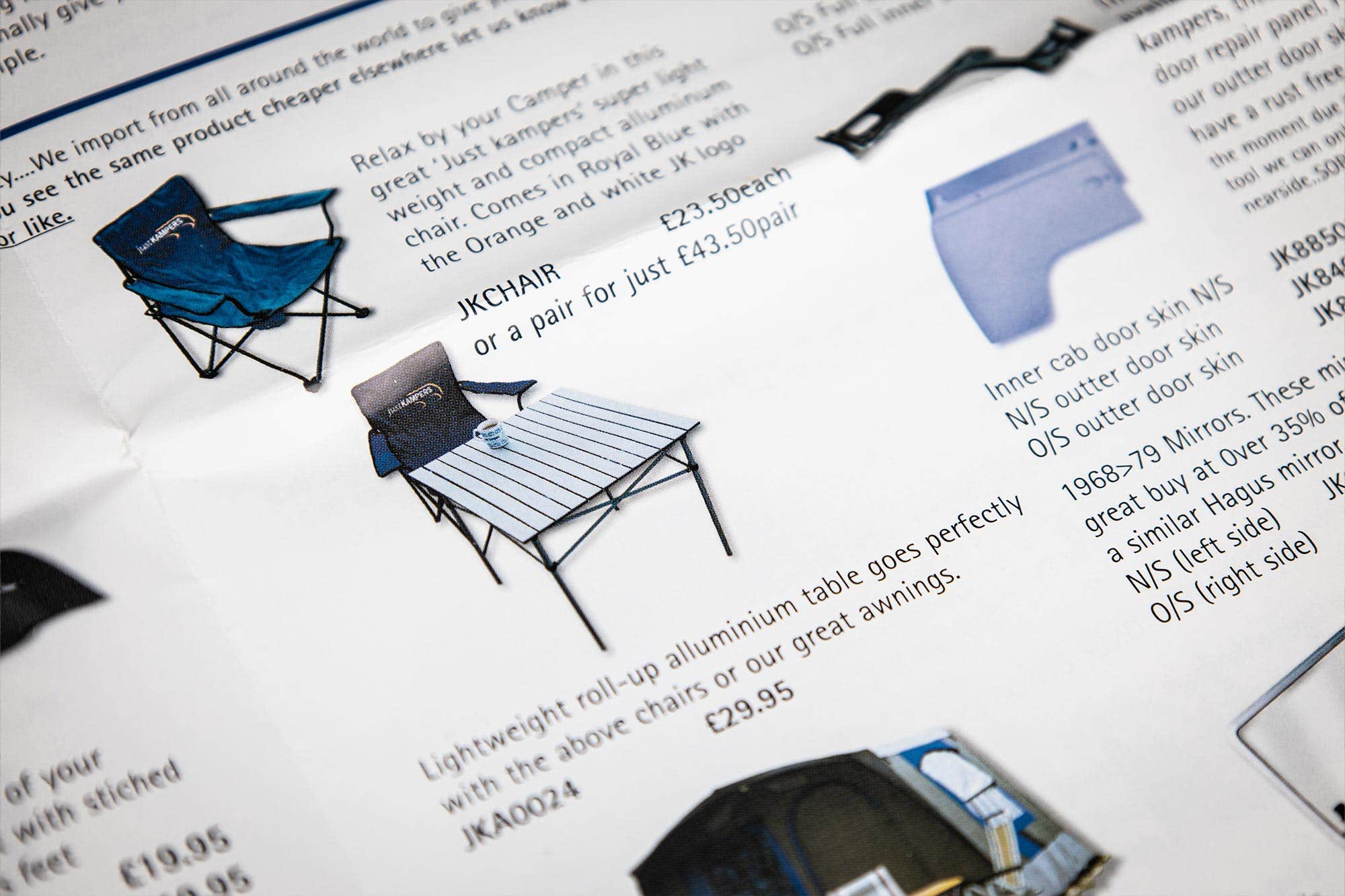 Do you remember getting Kamper News?
Just Kamers Christmas card
Yeah, it's a good few months until Christmas (although probably not that long until mince pies and wrapping paper appear in shops), but this old Just Kampers Christmas card is too cool not to share.
Featuring the moustachioed T2 Bay driver who used to appear in so much of our stuff back in the 1990s, this is the original drawing which was used by the printers to create the Christmas cards – you know, back before we could just email them digital files.
In hindsight, we might have made the message a bit cheerier, a bit happier, maybe stuck an exclamation mark on the end, but it was a really popular card at the time – maybe we should bring it back for Christmas 2022?
The little Just Kampes guy doesn't even look that happy to be skiing a bus down a slope
Just Kampers Community CD
This felt like a good idea at the time, honest! Back in the late 00's we got the licences to play some popular, classic songs as our hold music, which proved so popular that we released a whole CD!
We'd often get people complain about being taken off hold because they were jamming out to Black Betty. We got members of our now-defunct Kamper Chat forum to contribute a number of songs, which made it onto the final version of the JK Community CD alongside some tracks requested by the JK Team.
All of the tracks were chosen to be great driving tracks, and we recon it still holds up!
You've got to admit there's some absolute bangers on here, right?
VW Inspector board game
This slightly-battered boardgame was released only to Volkswagen staff, having been given out to dealerships at an annual conference.
We picked it up from the Standford Hall show, but can't quite nail down which year. All the pieces of the game are present and correct, and if we can find the time we're keen to play a round or two here at JK HQ soon!
Similar to the classic Snakes and Ladders game, it's self-styled as 'a game for nit-pickers of all ages', and comes with little VW tokens for four players as they follow the journey of a VW Golf through the production plant and get it ready to be inspected at the finish line.
If any of you have ever played this, or you've got any cool VW games or toys you want to share with the community, drop us an email at jkworld@justkampers.co.uk with your photos and we'd love to share them with everyone!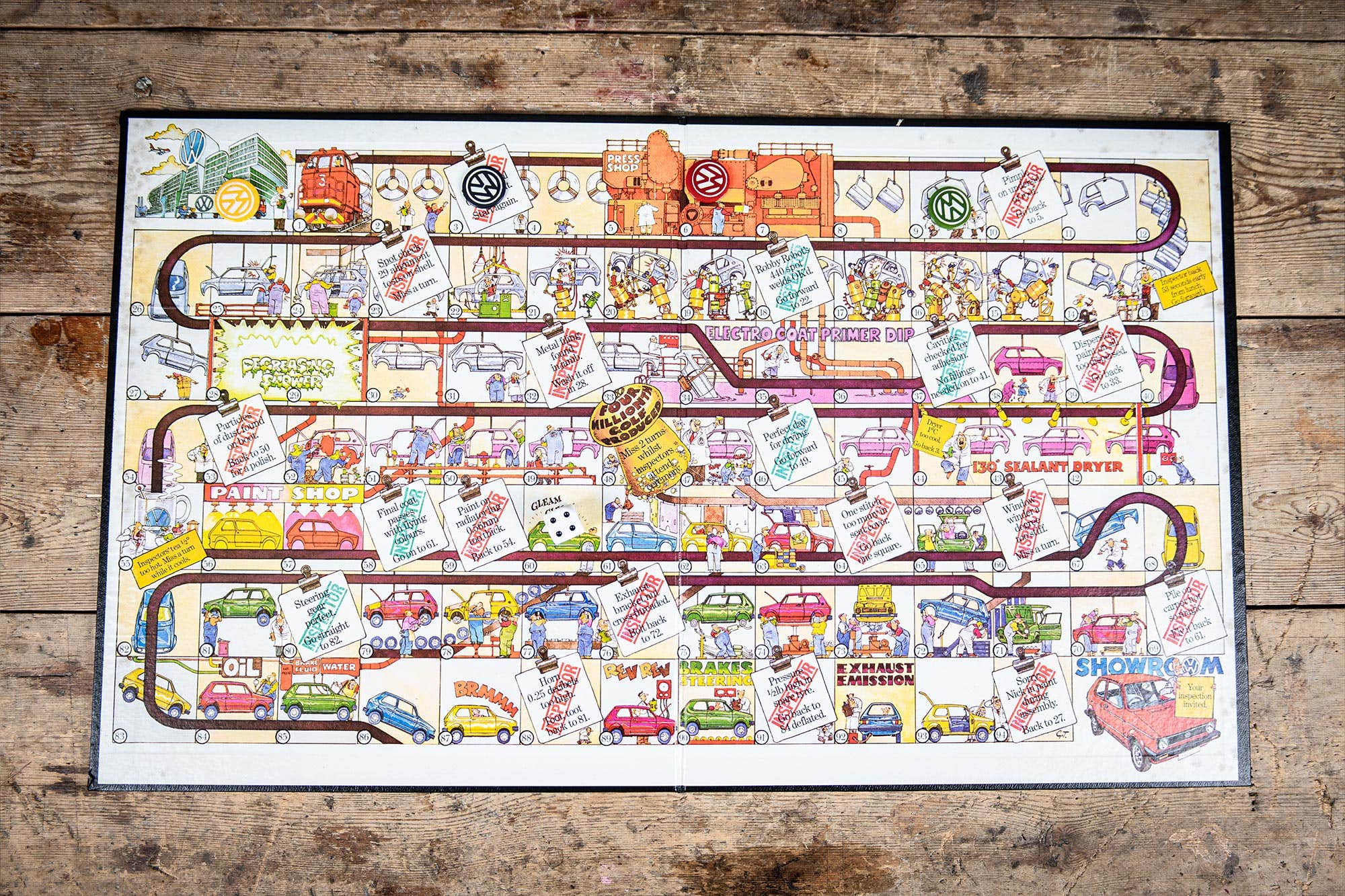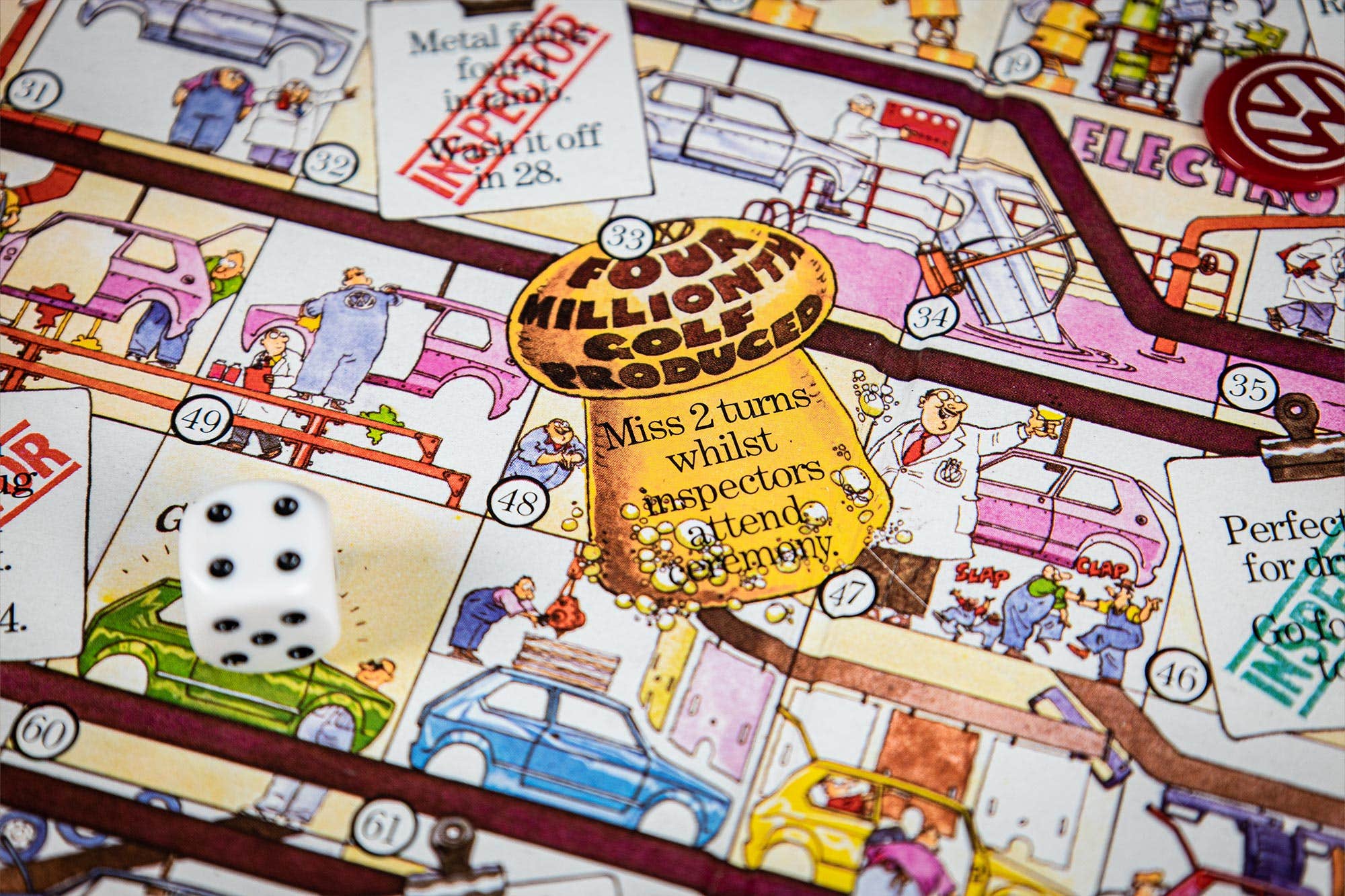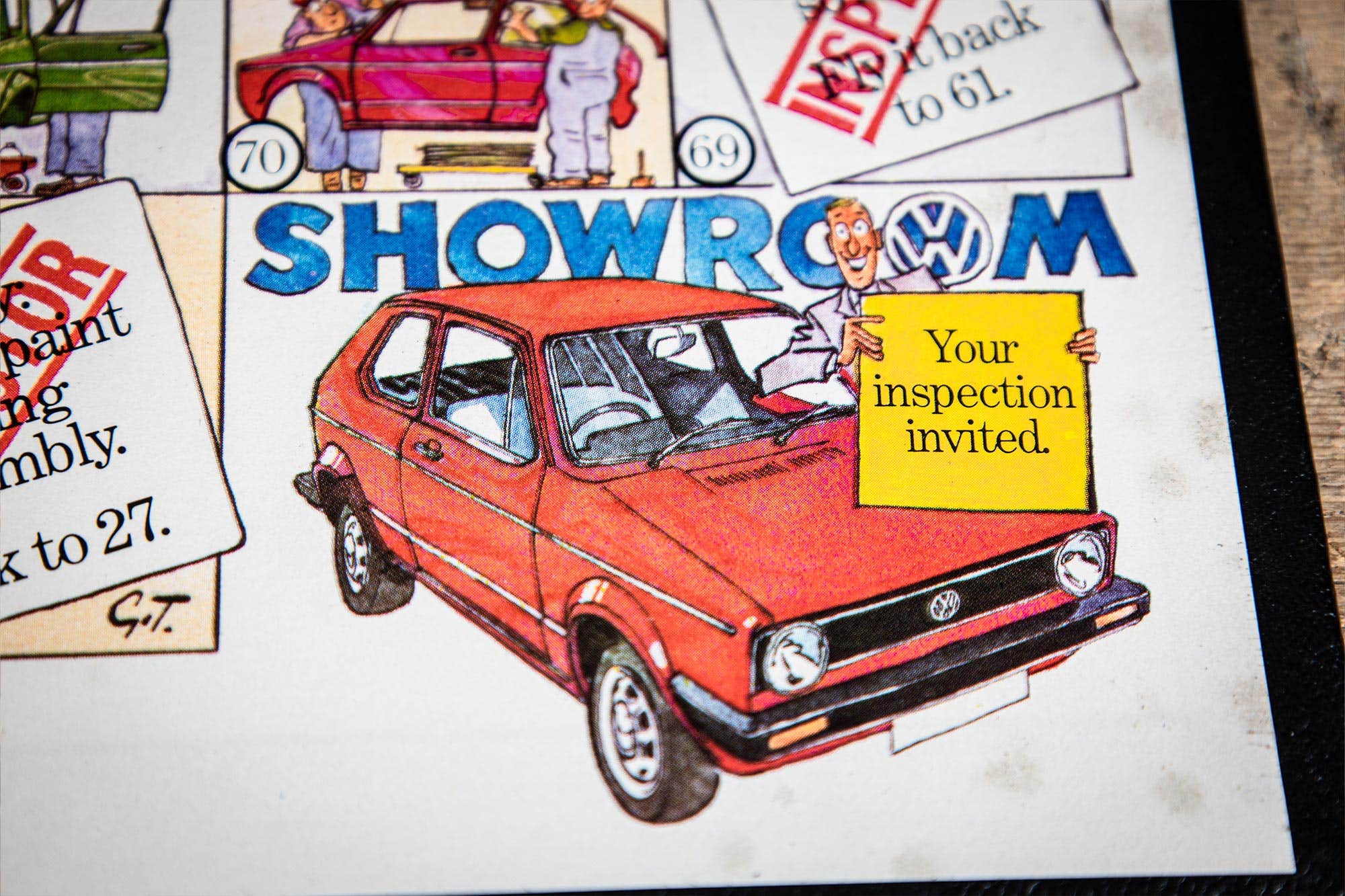 We're definitely going to start playing this on our lunch breaks
VW Audi Customer 1st Pursuit board game
Okay this one's a bit of a mystery, and we might need your help with it!
We've had this VW Audi Customer1st Pursuit board game for years now, but never really had the time to sit down and play through it.
The questions inside range from 'you could take an educated guess' through to 'how could I possibly know that?!', and were used as a training aid for VW and Audi staff, to ensure that they knew a huge range of information and knew exactly how to help customers.
The slightly weather-beaten instruction guide suggests that one hour is set aside to play the game, and that each team should have five players, each one nominated to answer one of the five specific question categories.
These categories are Franchise Knowledge, Technical, Parts, Product Knowledge, Paint and Body, Customer Contact. The instructions say there's five categories, but there's actually six, so, maybe that's an error?
Regardless, we think this is a really cool training tool and team building exercise, and we just wish we had the time to set a full hour (or more) aside to give it a go – sadly at the moment there's far too much going on at JK HQ to get that many people together at the same time.
Maybe we should get it out at the next JK Open Day and add some extra pressure by playing in front of an audience!
We don't know too much about the game, so if you've got any information or insights then let us know – we'd love to learn more. Drop us a comment or send an email to jkworld@justkampers.co.uk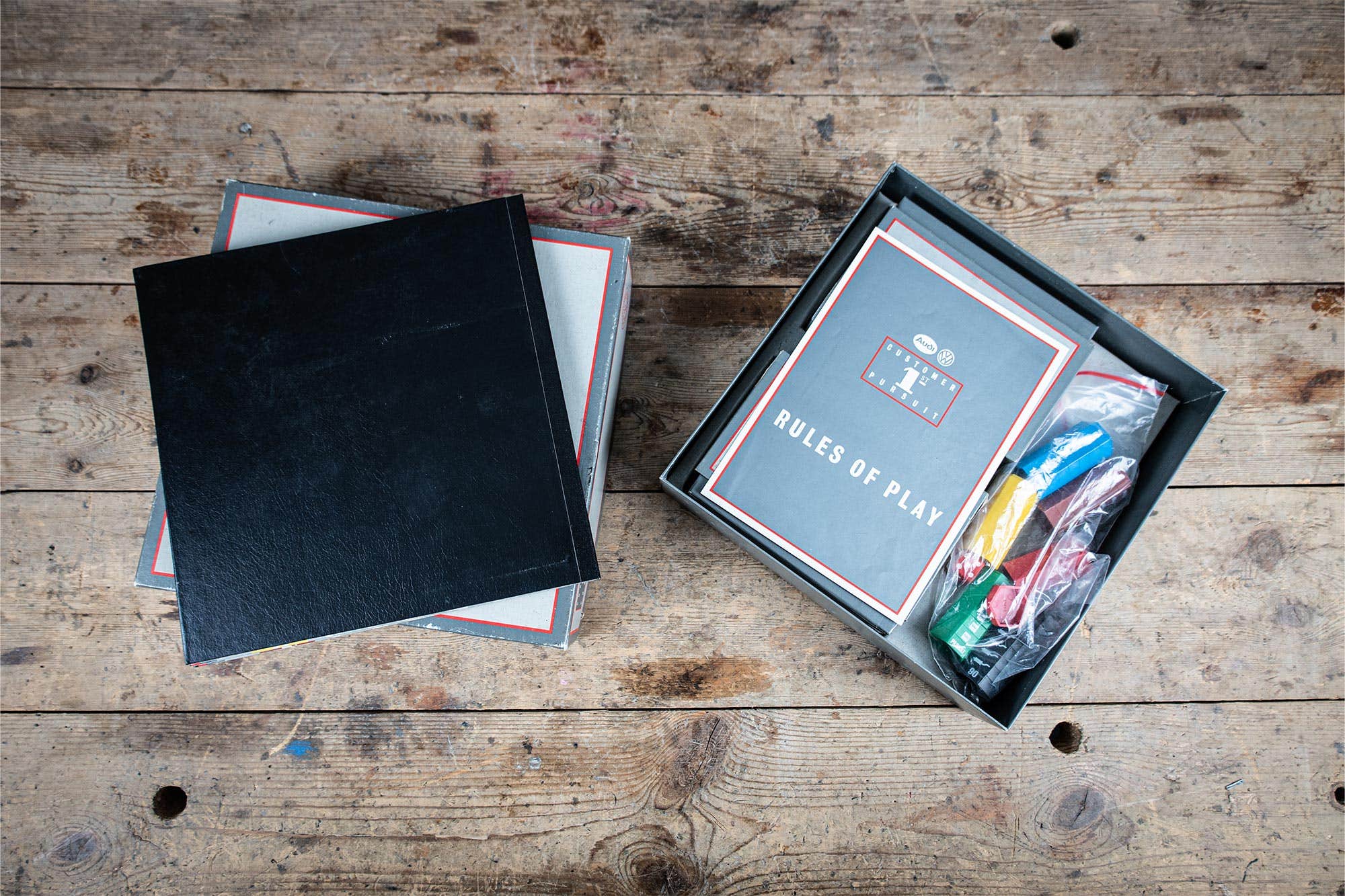 If nothing else it's a pretty genius way to get people to learn about their jobs!
20th Anniversary T2 Bay models, by Brekina
Created by Brekina models to celebrate 20 years of the VW T2 Bay, no one can quite remember how we came to own this set of six miniature Bays, but they've been on display in the offices here at JK HQ for years!
Showing off the full range of different body types, the kit includes:
• a two-tone Microbus in beige and orange,
• a sage green single cab pick up, with a florist's livery on the rear tent,
• a red fire truck with Volkswagenwerk AG Wolfsburg emblazoned on the door,
• a Dakota beige camper with a Westfalia conversion,
• an ice cream truck with a high roof, in white with a cute ice cream logo,
• and a Neptune blue panel van with 'Original ersatzteile' (or original spare parts) on the side.
The box itself has fared pretty well, and the campers are in their little plastic boxes still and all in excellent shape. These have been sitting in a tall display case in our offices which is full of enough VW toys and models we could open up a small shop (but we won't, because we love them!).
What cool old VW models have you got? We'd love to see them! Drop us a photo in the comments or send us your photos to jkworld@justkampers.co.uk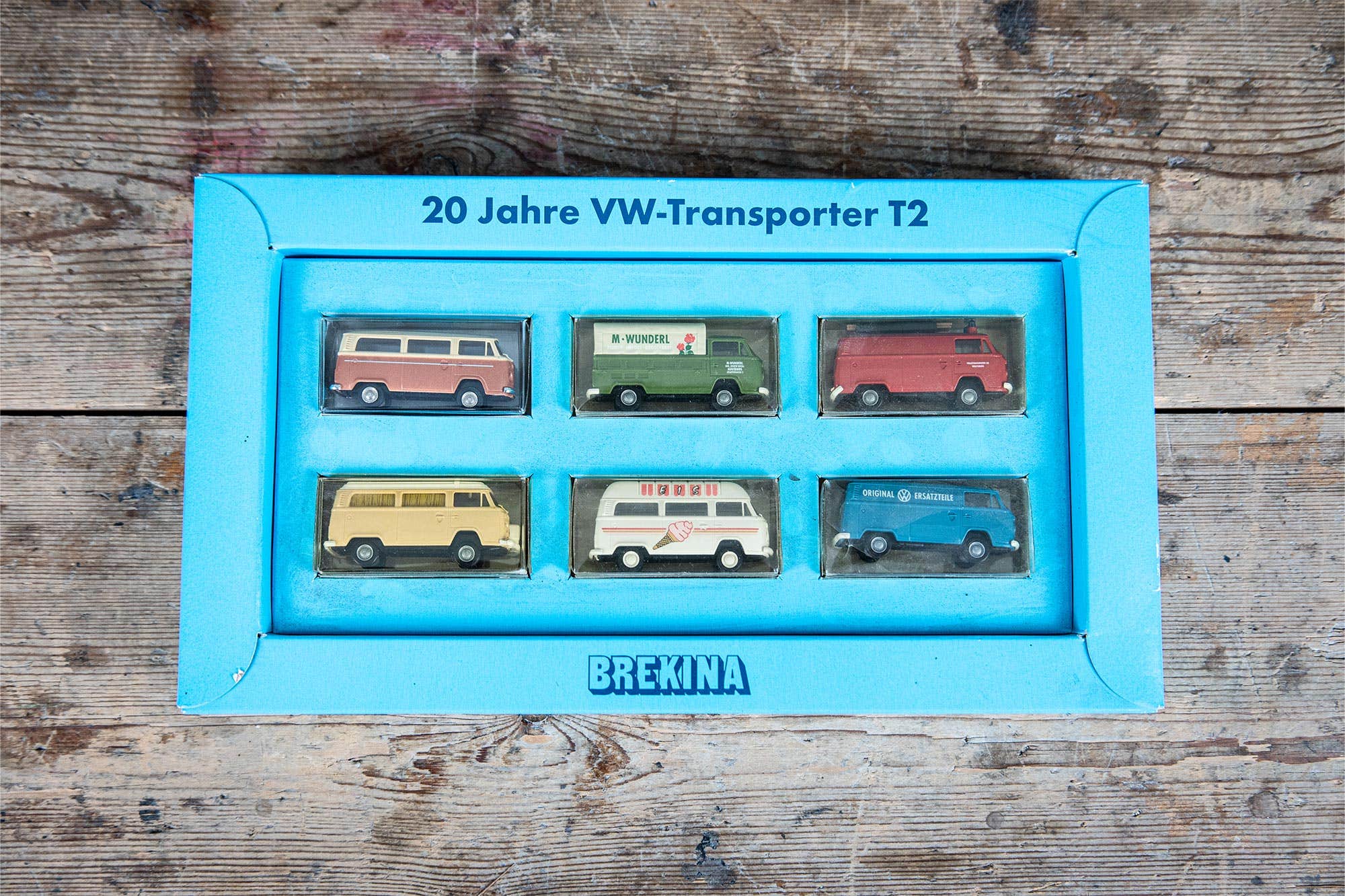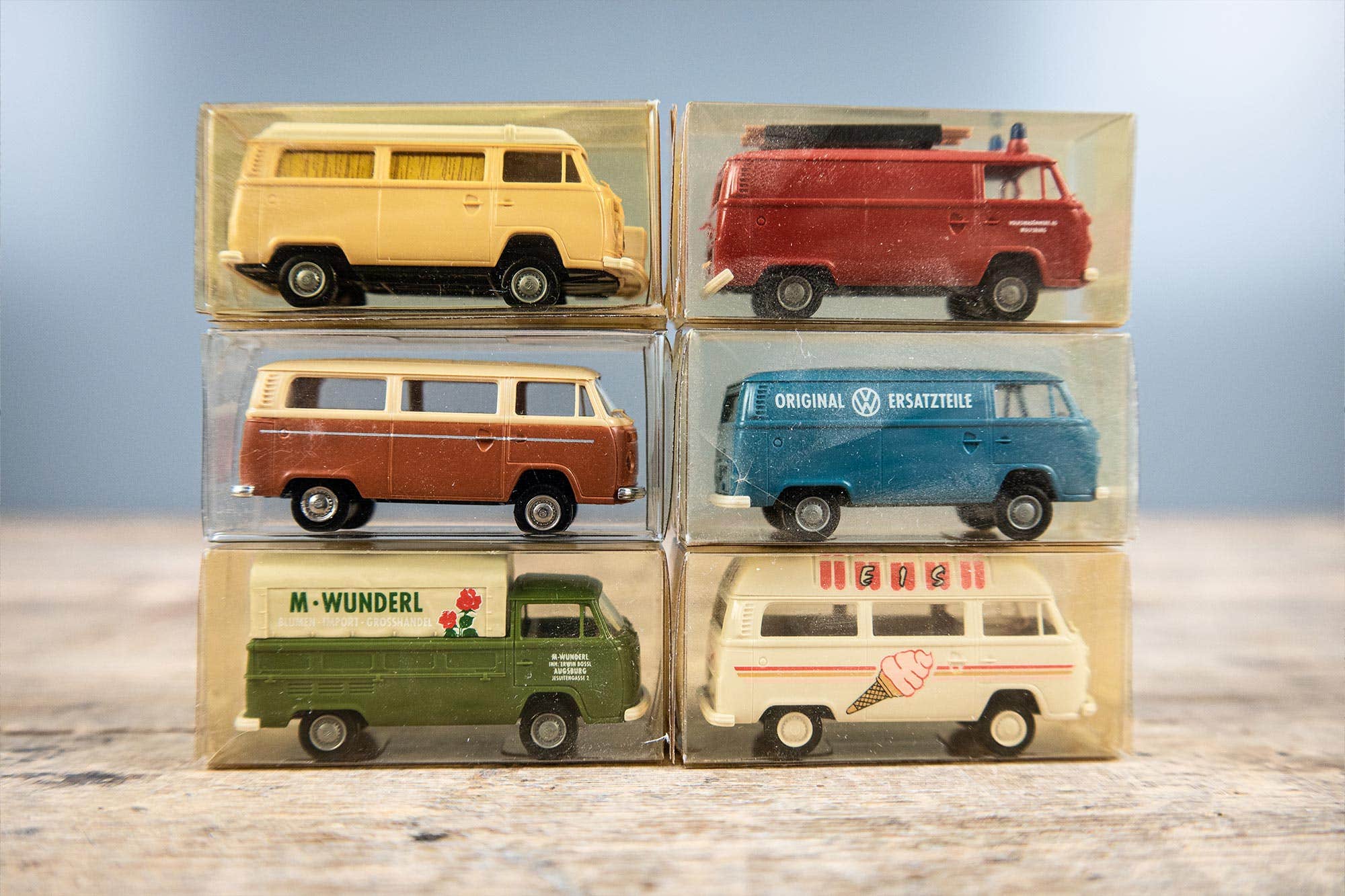 We're not sure these little campers have ever been out of their tiny plastic boxes
The Adventures of Happy the Camper Van book
Do you know anything about this book? The Adventures of Happy the Camper Van has thwarted our best attempts to find out more about it online, and we'd love to know more!
We were sent this awesome book by a customer called Sam Baker, who hoped we'd be able to help her get it printed. Unfortunately, that was outside of our area of expertise, as much as we enjoyed the story, and had to store the book away.
It got unearthed recently as we were making space for more parts and accessories in our warehouse, and we've spent lunchtimes scouring the web for information about Sam and the book, using the info included in the back of the binder.
Sadly, we've not been able to find anything, and we're hoping one of you might know more!
If you think you might know Sam, or whether the Adventure of Happy the Camper Van made it to print, then let us know! Send us an email at jkworld@justkampers.co.uk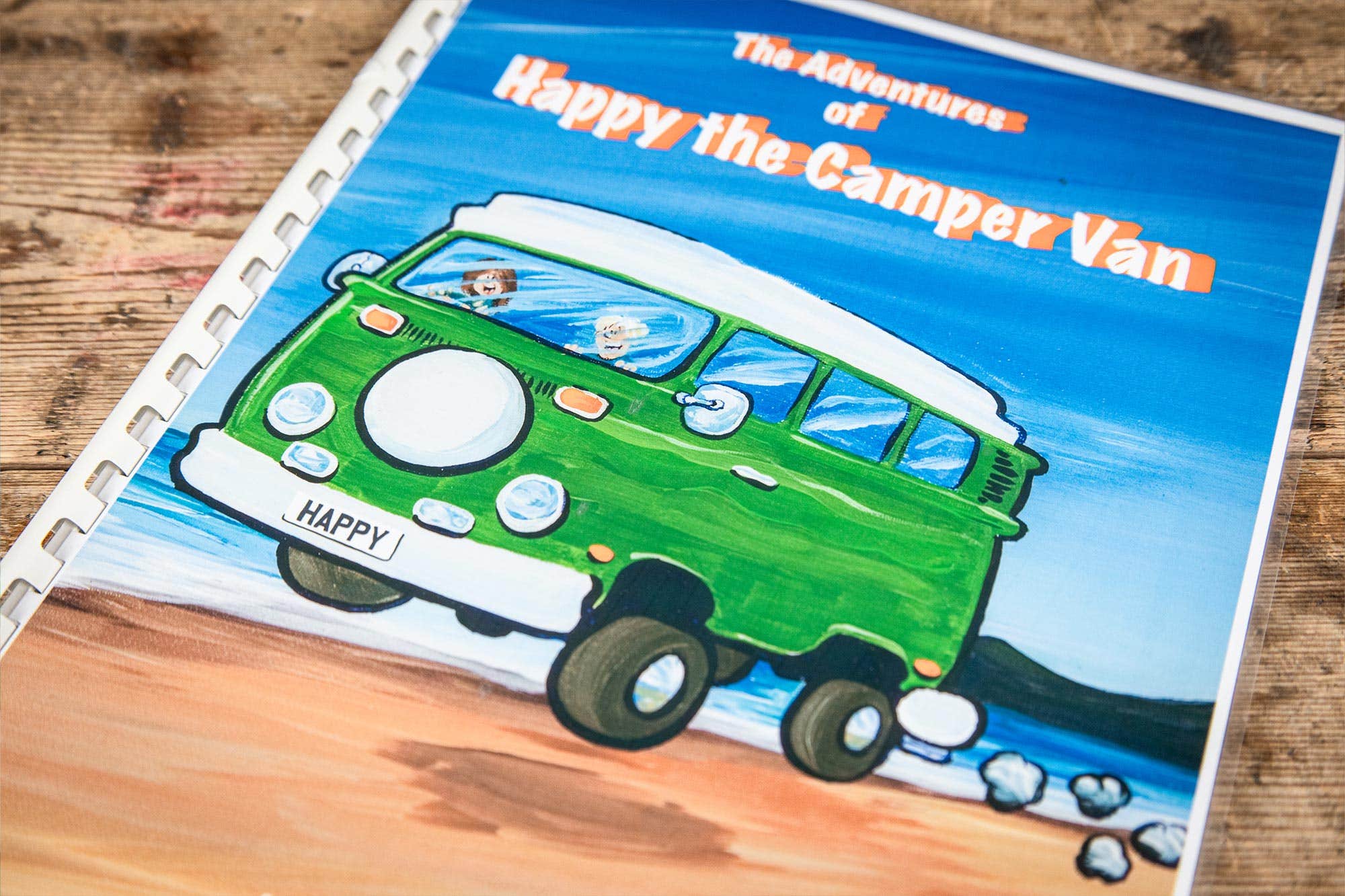 Please do let us know if you've got any info on Sam or this book!
VW T2 Splitscreen Musicmobile
Straight from the early 1980s, this Musicmobile by Tara Toys has been with Just Kampers for as long as any of us can remember. The box may have seen better days, but the T2 Splitscreen photograph still works!
It's designed to be placed on a 33" record, where it can drive around in an ever-shrinking circle playing music and possibly damaging your vinyl. A similar version was re-released, called Vinyl Killers, which gives you some insight into the effect they had on a lot of people's record collections!
We had a dig around in our lofts for some vinyl records that we'd want to listen to in the office, but wouldn't be too heartbroken about getting scratched if the Musicmobile scratched it on its way around and around the LP.
Have you got a Musicmobile in your attic? Maybe you've got some unusual records in your collection that would sound great played through the tiny, ancient speakers of this Splitscreen phonograph? Send us an email at jkworld@justkampers.co.uk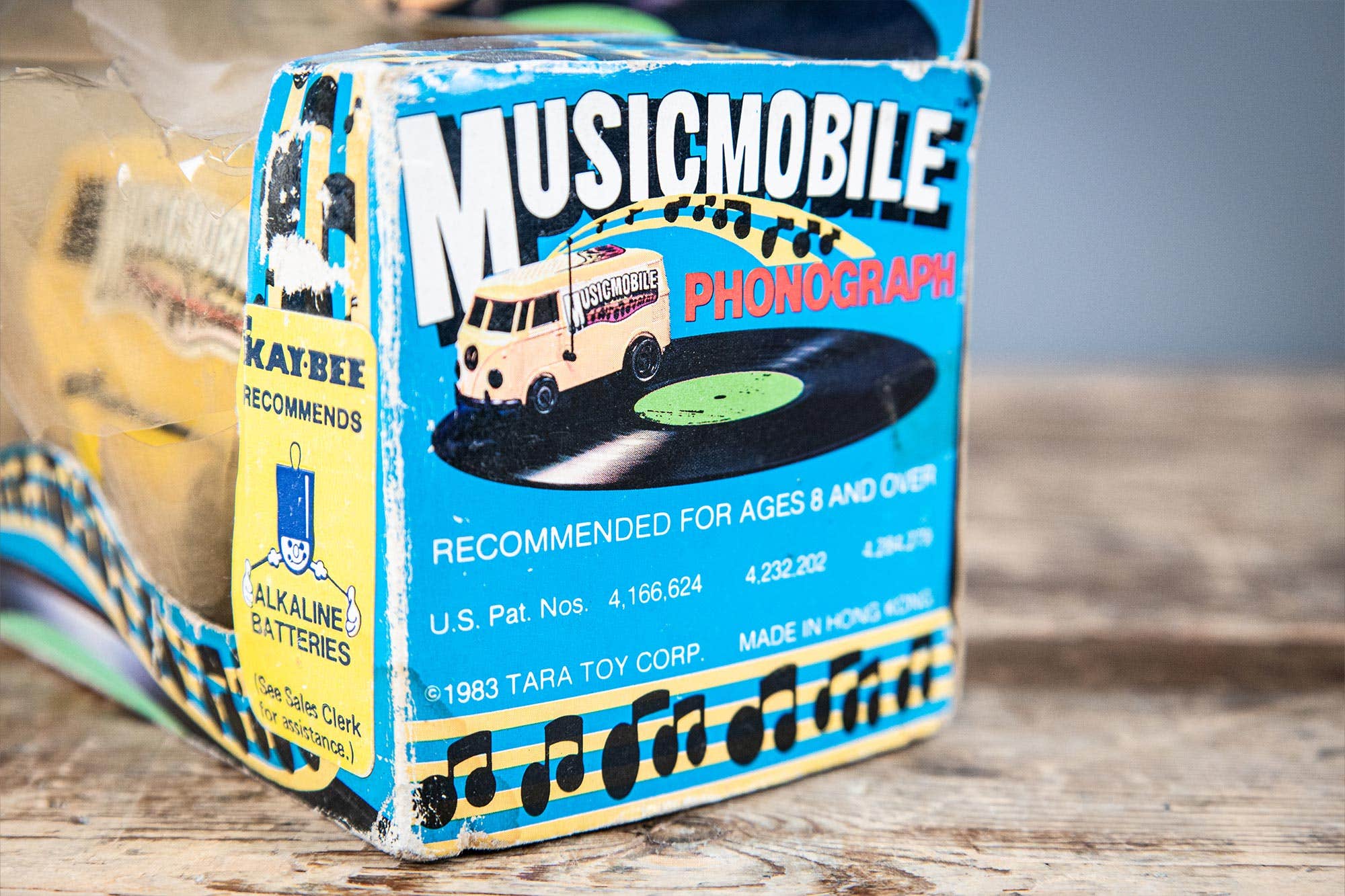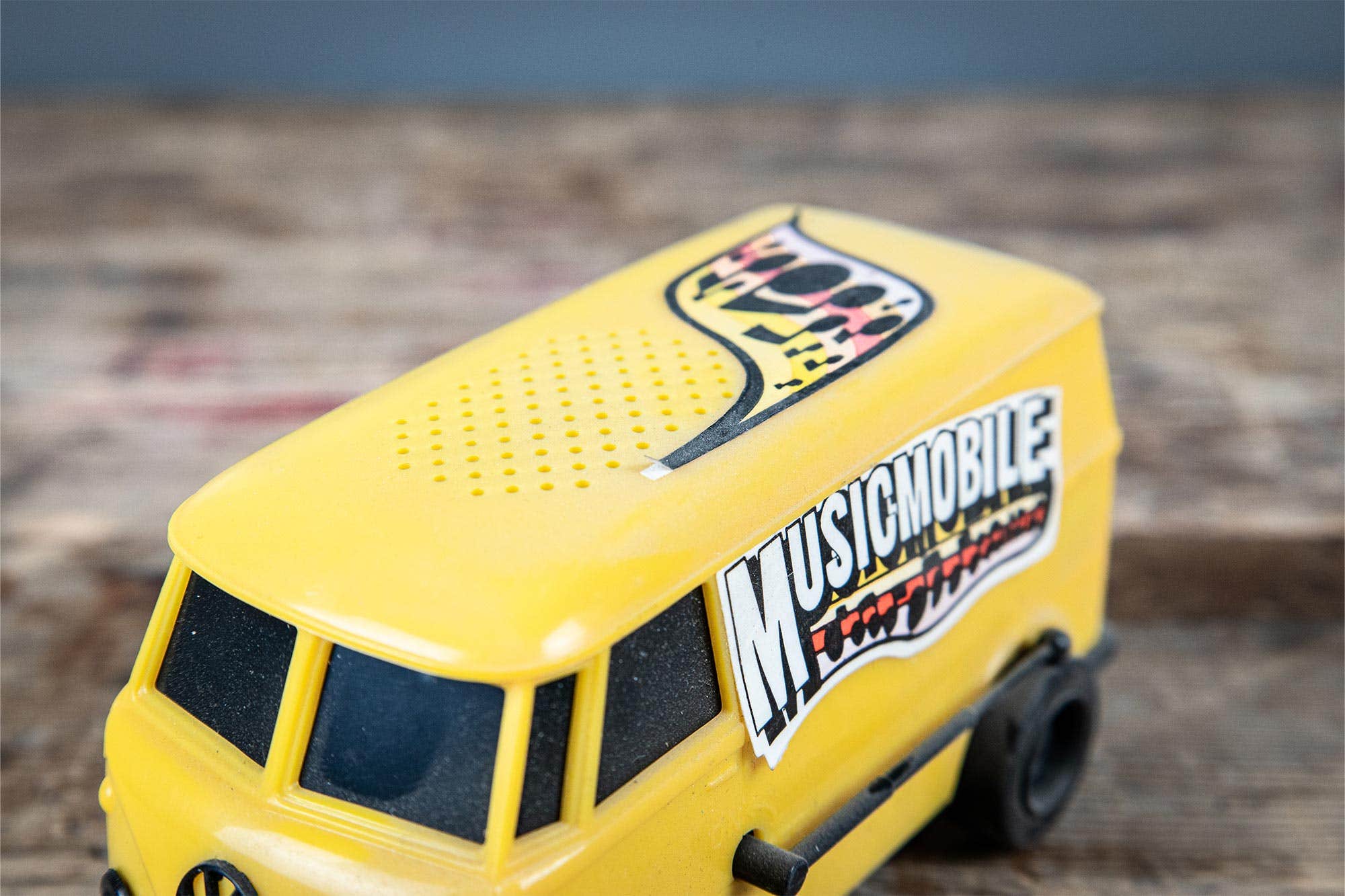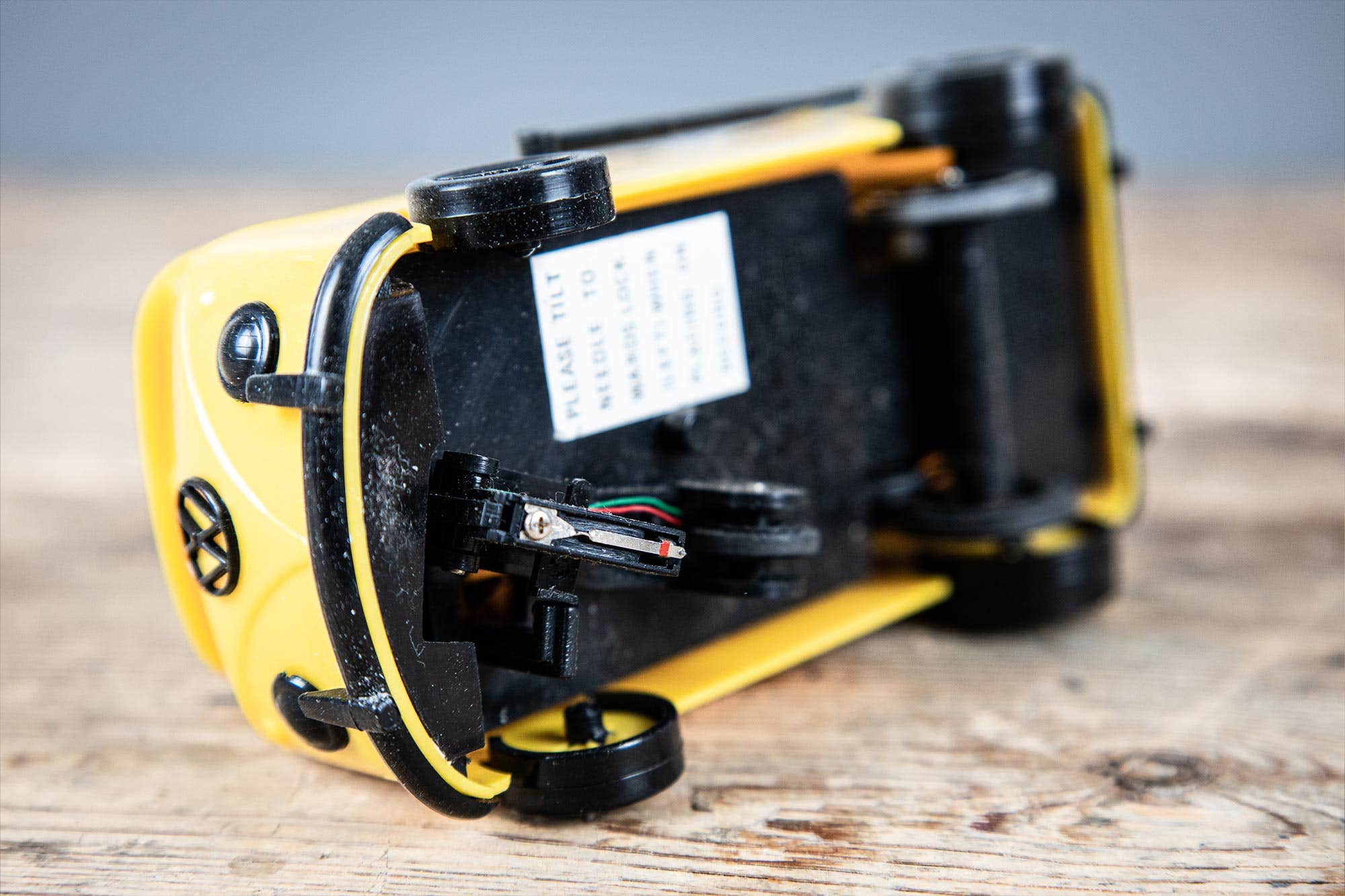 It'll probably destroy a record if we try use it, but it's worth a shot, right?
Automodel T2 model box set, by Brekina
Back in 1996 Brekina made this presentation box of five different VW T2 Bay campervans with an information booklet.
In the kit there is:
• a VW T2 Bay with a Westfalia conversion,
• an ambulance conversion from Dusseldorf Airport,
• a high-top station wagon from RIAS Berlin,
• a Bay pickup advertising Volkswagen Commercial Vehicles,
• and a T2 panelvan advertising Pfanni, a German food manufacturer.
The brochure which is included has 44 pages of original photos, and a wealth of information about the vehicles and their history.
These are just a few of the dozens (possibly hundreds) of different VW toys we've got on display throughout JK HQ. We've been rearranging our offices here to make more room as we continue to grow and expand, and thought this blast from the past was well worth sharing
Drop us a photo of your favourite VW models from your collection in an email at jkworld@justkampers.co.uk – we'd love to see them!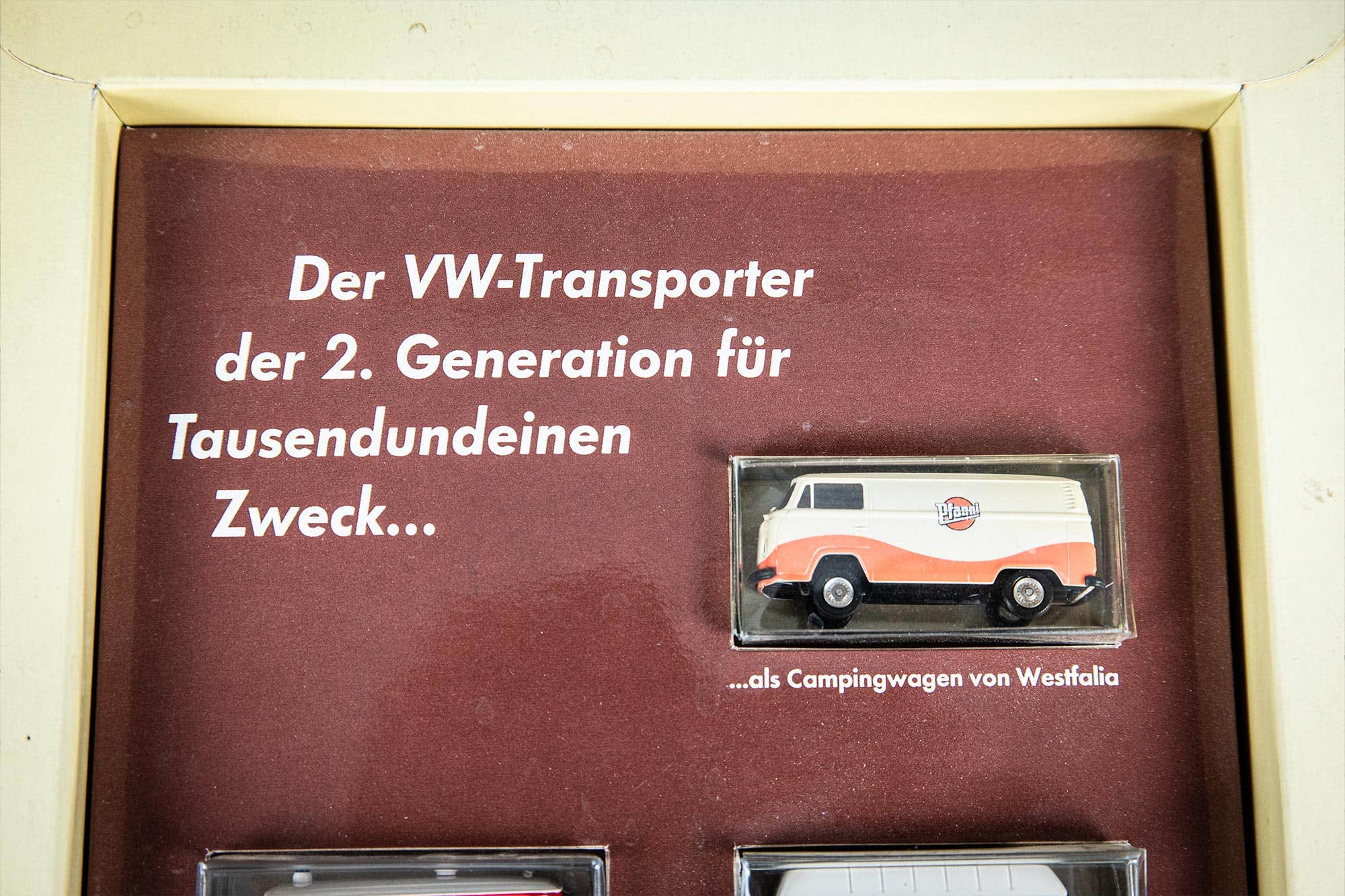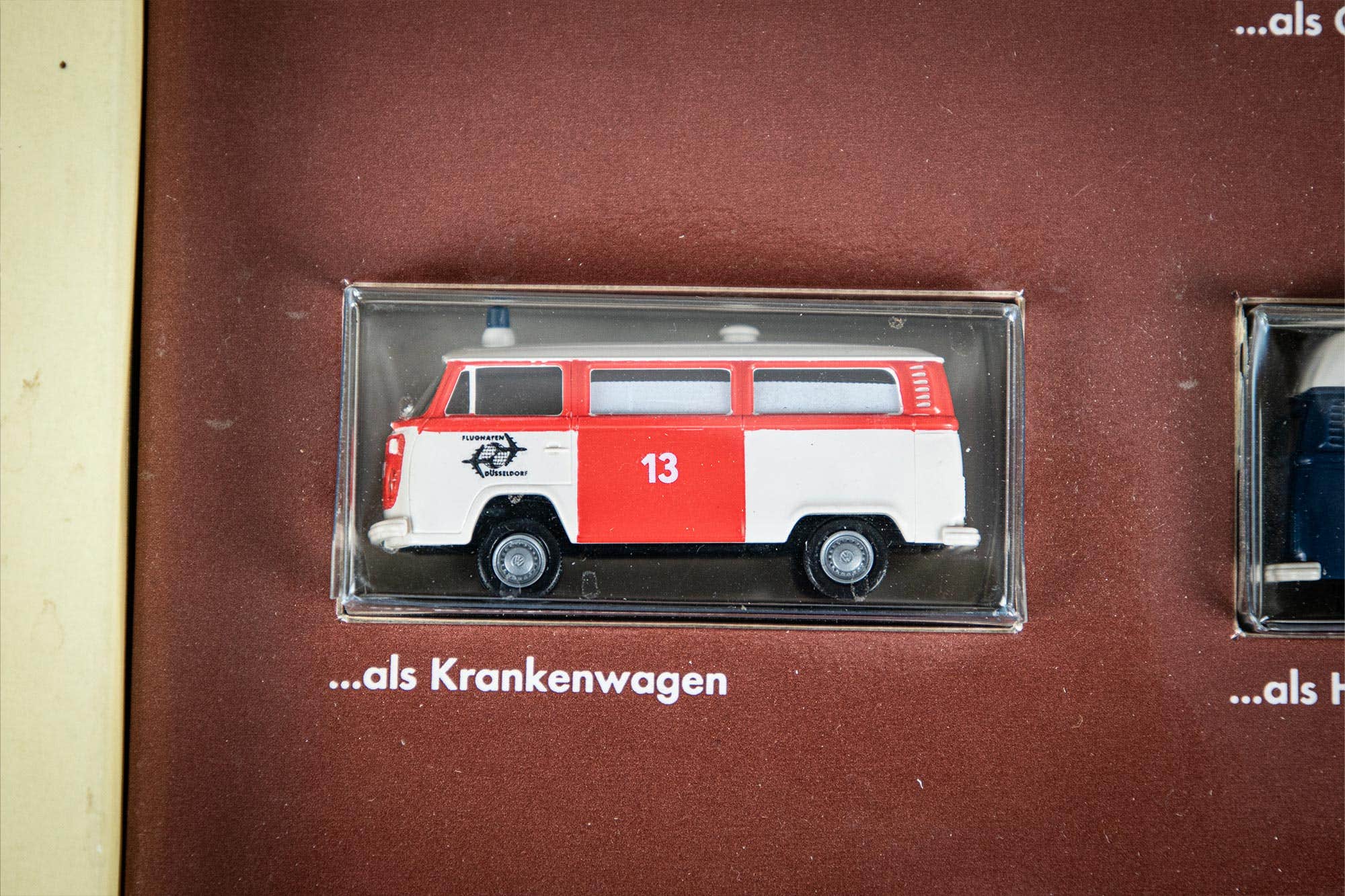 Tausandundeinen Zweck is 'A thousand and one uses'
Cutout-N-Keep Project Bus
Another treasure, but from the more recent past, this Cutout-N-Keep paper model of our old JK Project Bus certainly brought back some memories!
We spent a whole winter working on a VW T2 Bay, turning it from iffy California import into a cool camper which took us to loads of different shows around the UK and Europe.
The whole conversion was documented online, and the finished bus obviously made enough of a splash that the Cutout-N-Keep team wanted to create a papercraft model of it, as part of their awesome range of paper models.
It looks like Cutout-N-Keep haven't been active recently, but you can check out their stuff here.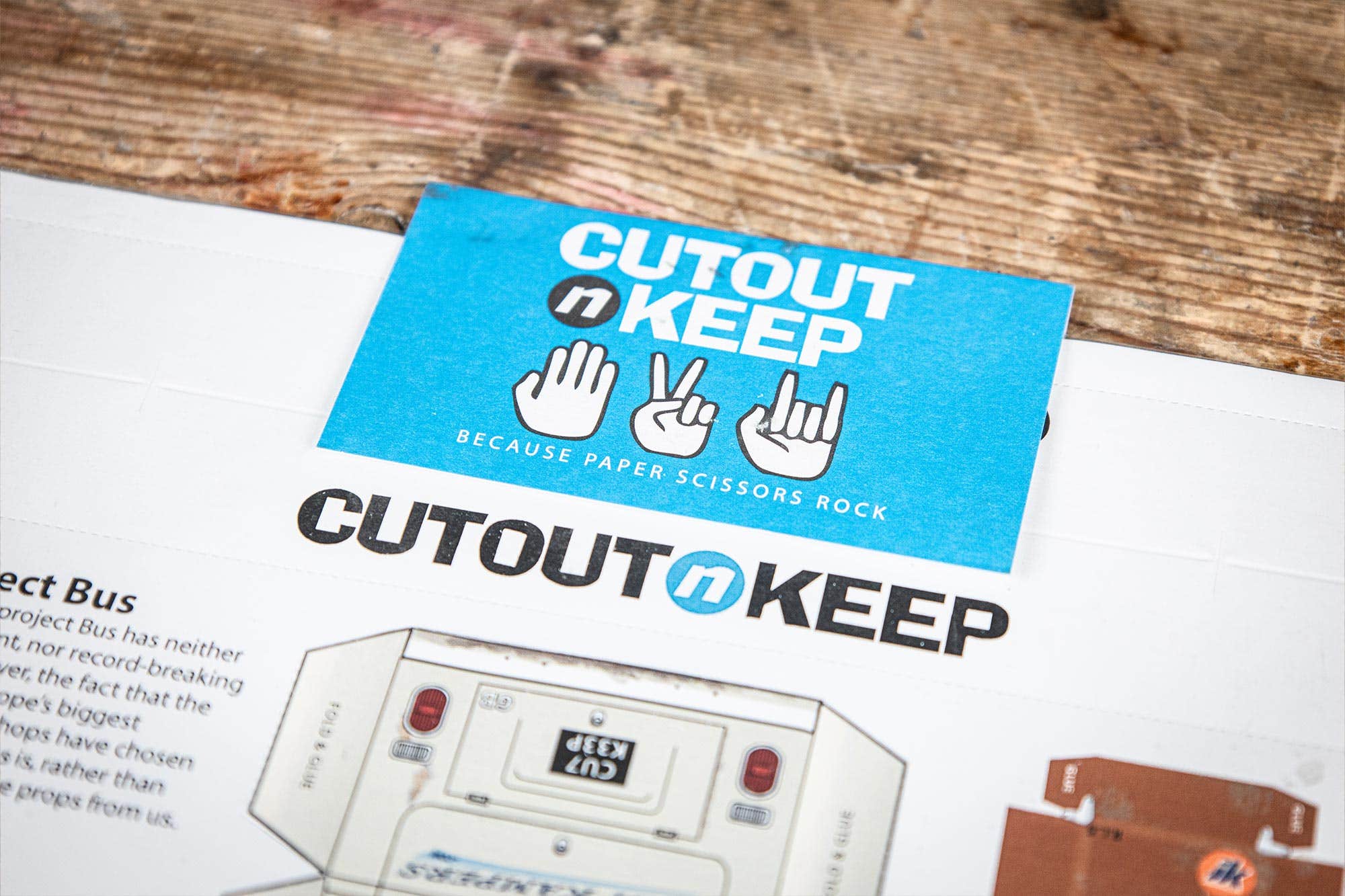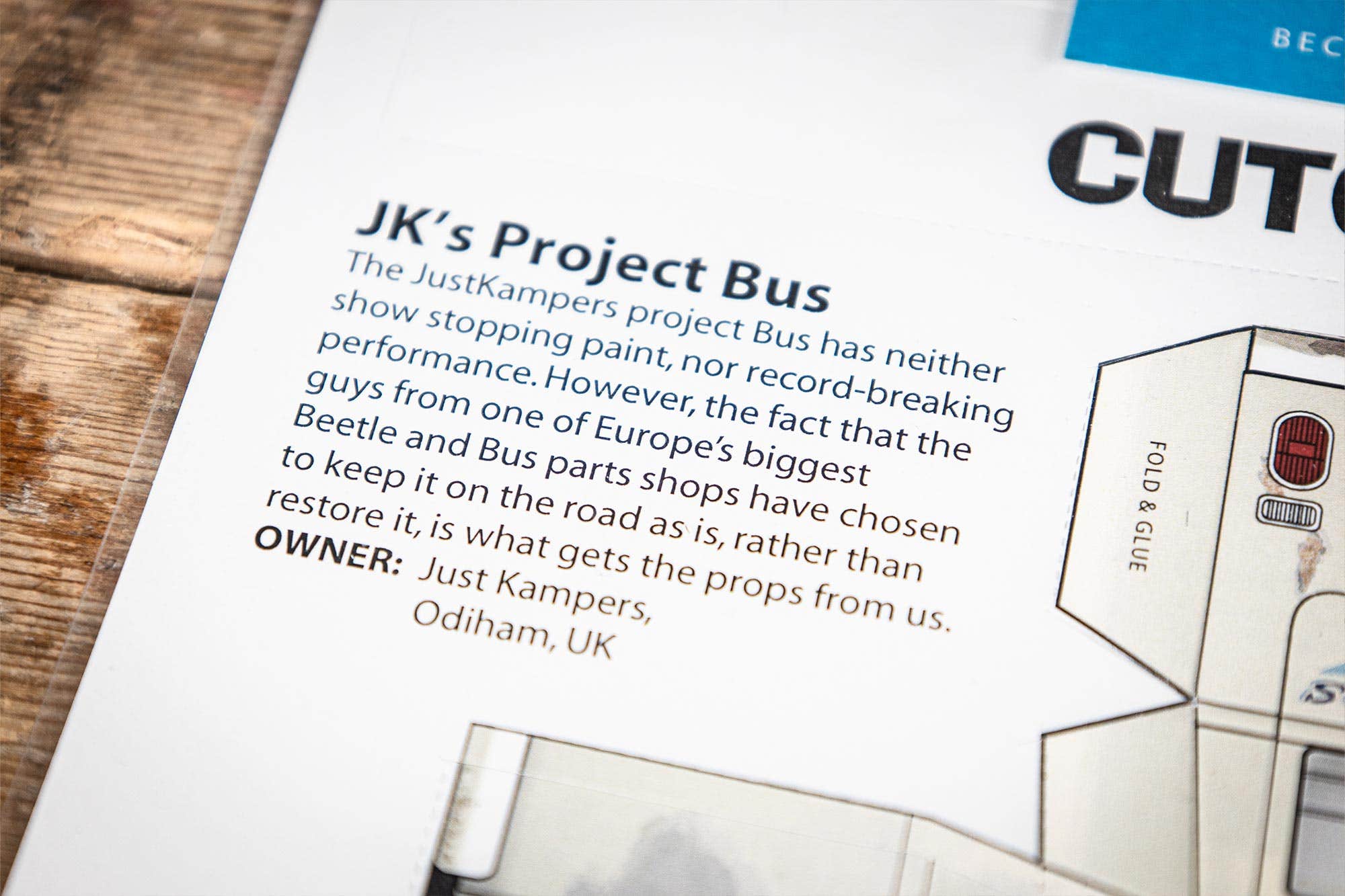 We really miss this bus, but we'll always have the paper version!
We'll keep updating this blog with the other bits and pieces that we've rediscovered while working on our exciting new project here at JK, as there's loads of really cool stuff we want to share.
If you've got any rare, obscure or interesting VW or Just Kampers treasures tucked away in your garage, attic or shed then we've love to see them! Drop us an email at jkworld@justkampers.co.uk, and we'll share them on our social media pages.
Who knows, if we get enough we could start a seperate article with all of your amazing finds!