Driving Iceland's Ring Road is a top bucket list item for many adventure-seekers, but it's not exactly a cheap endeavour (Iceland's cost of living is one of the highest in Europe). A popular way to minimize lodging and eating costs is to rent a camper van. But did you know that you can bring your own camper van to the island? Canadian travellers Janice and Gregor Brandt of Live. Travel. Play. did exactly that. Here is the breakdown of their epic road trip...
My husband, Gregor, looked up from his laptop with a big grin and announced: "We're going to Iceland!" He had just received the email confirmation that our car ferry was booked. The plan was to spend 4 weeks driving through Iceland in our VW van, a 1987 T25 (T3) Westfalia camper named "Lucky". One year later, Lucky's wheels touched Icelandic soil and we began our journey around the island.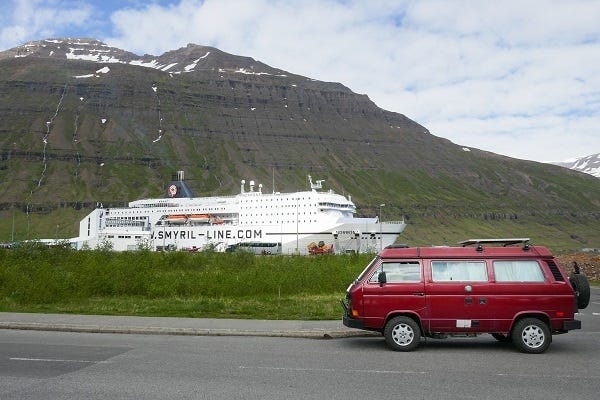 The process to take our vehicle to Iceland was quite easy, but it took some planning. Smyril Line operates a 3-day car ferry from Hirtshals, Denmark, to Seyðisfjörður, Iceland. Spots on the vehicle deck are limited and cabin bookings are required so it's best to reserve tickets as early as possible. Since Iceland was the top destination on our European tour, we booked our ferry tickets a year in advance to avoid disappointment.
The cost of the return ferry depends on three things:
Dates of travel (Summer is most expensive)
Cabin preference (shared or private berth, with or w/o window, etc.)
Vehicle size (smaller is cheaper)
Lucky is a bit taller and longer than most T3 vans because she's equipped with a lift kit, solar panels, and rear racks, but fortunately her smaller size kept us in a low-price category. We decided to travel for 4 weeks in June (peak season) and chose a private 2-bunk cabin without a window.
Cost of the return car ferry (not including on-board meals):
2415 GBP/2711 EUR
At first, the ferry trip seemed really expensive, especially after adding the cost to drive our van from the UK to the ferry terminal in Denmark (~400 GBP/449 EUR). But when we considered the fee to rent a comparable camper van in Iceland, the numbers spoke for themselves. The cost to rent a VW California equipped with auxiliary heat, pop-top roof, interior dining space, and camping gear is about 195 GBP/220 EUR per day.
Cost to rent a VW California for 4 weeks:
5460 GBP/6160 EUR
Realistically, most holiday-makers fly to the capital of Reykjavik to hire a car and only have up to 2 weeks of vacation time, so let's re-calculate…
Cost to rent a VW California for 2 weeks:
2730 GBP/3080 EUR
The car hire is almost 300 GBP/336 EUR more than the cost of our car ferry. And that doesn't even include airfare from the UK to Iceland! So, if we had brought Lucky for only two weeks instead for four, the ferry cost would have been the same price (or cheaper) than flights + van rental.
Iceland is a fabulous destination for a road trip. Many visitors hire a vehicle to drive the famous Ring Road a mostly asphalt highway that circles the entire island. The route goes through breath-taking landscapes and leads to some of the most spectacular natural wonders: hot springs, mud pots, geysers, volcanic craters, lava fields, waterfalls, glaciers, and wildlife-watching sites.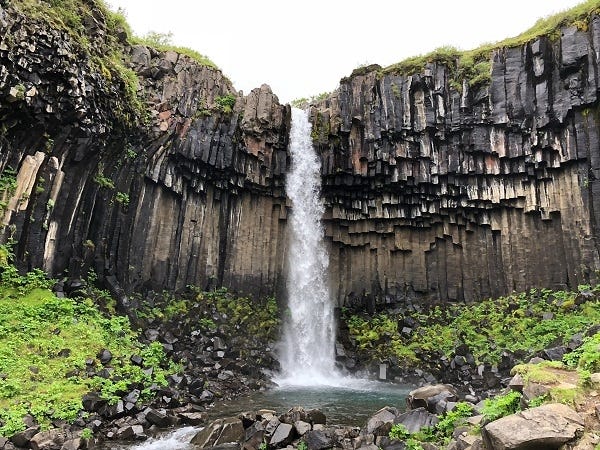 The natural attractions in South Iceland are highly accessible (it's amazing how close you can drive up to the glaciers!), but the easy access has one downside: the sites and nearby campgrounds can be crowded. Thankfully, we could leave the crowds behind by venturing on the less-travelled gravel roads in our own vehicle.
We discovered that vehicle rental companies offer extra insurance coverage for damage by gravel (~9 GBP/10 EUR per day). Those who don't want to pay for the coverage typically stay on the asphalt Ring Road and its nicely paved detours. Now if there's anything we've learned on our overlanding adventures, it's this: the worst roads go to the best places.
Having driven Lucky on many horrendous roads in South America, we know that she can handle some pretty rough terrain. She's not a 4x4, but her knobby tyres and high clearance allow us to manoeuvre on pot-holed dirt tracks without worry. If we had rented an unfamiliar vehicle in Iceland, we probably would not have gone to as many remote places – or had as much fun.
Our favourite area in Iceland was the Westfjords, which receives far fewer visitors than the rest of the country. The route around the fjords is partially paved and winds through fantastic coastal scenery dotted with natural hot pools, quiet towns, and wildlife-watching sites. We were so glad that we decided to stay in Iceland for 4 weeks because it gave us the extra time needed to explore this beautiful area.
Whether you rent a camper in Iceland or bring your own, you still have to pay relatively high prices for gas, food, and camping.
Average prices in June 2018:
- Gas: 1.62 GBP/1.81 EUR per litre
- Groceries: ~85% higher than in the UK
- Restaurants: ~60% higher than in the UK
- Camping: 21 GBP/24 EUR for 2 people and a van
By the way, wild camping or boondocking is frowned upon in Iceland. It's illegal to spend the night in a camping vehicle or trailer outside organized campsites unless the land owner has given permission (visit www.ust.is for details).
It goes without saying that camping in your own vehicle is much more comfortable than in a strange rental car. We watched many tourists cooking out of the back hatch of their camper rentals, getting soaked in the sideways rain. We watched families unloading their jam-packed rental cars, frantically setting up tents and inflating mattresses in howling winds. Each time, we were so grateful that we brought our own home on wheels to Iceland.
Gregor and I were especially grateful for our van when we were both sick with bad chest colds during the trip. There's nothing like sleeping in your own bed, particularly when you're not feeling well. That's the beauty of living in the van – it always feels like home wherever we go.
So, to answer the question:
"Was it worth it to bring our own camper van to Iceland?"
Our answer is:
"Absolutely!"
It's easy to calculate whether a vehicle is "worth it" in terms of money, but when you add in factors like comfort, reliability, and freedom...well, those things are just priceless.
---
About Live.Travel.Play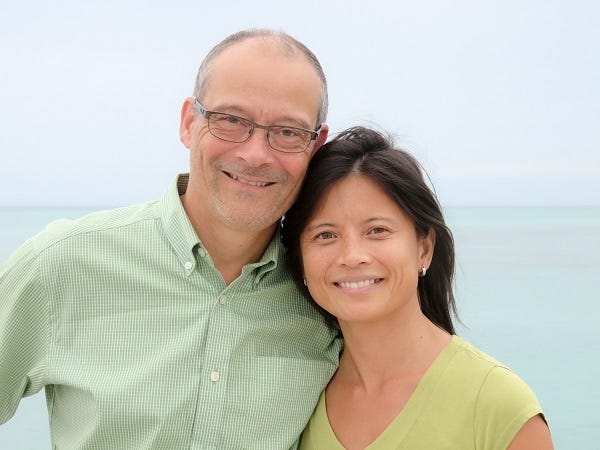 Four years ago, Canadians Gregor and Janice Brandt sold their house, downsized their possessions, and moved into their 1987 Volkswagen T3 Westfalia named "Lucky". They drove from their home city of Calgary, Canada, to the world's southernmost city, Ushuaia, Argentina, in two years. In November 2017 they shipped their van to the UK and have been touring Europe and Morocco since then. To date, they have driven Lucky through 34 countries and will continue traveling "until the money runs out".
Follow their journey:
Facebook: Live. Travel. Play
Instagram: Live. Travel. Play
Blog: livetravelplay.ca