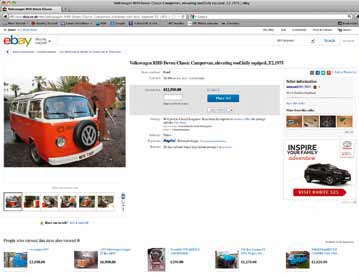 Over the last few years, the typical Bus buying experience has changed immeasurably. Only a few years ago, you would most likely have responded by telephone to an advert, typically in a local paper or specialist magazine, such as VolksWorld. If the right answers were given to a few basic questions, you would then have gone to see the vehicle in person. That would usually be followed by discovering all the things the vendor didn't tell you about the Bus and the realisation you had wasted time, petrol and money travelling to view it. But thanks to the wonder that is the internet, the typical buying experience is conducted from the comfort of your armchair at home. It seems that because we are all now too busy, and sick of wasting time travelling to view cars in the flesh, a large number of vehicles are bought sight unseen, off the back of a few photos and the owner's description. Sometimes you strike lucky, sometimes you don't.
One of the main reasons for buying sight unseen, often from another country, is to save a large chunk of money. This is all fine and dandy, and there are still bargains to be had, but there are also plenty of unscrupulous people out there simply trying to make money out of the unwary. These people often rely on the overseas buyer being a) far enough away not to cause them any grief, and b) so taken with the fact they can buy something at less than half the UK market value that they overlook missing pictures, don't ask enough questions and are all too quick to hand their money over, fearing someone else will dive in before them if they don't. Given these circumstances, it's easy for a vendor to tell outright lies, or pretend they don't know much about a vehicle, especially when they know it will take anything up to three months to reach the UK.
We're all guilty of getting carried away with a purchase and overlooking a few details, and this is bad enough when you have the skills to sort the problems yourself But when you have to pay a professional to fix them, that apparent bargain can quickly turn into a financial nightmare. So here are a few basic tips you would be wise to adhere to before handing over your hard earned, be it a purchase from an internet auction site in the UK, or from much further afield.
Read the small print
Firstly, read the advert in its entirety. Then read it again. Sounds stupid, doesn't it? But you'd be amazed how many people just read the first line and the price. All bona fide adverts, especially for project vehicles, should contain comprehensive information, and a list of what has been done and what needs to be done. It's easy to misread something that is actually listed as a fault, or missing, so read the advert over until you are sure you can afford to put the problems right. Scam ads usually contain little or no useful information, just a temptingly low price, so it's avoid these.
Secondly, what pictures has the vendor posted? Are there clear pictures of every angle, including underneath, the interior and the engine? If not, and the vendor is unable or unwilling to email more, ask yourself why. If he / she can take one picture, he can take 50 if it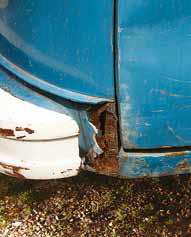 helps seal the deal. Sometimes a camera includes a time and date on the picture. How recently were the pictures taken? If it was some time ago, the vehicle could look significantly different now.
It goes without saying any pictures should be a reasonable resolution and clear, but remember everything looks better in pictures than in real life. Some experienced sellers are well versed in bodging stuff so it looks okay, or cropping pictures to hide an area of grot. If the vehicle is in the UK,
you really have no excuse not to go and see it in person before handing over your money.

Dry state imports
Speaking of grot, where there's metal on a Bus, there can be rotten metal. And just because something supposedly comes from California, or any other 'dry' state, doesn't guarantee it will be rust free. A Bus advertised as coming from California could have been driven there from New York, or Chicago, after many years being subjected to inclement weather. Generally, the lower panels take the brunt of bad weather, so sills and wheelarches will be rusty, or have needed attention at some point in time, on most Buses. If someone tells you, "It just needs an outer sill," take it from me, it will need the inner sill replaced,
too. Front and rear floors are also subject to a lot of standing water, and will usually need some work. Likewise the battery tray and rear corner, lower front panel, roof, window surrounds… You name it, it can rust. The hard part is spotting bodging, or poor quality repairs, especially via photographs. Unless you view the Bus with a magnet in hand, you really won't be able to tell, beyond things being the wrong shape, which can show up in pictures.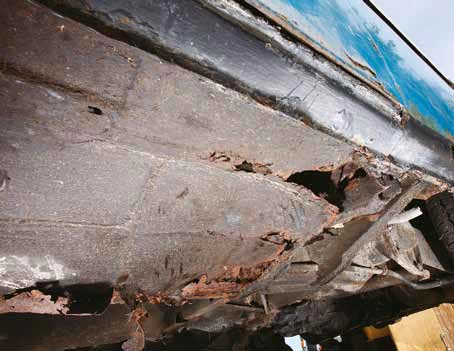 Whilst these days you could argue that a $1,000 project Split in any condition is a no brainer, that
$1,000 project is going to cost you somewhere in the region of £2,000-£2,500 to ship to the UK. Is it still
worth it? I once bought a Bay from southern California and the vendor offered a 1969 Westfalia for free
as part of the deal. He was a little puzzled when I asked for pictures of the free Bus, but I knew it would
cost me £2,500 by the time it got to the UK, and when I saw it was a smashed-up basket ase I politely declined. Similar costs can easily be incurred repatriating a Bus home from Sweden or central Europe these days, what with rising fuel and ferry costs.
Paperwork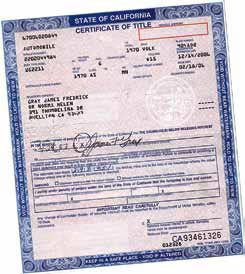 Assuming all the above checks out, the next step is to ensure the paperwork is in order. It's illegal to ship any vehicle out of the USA, for example, without a 'title' – that's their equivilant of our V5C. These are often missing on vehicles that have been parked up or abandoned for a long time and it's a lengthy and sometimes costly procedure to get a new one. Hence the reason some vendors sell vehicles cheaper without them. But be warned, I have had Buses sitting at the shipper for over six months waiting for a new title in the past. And depending on the shipper you use, this can incur storage fees, which rapidly mount up. Remember the bit about pictures? Well, one of the most important pictures to ask for is one of the title
certificate, preferably taken next to the VIN number on the Bus. As a salutory warning, I once bought a
Bus that had been 'ringed', with badly doctored VIN numbers, but didn't find out until I had shipped it
to the UK, when I had no option but to sell it for parts at a considerable loss.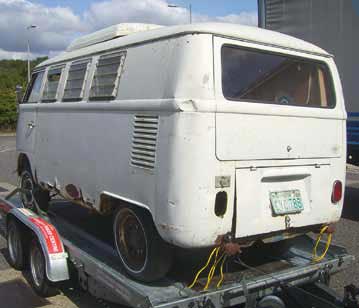 So how can you be sure the Bus you are considering buying even exists and isn't a scam? The short answer is you can't. The best advice I can give is not to buy anything sight unseen for a considerable sum of money, but to find a reputable local specialist who can view it for you in person. This could cost you anything up to £500 but, if you're considering spending several thousand, it is money well spent.
If you're not confident at any stage of the transaction, walk away. A lot of people use PayPal because they trust the buyer protection policy, but that only lasts for 45 days and, more importantly, doesn't apply to motor vehicles! The only time you should consider paying through PayPal is from a registered company in the UK, as you will then be entitled to a refund through distance selling regulations if the vehicle isn't 'as described'. Likewise, Western Union or bank transfers – once the money's been sent, there's no way to recover it.
In conclusion, be cautious, find a specialist to view a Bus, and walk away if your gut feeling tells you to. It could save you from a nightmare.
VIN Plates and Where To Find Them
Split Bus up to May 1959 VIN plate at right-hand side of engine bay. VIN stamped in same
area (lower fuel tank bulkhead)

Split Bus 1959-1963 VIN plate at right-hand side of engine bay. VIN stamped into right-hand side engine bay side tray, adjacent to battery tray

Split Bus 1964-'67 VIN plate on right-hand side of air box in cab area. VIN stamped into right-hand side engine bay side tray

Bay Bus 1968-'71 VIN plate rivetted to bulkhead behind front seats. VIN stamped on right-hand side engine bay underneath oil bath filter support (on US -spec models, small VIN plate on driver's side dash top)

Bay Bus 1972-'79 VIN plate rivetted to bulkhead behind front seats. VIN stamped on left-hand side engine bay just inside engine lid (small VIN plate on driver's side dash top on US models)

For further VIN location info, go to: www.thesamba.com/vw/archives/info/id.php