The World Belly Board Championships
JK staffer Mark takes on the World Belly Board Championships!
Last Thursday evening saw the start of a fun weekend. First to Bracklesham, then to Gosport to met up with our local Surfers Against Sewage Regional Reps Rob and Cliff (https://www.sas.org.uk/). And so, started our trip to the World Belly Boarding Championship (WBBC) held at Perranporth on the north shore of Cornwall.
The full story of the World Belly Boarding Championship can be found on www.worldbellyboardingchampionships.com. Briefly it was set up in memory Arthur Traveller who would holiday at Chapel Porth, nr St Agnes, with his elderly mother every year. He would belly board in all weathers. For two weeks of the summer Arthur, his mum and the locals would gather together at the beach, enjoy belly boarding and Arthurs mums Blackberry and Apple Crumble. He was the embodiment of everything good about simple times shared on a beach with friends. When he passed away it was a shock to all. The first WBBC was organised in 2003 and has gone from strength to strength. Today around 200 people compete, in traditional attire, over three categories, Under 18s, Under 60s and Over 60s. All in aid of RNLI.
After a leisurely drive down, visiting Newquay (obviously), in my T4 and Cliff piloting a Caddy Maxi Kombi we landed at Perranporth Camping and Touring Park (http://www.perranporth-camping.co.uk/). Set up complete; we headed into Perranporth to check surf conditions and to confirm that the Watering Hole was serving food as well as their fine array of ales.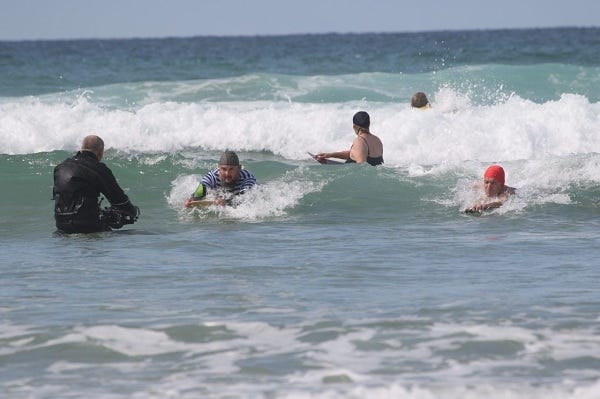 Saturday morning saw 2 hours of belly boarding in the morning followed by a trip to Fistral Beach to watch the UK Body Surfing Championships (https://www.body-surfing.co.uk/). Our main reason to be there was to assist with a Wave Project surf club (https://www.waveproject.co.uk/) session. The Wave Project supports young people with a range of Mental Health issues by providing a surf therapy sessions. Funded by the NHS and a first of its kind in the UK the pilot was incredibly successful and has grown to support more and more young people. It was incredibly rewarding. Cliff and Rob are both volunteers with them.
Competition day dawned. All packed up, we headed to the Watering Hole to register and change into our traditional style costumes for the day. The standard of original costumes was very high. Swimsuits from all decades and styles, both ladies and gents, were in evidence. How the judges choose the winner I'll never know. The heats consisted of 10 participants and lasted 10 minutes. Mine was heat 3 (I had the dark green cap) in the Under 60s category. The surf conditions were a lot different to the previous day, it didn't seem as powerful. It was a long ten minutes.
Highlights, apart from being a part of the event, must have been meeting Gwyn Haslock, a legend in the sport, and fabulous Betty Stoggs (who produces a fine ale). So, the result... Oddly I didn't win. But I'm pretty chuffed with my 110th position!