In today's blog we're chatting with two ladies from two different departments here at JK HQ, George and Gemma.
Georgina (George) Candy is a key member of our Sales Team, answering your calls, emails and messages, taking orders for parts and accessories, and sharing her knowledge. Gemma Halliday, mentioned by Caz in yesterday's post, is a member of our Purchasing Team and is also one of our JK Mental Health Warriors.
Heidi Padoin, from our Marketing Team, sat down to chat with George and Gemma recently, to find out what made them so interested in cars, how they got started and what advice they've got for any women who are hesitant about taking the plunge into the world of cars:
These two wonderful women have been part of Just Kampers for years and know more about VW's than I could ever dream to know, they are brilliant examples of hard-working and determined people that put their heads down and get the job done.
Gemma Halliday
Gemma has worked at Just Kampers for ten years, and plays a significant role in the everyday mechanics of Just Kampers, I believe her hard work plays a vital role in progressing the company.
Gemma owns a few different vehicles, including her 1972 VW Beetle, her 1984 T25 and her 1.4 yellow Lupo which she uses as a daily. She has always had an interest in cars and motorbikes, and spoke fondly of memories of helping in her dad's garage.
They had a Bay Window which they took everywhere and she doesn't remember it ever failing on them, she prefers working on the older stuff because she finds it a little more rewarding.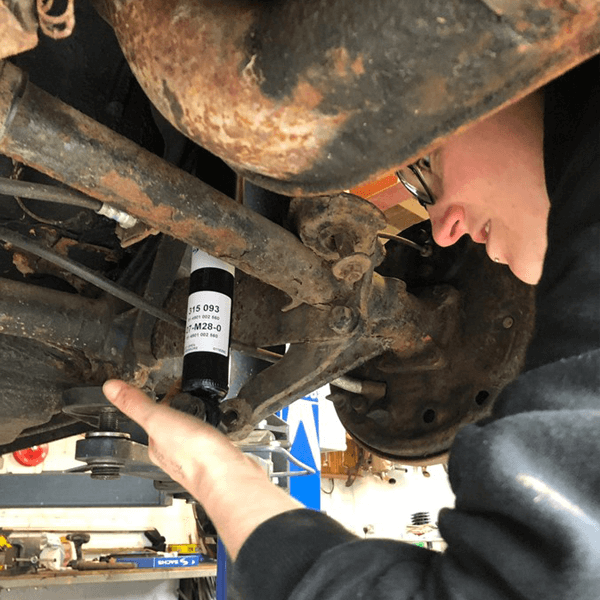 Gemma, hard at work on her Beetle's shock absorber
Volkswagen runs through Gemma's family; she works at JK alongside her brother Tim, who also owns a few VW's. Her parents and her partner all own VWs, and it's not something that she would ever part from.
When Gemma isn't working hard at JK or spending time with her kids, she's working from home on environmental issues. This is something that truly resides with Gem, and she has a true passion for keeping the planet alive and beautiful. In her own time she works as a Surfers Against Sewage Area Rep, which is astounding; I don't know how she uses her free time to focus on something so important.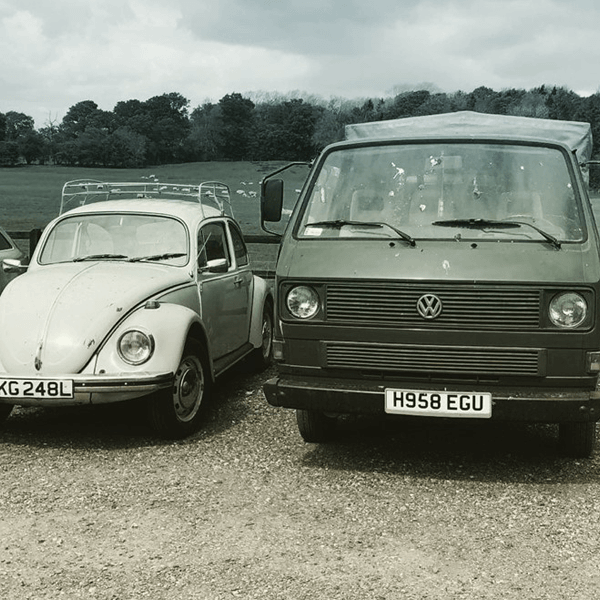 Gemma's Beetle and her T25, which may have been unfairly targeted by the local birds
Focus on what you love, never mind the rest…
I admire Gemma because despite her love for VWs, she has put most of that on hold for the moment, to focus on what she finds more important. When she decides to get back out in the VW's, she plans on travelling back to Belgium, Germany and France.
Gemma has never spoken negatively about being a woman in a 'boys club', her motto is "Have confidence and enjoy what you love, you will gain respect from what work you put into it." and that's an amazing perspective to have. Suggesting to not waste energy and effort on opinions that don't matter or are just there to bring you down, because life is about focusing on what you enjoy.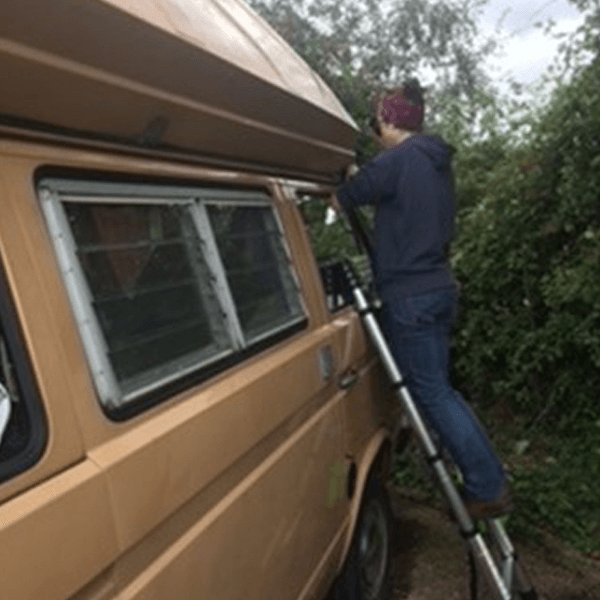 Gemma, hard at work on her T25
She spoke about how she never feels that she can't ask questions or make mistakes because she feels that within her circle, she's treated the same as anyone else. Being a part of the VW community opens doors for people; you have the opportunity for new friendships and to learn things you wouldn't have without it. And within the VW scene, you can find your place within it, no two members are the same!
So not only are VW's beautiful vehicles but the community around it offers a wealth of knowledge and friendship alongside the cars.
Georgina Candy
George is a treasured member of our Sales Team who has been a part of JK for many years. She works at JK alongside her husband Mike, who works in our warehouse at JK HQ, and always makes sure he has the same lunchtime as George.
George is a master of all things modern when it comes to Volkswagens, but certainly has a soft spot for the older VWs and has owned a few in the past. She now has a Fiesta ST and a Hymer Motorhome. George takes her job seriously and is an all-round wonderful person.
She's spent her fair share of time in the motor trade and commented on the rise in women within the industry, but she still feels that there could be some improvement.
In the past, George has been known to spend time working on her vehicles and her friends are often impressed by how much she knows! She's found the VW community to be a positive group to be a part of, and said that having an interest in cars has led her to encounter plenty of welcoming people.

George, with one of her previous VW campers
Working in Sales
George speaks positively about her time at Just Kampers however she wanted to talk about one thing. On very rare occasion women on the sales team will sometimes be prompted with a question… "Can I speak to a man?"
The cheek!
She said it happens much less frequently these days but every now and again, you'll speak to someone who would rather their information comes from a man as opposed to a woman. Even though no matter your source of information, you will receive the same answer from any member of the Sales department.
This can be frustrating, but George brought something to light. It's often the times that you're challenged, that you have the opportunity to prove that you know what you're talking about, and that is what George said she finds so satisfying about her job.
Inspiration is a fine thing and George has spoken about a few people that she considers extraordinary female role models. She made a point of saying that the women she finds most inspirational in the automotive industry are those who are working in a traditionally 'male' role.
Examples she included were Claire Williams, now known as Claire Harris (OBE), who worked as a British motorsport executive and is the former deputy team principal of the Williams F1 racing team. George also mentioned Ana Carrasco, who is the first woman in history to win a World Championship in solo motorcycle road racing.
A common theme amongst those women is they are doing what they love without letting worry of opinions direct their choices. Just because not many women do a certain thing, doesn't mean that women shouldn't. If anything, an area of unexplored territory for women is a fine thing to get involved with because you'll be making your mark on the world!
I'm certain that no woman working at JK would regret stepping foot into the world of VWs, or regret exploring the hobbies that peaked their interest most, maybe it's time for more women to follow their true interests and make their mark.