Having previously shared the fascinating story of Antarctica 1 – the little red beetle who served for a year at the bottom of the world we wanted to bring you some more on its continuing legacy and the story of what came after its Antarctica adventurer.
The Red Terror, as it been affectionately named at the ANARE Base in Antarctica, having provided an almost endless source of yet more iconic VW advertising opportunities was once again thrust into the spotlight on its return to sunny Australia.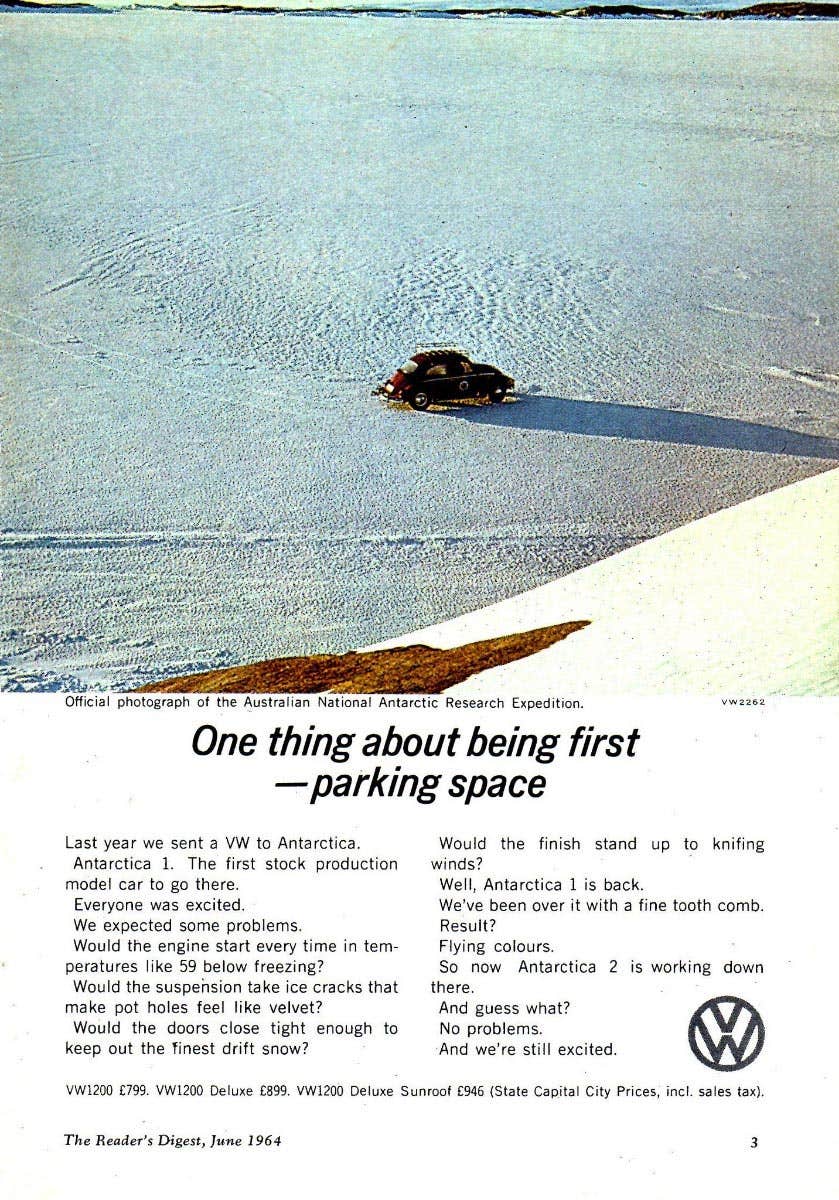 The red beetle docked in Fremantle, W.A., having travelled home on the same ship, The Nella Dan, that had taken both it and the scientists to Antarctica a year before.
The little bug had endeared itself to the scientists and the base staff, who had been responsible for all the engineering and maintenance of all vehicles and equipment, on the Mawson base.
Plant Officer, Frank Smith, travelled on with the bug after his colleagues departed at Hobart, to ensure its safe delivery. He was pleased that he had when on arriving representatives from BP tried to drive the VW away, fully winterised with air intakes blocked, in the Freemantle heat.
He allowed them access to a 'stationary' Red Terror only for the purposes of taking promotional shots thus protecting it from any mechanical damage.
From there it was transported to Melbourne, de-winterised and subsequently used for promotion as part of a VW Australasia tour.
VW then passed the little red beetle to the BP Rally Organisation, who after some prep, entered it into the 1964 BP Rally.
Taking place just three months after The Red Terror's arrival back in Aus.' - and post a years' service in the harsh conditions of the Antarctic - you might be forgiven for thinking that too much was being asked of the little red car.
It was to find itself in the hands of Rally Driver, Ray Christie, and (policeman) navigator Joe Dunlop. Both employed by VW as Driver and Navigator partnership to enter and compete in rallies.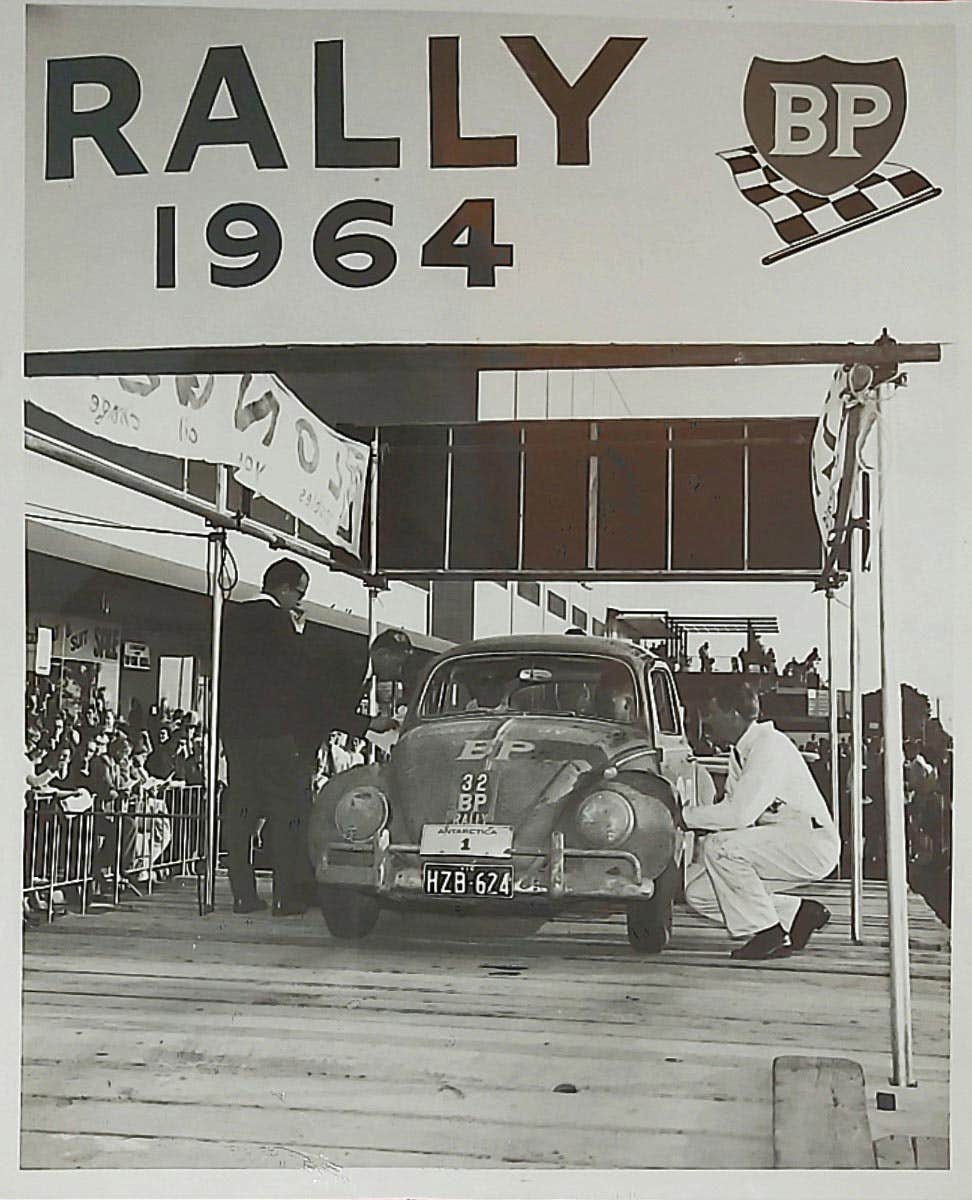 The car was one of 42 others, including a dozen other VW's, undertaking the four days and nights endurance rally of 2000 miles.
Ray had worked for as a driver for VW since 1957 and had come to drive for them because he had been noticed doing "well without sponsorship" in his rallies by the VW PR department.
Ray and Joe would just be seconded to undertake various rallies that VW requested. It was because of this that Ray became interlinked with the next chapter in the little beetle's life. It was this relationship and Ray's driving history that would provide the impetus for the next gen' Antarctica 1 at the hands of Ray's daughter Sue.
We are thrilled that Sue has kindly agreed to share her father's driving history and the continuing story of the Red Terror…
Antarctica 1 – The Red Terror Down Under
What was your dad's history and subsequent road to rallying?
My father, Ray Christie, was born 1926. He grew up in a suburb of Melbourne called Richmond. He was only 13 years old when he left school to do an apprenticeship as a Panel Beater.
One of his passions was cycling; racing push bikes but due to a knee injury was unable to continue. In later years his parents helped him to purchase his own business where eventually he started to sell cars from the front part of the showroom.
He first had the fetish for racing cars when he acquired a Simca Aronda and decided to do it up and enter it in the Armstrong 500, now known as Bathurst.
He was quite proud of the fact that he had been clocked doing 90 mph down the straight, but that's where it all ended when he blew the engine.
He decided that track racing was not for him and turned to Rally driving as he found that more challenging.
He drove in many different Rallies such as Redex Trials, Ampol Trials and many others. He belonged to the Light Car Club of Victoria, and it wasn't long before the Public Relations department, from VW Clayton factory, in Melbourne Victoria noticed his driving ability and approached him to become a driver for them.
How did your dad come to be the Driver of 'Antarctica 1', in the 1964 BP Rally, after its return from its previous job with ANARE at the Mawson Base in Antarctica?
In 1962, he was given a little white Beetle 1200 and asked if he could beat the current record round Australia that was held by Evan Green done in 9 days. After studying the maps, he said he could do it. The car was modified with an extra fuel tank that would allow him to do 700 miles before refuelling. He managed to achieve a new record going round Australia, 8,100 miles, in just over 7 days.
VW were stoked and brought out an ad' campaign saying, "We've made Australia 2 days smaller".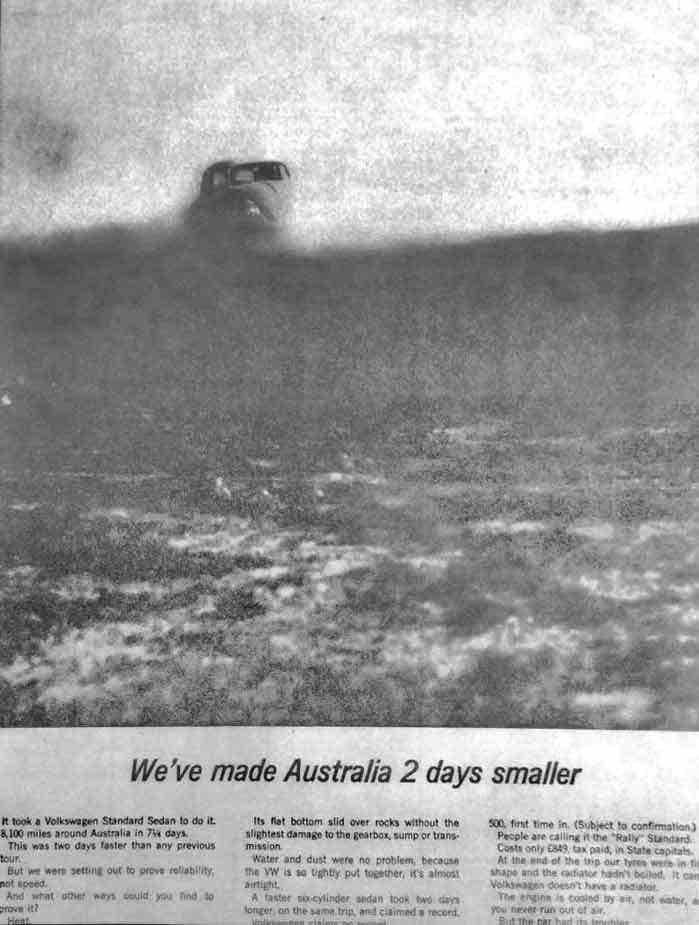 He went on competing in many more Rallies and then the VW PR department approached him and saying.
"We want you to drive the Antarctica 1 in the BP Rally because we know that you are the man for the job"
Driver Ray and Navigator Joe Dunlop took the offer up who said, "must have nerves of steel driving with me", and the Antarctica 1 was brought home for him to prepare for its next adventure. Still with its Antarctica 1 plate and ANARE symbols on the side the little red Beetle was registered and BP decals with the number 32 were added.
The Australian terrain can take its toll on cars and this trial would be one of the toughest.
One stretch of road was extremely deep with sand, two cars were bogged either side. My father had one choice if he was going to make it through and that was to drive straight between the two of them with the peddle to the metal as the saying goes!
Unfortunately, the car slid and hit one of the bogged competitors, which caused damage to the rear wing of the Beetle. As he kept going, he could hear a few choice words from the other driver as he disappeared from view!
After a gruelling four days, he made it to the finish line at Chadstone Shopping centre, driving the car up onto the podium, surrounded by officials and approximately 12,000 spectators.
Once again and to the delight of VW Victoria, he became an outright winner.
Do you have any recollections of the little red beetle or the media frenzy that followed your dad's success in the BP Rally of 1964?
Through these years I remember going to a lot of the start and finish lines of the Rallies. I can't say that I remember any rally in particular – there were so many! I do remember that there were always crowds of people and that my mother would always have the radio on to listen to the rallies he was in. She would get quite excited when she heard his name and what place he was in.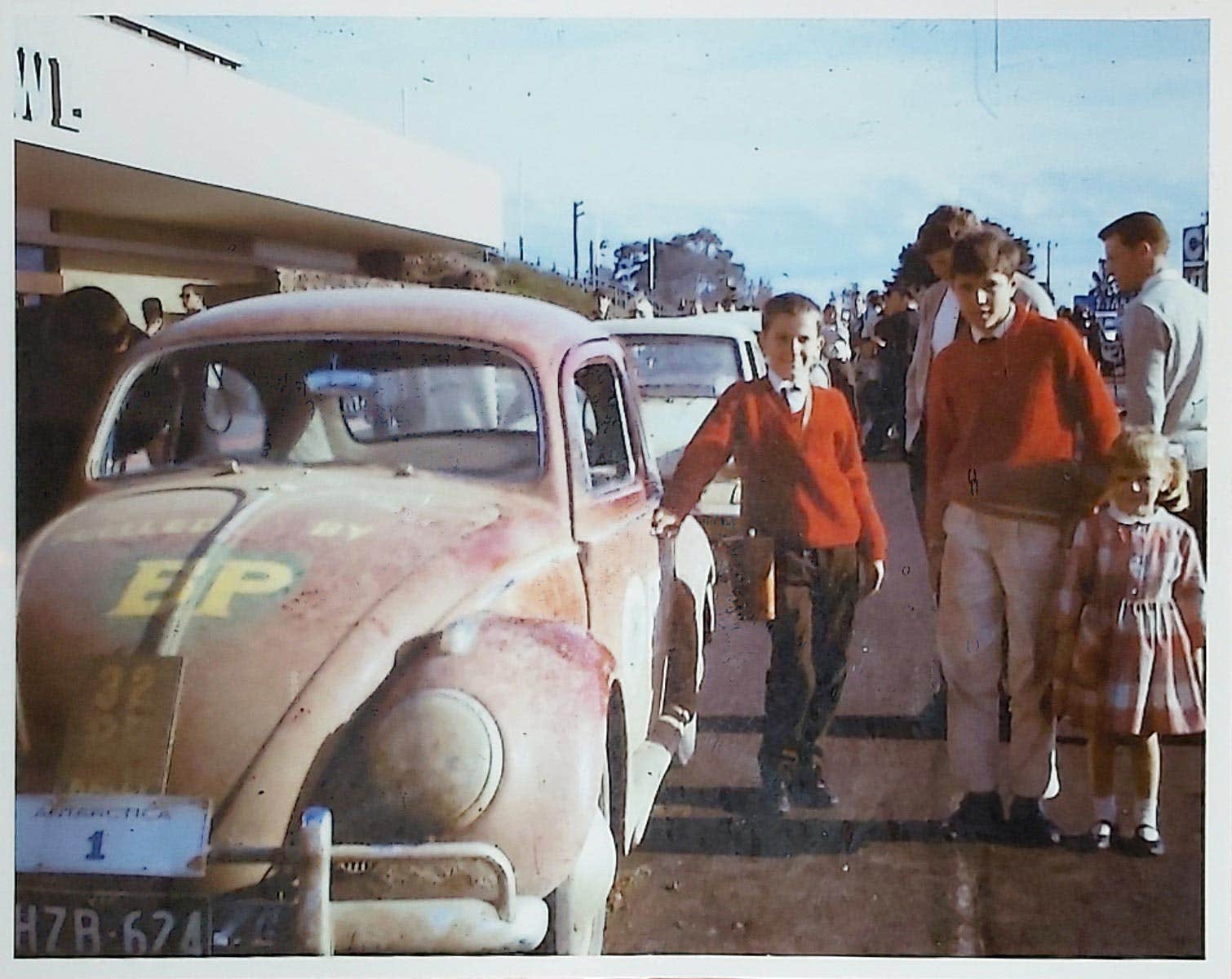 Your father went on to have some very impressive driving accolades and a long-standing relationship with VWs of all types – which do you think stands out and do you think he was most proud of.
In August 1964, the VW PR department asked what he thought about doing the round Australia trip again and did he think he could do it in a shorter time. This time in a VW Notchback 1500 S. After studying the maps again, he said, "Yes I can do it".
Sure, enough with his navigator Joe, at his side, he broke his own record doing the same stretch, covering 8100 miles, in 5 days 22 hours and 17 minutes, with only 2 hours sleep the whole trip!
Despite this it was the 1964 BP Rally, in Antarctica 1, that was the thing he was most proud of.
My father had driven for VW Victoria from 1957 till 1975 when the factory closed its doors. He then continued fixing and selling cars.
Although the little red 1962 bug was only with your dad for the duration of the rally, and for a few public appearances directly after, it certainly seems to have had an impact on you. Why do you think that particular car meant so much to you and compelled you to recreate The Red Terror?
I guess that Antarctica 1 has a special place in my heart because of the photo of me sitting in it in our back yard and its unique and enduring story.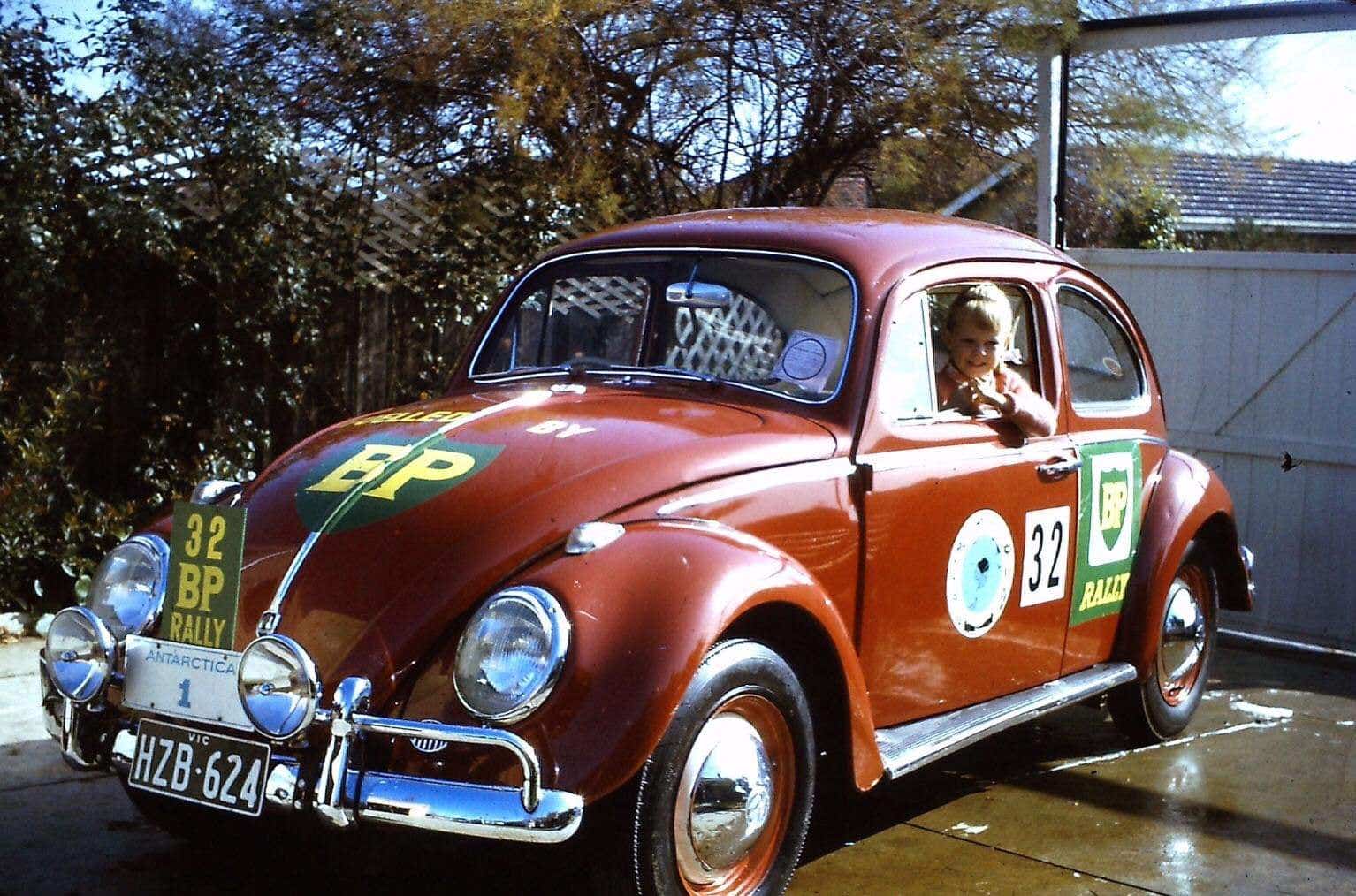 The original Antarctica 1 was sadly lost to time, having been seen last languishing outside a BP garage in 1966, can you take us through the process of finding and then recreating your own version of Red One and what it meant to you to do so in such detail?
It wasn't until my daughter and I went to a VW show, about 4 years ago, that I saw a little red beetle. I remember saying "That looks like the beetle that your grandfather drove".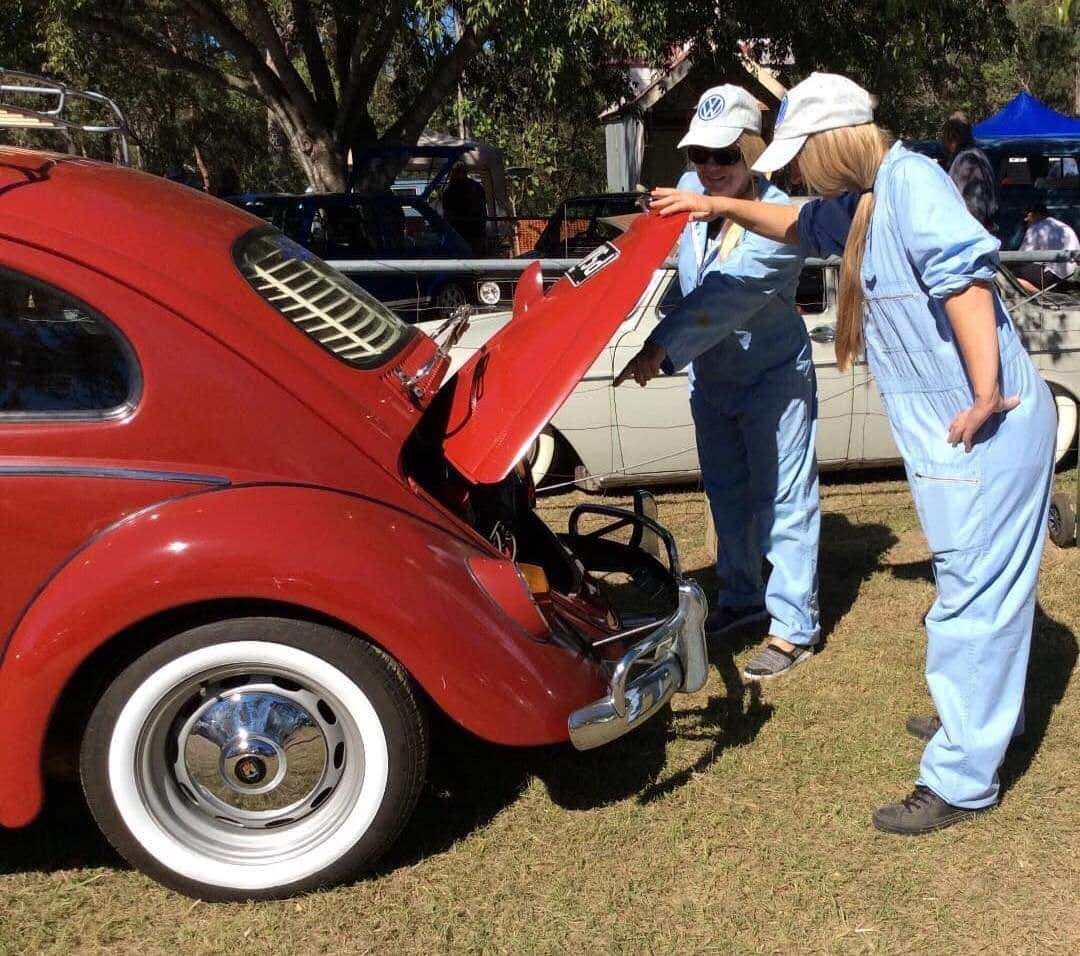 As I went up to it and looked around. I could not believe my eyes when I saw a for sale sign on the rear side window. It was also a 1962 model. I thought to myself, I'm meant to have that car.
I rang the phone number on the side. The paintwork was a little rough in places but the motor sounded good, and the body was straight. The next thing I knew I was now the owner of this beetle.
Then I had to go home and tell my husband and my father I'd bought a red beetle. Both of them were stunned as if to say what did you do that for!
I got the upholstery fixed and then I thought I need the paintwork touched up. One thing led to another. I then contacted the Transport Department to see if the same number plates were available, HZB624. To my absolute delight, they were. I put in an order for them and could not wait to get these special plates into my hands and onto the car.
The next step was the BP Decals and the Antarctica symbol. Then the dashboard. I needed to source out two little gauges, the AMP gauge and the Oil gauge. They were then inserted into the right side of the dash.
One last touch. The compass. This is the one thing I remember as a child about the car that intrigued me. These little letters that used to bobble around in liquid!
After 12 months the Ruby red Beetle, "Red Terror", Antarctica 1, BP Rally winner, 1962 VW Beetle was replicated.
How did it feel when it was finally finished, and how have you enjoyed it since then?
My father was still alive at the time, and he was quite surprised to see this little car looking like the one he had driven!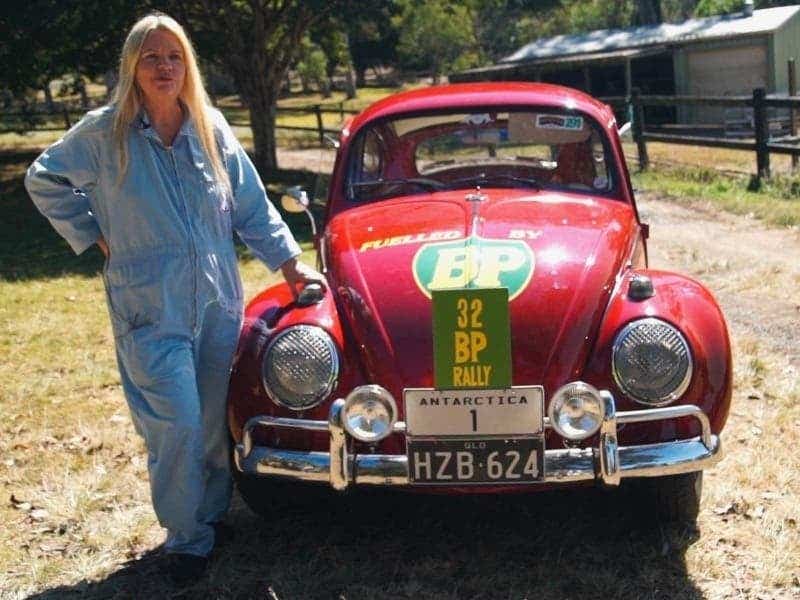 Since then, I have taken my Beetle to many shows and have been able to enlighten VW enthusiasts of the history of Antarctica 1, BP Rally and my father, Ray Christie, and his achievements.
Do you have anything else that you would like to share about your dad, his VW history or your own, or any other happy memories that involve them?
There would be different cars parked in the yard every week. It was like, "Ok what car are you taking me to school in today". One time I came out from school and thought, oh there's dad. Jumped in the car and looked at the driver - it was not my dad. I had gotten into the wrong car; I apologised and scrambled out as fast as I could.
One thing, I was never late for school, I'm sure he held the record for getting me there!
School holidays were always interesting. My father just loved to drive. One time we were going to go over to Perth, which is on the other side of Australia, the distance 2,872 km from Melbourne, along the Nullarbor Plain.
We got to a place called Kalgoorlie Western Australia, and my father changed his mind and decided to do a U-turn and head back and go to Uluru, Northern Territory. Which is quite a distance! So back to Port Augusta in South Australia. A left-hand turn and straight up the Red Centre, and an extra 1,293 km onto our trip! My school holidays were only 2 weeks long, so a lot of distance was travelled in that time.
From there it was time to head back to Melbourne. Of course, we don't go the normal route back.
We take a 'shortcut' across the Barkly Highway. Which, back in 1977, was more like a goat track than a highway. I was literally scared for my life!
Out in the middle of nowhere and along comes a Road Train with 3 long carriages, between 35 to 50 metres long. With nowhere to go, and this truck upon us, my father had to reverse till he could find a place for this Road Train to get past!
He had planned to camp the night out here. There was no way I wanted to stop in such a vast area of the OutBack, so we continued through the night to a town called Boulia, Queensland.
Back in 1971, when I was 11 years old, I was taken out of school for nearly 12 months and the family travelled by ship for 5 weeks to Genoa, Italy where my father had bought a new Westfalia Kombi. We travelled all around Europe, UK, and America.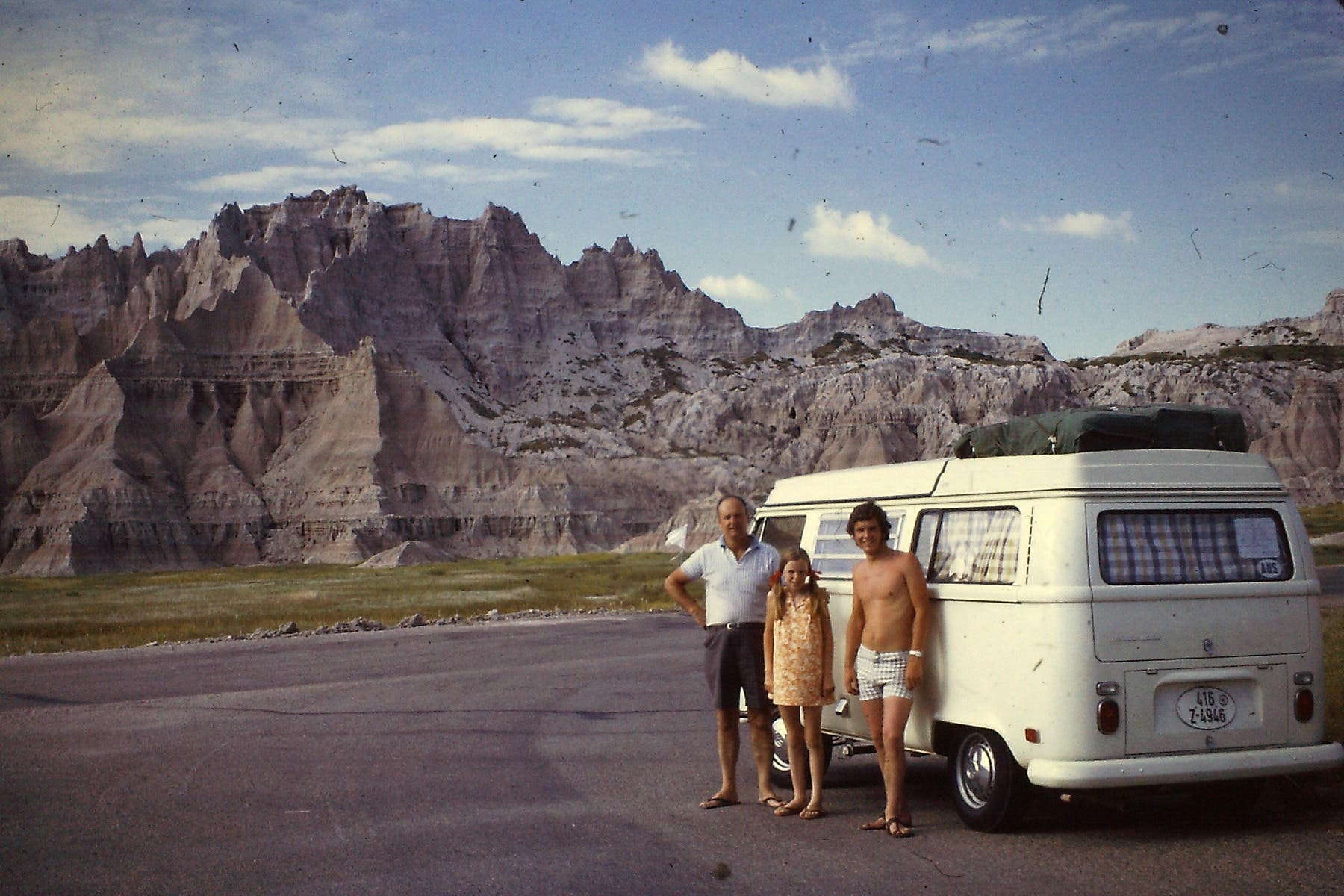 Mum and Dad would sleep on the rock and roll bed, I was on the hammock across the steering wheel and my brother slept up top. By the end of the trip, I had grown, and my feet were hanging out the window of the hammock across the steering wheel!
He sold the Kombi in Los Angeles, I still have the original Westfalia annex that my father brought back with us, which I have now purchased a Westy to go with it.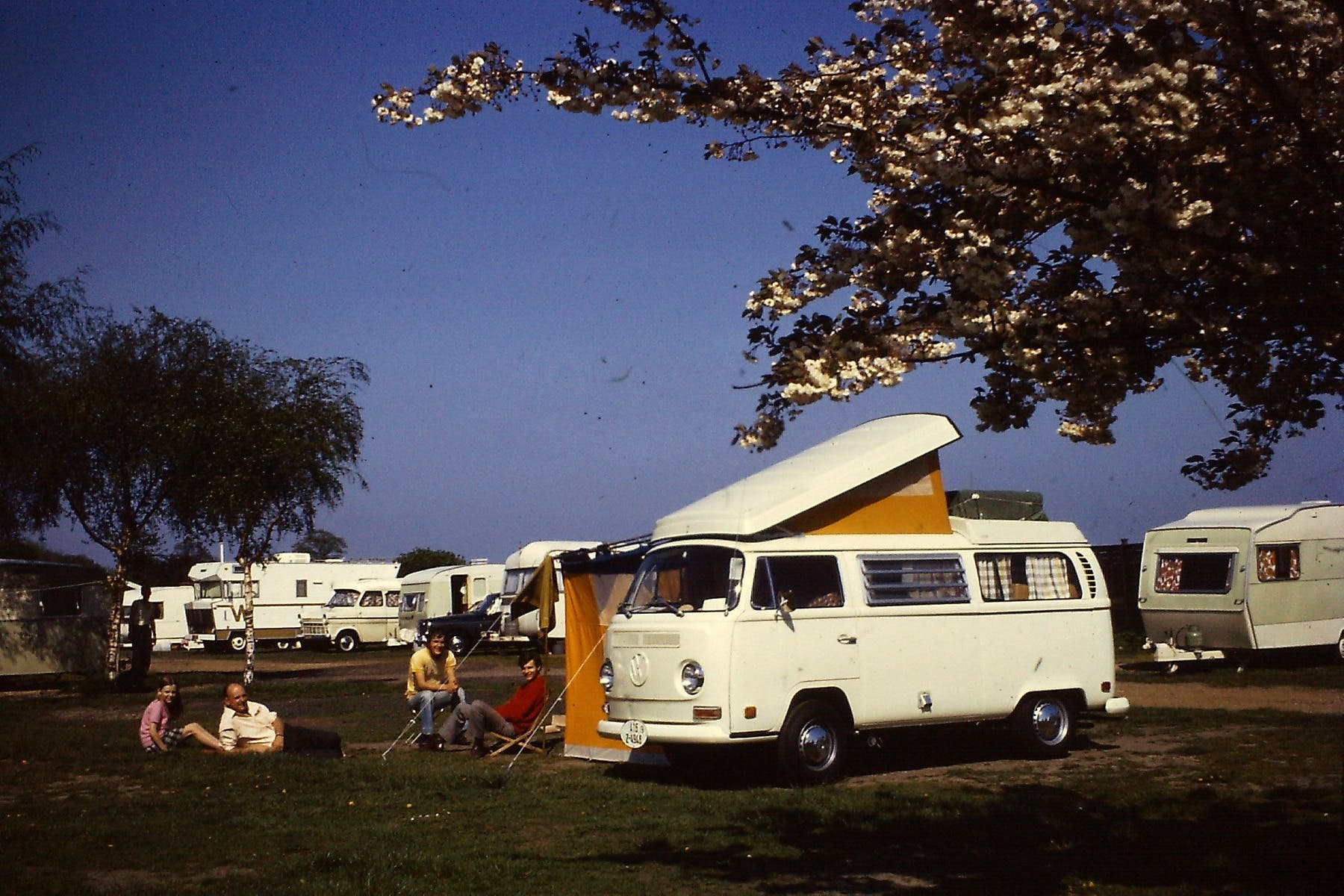 When we arrived back in Melbourne, he got the idea to buy kombi buses and would have them fitted out as campers for resale.
But that's another story…
Homeschooling on the road
I tried to do correspondence, but back in those days there was no computers so documents had to be sent on to towns that we would be going to.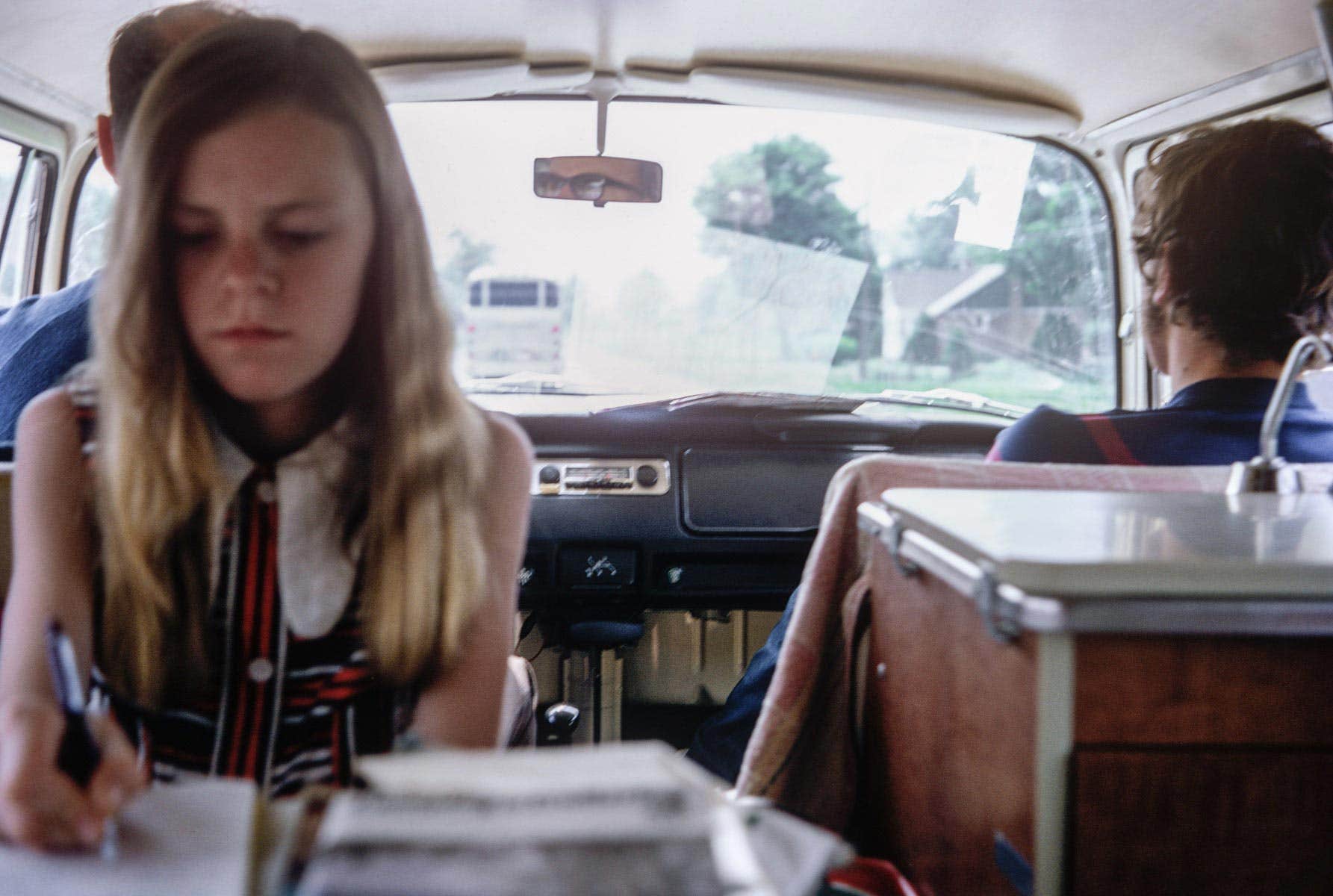 Tee Pees at Wall, South Dakota,USA.
Glen Loy Ferry, Ballachulish, South Slipway, UK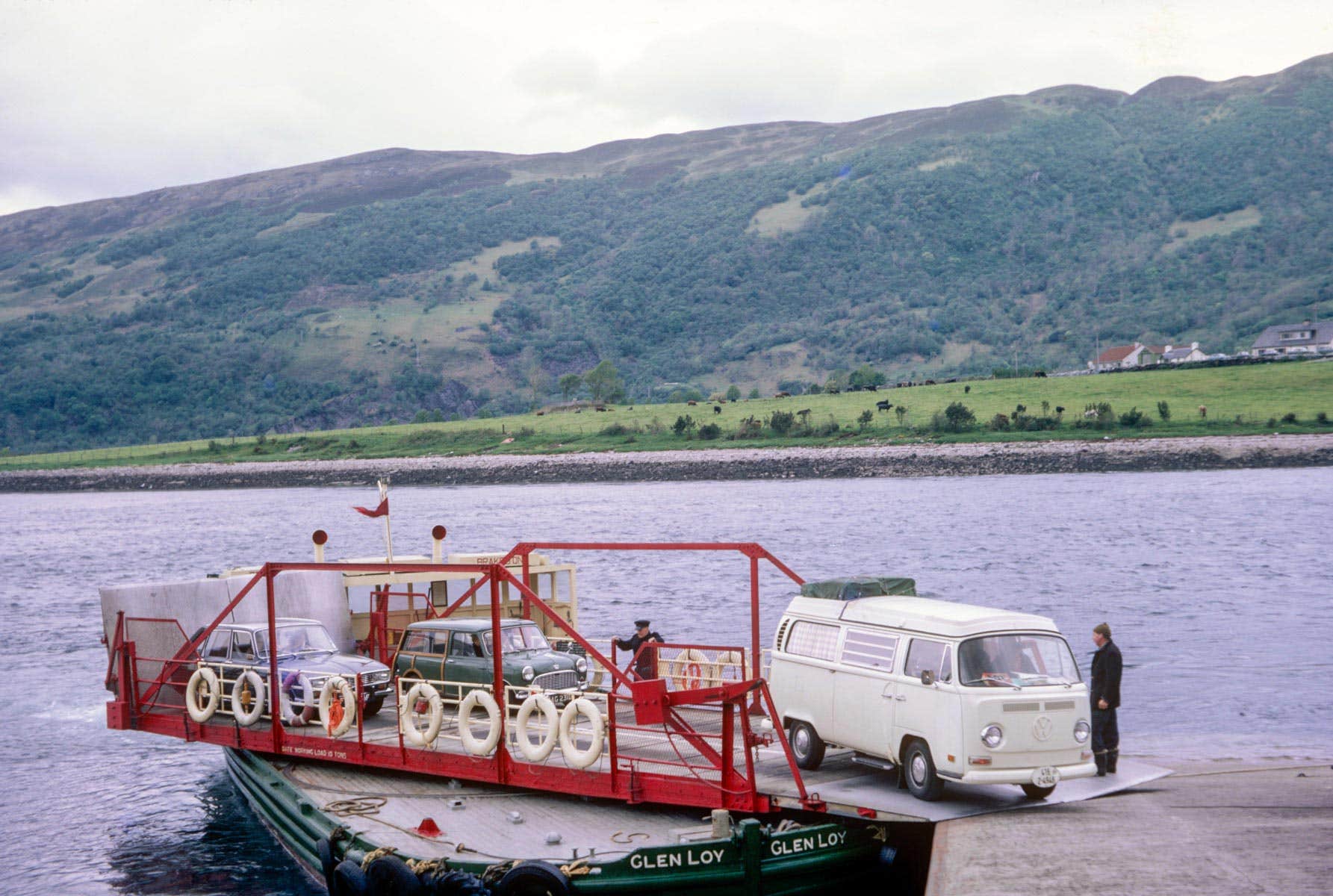 Bedrock City, Custer, South Dakota, USA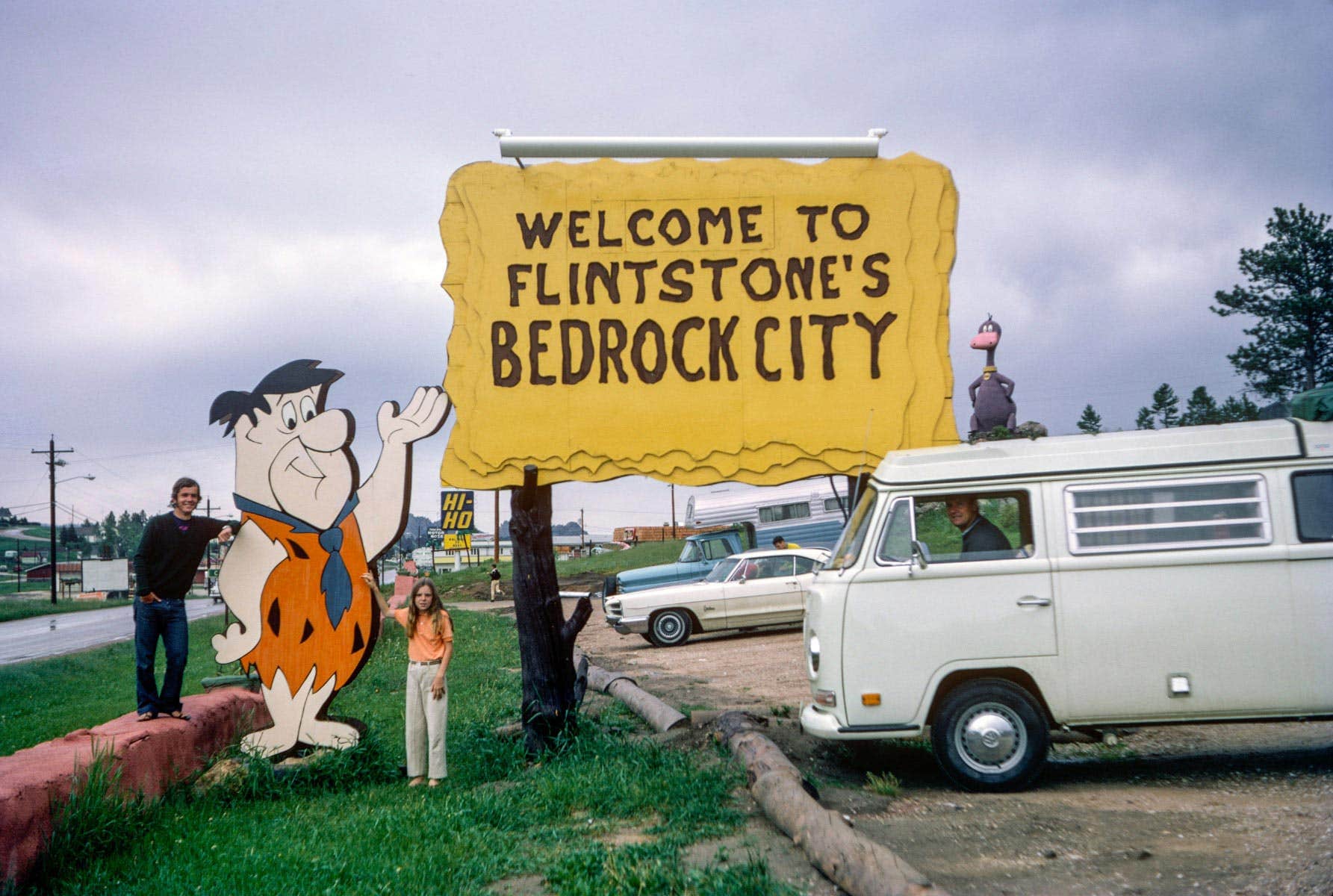 Our grateful thanks goes out to Sue Maher for sharing her pictures and memories of her father, his driving adventurers and the story of her own RED 1.