Olney's annual pancake race has taken place 75 times overall but has a deeply enriched history, the tradition itself is rumoured to go all the way back to events in 1445. It's said that the event was resurrected after WW2.
The world-famous event, taking place on Shrove Tuesday itself, will be like no event you have seen before! Be a part of history and enjoy what Olney's unique traditions have to offer.
About the race
The 2022 event will be the 75th race in total, and the 73rd time the residents of Olney have competed against racers across the pond in Liberal, Kansas.
The race covers a total distance of 415 yards and features a maximum of 25 participants who are all women! The competitors must be over 18 years of age and have been a local resident for at least 3 months before they can compete.
Olney's pancake race oozes heritage, there's nothing quite like watching a quirky, traditional event unfold before your very eyes!
Mysterious origins
No one is certain on how Olney's pancake race started…
One origin story tells of a busy housewife who hears the shriving bell being rung at the church, signalling the call to confession. In a hurry she sprints down the road to church, still clutching her frying pan which was holding a pancake.
Another story suggests that the gift of pancakes may have been a bribe the bell ringer, to tempt him ringing the bell sooner. The sooner the residents of the town got to confession, the sooner they'd be done confessing, and the earlier the holiday celebrations and enjoyment would start!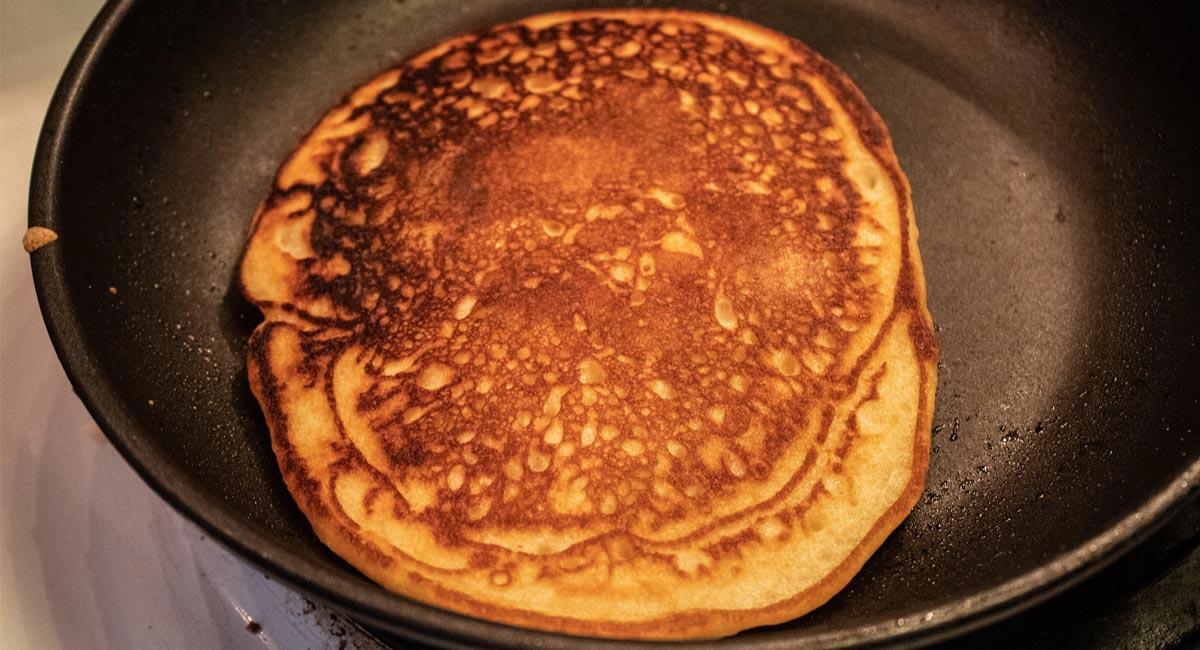 Image credit to Brian Wangenheim, via Unsplash
Olney's annual pancake race
Tradition says that the race was first run in 1445, on Shrove Tuesday, the day before Lent, and the whole day was given over to a festival of celebration, pranks and pastimes. The word shrove is derived from shrive, which refers to the confession of sins as a preparation for Lent.
Pancakes are a traditional food for Shrove Tuesday as several European countries choose to use up their eggs, sugar and fat which are usually forbidden during the Lenten fast. These ingredients are commonly used to make pancakes, so the food and ingredients don't go to waste.
The festival of confession is also considered an opportunity for self-reflection and introspection to help better oneself and focus on positive development. It's a positive holiday based around self-improvement, which is an optimistic and beneficial way to kick-start your year.
For many, Shrove Tuesday is just Pancake Day, an opportunity to share to easy-to-make treats and celebrate the unofficial start of Spring.
Why do Olney compete against Liberal, Kansas?
In 1950 the race became an international event, due to a challenge received from the American town of Liberal in Kansas. They undertook a very similar practise, and so after seeing press photographs from Olney's pancake race, felt that some healthy competition would be entertaining.
Olney readily accepted the challenge and in spirit of international goodwill and friendship, the towns now annually compete, and prizes are exchanged each year.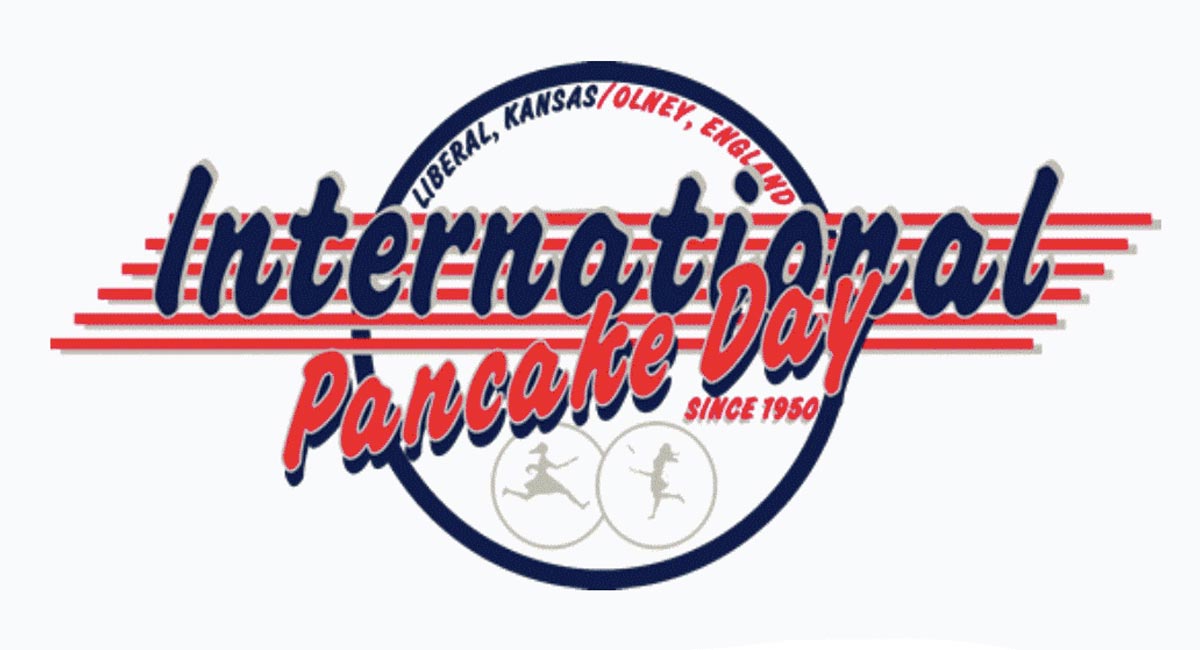 Image credit to the Kansas Historical Society
Other things going on at the event
There's plenty to keep you enjoying the festivities in Olney, other than the pancake race itself.
Raffle prizes
There'll also be a raffle where, for just £1 per ticket, you could be walking away with some incredible prizes. The top prize this year is a two-night coastal break for two, at the four-star Haven hotel in Sandbanks!
With up to 21 prizes available, there's plenty on offer, and several of the prizes open up opportunities for you to enjoy days out in the camper later in the year! Of course, you could just book them yourself but where's the fun in that?
Children's pancake race
In addition to the raffle, there will be a children's race that you can get the young ones involved in. The children's race starts at 10am.
A big breakfast
There will also be a big 'breakfast in the marquee' celebration where celebrity chef Lesley Waters will cook you breakfast. This will take place between the hours of 8am and 10am. To attend the breakfast, you will be asked to purchase tickets, which are only £9 each. The ticket includes a full breakfast and a glass of prosecco, so you can't really say no!
Once the race has finished, entrants are required to attend the shriving service at the local church, but people who come to watch the event are more than welcome to take part in the tradition. The evening event includes prize giving for the first three places, goody bags for the runners up, and the very important raffle.
Past Winners
Of course, with this being a competitive race against Liberal, that means there's potential for the winner to be a resident of either Onley or Liberal. Every year, there is a registered 1st place for both towns. The official winner of the 2020 race was Katie Godof of Olney and the 1st place holder of Liberal was Whitney Bay.
The year before, Liberal won the 2019 title. Maggie Lapinski took the official 1st place title and Amy Butler took the 1st place of Olney position.
There's friendly competitive spirit between the two towns, but it looks as though overall Liberal is overtaking us slightly with 38 race wins over Olneys 31 wins.
The race winners have been recorded ever since it was re started in 1948, after WW2. If you're interested in perusing through the history of the scoreboard, then please look here.
Image credit to Calum Lewis, via Unsplash
Further information and how to get there
This year's event takes place on Tuesday the 1st March, in Olney, Buckinghamshire.
If you're interested in taking part in all various aspects of the event, then you will need to be there by 8am so you can enjoy the breakfast in the marquee. If you only wish to see the women's race, then this takes place at 11:55am.
The event is free to spectate, but if you wish to purchase tickets to get involved with either the raffle or the breakfast, then please click the following links to purchase your relevant tickets.
You canget tickets to breakfast in the marquee here.
There are also raffle ticketsonline here.
For directions to the event, please follow the address as follows: Olney Pancake Race, Parish Church of St Peter and St Paul, Olney, MK46 4AD
Off to the races? Let us know!
If this is something that would appeal to you, your friends and family and you head to Buckinghamshire for the big race, we'd love to see your photos from the event!
It would be great to see how much enjoyment you get out of events like these, and we may repost your images on our Instagram page (with your permission).
This is particularly true if you choose to travel up to Olney in your classic or camper for the event. If you want to share some photos of your experiences with us, please send us an email to jkworld@justkampers.co.uk and we may even feature your photos in one of our future blogs.
If you don't have time to write an email, then be sure to post a pic on Instagram, tag us and use our hashtag #jk100under100 for a feature on our story!
100 Things to do for Under £100
We're suggesting a jaunt out to the Olney pancake race as part of our list of 100 Things to do for Under £100. We've put together a list of more than one hundred activities which you can take part in this year, which will cost a family of four less than £100 to attend.
There are events around the UK, and spread throughout the year, so you'll be kept busy and entertained into the new year.
We're not tied to any of the events on the list (except our JK Open Day, of course!) and aren't making any money from recommending them as places to go, we just know it's been a rough few years for getting out and about in your classics and campers, and we want to try and kick-start some exciting adventures for you, your friends and family.
Check out the full list of 100 Things to do for Under £100 here. If you think you know if an event we can add to the list, get in touch and we'll see if we can add it on!