More from this author
The Lazy Hazy Days of Summer Camping...
Sun in the sky, you know how I feel,
Breeze drifting on by, you know how I feel,
It's a new dawn, it's a new day…
And I'm feeling goooooood!
It may be the alarming regularity with which we seem to be seeing and feeling the sun's warmth, but something has us feeling pretty darn good. Summer is upon us and the promise of lazy camper days has us wistfully waiting on the holiday season.
Most will have secured pitches at their favourite sites, but, with the rise and rise of the staycation there may be some of you feeling like you have perhaps missed the boat.
Seemingly more and more sites show as booked for those prime summer holiday weeks, and whilst those of you without kids in tow may be revelling in your opportunity to secure off season prices and quiet sanctuary, there will be many who are finding their options a little lacking.
So, we have collated a few of our favourites across the country that are still showing availability, and, promise a unique camping experience that should still leave you feeling distinctly smug about your booking prowess!
Don't delay though – spaces as with any site across the country this summer are strictly limited in availability, so get booking quickly!
1) Pleasant Streams Farm Camping
Location: Cornwall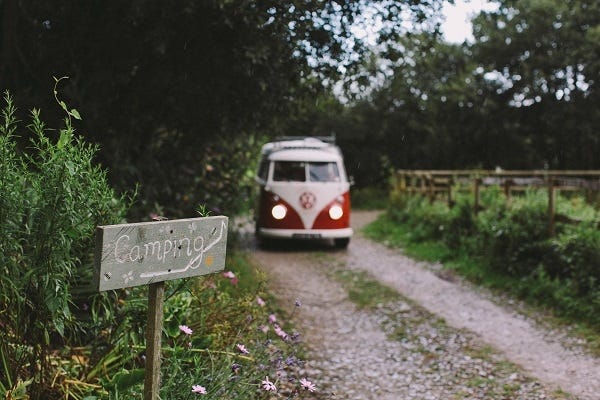 Pic Credit: Pleasant Streams Campsite
All about simple pleasures; this campsite nestles around a collection of lakes. These in turn become the hub of activity allowing the opportunity to laze in a rowing boat or for braver souls take a dip from the jetty. This is a small and friendly site with a back to basics approach whilst ensuring that they maintain great facilities. The sound of wood crackling on campfires come evening and happy chatter is likely to be the only noise that you experience. A delight for children it's sure to be a site that you visit time and time again. (NB - please note there are no dogs allowed on this site)
Location: Hay on Wye, Herefordshire
Pic Credit: Chapel House Farm Campsite
A little gem of a site. With four fields and 10 acres of wildflower meadows this is the kind of site that dreams are made of. Crescent moon shapes of mown lawn provide your pitch space whilst meadow flowers surround swaying in the breeze. Children spend time happily making dens in the forest behind, and, come evening campers huddle to chat warmed by the fire, before falling soundly into a contented slumber. The tiny on-site shop sells local produce that includes ales and ciders, there are free hot showers, toilets and a fridge freezer in the washing up area that also has power points. (NB – please note there are no dogs allowed on this site, and that they can only accommodate tents and campervans, as the lanes are too narrow to accommodate motorhomes or caravans.)
Location: Cumbria
Pic Credit: Kestrel Lodge Campsite
Situated in a quiet corner of the Lake District National Park and commanding and enviable position surrounded by some of the best fell walking routes in the country – the beauty of this sites position is ably matched by the warmth of the owners as you arrive. Read any number of the reviews and you'll find that they speak so highly of the site, the welcome, the well-considered little extras like free fire pits on every pitch, the small on-site shop that is thoughtfully stocked, the natural playing field for the children, dogs being allowed at no extra charge – even the local pub is dog friendly, the super clean facilities…the list goes on.
Location: Devon
Pic Credit: TomW via Tripadvisor
Providing a lesson in how a pop-up site should be; this lovely site is situated above the Taw Valley in the beautiful North Devon countryside with views across to Exmoor. The coast is still easily accessible with a 20-25 minutes car journey availing you of some of the best surfing beaches the area has to offer. This allows you to dip in and out of the more touristy areas destined to return to the quiet utopia that is Bales Ash.
Two sheep mown fields, covering some 10 acres, will leave you with indulgent amounts of space to pitch and for children to play. Cream teas and homemade cakes can be enjoyed from the Victorian summer house leaving the only question being whether to put the cream on before or after the jam! (You're in Devon so arguably it's cream first – no matter how wrong it is!)
Location: Orkney, Scottish Isles
Pic Credit: KenWatt via Tripadvisor
Situated on the stunning Isle of Orkney, Wheems, is a horticulture and animal small holding, providing organic food for a local market. With a desire to run in the most ethical and environmentally sound way. Their impact in this beautiful location is well thought out and of obvious importance. The site has an honesty shop and potted herb garden, where you'll find delicious seasonal goods. Dogs are allowed (on leads only) so as not to disturb the chickens, sheep and cat "Percy" who all call the farm their home too. With beaches and cliffs 5 minutes away on foot or 2 minutes by car, you are in prime position to discover this stunning location.
Wherever and however you spend it – we hope you all have an amazing summer!
(The campsites featured were based on available pitches between the 11th-25th August, for two adults and two children and will be subject to change – please check direct with campsites for current availability).