It may look like summer is drawing to a close but that's no reason to stop going camping!
Taking your campervan – or even a tent – out for some time away is just as enjoyable in the autumn and winter as in the summer. Off-season camping is something that many of us here at Just Kampers really enjoy doing, and offers a lot of advantages over camping in the middle of summer.
Here Are a Few Reasons We Enjoy It So Much
Peace & Quiet
Most campsites will be noticeably quieter during the autumn or winter months than during the height of summer, so you'll get a much more peaceful, relaxed trip away. No music blasting, or dogs arguing, or kids crying, just tranquil nature and the sounds of leaves under your boots – perfect!
Of course, if you do want to supply your own music, dogs and kids, a lot of campsites seem to be a bit more lenient about noise control when the site is emptier, but it's always best to check beforehand.
No Early Starts
A lot of people hate the long nights and short days that go with autumn and winter, but it can be great for your body and mind. Spending a week out in nature totally resets your body clock, and not waking up at 5am with the light slamming you in the eyes certainly makes for a more restful trip away.
The birds won't start singing as early, and you'll likely end up going to bed earlier too, meaning you'll end your trip even more relaxed and ready to face the outside world again.
Even More Affordable
From our experience, many campsites offer lower rates for visits during the off-season, and you get a much more personal service from them when they have fewer people to look after. This is great news for a lot of us who see camping as an affordable, quick and easy way to get away from it all.
Bookings are still being taken for the autumn bank holiday in many places, so take a look at some sites near you (or far away!) and see if you can sneak in an extra camping trip this year.
Fire Good!
There's something special about a campfire while you're away, but when the nights start to get a little chilly, a good fire gets even better! Get together with the family or your partner and enjoy sitting around a fire, burning your fingers of molten-hot marshmallows and drinking hot chocolate. With it getting dark a little earlier, it's also easier to see the stars, which is something of a rarity in modern life.
Get Down the Pub!
What's better than a fresh, bracing country walk in the autumn, with the leaves turning orange and the squirrels rushing about like London commuters? A bracing country walk in the autumn, followed by a trip to the pub!
Much like the campfire, a cosy countryside pub takes on a new magical aspect when you've hiked there through the chilly air. Getting to take your scarf and hat off and get a nice drink down you are always one of our favourite parts of going away in the off-season.
Grab a seat by the fire and a good book, and you're set for hours!
Where To Go
Here's a few places around the country that offer off-season camping for campervans and have excellent reviews from past visitors (including some of the JK Team!)...
Butt Farm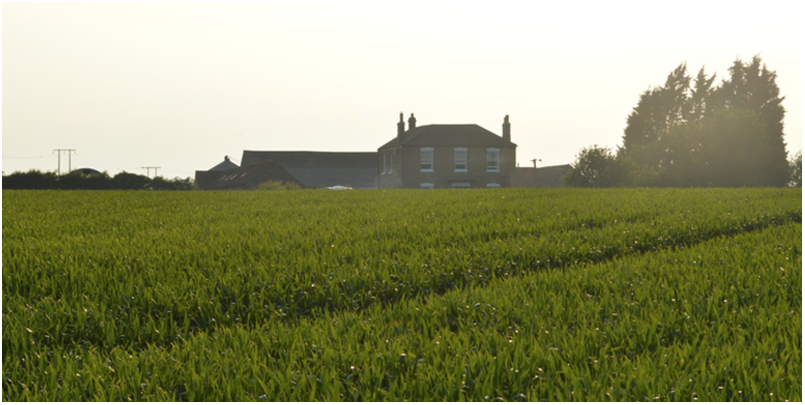 Butt Farm is a working family farm situated 2 miles from the historic market town of Beverley in East Yorkshire. The farm is located on a footpath and cycleway network enabling you to walk and cycle into Beverley and the surrounding areas.
They recently won a RETYA ( Remarkable East Yorkshire Tourism Award) for Best Newcomer.
Butt Farm welcomes caravans, tents and motorhomes. They have 30 pitches including 12 hard standings, and 6 electric hook ups.
Recommended By: Carolyn Kirvan-Cranfield
Location: Butt Farm, Victoria Road, Beverley, HU17 8PJ
Website: http://www.buttfarm.co.uk/
Woodside Country Park
Woodside is set in a relaxed, rural setting with spaces for cameprvans as well as luxury Scandinavian Lodges, which offerthe peace and quiet of their spacious grounds. There are amazing views across the countryside, with a laidback, friendly atmoshphere throughout the site.
With a backcloth of over 100 acres of mixed woodland, care has been taken to preserve and enhance the surrounding environment by providing a wild flower and natural woodland area, encouraging an abundance of wildlife.
Recommended By: Roger Seymour
Location: Falcon Lane, Ledbury Herefordshire HR8 2JN
Website: www.woodsidelodges.co.uk
Lobb Fields Caravan and Camping Park
Excellent location, close to Braunton and North Devon's premier surf spots. Really friendly staff and good clean facilities.
Squires Fish Restaurant on Exeter Road in Braunton does awesome fish and chips. Lots of good surf!
Recommend By: Mark Hassard-Short
Location: Braunton, Devon, EX33 1HG
Website: www.lobbfields.com
The Quiet Site
We really like the pub and shop that are on-site, and the free showers are amazing! There's also space to do your washing up, which is a nice touch. The whole site is designed around being as sustainable as possible, with the whole site being run on renewable energy whenever possible.
Nearby Grade 1 listed Dalemain House with its museum, gardens and tearoom remains open until the end of October and is definitely worth a look.
Recommended By: Josh Reynolds
Location: Watermillock, Penrith, Cumbria, CA11 0LS
Website: http://thequietsite.co.uk
If you've got any recommendations for camp-sites that are open all year around, please get in touch! We'd love to have some new places to stay and explore.