Just Kampers
Written by the JK Team
Published 26 August 2021
More from this author
The Jaunty Camper Gin
Yva - give us the lowdown on your VW history. What was your first, how did the love of VW's begin for you?
So, if we are talking all VWs then it all begins with my very first car – a VW Polo bought at auction which I loved for years. But my passion for the VW campervan goes back to childhood – we did a lot of tent and caravan camping when I was young, and I remember being insanely jealous of some family friends who joined us one year in a beat-up old VW camper. It was an amazing play space for all of us kids and in those pre seatbelt or health and safety days I swear there were a dozen kids squeezing in for a run to …well, anywhere! That was as close as I got to spending time in one for years.
What VW's have you owned?
After that first Polo, I also owned a Golf and a new style Beetle, but it would be October of 2014 before I did more than ogle other people's VW campers!
Introduce Jasmine…
Jasmine is a VW Type 2 Bay window campervan, Westfalia Conversion. Manufactured in 1972 – first registered in 1973.
I met Jasmine in the October of 2014 when I hired her as a much-needed birthday treat while some pretty tough times were being had. My mum was terminally ill in hospital, and she pushed me to take a break from her bedside and treat myself to something special. I brought Jasmine to the hospital car park and mum waved from the window as I set off for a weekend trip. Even with everything else going on I knew that Jasmine was the one. I fell utterly in love with her … I even tried to persuade her owner to sell her to me when I had to return her!
I got to show photos to mum and blether about the trip before she left us just 10 days later. I trawled websites for campers for sale over the next few years, but nothing compared to Jasmine until one camper caught my eye. There aren't ever very many for sale in Scotland and this one seemed at least worth a look. The suggestion was made that I hire Jasmine again to drive up to see this one for sale to compare the two … but when I went to re-hire her the website had a wee footnote saying her owners would consider an offer from the right person! I had a sleepless night of excitement… and bought her the next day!
Her previous owners, the lovely Frank and Lorraine, wanted to make sure she was in the best condition, so a few weeks passed before she came home with me, but on a cold March day in 2019 I drove Jasmine home.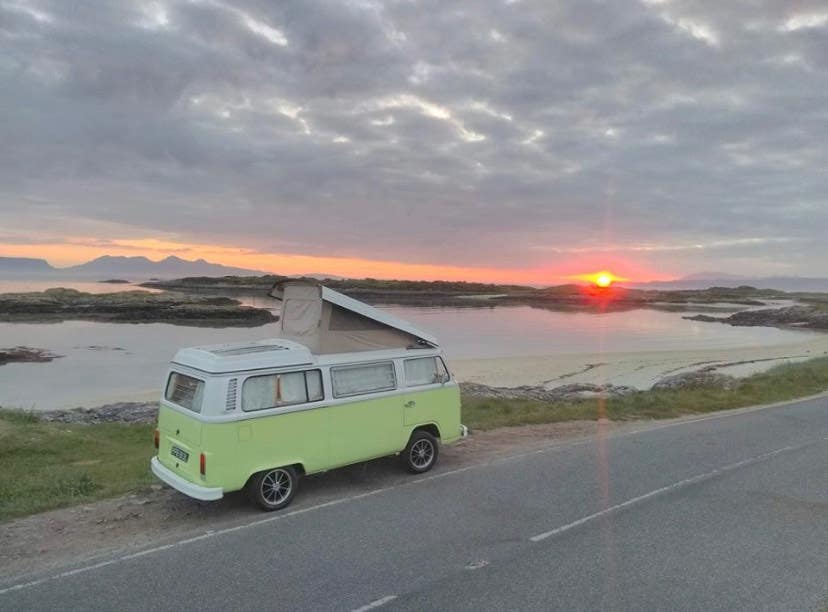 So, let's get to the important bit – how did you make the leap from VW campers to a bit of "mother's ruin" and create a lovely drop of gin?
Having met Jasmine as a hire vehicle it wasn't long before I started to think about sharing her and before long, I had agreed to buy all 3 VW T2s that had made up the hire business I bought Jasmine from! I also really fancied sharing my love of craft gin with people and planned to run gin tours with a VW twist. Obviously, this meant vast amounts of gin research and one of the activities I researched was a gin school where you design a recipe and produce a bottle of gin in a wee copper still. The recipe was a success and, 2 years later, in the depths of lockdown I thought about making more. From there it all moved quite quickly! I got in touch with a local gin producer who I had come to know through my research and asked about the possibility of making more of the gin … and even making enough to sell. Colin was a bit hesitant until he tasted it and then it was a plan in motion!
I knew straight away that I wanted Jasmine to be a part of the new venture – I had been forced to close the doors on the hire business and her sister campers – Bluebell and Lilly – had moved on to other homes, but Jasmine was always going to stay with me. I thought of a wonderful drawing of her that had been done by a talented local artist during lockdown as a colouring resource for local children and reached out to Christine to ask if she could turn it into a gin bottle label. She brought in another local artist and designer, Anne, and a combination of their talents brought about The Jaunty Camper Gin design.
Gin production is quite specialised – did you have experience, or have you learned as you have gone along?
I have been fortunate to have Colin McLean of McLean's Gin at my side doing the technical parts. Although I had already created the recipe and had created it on a small scale, he has been the specialist who has brought the gin into the big leagues. Well, the small craft gin leagues at least!
How did the recipe evolve?
I'm a bit of a gin geek so although I had never made a gin recipe before I knew a lot about which botanicals were in the gins I liked and disliked. I have a soft spot for coastal gins and gins that taste of gin rather than more liqueur style gins which tend to be sweeter. Not that I don't have a favourite or two there, but I went into recipe creation with quite a focussed flavour profile … and it worked!
Are there plans to further expand your offering?
Ah, now you're asking! I do have something that Colin and I are working on in the background, but we are in no hurry because we truly believe we have got it so right with The Jaunty Camper that she is a hard act to follow! What I have been working on is what you might call a companion range – other artisan products which pair well with the gin or add to the experience. So far that has resulted in a gorgeous dark chocolate tasting bar with plans for a gin-based chocolate coming along too. I love a bit of matching kit so you can now drink your gin from the cutest Jaunty Camper enamel mugs too! There are a couple of 'watch this space' products coming too, but handcrafted gifts can't be hurried so you might have to wait a little longer for those.
Where would the perfect camp spot be for you and Jasmine to stopover and indulge in a wee drop?
It is so easy to say somewhere on the NC500, but I have family along the route and I would park Jasmine by the shore in front of Rockvilla in Lochcarron and let my cousins Ryan and Lauren feed me from their gorgeous restaurant, serve me a Jaunty Camper Gin and tonic and while their other guests bedded down in the B&B I would set up my rock n roll bed in Jasmine for the night.
Where can we get our hands on some Jaunty Camper Gin?
That's a select group of places – you can order a bottle direct from the Jaunty Camper website or you can come to Scotland and visit Rockvilla for yourselves. You can buy it in person in our hometown of Strathaven from boutique retailers Jaro Design or sip it in the bar of The Strathaven Hotel. You can head to Callander and buy it from The Grail or be served it in Glasgow's Bungo Bar and Kitchen. I wanted it to be sold by people I know, people who were part of the journey to get it made, so although it will grow beyond these places in time, for now they are part of The Jaunty Camper Gin journey, and I couldn't be happier to have them along.
Given our love of campervans and gin we offered to become a taste tester should there be a vacancy – unfortunately we had to join a queue behind 46 others! Something tells us that with the passion that the Jaunty Camper Gin has been produced; it would be worth the wait…