The Great British Bake Off and a VW Camper?!!!
So Ian, what was life like prior to the madness that ensued post British Bake Off Finalist status…
Life was fairly calm. I did my travel photography, I did most of the day to day running of the house (i.e. looking after 2 young kids) whilst trying to do the house up - it's 500 years old and needs quite a lot attention. All that sounds like quite a juggle but it was nothing compared to life now!
And, what is it like now?
To carry on the juggling analogy there are loads more balls in the air! But as anyone who is self employed will probably tell you, this is a good thing. However, some things have slipped - all work on the house has basically come to a grinding halt so the kitchen which we had planned to do up this year is still the 1970s mess that it was.

When you're not baking (which obviously you do ALL the time – at least in our heads!) how do you spend your time?
When not doing the above I also like to make sure I build some exercise into my day. All these cakes and calories means even my metabolism needs to go and burn them off.

You seem to be quite an enviably talented chap and work as a travel photographer – what has been the most inspiring place that you have visited to photograph?
I look back at the time I spent in Tibet and think how lucky I was to see the things I saw out there. It was before I had family so I went several times for a couple of months. It's not an easy place to go to what with the political situation; the Chinese don't like journalists / photographers going there; the altitude; the distances involved and sometimes some pretty grim food!
So tell us about the Dalai Lama?!
I first photographed him at his home in Dharamsala, India after I came out from a long trip around Tibet in 1998. At that time I was running a small Tibetan photo library in London and was in regular touch with the Office of Tibet (they are like the Tibetan Embassy) so when I heard he was coming over to the UK I managed to get 'the gig'. Still feels surreal every time I am with him!

Amongst all this, and, our obvious link to you comes in the form of your lovely T2 Bay Window van! How long has she been a part of the family? Does she have a name?
I got the van a few weeks after our daughter was born in 2007. I bought it in Plymouth and had to drive it back to our home that back then was in London. By the time I hit London in rush hour I was seriously wondering whether I had made a good decision! It hasn't really got a name which people always seem disappointed by. The kids like to call it Rory as it makes a bit of roar when it starts up.

How did she come to be a part of your family?
Back in 2007 Zoe was born in April so we thought we would make the most of my wife's maternity leave by travelling around in the van during the summer so it has always felt like has grown up (or maybe grown old?!) with us.


What has been your best and worst experience with her so far? (Go on spill – we promise not to tell her!)
It has actually always been reasonably reliable… up until this summer. So we packed it up to go away to France. It needed to be jump started to get it out the drive. After getting it going we realised the ceiling was full of water. In the end we realised the only solution was to stab the ceiling with a sharp knife after which about 3 litres of water flooded out! The engine then kept stopping at every traffic light and then sometimes it would randomly not start as we travelled down to Burgundy. We went there during the first 2 weeks of Bake Off being on TV and on the Wednesday 2 hours before episode 2 began it died going up a steep, narrow, one way hill in a French village. This was during a heat wave and we had been on a donkey trek all day so was not feeling too generous towards the van. Despite the attentions of a couple of passing mechanics who were not able to fathom the problem it was only when it was pushed out of the market square in preparation for the next days market by some guys in a bar did it finally start. Missed the first half hour of GBBO so watched it all on catch up with my phone pinging away at all the wrong moments.

Ok, so clearly we are expecting some properly, foodie gastronomic gem of an answer to this….What is the best thing you cooked during your vanlife moments?
You're in for a disappointment I fear! I've always had ideas of making fresh muffins when camping, but that has never got beyond the idea stage. One of the main reasons for this is that we often go to France in the van and why struggle to make a muffin when there is inevitably going to be a fabulous boulangerie / patisserie in the next village?! I deserve to be fat as a barrel with my enthusiasm for croissants and all their buttery variations. I try and tell my wife that I just like to support these small shops and their rural economies but we both know that's a load of old rubbish - I'm just greedy for fine baked goods. But the best thing I have cooked might well be pork chops in a creamy, apple and mustard sauce.
In a recent interview you indicated that you would like to take on a tour in the van around Europe and cook on the road…we think you and Martin Dorey should pair up…like a version of Hairy Bikers…only less hairy and VW Buses not Bikes! What do you think?!!! Are you waiting for the madness to settle or do you have exciting things in the pipeline?
I did have ridiculous plans for following the journey of wheat from Persia back home to Cambridge whilst baking away in the back of the van. I think some of my best ideas this year have generally been my most ridiculous but I fear that was just a bit too far out there. If nothing else the idea of an Englishman puttering around Syria looking for something to bake whilst all hell is breaking loose around him is more than just a little bit daft! Then there was the whole idea of driving it all that way. The drivers seat is falling apart with the springs sticking through so I start to get fed up driving it a few miles down the M11 so goodness knows how it would be driving it all that way! As for what happens next in my life that is a very good question that I am still working on. I didn't want to rush into anything and follow the 'usual' Bake Off path but somehow I would love to be able to combine my baking skills and my travel photography.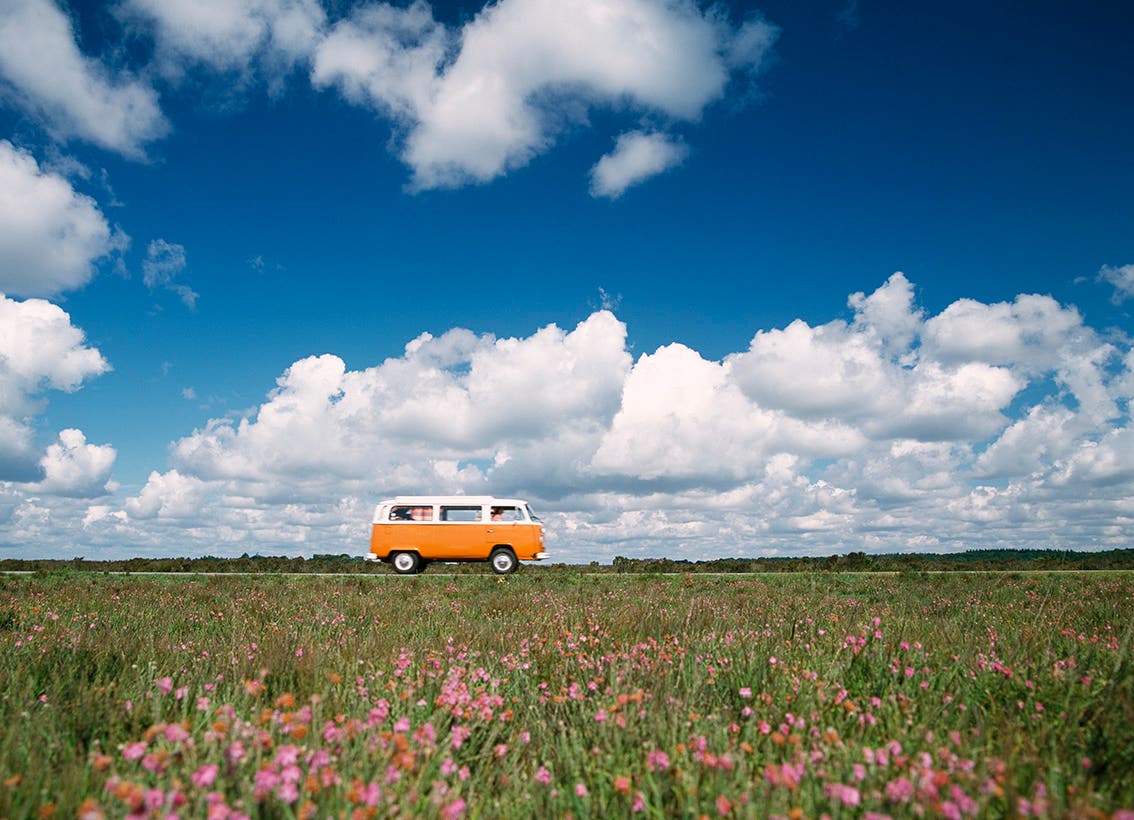 What does VW ownership mean to you?
At the moment it's a bit of a feeling of 'will it or won't it'! It's been a wee bit unreliable this summer and although it has been amazingly good over the years it has had a bit of blip recently. But I think that is probably all part of the adventure that is having a van. I have always thought that the real adventures begin when things don't go to plan and I think having a van goes with that. I don't feel like I am particularly committed van owner but I just see it as a great way of having fun holidays with the kids and is helping to lay down wonderful memories of summer for them.

What's your favourite place to spend time in the van?
Any campsite in Normandy or Brittany will do nicely. Very happy memories of several trips exploring the coast and the hills of Northern France in the van whilst enjoying all that lovely rich food - they don't tend to skimp on the butter out there!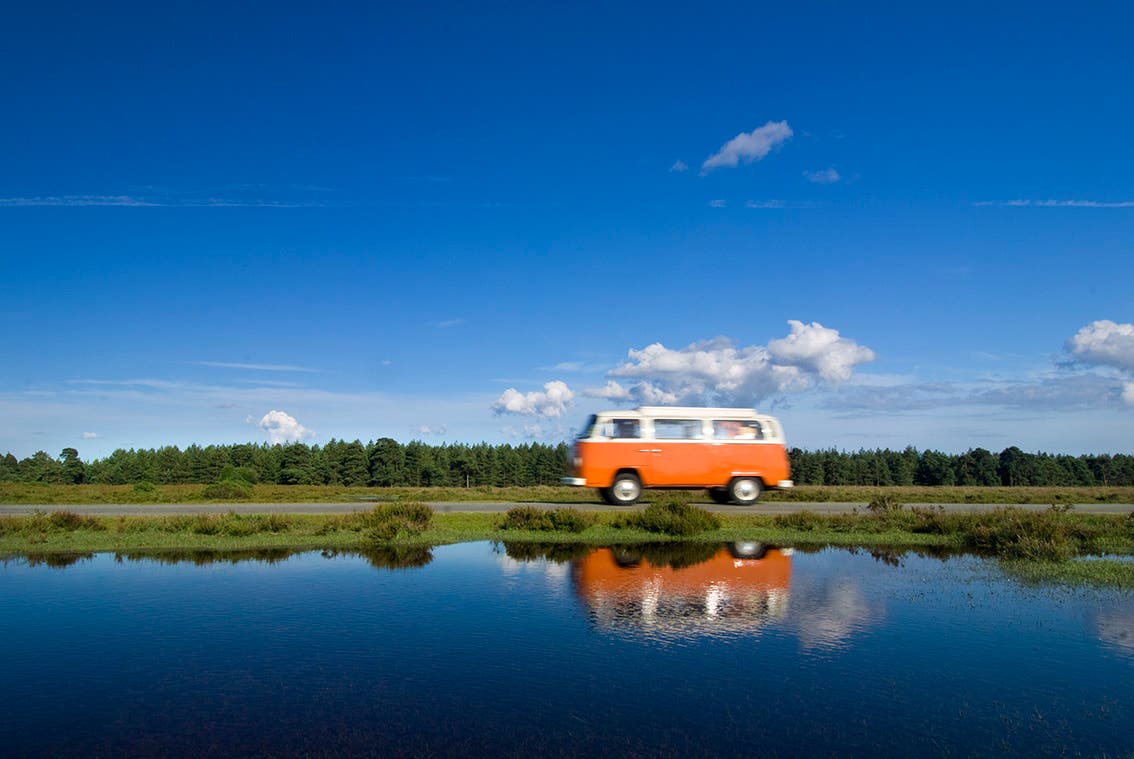 Would you share a special recipe that is van friendly so we can cook up a storm and wow our friends when we are next away….(something achievable on a double burner stove!)
This is the bit I am really going to have to blag as I'm sitting on a train as I write this! (No pressure Ian!) So here goes an approximate version of the pork chops I cooked a couple of years ago… Finely chop a small onion and half a small cooking apple. Put a couple of tablespoons of oil in a frying pan or skillet and get it really hot. Quickly fry the chops for a couple of minutes either side so they're nicely browned on the outside. Try not to overcook the chops as they'll get a bit tough and dry. Put them aside between a couple of plates to sit for a few minutes whilst you start on the sauce. Gently fry the onion and apple until soft. Add a teaspoon or two of dijon mustard. Sprinkle with a couple of teaspoons of flour and cook for a couple of minutes. It will look a bit dry and weird but you just want to cook that flour for a little while. Then slowly add half a glass of white wine stirring all the time. This should deglaze the pan and start to make a nice thick sauce. Pour any juices that have come out of the chops into the pan. Add some fiendishly rich Brittany Creme Fraiche or double cream and season to taste. Pour the sauce on the chops and serve with green beans and some lovely fresh baguette or potatoes. Finally it is essential to finish off with a selection of cakes from the local patisserie and possibly a bit of Gaviscon.
All Photos are used with kind permission of Ian Cumming and are subject to copyright.
© Ian Cumming / icimages.com
To view more of Ian's work please visit his website