More from this author
Swinley Forest Enduro 2016 #Swinduro
Surrounded by keen mountain bike wielding riders ready to take on the challenge of a 20 km circuit with 7 timed stages of between 1 – 7 minutes.
The basecamp setting, a secluded glade in the woods saw an ever growing throng of riders and a palpable feeling of growing excitement and anticipation for what lay ahead.
The team at Swinley Bike Hub had worked hard to foster a feeling at Basecamp that worked on multiple levels. The term basecamp, notably and intentionally borrowed from the climbing world, replaced the more atypical terminology such as Race Village or Race HQ. This seemingly inconsequential change set the tone for the intended vibe.
"…..so here was the first clue to the type of event we were striving for, a relaxed one. Gone were the terminology of Race Village, or Race HQ and in was Basecamp…taken from the climbing world and used as a safe haven to rest, relax and chill." Tristan Taylor, Event Organiser.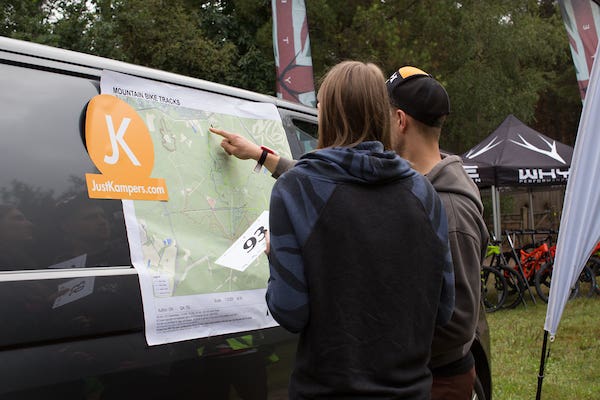 They certainly achieved the relaxed vibe with the addition of The Pig and Rig and their mix of Hog Roast and chilled Reggae tunes. We were privileged to be a part of the mini festival feel and we were surrounded by lots of Swinley Bike Hub friends including Whyte Bikes, Pivot Cycles, Marin Bikes, DMR Bikes, Muc Off and Stans No Tubes. It was great to be a part of such a carefully considered event.
When we arrived things were already in full swing with keen riders invading the glade in their readiness to register for 8.30am, prior to hitting the course. Tristan and his team were making last minute checks of pre-checks of checks! To say that the event was well planned was a huge understatement with every aspect of the riders experience and safety carefully considered. From the Marshalls, the first aid Medical Operations in attendance, registration and the pre and post ride opportunities to relax. All of these things, whilst incredibly important and necessary considerations, were not why those riders were so keen, and so the real reason for being there… the Course! What of that?!
Tristan is on hand to explain the process from conception to finished product and his hopes for the riders' experience.
"For those who do not know my background I spent many lucky years racing Multi Sport Expedition Races and as such really understand that feeling of pushing hard, when all you really want to do is reach for a cup of tea, and I wanted this feeling to creep in just a tad to really showcase the discipline of Enduro.
Enduro is laid out to make the best use of the terrain available and be predominantly gravity based for special stages. For me I see Enduro as trail riding….and that's the riding most of us do , most of the time, be it at Trail Centres or in natural locations on the South Downs, Ridgeway, Dales or Lakes. Riding is riding and to get the thrill of the downhills you have to first conquer the climbs. So the Swinley Enduro, for me was to showcase trail riding in an amazing location.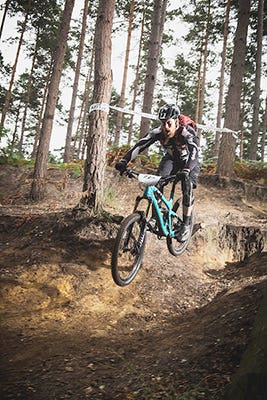 Taking in the Enduro discipline, together with the range of skills out in the field, there were a few things to take into account on this as a course designer and that is predominately making it a challenging course that still gets riders of all levels grinning that insane grin. I wanted to create a journey, a loop of the forest to showcase different compartments of woodland, and allow for a relaxed transition that made riders feel like they were in BIG country and, not just 1 hour from London.
I also wanted to make the loop, including the special timed stages, challenge people's perception of Swinley. To make it more challenging than riders thought it could be and make it accessible to new riders and elites alike. The loop was finally constructed after months of riding one way, and then the other, then back the first way with a tweak…!"
From the smiles on the faces of the riders as they returned to Basecamp we can only assume that those intentions and all that hard work had really paid off.
On their return, weary but euphoric and faced with the prospect of a beer, hog roast and some chilled reggae tunes it isn't hard to see why, for everyone who experienced it, the first Swinley Enduro was a huge success. We're already looking forward to next year.
To watch some of the action you can click here:
Tristan and his amazing team are on hand in the forest with some amazing bikes to hire (adults and kids bikes of varying types) and buy (should you be looking), they offer coaching and guided trail opportunities and have exceptional knowledge of the trails. Head over to the Swinley Bike Hub website, or find them on FB or Twitter for more info.
https://www.swinleybikehub.com/
https://www.facebook.com/swinleybikehub
https://www.instagram.com/swinleybikehub/
Picture credits: Victoria Dawe Photography (riders on the course images x 2) and Just Kampers (others)