There has long been a synergy between campervans and the coast. The winding drives from the city; vans packed full of surfboards, wetsuits and excitement. The evenings camped out watching the sun go down over the ocean with good friends and a beer or two, what could be better?
Stop for a moment. Imagine if this turquoise water and golden sand was at risk. What if the next time you drove to the coast for a holiday all you could see was plastic? Plastic bottles, crisp and sweet wrappers, plastic nurdles, cotton bud sticks, plastic bags, fishing net, cigarette butts and drinks cans littering the coastline as far as the eye could see.
Sadly, this vision is fast becoming a reality as our prolific use of single use plastics threatens to engulf our precious coastlines. The extent of the problem is not always visible as studies show that it is just 5% of all the plastic litter that is in the ocean is actually washed up on our beaches, however winter swells and storms throw up what is often lying undisturbed on the sea bed. Here at the Surfers Against Sewage offices, one of our nearby beaches is Perran Sands. In 2017, after some of the worst weather for 30 years, we saw devastating scenes like the one below highlighting how bad the problem is. The team in the office headed down to the beach and in just over an hour, we'd picked up 1000 discarded plastic bottles.
Plastic pollution is not just unsightly and unpleasant to come into contact with, but also deadly. Did you know that over 100,000 marine mammals and 1 million seabirds die every year from ingestion or entanglement in litter? Many coastal communities also depend on their beach for income, running businesses that rely on visitors to the area. And for many of us, the beach is our happy place; our place to feel wild and free, where we feel relaxed, happy and calm. What would happen if we no longer had that?
We at Surfers Against Sewage (SAS) are on a mission to address this threat of plastic pollution from all angles. We are inspiring, equipping and connecting communities across the UK to take action. Every year, we mobilise thousands of volunteers to clean up beaches, rivers and lakes in two UK wide events each year. The Big Spring Beach Clean, which this year took place 7-15th April and the one to watch out for later this year – the Autumn Beach Clean takes place every year on the last week of October. SAS is always on the lookout for people to lead or go along to a clean in their area and don't be put off if you live in land, we have cleans along the Avon Gorge and the banks of the Thames! Check out the Beach Clean pages of the SAS website to find an event near you to get involved with – www.sas.org.uk You could even start this week! Next time you go to the beach, pick up a few items and let us know on social media, using the hashtag #MiniBeachClean
Leading our communities are a network of passionate volunteers, we call our Regional Reps. 135 Reps are based all over the UK: organising beach cleans, lobbying their local council, networking with other local organisations, visiting schools and talking to local businesses. Our Reps also host our Beach Clean Boxes. These specialist beach protection kits include beach clean tools such as: buckets, bin bags, gloves, litter picker and shovel as well as vital scientific monitoring and education materials. Easy to use, the Beach Clean Boxes are available for the whole community to help coordinate group beach cleans, plan local marine conservation campaigns and record the results in what will not only allow the removal of many tonnes of marine litter from the coastline, but also help map progress at each beach, to ultimately stop the flow of plastic, litter and pollution to the beach. To borrow a box or speak to your local Rep, have a look at the SAS website.
Whilst the issue of plastic pollution can feel like an overwhelming one, together with our communities, we've set our sights on eradicating one of the worst 'Usual Suspects' the Plastic Bottle. Sadly, discarded plastic bottles can now be found on tidelines all around the world. However, the sheer quantity on UK beaches is astounding, with the latest Beachwatch survey finding 159 plastic bottles for every mile of beach surveyed. There is also growing evidence exposing an alarming number of plastic bottles accumulating on the seabed.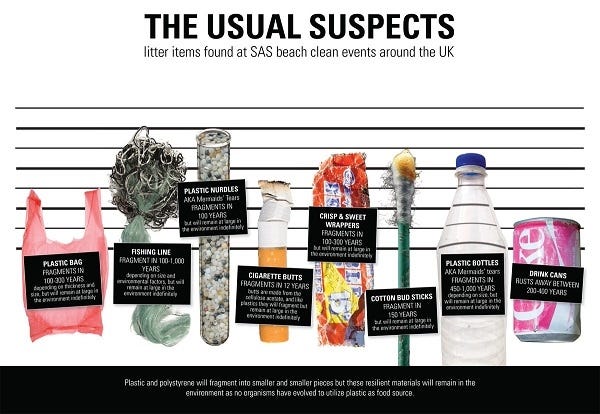 In the marine environment, a typical plastic bottle might take around 450 years to break down, potentially longer. So what does "break down" mean? Do they harmlessly disappear? Unfortunately, not. Plastic bottles fragment, breaking down into smaller and smaller plastic particles with increasing potential to harm marine life and enter the food chain and never truly disappear. The sheer amount we use in the UK is staggering – 38.5 million single use plastic bottles every single day! That is nearly 1 for every person in the UK, every day. Just half of these are recycled, so no wonder so many end up on our beaches or in our oceans.
Our solution is to bring back a Deposit Return System (DRS) so that for every bottle we buy, a small deposit (10-20p) is attached which is fully refunded when we recycle the bottle. This is nothing new, many of us may remember pre-1980's when the UK used these systems effectively. In fact, the following countries are using them right now: Germany, Belgium, Croatia, Sweden, Finland, Estonia, Hungary, Iceland, the Netherlands, Norway and Denmark. 10 States in the United States, Israel, Fiji, Canada and Australia. Once up and running, a Deposit Return System in the UK means we could increase our recycling rates to 100% and rather than a linear system, from producer to consumer to rubbish, the plastic becomes a valuable resource trapped in a circular economy and producing considerably less waste. We have been calling on the UK government to implement a Deposit Return System. With the support of 329,000 on our petition via 38degrees.org.uk, the UK's biggest petition to bring back the Deposit Return System, we were able to demonstrate your support and its importance.
We were thrilled to announce in March 2018 that the government has committed to introduce a Deposit Return Scheme on drinks containers in England in the bid to end plastic pollution, reduce littering and create a more sustainable, circular economy. This is a huge victory and testament to what a group of people can achieve when they come together to make positive change.
Because of people like you taking action, MP's ask questions in parliament, legislation can and will change and big companies and industries make changes that have enormous effect on the marine environment. We're all in this together and the world needs people like you to join us, now more than ever.
As a small charity, Surfers Against Sewage relies on families, couples and individuals to support our work. We literally could not do the work we do without the people who kindly donate a few pounds a month to supporting our work. When you join SAS as a member, you're not just supporting the movement for Plastic Free Coastlines, but you're joining a family of passionate and proactive people on a mission to make a difference. You'll also receive Pipeline, our exclusive membership magazine which ensures you will always be kept inspired and informed on a world of direct actions and campaigning from the UK's most dynamic environmental charity.
We were immensely proud to be one of the seven charities to benefit from the donations marking the Royal Wedding of Prince Harry and Ms. Megan Markle on the 19th May.
The charity, has seen a huge surge in phone calls and traffic to its website since being announced as one of the Royal Wedding beneficiaries. Meanwhile, new membership figures of the charity have increased dramatically, up 178% on last year, with many international donors now also signed up.
The Royal couple selected issues that they are passionate about, and the scale of the ocean plastic pollution crisis and the work of Surfers Against Sewage has clearly captured their attention.
If you'd like to support the work that we do and protect our oceans and coastlines, please consider being an SAS member:
Just Kampers are part of our 250 Club, which is our membership tier for businesses.
"As a team, many of us identify with the notion of the sea calling us to it – some of us surf, paddle board, open water swim but for the majority it's a place that soothes the soul. Enjoyment of our oceans and coastlines has always been synonymous with VW ownership. To us it's so important to be part of a movement that recognises our responsibilities to it. We're immensely proud to support SAS and their incredibly important work, be a part of SAS 250 club, attend the beach cleans and help us to inwardly focus on our impact as a company. Together we can make positive changes for a better future."
What can I do?
Hugo Tagholm, Surfers Against Sewage
"Plastic pollution in our oceans is the 'new sewage' - it is Surfers Against Sewage's priority issue. We have a vision of plastic free coastlines and we invite you to be part of the movement to clean up our beaches. Together we can make a big difference."