Obsession – Following the Surfer Kurt Jackson and Surfers Against Sewage
We were lucky enough to be able to accept an invitation from Surfers Against Sewage and the Jackson Foundation to attend a private viewing of the Kurt Jackson: Obsession – Following the Surfer show and exhibition at the Jackson Foundation Gallery in St Just, Cornwall, in celebration of Surfers Against Sewage, their work, friends, volunteers and supporters.
For Obsession - Jackson has partnered with Surfers Against Sewage to highlight the charity's campaign to protect the UK's oceans, waves and beaches for all to enjoy safely and sustainably.
"Often it is argued that the surfers path is a spiritual one – this connection between the individual and the wave, the ocean hosting its rider, but what is certain is that it opens the eyes of that person to the natural world, to an extraordinarily beautiful and powerful side of nature that needs respect and admiration and in the long run our protection and conservation" Kurt Jackson
This collection centres on Jacksons experience of accompanying and painting the surfing trips of his studio assistant George, around the Cornish coast, over a period of a few years.
The Jackson Foundation gallery itself is situated in the beautiful Cornish town of St Just, the most westerly town in England, which stands above the dramatic Cape Cornwall. The town was the 19th Century 'capital' of tin and copper mining on the Lands End peninsula. Tucked away down a little street the gallery stands in a converted industrial building. In itself it is quite beautiful and was converted using sustainable eco-friendly materials by local builders and craftspeople reflecting the commitment of the Jackson family both to their home in Cornwall and the wider environment.
It is apparent that Kurt's work, whether it be as part of this exhibition or taken as a whole, has always been born out of an appreciation for our environment and our connection to it, and to one another because of it.
"...it moulds us and shapes us and sometimes in turn may shape the world..."
The relationship between the Jackson Foundation and Surfers Against Sewage feels obvious and the natural symbiosis is evident as you experience Jackson's work in this exhibition.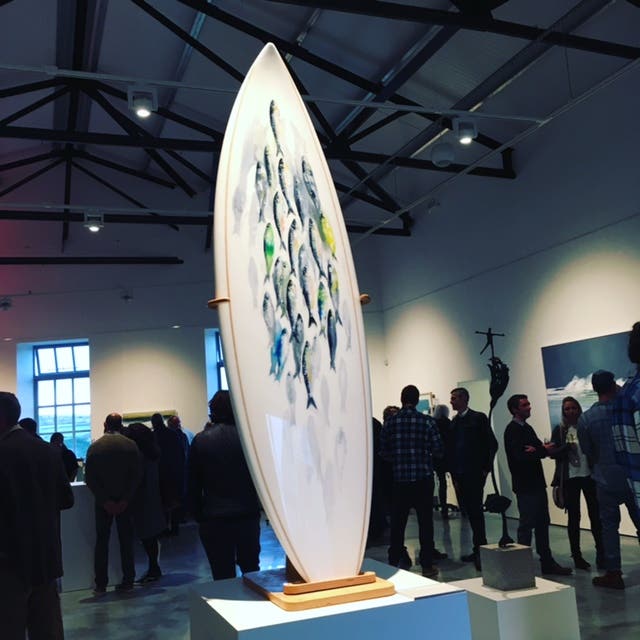 We are far from art critics – we can only speak of our experiences of it. But as two people drawn to the ocean for their own separate reasons we can say how Kurt's art made us feel.
Each piece of work demonstrates the movement, the drama, the depth, the colour and power of the ocean and coastline that was its focus. The ocean as experienced by the sometimes inconsequential surfer in the depths of a much greater beast. The art speaks to you – it draws you in. Whether intended or not you feel part of it.
It is of no surprise that Kurt Jackson is widely recognised as one of the greatest artists of our time.
The exhibition features paintings; sculpture and ceramics created by Kurt Jackson but also features a film which follows the artist and the surfers he paints to various locations. It affords you the privilege of taking the journey with Jackson, as his work evolves in situ, as the surfers do their thing. It is quite something to watch in itself and yet again completely immersive.
Venture upstairs in the gallery and you reach the charity area. An area set aside to showcase the work of whichever collaborative charity relates to the current exhibition.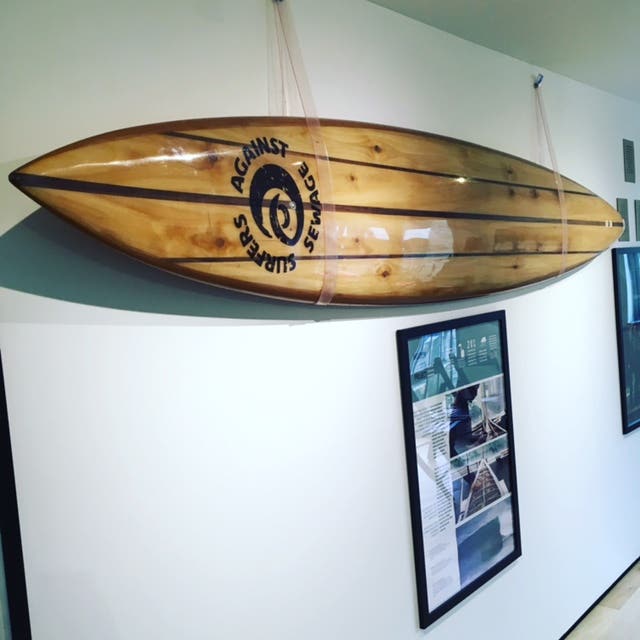 Obviously during the current exhibition this space is being used to highlight the important work undertaken by Surfers Against Sewage and the challenges facing us all.
Surfers Against Sewage began in 1990 as a single issue campaign group established by a small group of passionate local surfers and beach lovers in the picturesque coastal villages of St Agnes and Porthtowan. The organisation quickly created a well-recognised movement calling for improved water quality UK wide.
They were able to help effect positive changes in conjunction with the privatisation of the water companies and changes in legislation.
In 2012 Surfers Against Sewage was established as a national marine conservation charity focused on the protection of waves, oceans, beaches, marine wildlife and coastal communities.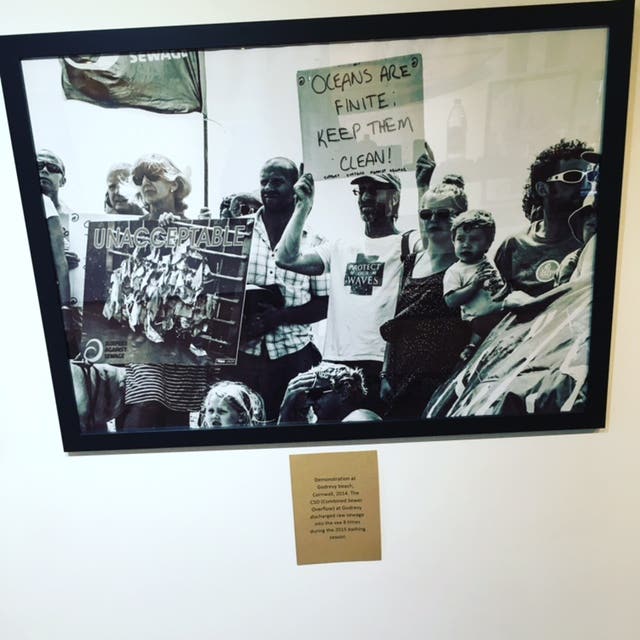 Just like the charity the challenges it faces have evolved too.
The space in the gallery highlights these issues in an evocative and emotive way. On looking at the images and reading the information below them you experience a range of powerful emotions.
It left us feeling shock, genuine horror, dismay and anger.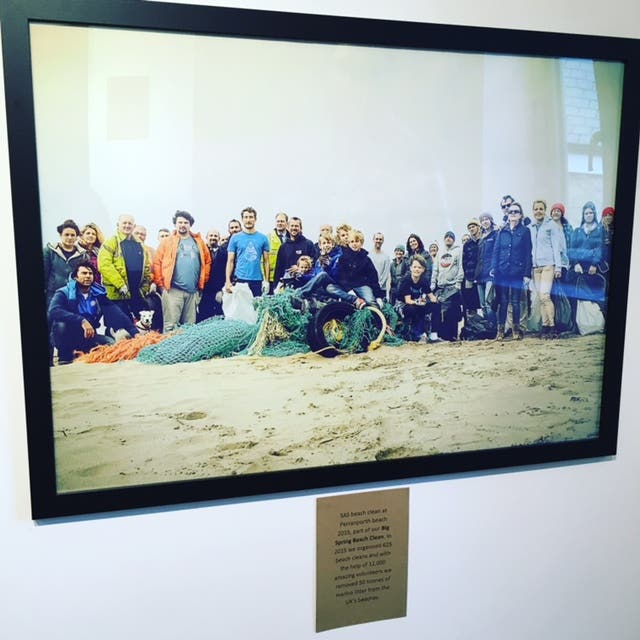 The "Museum of Marine Litter" makes you disturbingly nostalgic when you see packets recognisable from your own childhood, and those that have gone before you, until the realisation dawns on you just how long this litter has been in our oceans, the damage it can and is doing and the fact that we are guilty of polluting it further.
Surfers Against Sewage are working hard to make positive changes with regards to the following issues threatening our seas and coastlines.
Water Quality – the founding issue for SAS remains to be something that threatens our oceans, its wildlife and the people using the sea's and beaches. I have to admit that in my nice safe cosy existence I had rather thought that raw sewage pollution was a thing of the past- a rather archaic past at that. Look beyond your assumptions and you will find CSO's (Combined Sewage Overflows) that are often un-regulated are being used by water companies to dump raw sewage into the seas.
"The overreliance on CSOs by water companies is the cause of thousands of short term-pollution incidents at beaches every year. There are approximately 31,000 CSOs around the UK, many of which are completely unregulated. The CSO is a kind of emergency outlet for the sewerage system, discharging untreated human sewage and wastewater into rivers and the sea when the system is close to bursting. However, it appears that many CSOs are being used too frequently as a means of regular sewage disposal, not just in the extreme weather conditions they are designed for. This puts untreated human sewage effluent directly into some of our most prized beaches and surf spots, with all the associated health and environmental risks that it carries with it."
Diffuse Pollution is pollutants from a range of sources sometimes unknown. These may include but are not limited to road, urban and agricultural runoff and leakage from septic tanks. The Environment Agency samples water quality in bathing areas as part of the European Bathing Directive but this does not happen outside of the bathing season.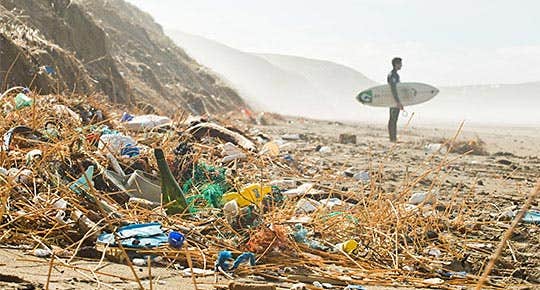 Marine Litter: This takes a surprising and disturbing amount of forms. Plastic never truly breaks down and experts suggest that it will remain in our environment in microscopic form for many thousands of years. Litter in a marine environment takes longer to degrade than on land. A plastic bottle on a beach will take some 450 years to break down.
Each year over 100,000 marine mammals and over 1 million seabirds will die due to ingestion or entanglement. It's estimated that 46,000 pieces of plastic are floating in each square mile of the ocean. Considering that the amount of marine litter washing up on beaches in the last 15 years has doubled this is clearly a desperately worrying trend.
Toxic Chemicals: Typically hidden in shampoos, face scrubs, shower gels, cleaning products and washing detergents. These chemicals find their way into our waste water and subsequently out to see. They have been found to effect endocrines which are impacting the hormones of aquatic life.
Shipping: Spillages and pollutants from the shipping industry are a constant threat and SAS work towards better standards within the industry and more accountability when things do go wrong.
Protecting the waves: As inconceivable as it may be – even the waves around our coastlines are under threat from off shore and shoreline development. This can have impacts on the local environment and recreational usability of our coastlines.
Climate Change: An obvious threat, climate change is expected to impact our weather systems, our seasons and the oceans with raised sea levels. Surfers against Sewage are working with experts to educate and analyse these changes and the threat to our oceans.
It is clearly not just surfers and not just sewage.
This is a charity that are working hard, tackled with what at times must seem like an impossible challenge, but they are dedicated and positive.
When you look at what they are facing, indeed what we are all facing, you should be outraged. It should move you to an emotional response. Without fail these issues have been created by us, and, we continue to demonstrate a complete disregard for our environment and the finite resource that it is.
But there is good news….
"Many of us ask what can I, as one person, do, but history shows us that everything good or bad starts because somebody does or does not do something." Sylvia Earle, Oceanographer
You can make positive changes – you can join SAS, you can sign a petition, you can ensure your litter is recycled, you can head along to a local beach clean, buy eco-friendly detergents or shampoos and shower gels without Parabens or Phthalates. If each of us commits to act, no matter whether it is in the biggest or smallest way, we can be the change.
Whilst in Cornwall – a place we love – we made sure that our whistle stop tour took in as many places as possible. Pausing for not nearly long enough we enjoyed the coastline, its beaches and the sea. It's of no surprise to us that the good people of Surfers against Sewage and The Jackson Foundation are such advocates for the environment around them.
This seems more relevant then ever….
"The sea, the great unifier, is man's only hope. Now as never before, the old phrase has a literal meaning: we are all in the same boat." Jacques Yves Cousteau
We couldn't more heartily recommend you heading over to The Jackson Foundation Gallery whilst the Obsession – Following the Surfer exhibition is on. You can find details here:
http://www.jacksonfoundationgallery.com/obsession/
And you can find out more about Surfers Against Sewage, the work they do and how you can help here:
Just Kampers is very proud to be part of the SAS 250 club