Introduce Yourselves.....!
Hello! We are team ice cream aka Dan and Aimee!
Who are you....little background...VW history...
We are a husband and wife team (and now our young son Barney) who had a love for proper ice cream and VW's. Dan's love of VW's all started when he was 17 and, really wanted what we now call a classic, beetle or a camper. I too, 10 years later, wanted a beetle to be my first car (but a modern one). I had yet to fall in love with classics. It wasn't until we got together 8 years ago that we had the opportunity of fulfilling our dream. Dan took me to my first festival and in true British style it was cold and wet!! He walked back to the car one night in the rain through the campervan field, everyone was sat in their dry vans with their cosy lights on and their fires lit, by the time he got back to me he said 'Right, we are getting a camper!' That winter we bought 'Millie' our 1972 bay crossover........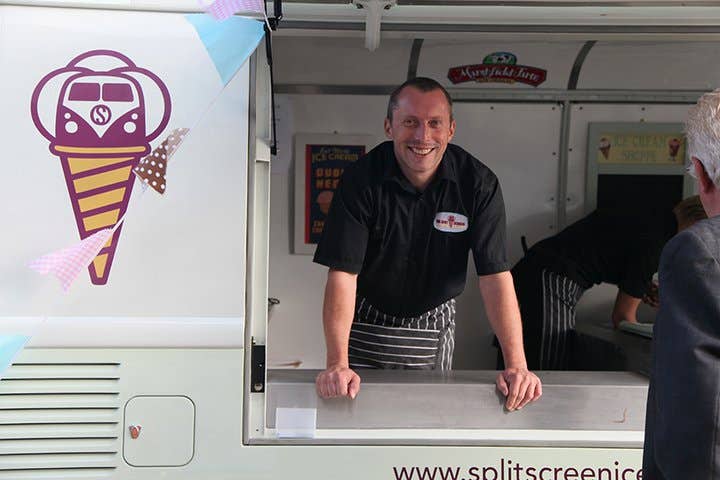 Introduce Your VWs....
Name , Type, Age, When and Where you got them...
Millie, bought Oct 2008 from a garage in Rugby 1972 Bay crossover. Very sadly sold in 2013.
Mimi, our 1964 SO2 mobile sales flap, bought from Fast Freddie in London winter 2009/10
Lastly and yet to be officially named, as we can't decide (I call her Hattie), 1967 karmann beetle convertible bought from Suffolk in 2013.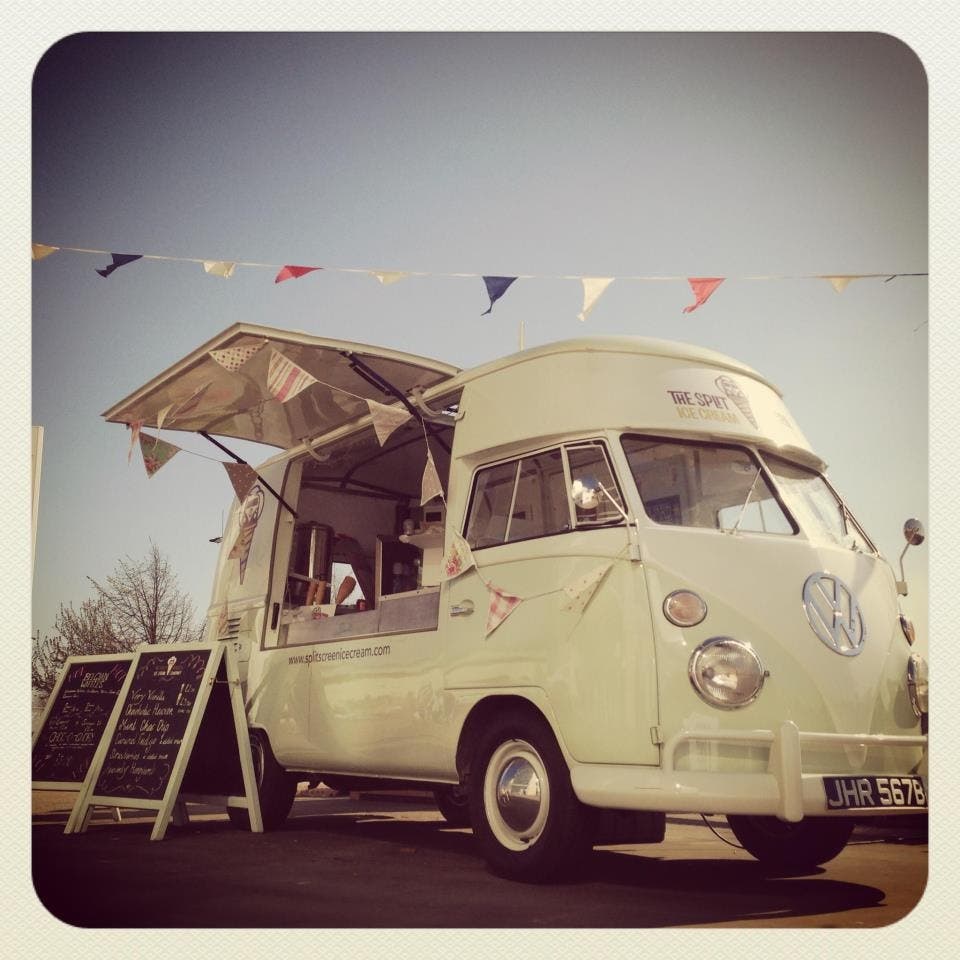 Introduce Your Business....
You guys own and run Splitscreen Ice Cream (a very well known and recognised business that serves the most amazing ice cream!) How did it come to be? Whose genius idea was it? Your VW's look amazing and are instantly recognisable as yours (You kind of set the standard for everyone else to follow!)- Was it easy to realise your vision or were there some bumps along the way?
Ah, Thank you!! After getting 'Millie', we felt we had to return to the same festival the following year to celebrate having her properly and this was also the beginning of a 2 week holiday in parts of Devon and Cornwall. Whilst at the festival we had both been craving ice cream....but proper ice cream!! Our first stop of our holiday was at Polzeath beach to meet Dan's sister and now husband. On the second afternoon, Dan and I were just chilling and chatting in Millie, watching an ice cream van driving on to the beach when Dan said 'We could turn a camper into an ice cream van.'
Now Dan had been looking of ways to get out of his career for a few years, so this felt like one of those light bulb moments. I said 'That's a brilliant idea' and everyone we told after that had a similar reaction. We threw a few ideas around for our name and pretty quickly came up with Splitscreen ice cream....it rhymed and as we always say 'its a tasty mouthful'
Quite a few thing fell into place after that and we moved out of London to nr Bristol within 3 months. Finding the right van was important to us as we never wanted to cut into a highroof splittie, we had lots of ideas of how to do it without. Dan knew about the SO2's and we were ready to import from anywhere but we just didn't think it would happen. As luck would have it, the day we completed on the sale of the flat in London Dan look on theSamba (as he did everyday) and he found our van 10 minutes down the road!
We shook hands that night. We trusted Freddie to his word but it was slightly nerve racking when a few nights later we went to pay. As we had no way of transporting the van and nowhere yet to store it, we left having paid, without the van, or the keys, just a piece paper! A few weeks later we moved and the year long restoration began.
Of course, it wasn't all plain sailing there were definate bumps along the way. The moment we realised that the back hatch of a SO2 is everso slightly different to a back door of a splittie was not a good day. Our one had already gone to the scap yard and hightops are so rare when we did find one for sale, we had to buy the whole bus!!
We had endless discussions about colours, logo, font, web design, menu boards and transporting/driving long distances. We are glad we had each other to bounce ideas around though. We launched in the summer of 2011 and we were pretty much fully booked in our first summer. We have since expanded and creating something for the wedding market. We have converted the back half of a 1972 beetle (it was already a trailer) into an ice cream trailer an I tow it behind our 1967 beetle convertible. As the van was so booked up with festivals and events we needed something for the wedding market which was stunning, unique and could be driven with everything needed.
During the wet summer of 2012, when we were really struggling and wondering whether things would be okay, Dan spotted a half made trailer. The beetle ice cream trailer idea was born. It has gone down a storm since we have had it on offer and in its first year last year was out most weekends!! It gets a lot of attention because it is so different.
The Spltscreen Ice Cream van pre-restoration glory!
How's it going?
You are old hats on the scene now having just completed what I think I'm right in saying is your 5th season! (Well done!) Is it harder or easier than you expected? Do you love it? Would you recommend to others that they turn their VW passion into a business? Top tips...?
Overall yes, we both love it in different ways, or else we wouldn't still be here. Every year we think it will be a bit easier, and, it is in some ways but there is always a challenge or something to worry about. I always used to think the weather would effect sales a bit- but not as much as it does, so that is a constant worry. But that is the nature of running your own business, we are the ones that have to make it work so, we are the ones that will strive to make it better. We were told a few times last year that we have a brilliant reputation on the festival circuit, which was AMAZING to hear, as some of the events/festival can be very cutthroat. So during a not great summer (weather wise) it was so good to hear such positive feedback. Things like that make you want to keep going.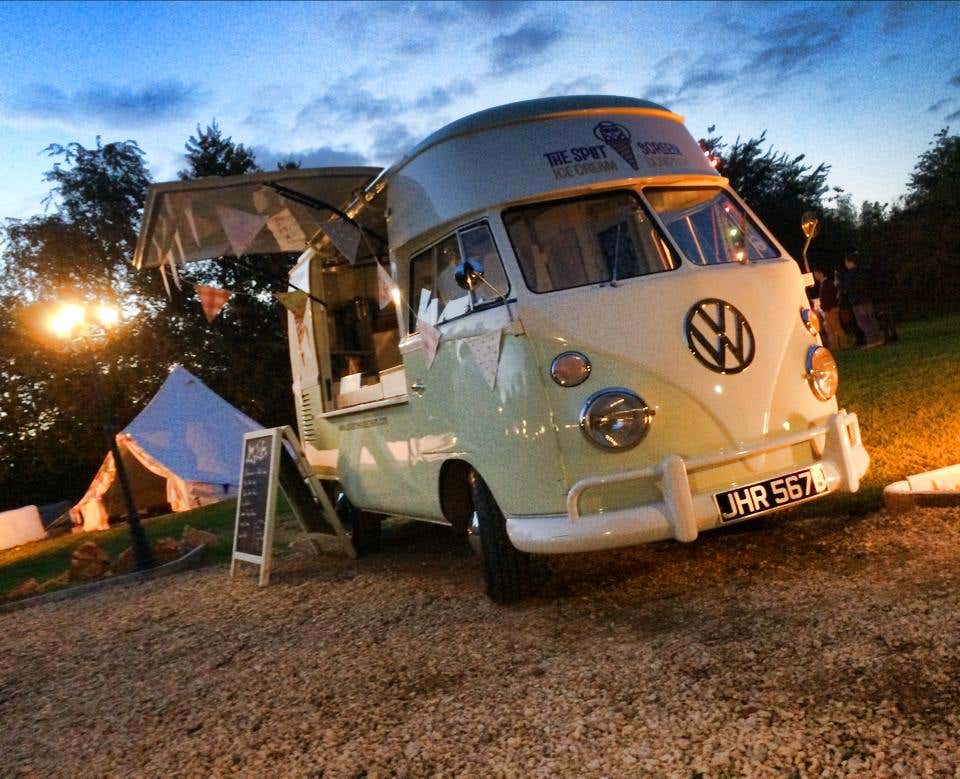 Things I love about running our own business :
We don't have to answer to anyone (apart from each other!)
Not having to commute, it's nice to be able to answer emails in my pyjamas!
The adrenaline in the summer when a weekend really comes together, great weather, logistics all work, vehicles all start, you get good feedback form bride and groom and customers. It's a great feeling.
The winters are less manic for me, as I run the admin part so I love being able to spend a bit more time with our son, Dan however goes back to his 9-6. I do quite like the routine of the winters though. We get our family weekends together something we could only dream of in the summer.
Being creative, bringing to life all the ideas we have.
Working outside!
Things I dislike about running our own business:
Never being able to or finding hard to switch off from work! We took our first holiday since setting up the business last November and it was the first time Dan and I didn't mention the business for 2 whole weeks since 2009!
In the winter, not being able to start work until the house is tidy, and, sitting at my computer thinking I must put a wash on so not getting as much work done as I should! In the summer, I don't have time to think about it as our house has our stock room in it, and, its all on a constant turn around for our next events.
The realities of the British summer- it's not always easy!
This one is the hardest, and, actually the only one that matter - Missing Barney so much in the summer as we have the 2 vehicles now, its not so easy for him to be either one of us. He does come with me sometimes and he is getting older so this will get better.
Yes. I would always say to people if they have a good idea "go for it", but, make sure you have done your research and have a back up plan. Dan and I were both lucky in that the winters, (me, before I had Barney), we could get jobs back in our old careers. That is what has kept us afloat and enabled us to expand like we have. We had the big idea that we could work 6 months and take the winters off- it's not like that!
Hopefully we can keep growing, or branch our into something else, and we may get to that point. Make sure you believe in your idea, but, don't be blinded by it either. Listen to cristism and grow. Be willing to change your initial idea in some ways to make it better. If you are going to start a business with someone really be sure that it is the right person. If you have any doubts do not do it!! One of our close friends, we met in our first year, lost a friend and a lot of money over their business. It's not worth it.
We've had a lot of fun and met some amazing people along the way, it is hard work, but it's worth it!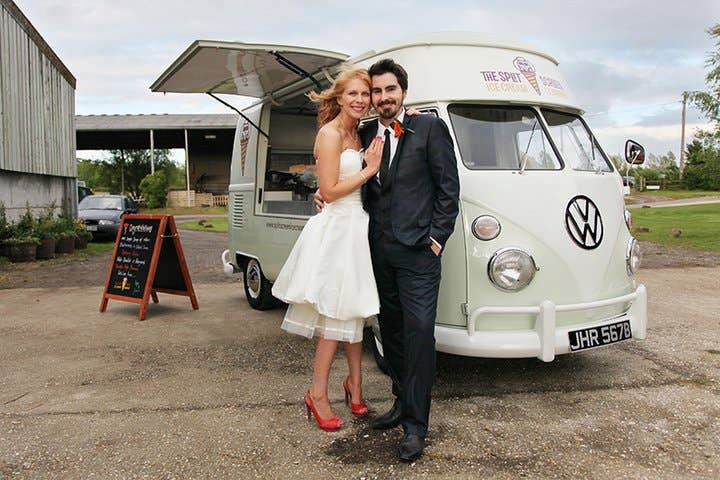 JK's Trade Manager Alex and his beautiful wife Claire used the Splitscreen Ice Cream Comapny at their wedding.
Having sampled the delicious ice cream on offer from the Splitscreen Ice Cream company we can thoroughly recommend their ice cream, and, with their stunning VW's any event is enhanced by their presence- they're also lovely people too! You can contact them through their website...
http://www.splitscreenicecream.com/