This is the second part of Speedy's Grand Tour. If you haven't read the first part in the Winter 2016 edition of Kamper News, you can check it out here.
Keeping a bus alive
In the Netherlands where Dave and I were living at the time (Dave as a penniless student, and myself in part time w­­­­­­­­­­ork at an NGO) we took Speedy along to the VW mechanic specialists we had found on the JK website, wondering what work needed to be done to secure an MOT. They took a quick look over the orange kombi, and facial expressions came before words. (NB: Never open up the back flap unless you want to give an electrician a heart attack).
They looked at us with disdain. "Take him to the scrap heap" was their advice..."he'll never pass the Dutch factory-standard MOT here". To prove their po­int, t­hey quoted us €10,000 just to sort out the bodywork and chassis rust alone – not even considering the engine and electrical work that was needed. They were adamant that any time and money spent on this bus was a real waste of time. As quickly as that, our bubble was burst. We were devastated, particularly given the expenses and frustrations we had experienced in getting him imported, as well as getting conned by the shipping agent. We really loved that car, and we didn't bring it all the way to Amsterdam just to take it to the wrecker's yard…
Dave and I returned home and sat on the sofa under a black cloud, at a loss with what to do next. We couldn't give up. Further research revealed that in Holland VW camper MOTs must meet original-bus standards…but not so in the UK. With a twist of luck, my sister in Brighton put me in touch with a friend who conveniently happens to be a VW fanatic, spending his time reviving campers for a living, mainly to pursue his hobby of drag-racing old timers. A brief chat over the phone calmed our desperation; "there is always something that can be done". He assured us if we could get Speedy onto a trailer from Holland to the UK, he'd sort some welding and attend to other issues, and we'd get an MOT eventually for a fraction of the price we'd been quoted. Reassured that all was not lost, Speedy G. immigrated once again to receive some TLC in the UK. Finally, he secured his MOT in late 2013.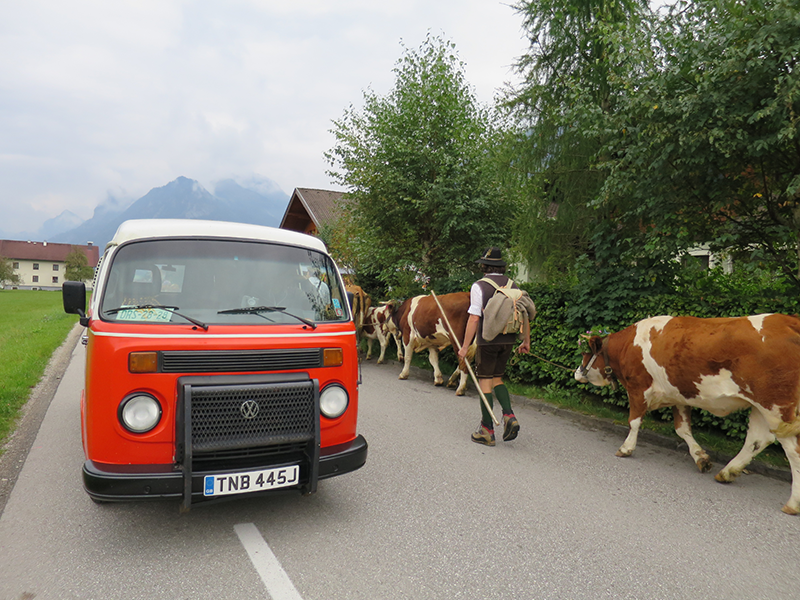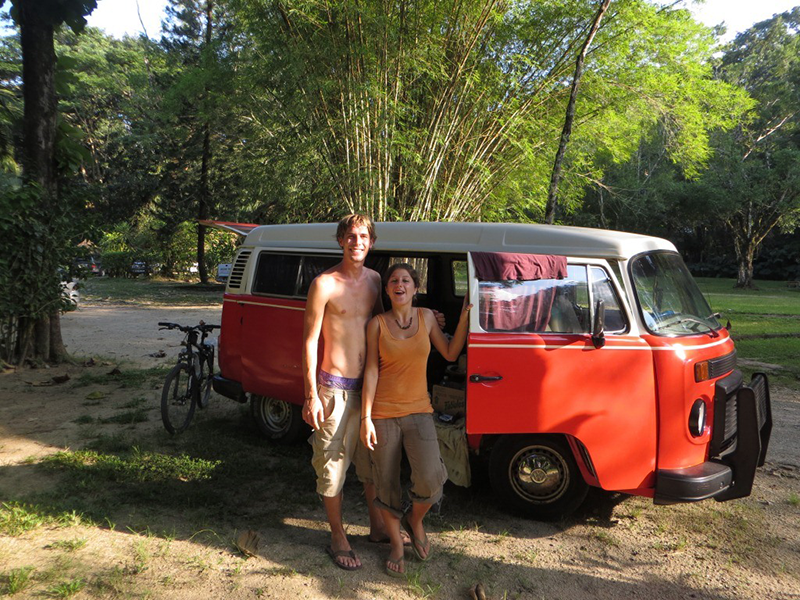 Keeping it legal and regal
Not losing sight of the very reason we'd shipped our bus half way across the world (that is, for a future road trip around Europe) we steeled ourselves for the next challenge. Unbeknown to us, getting an imported camper insured is no mean feat. It took around twelve hours dedicated to phoning insurers and brokers who seemed to have a plethora of reasons to decline us (though in fairness, had they known Speedy's history…). Reasons included, but were not limited to: we don't insure left-hand-drives, we can't insure non-UK residents as drivers (Dave), we won't insure buses that have been modified, we can't insure students, our policies don't insure imported vehicles, we need proof of the exact manufacturing date (not just year), we can't find the correct Brazilian model on our database, we only ensure Brazilian Bays manufactured in Brazil etc. etc. It was exhausting and somewhat absurd but we finally got there in the end, with our patience tested. ;)
In preparation for our big Euro trip, in early 2015 we left Amsterdam for the UK to collect Speedy from storage and to fit him a beautiful wooden interior refurb; no more bare metal floor underfoot or cardboard box cupboards for us. Time for an upgrade! We got the wooden interior custom-made by a carpenter friend of ours, who we helped with the cutting and varnishing where we could.
It was a major face-lift and the results were unrecognisable compared to the bare rusted interior we were used to. Looking lovely, we left en route back home to Holland, leaving plenty of time to catch our ferry that night. Except we made it to the end of the street before Speedy broke down…on a Sunday in a tiny rural village…
After trying jump-starting and pretty much everything else, we still had no sounds or signs of life and identified the starter motor to be the problem.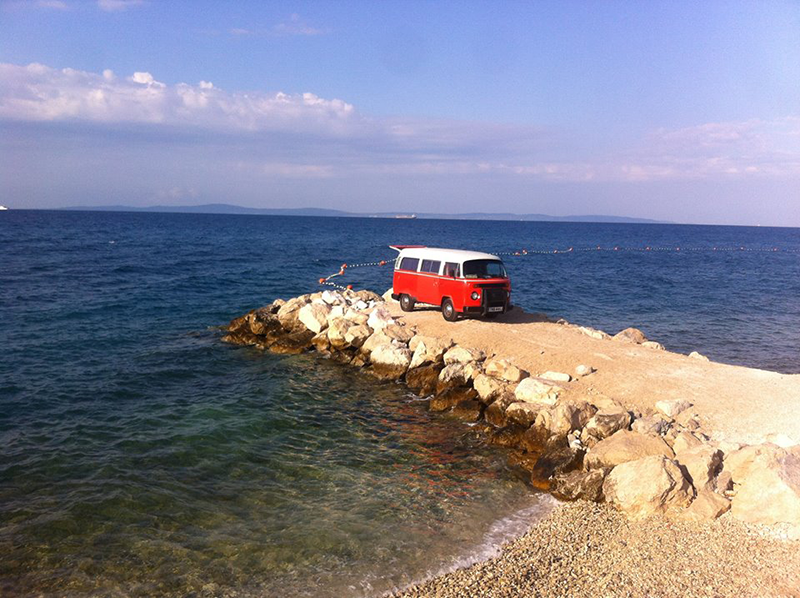 €urop€an M€chanics
Missing our ferry, we slept in the van by the side of the road that night, then got towed away to a VW mechanic the next day, which we found on JK's directory (really useful!). Aghast with Speedy G.'s general 'charm' (shocking steering, shot gears, terrible braking system, and electronics mayhem, years of Mexican creativity...among many others things) they set to work for five days of intense labour. Standing next to all the museum-piece-standard T2s, our van is a real odd-ball, with few original parts remaining - even his entire flooring was replaced at some point during his lifetime as a taxi. Nonetheless, the ease at which we could communicate with English-speaking mechanics in Europe compared to those in Mexico was refreshingly easy, and having Speedy's problems explained to us so that we can make informed decisions regarding what work we did/didn't want done was a welcomed change.
For the week Speedy was being tended to, Dave and I were not allowed to sleep in the bus at the garage for safety and liability reasons. However, not looking to add expensive hotel rooms onto our mechanic bills, we found an alternative: spending each night 'free camping' in our tent in a secluded field nearby. The grass was near 2m high, providing perfect cover from dog walkers as they passed us each morning. Luckily, the British summer held out for us too, and we took buses to nearby villages and got to know a part of the UK we would never have otherwise visited.
We left rural England five days and a very hefty reparations bill later, breaking down on the M25 but making it to our regular mechanic just in time, who had time available to fit our newly ordered and much needed carburettor (which almost didn't fit our engine, saved only by some cable ties). With Speedy driving in far better shape, and having spent near €5000 before even beginning our three-month Euro trip, we finally set off for the ferry and actually made it back to the Netherlands. Similarly to our arrival in San Francisco, it was a special moment to cross one of Amsterdam's picturesque bridges, and finally get Speedy 'home' for the first time in almost two years. Another mini-accomplishment in the campervan diaries.

Keeping the adventures (and ourselves) alive
Two weeks later we embarked on our three-month road trip to over ten countries around central, eastern and southern Europe. As anticipated, we camped, we drove, we swam, we walked, we trekked, we explored, we broke down, we lost time, we stressed, we got lost in translation, we laughed, we argued, we paid mechanics and we made new friends.
Naturally, Speedy's teething problems were most concentrated at the start of the trip, where we managed to stall then break down on Day One between Amsterdam and Paris, and then again in Paris. Fearing battery-draining issues were coming back to haunt us, we managed a full eight hour drive from Paris to my parent's house in the south of France without switching off the ignition! Perhaps not our safest tactic, when filling up with petrol.
The next few days were spent at mechanic's in rural France to replace the regulator, and trying to sort out a steering box replacement (the state of which had been deteriorating ever since Mexico). But which would fit a late Brazilian Bay manufactured in Mexico? After hours of differing advice from previous mechanics, online searches, and phone calls to steering box experts, we almost bought the wrong model! Eventually JK saved the day when we sent them photos of our current steering box, and were informed that a special adapted version was not needed - just a regular late bay model. What a relief. We ordered our steering box which we affectionately named Steve. We carried him around to get him fitted later in Italy, at a tiny but trusted family mechanic that had once seen to my parent's own car over twenty five years previously!
Later in Italy's scorching heatwave, we also found our back tires had been causing the van's disturbing 'swaying' motion because they were so unevenly worn down. After losing a day to trying to find the unusual size to match our other set, we got them replaced, apparently just in time (cue Italian mechanic gesticulating large explosions and road accident). Not the first time our little kombi has been called a "coffin on wheels".
Crooks, baths and beers
On our Euro trip Speedy bumbled us all the way down through Belgium, through France to the French Riviera (pulling up alongside Ferraris in St. Tropez never felt so good), across Italy and to the stunning lakes of Slovenia. From there we entered Croatia, booked onto ferries, and navigated our way through Croatia's rugged islands, coping (just about) with narrow off-road trails and nail-bitingly steep roads. Joined for couple of weeks by friends in their own van, we revelled in the trials and tribulations of van-life, swapping stories over cheap wine and shared dinners. Underlying every infamous memory however, is the shared love of campervan life.
Wishing well to our friends as we departed ways, Dave and I carried on into Bosnia, marvelling at Mostar Bridge and the humbling history of the Baltic states. Whilst walking around in Sarajevo, some crooks had forced Speedy's window open during daylight hours. It was the first time this has happened to us, and we returned to find a note on the windscreen from a local, suggesting we contact the police to give a statement. Speedy had been turned inside out and back to front, with cupboard doors ripped off and contents thrown in all directions. What a violation of our little bus! We had to say goodbye to our laptops, ipods, car radio in the end, but at least they didn't take the van – what a disaster that would have been.
With little to no support from the police and the embassies, we left Sarajevo licking our wounds; road tripping without music was dispiriting!
Moving on, we put the negative experience behind us. After enjoying the rural parts of Bosnia however, we couldn't ignore the recurrent problems with driving and visited a mechanic to get our distributor replaced. In Serbian territory we were taken under the wing of a bar owner who showed us great generosity and hospitality, lending us his laptop so we could use the internet, taking us to his mechanic, letting us sleep in his house whilst Speedy was being worked on. Along the way we were often befriended by such people, always curious about the van and our whereabouts.
Passing by Hungary's Balaton Lake we enjoyed a few days in Budapest, sampling the city's marvellous thermal baths. Another attempted break-in (again trying to force a window open) somewhat discouraged us from carrying onto Romania and Bulgaria, so we set off en route to Austria's Lake District and into S. Germany. The timing of Oktoberfest in Munich was a great coincidence, and beer and pretzels were heartily enjoyed and shared with jovial festival-goers.
Speedy is as Speedy does
The last leg of our trip took us into wooded retreats and hiking in the Black Forest. Clearly Speedy decided we were headed back to the Netherlands too quickly, and the day before our return home we awoke to a punctured tire. No sooner had it been replaced, our front breaks set on fire as we were driving (always carry a fire extinguisher kids) and we were seen to by another mechanic who correctly adjusted the tires. Speedy is a sensitive soul, and just as we were in Mexico, Dave and I always get anxious when mechanics start 'oohing and ahhing' as they prod around his engine and start pulling at the myriad of electrical wires that sprout from every direction. We're yet to find an electrician with the time or the bravery to take on Speedy's electrics though…that certainly isn't a project for the faint-hearted. Applications welcome :)
We finally arrived back to Amsterdam in October 2015 feeling poor but so happy - another great adventure under our belt with some gorgeous nights spent wild camping against perfect backdrops, and Speedy G. behind it all. When we first saw him standing in that Mexican courtyard we could have never imagined the road he would take us down, nor the days lost standing around at mechanics, and every frustrated moment Dave and I shared during each breakdown. But that's exactly what we brought him home for. As any VW will agree: in the end, it's always worth it.