Anyone who's ever owned a Camper vividly remembers their first Bus, the joy, tears, and first-time breakdowns...
Our story starts in South America in the summer of 2012, and ends in Europe thirteen countries later. My boyfriend Dave (tall, Dutch) and I (short, British) had met six months previously, whilst I was working in India and Dave was on a 'one way ticket' backpacking trip through Asia. I had been moved to Haiti to work on the earthquake response there, but Dave and I had kept in daily contact and seen each other intermittently where and how we could. During our email exchanges we had contemplated a long travel together, and had flirted with the idea of buying an old beat up van and driving it from South Mexico to San Francisco. It wasn't long before we admitted to each other that owning a VW camper was a childhood dream for both of us (for who is it not?), and that nothing short of a road-trip in a VW Bus would suffice.
Finding a Bus
As planned, once I had finished my work contract we started our shoe-string adventures. We started with a cycle trip around Cuba armed with little more than a map, tent and copious amounts of ice cream. Two weeks later we took a flight to South Mexico in search of our dream VW. However this task proved harder than we expected, as the main hub for VW campers is in/around Mexico City area and we were 1,600km to the east, on the coast of Tulum. After more than a month of van-hunting in vain, and seeing numerous T2s and T3s we reluctantly caught a 10hr bus to the jungle town of Palenque in Chiapas, complete with my bicycle (Dave's had died in Cuba).
It was in Palenque returning from dinner one evening that we came across 'Speedy Gonzales' purely by chance. Or was it fate? I snooped a look over someone's garden gate, only to see a handsome Brazilian Bay in all his orange glory, parked in their courtyard. Noticing our interest, a small Mexican man appeared in the garden. With great optimism I called out – half joking – "a vende?" ('for sale?'). Whether it was his intention or not I don't know, but to our surprise, he nodded his head and ended up selling Speedy to us...obviously we were delighted!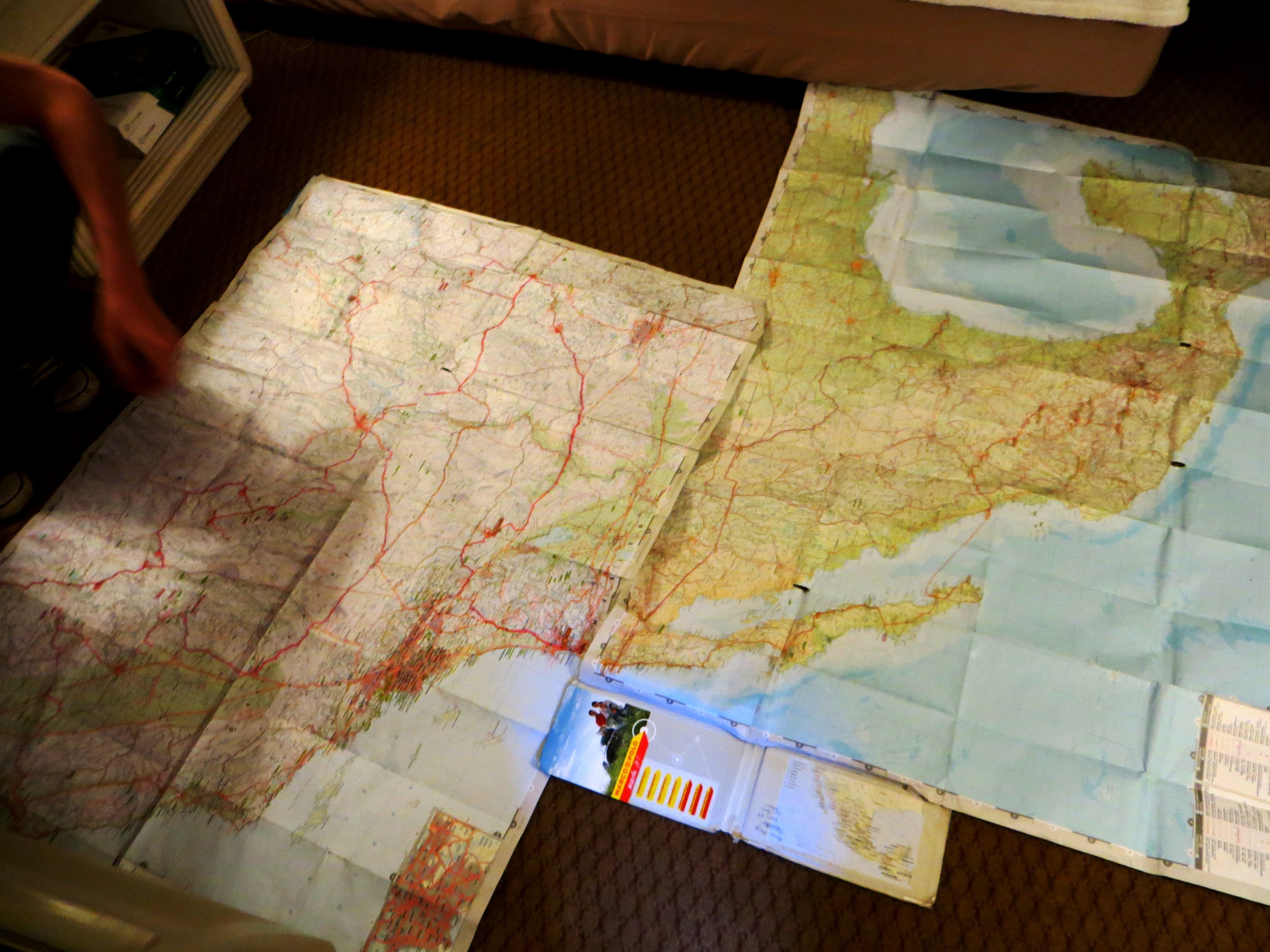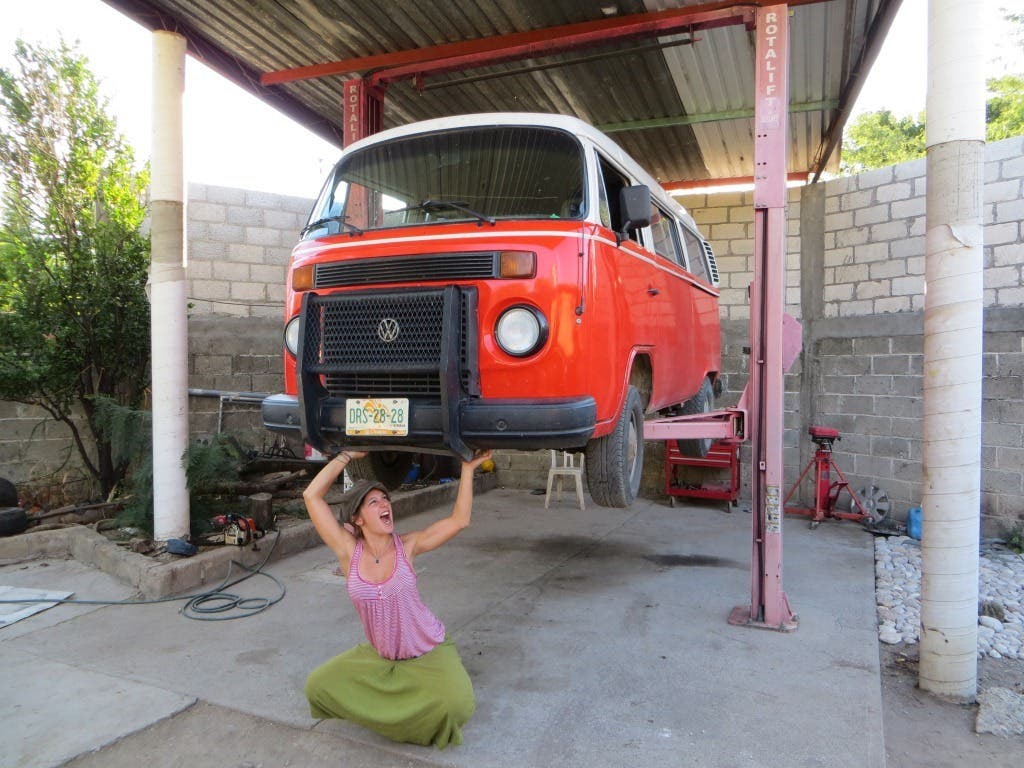 However, as anyone who has tried to buy a vehicle in a country where you don't have residency can relate, these emotions soon turned to frustrations and despair. Two full weeks of red tape at the local council office ensued; buying a car on tourist visas with no permanent address in Mexico was just the tip of the bureaucratic iceberg. After hours of stress and confusion for all of us (not to mention our poor Spanish skills), the whole sale almost fell through as the owner gave up in exasperation and declined his offer to sell. Literally as we were about to board another bus out of town, our saving grace came in the form of a kind college student who was prepared to 'buy' the bus for us in her name, but transfer all rights to us by letter – which was particularly important as we were planning to cross into the USA with the van as part of our road trip.
He was finally ours. Phew!

Reviving a Bus
Even though our Brazilian Bay is considered relatively new being a 1992 model, he had a long hard life as a taxi in the Mexican state of Chiapas. As testimony to his public service, the sticker on his rear-view mirror still reads 'no circula en Miércoles' (doesn't run on Wednesdays). Shame he still breaks down on the other days of the week…
We had allowed three months for the whole road trip, but two realities soon become apparent:
1) VW campers just can't be hurried and enjoy paying frequent and ad-hoc visits to an array of mechanics and electricians.
2) Mexico is bigger than it looks on a map.
Alas, we spent the next six months driving Speedy through Mexico to the USA, stopping in stunning parts of the country such as Oaxaca and Guadalajara, and running out of petrol on an embarrassingly frequent number of occasions - at which point it became a custom routine for one of us to testify "it's your turn". Meanwhile the other would appear from the back of the van armed with the bicycle and an empty 2l water bottle, and would mission it however many kilometres to the nearest petrol station.

Whilst there were times we never thought we'd make it, Speedy rolled from mountains to the coast, and then struggled up mountains again, into jungle and forests, returning back to the sea. From the west coast of Mexico we caught a ferry to Baja - stopping to swim with whale sharks - before continuing up the peninsular to the West Coast of the USA.
By the time we crossed the border, we had had a myriad of problems with the van and had counted seeing fourteen mechanics in Mexico alone, spending more than our fair share of nights sleeping in garages on the Mexican highways, and in rural mountain workshops in near to freezing temperatures (we were traveling in the winter months of 2012). Mechanically and electronically, Speedy was full of basic problems that had arisen from years of 'creative' problem-solving by previous owners and mechanics. You have to commend them for their artistic abilities, which can be more accurately translated as the patching up of minor and major mechanical issues using any materials and methods that come to mind. Fortunately Mexico abounds with more roadside mechanics than tacos, and the majority are very familiar with T2 water-cooled engines. One of our favourite memories was our constant appeal to mechanics to help us with the painstakingly slow progress Speedy Gonzales would make on hill-climbs, where in spite of us flooring it with the gas pedal, we would be crawling at snail's pace. Even the tiniest gradients were too arduous on Speedy Gonzales (hence how he got his name). It got to the point where trucks were overtaking us, as probably would a gentle jogger on foot, should the locals have been partial to jogging. Most mechanics insisted we needed to replace the carburettor, but one genius really took the biscuit: upon inspecting the gas pedal, he identified that it had been soldered onto the accelerator pin too far up the pedal, so when we were flooring it, the accelerator was only reaching half its full travel. Thanks to that mechanic's sharp eye we created a cloud of dust as we sped out of that garage – bowled over at how much difference it made to simply re-solder the pin at a lower position on the pedal. That humble adjustment made one of the biggest differences to our road trip!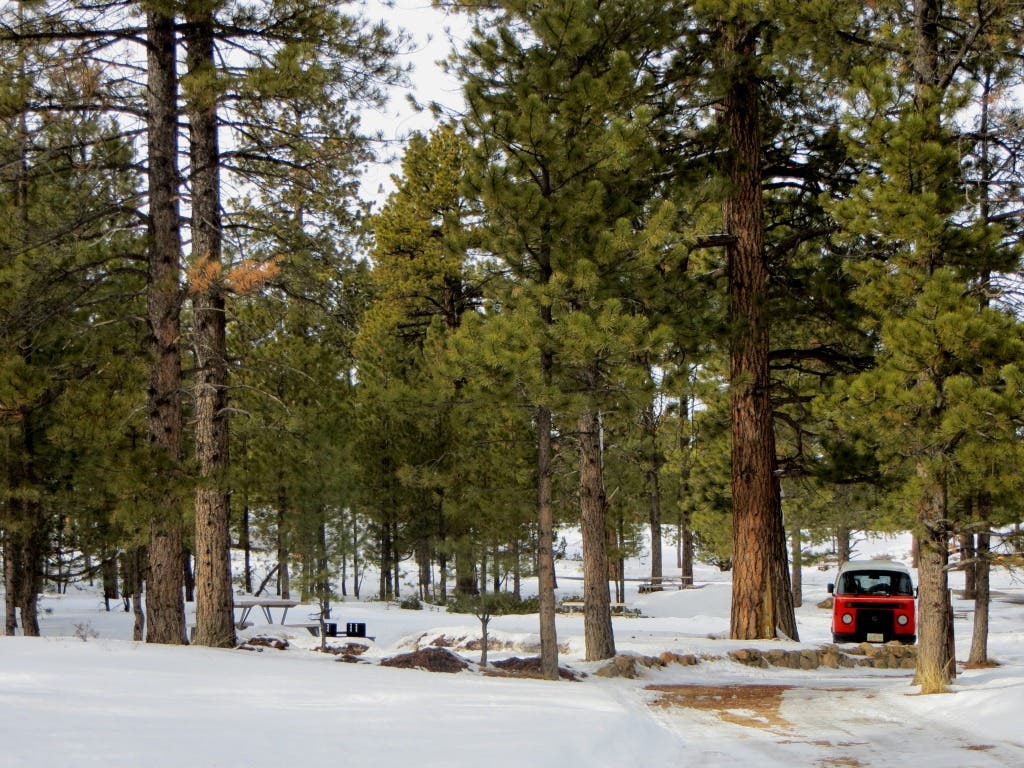 We found the results of Mexican mechanics' creativity and natural curiosity in problem-solving was as equally successful as it could be damaging; it became commonplace to leave a garage with one problem solved, but having unsuspectingly inherited another.
In spite of Speedy's frequent mechanic-related needs, our total bill came to just £250 in all our time in Mexico, inclusive of new parts, labour time etc. etc. Needless to say, in between conversations shrouded in confusion we learned a fair amount of mechanic-related Spanish in the process, and spent some days and nights in unusual places.
Thankfully by the time we had reached the States Speedy G. was running like a dream, and had overcome many issues in Mexico. We managed to visit ten gorgeous national parks across Nevada, Utah, California, parking up for a spot of poker in Las Vegas, and stopping at the Grand Canyon, Death Valley, Lake Tahoe and more. Unexpectedly our biggest problem was facing the elements, when Speedy's water cooling system froze in Lake Tahoe, on a January night so cold we woke to find our own condensation had frozen on the ceiling of the van, and frost had settled on its inner windows.

Falling in love with a bus
Finally in February 2013 we reached our final destination of San Francisco. Crossing the Golden Gate bridge triumphantly we wondered how many times we thought we would never make it.
Our original plan had been to cross back into Mexico where we could legally sell Speedy before we returned home. At least, that was our original plan. But the idea of someone else owning our little Kombi felt unnatural – after everything we'd been through, and how far we had come! As we looped back south along Santa Cruz, heading for the Mexican border, our hearts grew heavier; we had really fallen in love with our little bus, and not just with Speedy himself, but the unparalleled freedom of van travel. After a time, it had become a lifestyle for us.
Dave and I turned the idea over for a while, and finally chose not to heed our rational thoughts (nor the advice of our mothers'!). We took a leap of faith and decided to ship Speedy Gonzales over to Europe from LA, so we could enjoy future road trip adventures. After all, there was the whole of southern and eastern Europe yet to explore…
Plain sailing however, it was not. Weeks were lost pouring over customs websites and making phone calls, trying to work out the terms and legalities of importing foreign vehicles into the EU, and collecting quotes from shippers willing to export that van. Writing it here makes it sound straight-forward enough, but at the time it was not for the faint-hearted. We weren't even thinking as far ahead as the differences that exist in MOT standards between UK and the Netherlands at that time.
The icing on the cake presented itself once we had worked out the legalities and formalised the travel logistics: we got scammed by an independent shipper, who refused to pay import fees at the port of arrival – even though they had agreed to this prior. As a result, when we collected Speedy in the Netherlands he would not be released without paying these fees as well as the hefty daily storage costs incurred since arrival. We had been deceived and there was nothing we could do. Once we collected Speedy, in his finest character he broke down a few kms later on the Dutch motorway. Welcome home Speedy!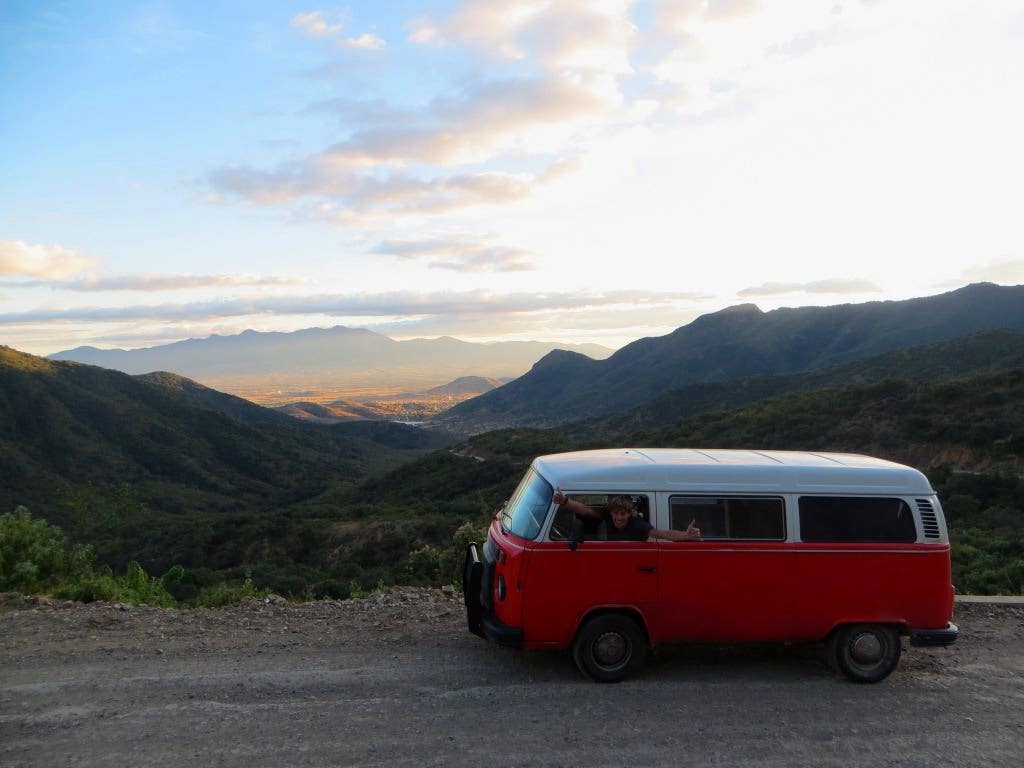 Places visited:
Mexico, United States.
Must see and do:
Skinny-dipping on desolate Mexican beaches. Snorkelling with whale sharks in Baja. Camping out in the ghost towns of Death Valley.
Spending at least half your nights in mechanic workshops. Win / lose some in Las Vegas, then drive down The Strip to celebrate / commiserate.
Top tip:
Fine tune your mechanic-specific sign language. Become expert firewood scavengers. No matter how cold, a bucket-shower is worth it. Even when the going gets tough, stand by your van. Forget your schedule – ha! Your Kombi laughs in the face of time.
Don't forget:
Patience, flexibility and a sense of humour when plans don't go your way
A machete (for cracking coconuts)
Your camera (for capturing those moments)