Smooth Sided VW T2 Pick-ups
The new Type 26A pick-up model proved to be a commercial success for Volkswagen with sales soon reaching third place in the Type 2 range.
The panel van was always the best seller, followed by the Kombi, but within just two years the pick-up was outselling the Microbus and the two models jostled for third place from then on.
The pick-up sold in higher numbers than the top of the range Samba from the start, with 1,606 pick-ups having been made by the end of 1952 against 1,142 Sambas.
In Europe the Pick Up proved the perfect work vehicle, helping builders during the Post-War years. The cargo load bed is above the height of the engine compartment, and this meant additional cargo could be carried under the bed in a locker between the cab and rear wheels, which was accessed via a lift up locking door. An optional locking door was available at additional cost for those who wanted a door on each side of the vehicle.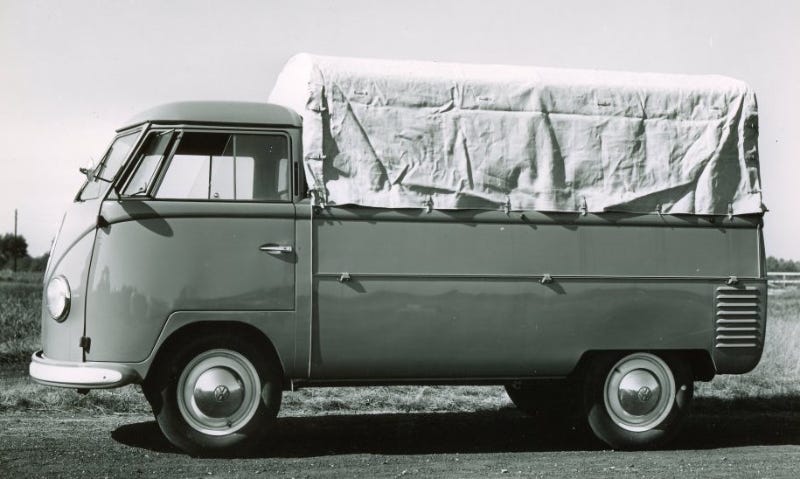 The pick-up load bed featured fold down 'drop side' panels and a tailgate across the back of the bed. The early vehicles from 1952 and 1953 featured smooth drop side and tailgate exterior panels. These were revised for the 1954 model and from here on the side and tailgates came with pressings to add strength to the panels. The pressings also helped lessen panel resonance and road noise when on the move.
The change was made in November 1953, from chassis number 20-069409.
The smooth drop side Single Cab is a very rare sight today: Just 6 examples are known from 1952, and 28 from 1953!