Show Me The Money!
Show! Me! The! Money!
Typically, regardless of whether yours is a classic or modern campervan, we're all quite accustomed to our beloved VW's costing a lot of money to keep on the road.
This reality may lead you to question; can you make your camper pay?
There are ways to utilise your vehicle to make monetary gains. We give you a rundown of the possibilities, the potential pitfalls and things you'll want to consider if you want your campervan to show you the money!
What are the options:
Well there are the obvious ones to start.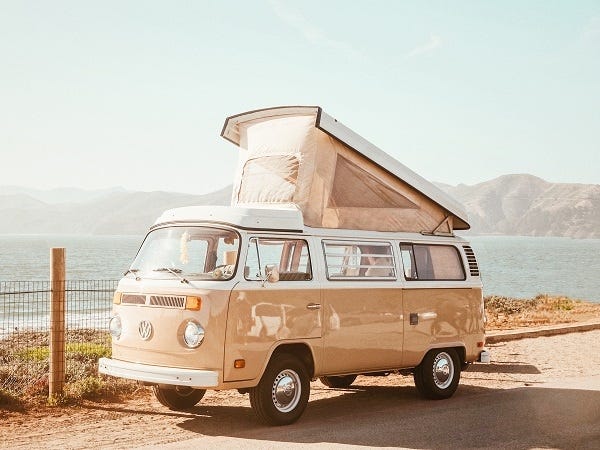 Campervan Hire: It's said that 99% of us routinely travel to just 1% of possible destinations! That's quite a claim, but, things are changing fast and the influx of people with the desire to travel and explore new destinations is growing, because of this Campervan Hire has experienced a big boom. There are a multitude of Campervan hire agencies popping up. You can even list through Airbnb nowadays. The most popular agencies are Camptoo, Camplify, Yescapa, and Go Boony.
They each have different origins and offer slightly differing types of service.
Most earn their money by taking a cut, (in the form of a service fee – ranging from as little as 3% to 10-15%), generally but not in all cases this is taken on top of the hire fee rather than directly from it.
With some your insurance is included and covers the hire period, the vehicle, occupants as well as covering breakdowns - in some cases with replacement vehicles (although less so in the UK).
If you are listing privately or through the likes of Airbnb you need to make sure you have adequate insurance.
Typically, this falls into two categories. Annual Self-Drive policies and Pay as You Go Motorhome hire.
Annual Self-Drive policies are better if you are likely to be offering hire for 3 or more weeks a year. These tend to have breakdown cover as standard and, in some cases, offer replacement vehicles for further peace of mind.
Pay as You Go Motorhome Hire policies are better for more ad-hoc hire agreements although tend to be costlier. This is the better option should you be looking to hire for less than 3 weeks a year.
As with all insurance policies you will need to check what is covered, what exclusions there may be based on the driver (hiree), and what the excesses are. Some drivers will be excluded based on job description, age or past accidents so make sure these details are available.
Most insurance companies will require the drivers DVLA code (found on driver's license – UK only) as well as proof of address – two utility bills.
Bottom line here is be honest with the insurer, find the most comprehensive cover you can and make sure they, as insurers, are familiar with your vehicle type.
It is standard to request a security deposit; both through a listing agency or if acting on a private basis. These range from £500-£1000 and are returned to the hiree after a satisfactory check for any damages at the end of the hire agreement.
What can you expect to earn? Well it's a bit tenuous as you can ask whatever you want – whether you'll get it is of course another matter! You must remain competitive.
Pro's and Con's: You could be earning good money from a vehicle that would otherwise be sat on the drive, however, you also have to be prepared to see other people drive off in your pride and joy with nothing really but blind faith that they'll treat it in the way it deserves!
Single Day Event Hire – Weddings, Proms and Other Special Occasions: Be wary here. Most insurance companies will cover you for a small extra fee or as part of your standard insurance for wedding use. Funerals are okay too - should you have a need. Obviously, the advice would be to keep your Insurance company in the loop so there are no nasty surprises.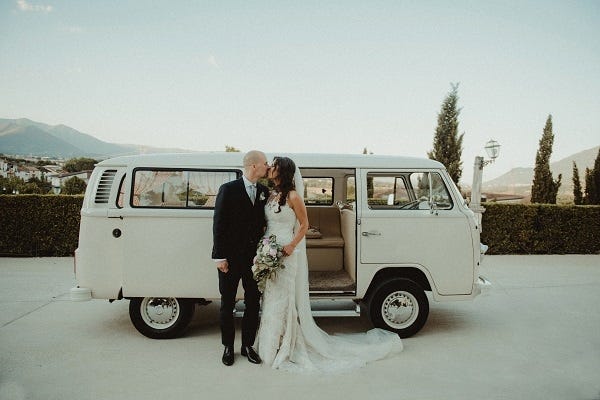 The thing to note outside of either wedding's or funeral's is that the use of your vehicle for paid hire for events such as prom's or other special events will constitute "paid carriage of passengers".
The likelihood will be that the insurance companies will be unable to cover you – and not for reasons you might think. In this instance you would need to be licensed by your local authority. Local authorities require drivers and vehicles to be licensed for paid carriage of passengers.
A PHV (Private Hire Vehicle) Operator license is required. To get one you'll need to be officially tested, have a DBS Certificate, pass the "knowledge" test (or a local version thereof!), provide medical history etc. In all it's quite involved should you just wish to do a few proms and special events over the course of a summer!
Pros and Cons: Unless you want to make it a business, with the exclusion of the births part, it'll be deaths and marriages only! The Pros are obvious in that you stand to make money easily with little expenditure on your part. In the case of weddings, you'll be a part of somebody's happy day and often they are a joy to be involved in. You'll be driving your own vehicle, so won't be having kittens about someone else being at the wheel. The Cons; well if you inform your insurance company and get public liability insurance to cover you – there aren't that many. The biggest potential Con is the scenario in which things go wrong (as they invariably will!) – there will be incidences, at best, of spilled champagne and bridezillas, to at worst; total breakdowns with bridal parties on board. You'll have to be prepared with a contingency plan should this worst-case scenario happen and have nerves of steel!
Film, TV and Photo Shoots: These can offer potential to make money, but the opportunities may be few and far between, will quite likely require a lot of travel and unless you have a stand out vehicle are unlikely to make you a lot of extra cash. Unless seeing your beloved VW on the TV or as part of some fashion shoot is your focus you are unlikely to see a massive return. That's not to say it doesn't happen but…
Pro's and Con's: It can be hard to utilise these opportunities, but, it can be rewarding for the right vehicle. Many insurance companies will not insure for Video/TV shoots or fashion shoots because there are too many variables for them to calculate risk. Always check with your insurer and should they be unable to cover your vehicle check with the production company that their insurance will cover your vehicle. If in doubt steer clear!
VW Based Businesses – I've had the distinct pleasure to get to know lots of amazing people who have turned their love of VW's into thriving businesses. With some creative drive, vision, a ton of hard work and daring tendencies this is a real possibility. The people who succeed are, without exception, some of the most hardworking I know. The rewards are real and working for yourself is an obvious draw for many, but, this is a situation where you really get out what you put in. Do your research and know what you are getting into before you jump – be prepared to take any job at the beginning whilst you establish a following and get social media savvy quickly!
Get the right vehicle and public liability insurance and be prepared to fill in lots of health and safety risk assessment forms!
Creative ways to earn money through your campervan: These although potentially good for the soul are not necessarily going to be good for the bank balance!
As with all things there are people out there making a good living by channelling their VW experiences through any number of creative outlets.
Take a good pic? Consider submitting images for use on any number of sites. The more you submit the more likely you are to find them being used. If you are taking images of your VW, you'll already find yourself offering pictures to a niche market. You are unlikely to be giving up work anytime soon, but the recognition and some extra pennies is always nice.
Can you write? Consider starting your own blog or tailoring your writing to certain content providers. Aspirational life style's – which by the way includes you if you have a VW (even if it's broken on the drive!), are big business currently. Again, you are unlikely to find yourself rolling in cash but if you are that way inclined it's another positive way to channel your creative instincts.
Any good with video content? As our phones have progressed quite often the video technology on board is such that you can create amazing content with little else. As you progress you might want to invest in some cool tech that will widen your horizons, but, the potential to create something beautiful and inspirational is only a drive away. Video content is now quite often sought after by companies who also use photo libraries. With an account you can also share video content as well as stills. Vlogging is also another way to share this type of content but social media plays a huge part in this.
If you are capable of all these things… Influencers are big business nowadays! If you have the time and the energy required to self-promote and the creative flair to stand out from the crowd there are great opportunities to pick up goods and sometimes deals as an influencer. Your followers will want to trust you so don't work with anyone or products you are not prepared to advocate.
We're not trying to oversell the dream - this is really hard work, and, as there are so many people seeking to make money in the same way you may find it hard to break through that glass ceiling.
All in all, there are ways to make money out of your VW ownership; some easier than others. Most will require quite a lot of effort but like most things in life- the more you put in (potentially) the more you'll take out.
Alternatively; you could just accept that owning a VW can, at times, be a costly pursuit but ultimately it's worth it!